What Can I Do For My Joint Pain?
Young individuals enjoy great joint flexibility. Their joints are much more resilient to damage and if injured, typically recover more quickly as compared to joints in older adults.
As we age, muscle tone declines, joints lose lubrication, arthritis may develop, and pain, stiffness, and inflammation become daily issues and are all reasons for the loss in mobility.
Arthritis affects more than one-third of the U.S. population and is a primary cause of disability for adults. There are various types of arthritis, but osteoarthritis is the most common and there is no cure.
Joint pain supplements are meant to not only ease aches and pains associated with aging but potentially slow down the progression of joint degeneration.
Modern joint pain herbal supplements include active ingredients such as glucosamine, chondroitin, or Methylsulfonylmethane (MSM) that are meant to relieve pain and inflammation, enhance joint mobility, and potentially preserve joint cartilage.
Some products will additionally contain ingredients like collagen peptides, hyaluronic acid, or natural extracts to further support joint health and function. Here's a look at ingredients and what the existing research says about them.

Natural Ingredients, Supplements, Herbs and Medications To Help Joint Pain
There are tons of supplements that claim to treat joint pain, but which ones actually work? Here's a look at 8 of the best supplements for joint pain, and what the existing research says about them.
1. Glucosamine
A natural substance found in cartilage and fluid between joints. Glucosamine is necessary for the synthesis of glycosaminoglycan, which contributes to both the constitution and the actual repair of joint cartilage. It is commonly harvested from shellfish, but there are also artificial versions made in the laboratory.
There are a few different forms of glucosamine used in products for joint pain relief and there is conflicting research about the effectiveness of them in treating joint pain.
Is Glucosamine good for joint pain? According to the Mayo Clinic and Medline Plus, Glucosamine sulfate appears to show the most promise in reducing pain for those with osteoarthritis and may slow the deterioration of joints.
On the other hand, the Glucosamine/chondroitin Arthritis Intervention Trial (GAIT) found glucosamine HCl combined with chondroitin sulfate to significantly improve pain in those with moderate to severe joint pain.
2. Chondroitin
A substance naturally found in cartilage and in supplement form is from animal sources like cows, pigs, or sharks. This ingredient has excellent anti-inflammatory properties.
Chondroitin significantly reduced joint pain and the narrowing of joint space, as well as improved overall physical function in those with osteoarthritis, as discussed in this study.
Some research shows taking this on a long-term basis (upwards of 2 years) may even be effective in slowing the progression of osteoarthritis.
3. MSM
A natural sulfur-based chemical found in the body and several types of plants necessary for the formation and repair of connective tissue.
This study discusses how MSM can reduce joint pain and inflammation, enhance joint mobility and range of motion, potentially preserve joint cartilage, and even improve post-exercise muscle soreness.
4. S-adenosyl-L-methionine (SAMe)
SAMe is produced by the liver from an amino acid, methionine, and is commonly added to joint pain relief natural supplements to reduce pain, inflammation, and improve overall physical function.
One study found this substance alone to be just as effective in managing osteoarthritis in the knee as Celebrex, a common anti-inflammatory drug.
SAMe may also help treat depression and some liver diseases, but it is not recommended for those who suffer from mental illness, especially bipolar disorder.
5. Turmeric
A popular spice in the Indian cuisine that is believed to have a multitude of beneficial properties. Turmeric has antioxidant and anti-inflammatory properties due to its active compound, curcumin.
This spice has been found to treat symptoms of arthritis just as well as ibuprofen and may be beneficial in the treatment of diabetes, colitis, and various cancers.
Turmeric is also commonly used in both Chinese and Indian medicine to modify the response of the immune system and prevent further joint inflammation caused by arthritis.
RELATED – Health Benefits of Turmeric
6. Boswellia
Also known as Indian frankincense, Boswellia is appreciated for its ancient anti-inflammatory and analgesic properties commonly used in Ayurveda medicine.
Several studies have found Boswellia to relieve pain in patients who suffer from osteoarthritis or rheumatoid arthritis.
This study also mentions Boswellia's potential in reducing the degradation of glycosaminoglycan, preventing further loss of cartilage.
7. Devil's Claw (harpagophytum)
An herb commonly used in South Africa that is well known for its pain-relieving and anti-inflammatory effects mainly due to its active compound, harpagoside. It may be effective in reducing joint pain in those with osteoarthritis, minimally reducing the need for anti-inflammatory drugs.
This supplement is rich in omega-3 fatty acids which play a role in the structure of cells, provide useful energy, and is popularly known for its anti-inflammatory properties.
DHA and EPA can treat different types of arthritis, but have been found to significantly reduce joint stiffness and tenderness specifically in those with rheumatoid arthritis, according to the Arthritis Foundation.
There are several omega-3 fatty acids, but the most researched are docosahexaenoic acid (DHA) and eicosapentaenoic acid (EPA), which are highest in salmon.
Tips for Choosing the Best Joint Pain Supplement for You
Choosing a joint pain supplement can be a difficult task, especially since there are several brands with various ingredient combinations and dosages.
The first thing to do before starting any supplement is to discuss it with your healthcare provider to ensure the supplement will not interfere with any pre-existing health conditions or any medications you are taking.
Start by looking into common supplement brands and review the labels. Check to see if the supplement contains important joint-protective active ingredients.
It is also important to look at the additional ingredients – typically, the longer the "additional" ingredient list is, the more additives and fillers there are.
It would be great if arthritis joint pain relief supplements could be approved by the Food and Drug Administration (FDA), but the FDA "does not have the authority to review dietary supplement products for safety and effectiveness before they are marketed."
Each company is responsible for ensuring their joint pain products are safe before selling them. Several companies will have their supplements tested by a third-party laboratory for purity and accurate dosages for safety and reputability. Companies will mention additional testing on their website and/or on their supplement bottles.
It is also beneficial to look into the company itself, see if they are rated by the Better Business Bureau, and read up on as many consumer reviews as possible. Reviews can offer valuable information such as specific pros/cons of taking the supplement, potential side effects, and various timeframes for noticeable benefits.
Lastly, do not get stuck on price. Strive to purchase a supplement from a reputable company. Higher quality supplements help joint pain will generally be more expensive, but not always. You are usually paying the higher price for the purity of active ingredients and a shortlist of additional filler ingredients.

How We Chose the Following Supplements for Healthy Joints?
In deciding on the best joint pain supplements on the market, we analyzed the formula of each supplement, specifically the active ingredients and doses, as well as verifying whether each supplement is supported by clinical studies or not. We want to ensure the ingredients are helpful in promoting joint health and relieving arthritis-related symptoms.
We have eliminated any joint pain supplements that contain potentially harmful ingredients such as preservatives, artificial colors, fillers, binders, or additives. Such ingredients pose questions about safety and purity and can lead to discomforting side effects or adverse reactions.
Our selection of knee joint pain supplements is sound, as we have looked at quality first and foremost and it is essential to us that each supplement below has the potential to truly support joint health.

The Best Joint Pain Supplements of 2021
In this comprehensive review about Glucosamine, Chondroitin, MSM and Boswellia supplements for joint pain, you'll learn the pros and cons for supplements mentioned below:
This supplement is advertised to improve the health of joints. It supports the health of the cartilage and promises to increase overall mobility, thanks to a natural blend of herbal extracts.
Pros
Science-backed formula – increased mobility and flexibility in major and minor joints
Contains key ingredients such as glucosamine and MSM, but also natural herbal extracts: Boswellia, turmeric, bromelain, quercetin
All ingredients are supported by clinical studies
GMP quality assured
Cons
It may take several weeks before results are observed
Must be taken on a daily basis for the full effect
Only available online & no trial period offered
Quantity of each ingredient is unknown
Ingredients: Glucosamine Sulfate, Quercetin, Methylsulfonylmethane, Boswellia Extract, Turmeric, Bromelain, Methionine, Chondroitin Sulfate
Price: You can get a single bottle for $29.95, and If you buy 2, you pay $52.96 and save $6.94. It's $78.96 for 3 bottles and you get one bottle free, so per item will cost you only $19.74.
---
Joint N-11 is a natural supplement which improves joint and bone health and decreases pain and inflammation in the joints. It restores flexibility and mobility in the knees, back, and hips and supports the hands and wrists.
Pros
Joint N-11 reduces joint pain and inflammation.
The product improves flexibility and mobility.
Joint N-11 supports bone health.
It protects the joint cartilage.
The product helps to repair damage to the joints and cartilage.
Cons
It may interact with some common medications.
It includes soy and rice flour, which are common allergens.
Ingredients: Niacinamide, Ginger Root, Basil Leaves, Boswellia Serrata, MSM, Turmeric Root, N-Acetyl, Bioperine
Price: $49
---
Turmeric Curcumin Plus is a healthy supplement which supports joint and muscle wellness, brain and cardiovascular health, and it can help you lose weight. In addition, it strengthens the immune system.
Pros
Turmeric Curcumin Plus supports joint and muscle health.
This supplement strengthens the immune system.
The product helps to improve brain health.
Turmeric Curcumin Plus is reasonably priced.
Cons
High demand leads to low stock at times
Ingredients: Turmeric, Curcumin, BioPerine
Price: $23.95
---
Move MD is an organic joint supplement which can ease joint pain, inflammation, and stiffness and make movement easier and less painful. It's high in antioxidants which repair joint damage and protect them from future harm.
Pros
Move MD can decrease joint pain and swelling.
It can increase lubrication and ease stiffness.
This supplement improves flexibility and mobility.
It supports a strong immune system.
Cons
The product is not suitable for vegetarians.
Results vary from individual to individual.
Ingredients: Boswellia Serrata, Chicken Collagen, Hyaluronic Acid, Astaxanthin, Eggshell Membrane Collagen
Price: $54.95
---
CurcuminMD is a potent formula with anti-inflammatory properties that can reduce swelling and pain in the joints. This is a healthy supplement full of antioxidants which can raise immunity and support heart and brain wellness.
Pros
It can reduce joint pain and swelling.
CurcuminMD improves brain health.
It supports a healthy heart.
CurcuminMD is suitable for vegans.
Cons
You may have mild side effects like headaches or nausea.
Ingredients: Curcumin, Boswellia Serrata
Price: $45
---
1 MD D3 is a potent Vitamin D supplement which delivers 5000 IU per serving, helping to support cell functioning, brain, heart, and respiratory health, bones, teeth, and muscles. In addition, it can aid in calcium absorption.
Pros
It supports healthy bones and teeth.
1 MD D3 can improve brain functioning.
The product can enhance muscle function.
It can elevate cell functioning in the body.
1 MD D3 helps calcium absorption.
Cons
If you take too much you could have side effects like headaches or fatigue.
Ingredients: Vitamin D3, Organic Avocado Oil
Price: $19.99
---
7. Doctor's Best Glucosamine Chondroitin MSM
This supplement contains three of the most important ingredients for joint health (glucosamine, chondroitin, and MSM). This supplement prevents the breakdown of cartilage, provides relief from pain and joint stiffness, as well as improves joint weakness.
Pros
Contains 3 active ingredients proven to promote joint health and treat arthritis-related symptoms
Improves joint flexibility and mobility
Contains only clinically-studied and tested ingredients
Cons
Cannot be taken by those who take medication for high blood pressure or chronic kidney disease (potential interaction)
Contains shellfish (for those with allergies)
Ingredients: Glucosamine, Chondroitin, Hyaluronic Acid, Methylsulfonylmethane
Price: It costs $64 on amazon
---
8. Zenwise Advanced Strength Joint Support
This supplement is recommended to those who are interested in strengthening their joints and reducing the manifestations associated with joint disease. It is manufactured by a reputable company in the field of bone and joint pain supplements.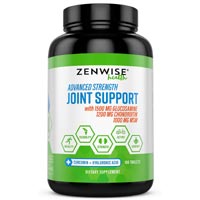 Pros
Proprietary formula with active ingredients such as glucosamine, chondroitin, MSM, hyaluronic acid
Contains natural extracts – Boswellia and curcumin – Increases joint mobility, flexibility, and strength
Does not contain gluten, wheat, peanuts, dairy or eggs
Good manufacturing practices & money back guarantee
Cons
Contains shellfish (for those with allergies)
Can not be taken by women who are pregnant or nursing
Ingredients: Glucosamine Sulfate KCL, Chondroitin Sulfate, MSM (Methylsulfonylmethane), Bosweillia (Serrata), Curcumin , Hyaluronic Acid, Magnesium Stearate, Silicon Dioxide
Price: $25.97
---
This joint pain supplement is a highly effective solution for those who are suffering from different forms of arthritis. It has a unique formula supporting not only the health of the joints but also of cartilage and bone.
Pros
Combination of type II collagen, boron and hyaluronic acid – excellent joint health support
Hyaluronic acid – healthy joints and adequate lubrication
Cons
Contains shellfish (for those with allergies)
Cannot be taken by women who are pregnant or nursing
Ingredients: Glucosamine HCl, Chondroitin, Hyaluronic acid (HA), Calcium Fructoborate (CFB)
Price: It's costs $19.79 on the official website, plus shipping.
---
Omega XL is another joint pain supplement that contains an extract derived from green-lipped mussel. The mussels are sourced directly from New Zealand, using sustainable practices and are a rich source of omega-3 fatty acids.
Pros
Natural relief from joint pain and inflammation
Safe and effective
Additional beneficial ingredients – olive oil, vitamin E
Improves joint mobility, flexibility, and strength
Easy to swallow soft gel caps with no fishy aftertaste
Money back guarantee.
Cons
Contains shellfish (for those with allergies)
The exact amount of each ingredient is unknown
More expensive than other muscle and joint pain supplements
No information on clinical trials
Ingredients: Flaxseed Oil, Omega 3, Vitamin E, Green Lipped Mussel Oil, and Olive Oil
Price: It is priced at $39 + S&H on the official website, there are various offers on the official site.
---
Osteo Bi-Flex is a joint supplement which works to solve some of the most common complaints associated with arthritis. It contains key ingredients such as glucosamine and chondroitin, as well as natural extracts like Boswellia.
Pros
Reduces joint pain and stiffness and supports long-term joint health
Potential to reduce further cartilage breakdown
Claims to make a difference in 7 days
Reputable company
Cons
Hard to swallow, due to the large size of the tablets
Ingredients: Glucosamine, UC-II Collagen, 5-Loxin Advanced, Methylsulfonylmethane (MSM)
Price: $47.52
---
Aleve is an over-the-counter non-steroidal anti-inflammatory drug, recommended for arthritis pain. It is also commonly used for headaches and backaches.
Pros
Easy to open arthritis cap – beneficial for those who have hand arthritis
Active ingredient – naproxen sodium – temporary relief from joint pain
Strength lasts up to 12 hours, only two pills per day
May also bring down the fever
Temporarily blocks the production of prostaglandins, which are responsible for pain sensation
Cons
May interact with prescribed medications
Cannot be taken by those who suffer from cardiovascular disease (risk of thrombotic events), peptic ulcer or gastrointestinal bleeding, or liver disease
Ingredients: Naproxen Sodium
Price: The product is offered at the low price of $12.67
---
13. Instaflex Advanced
This is a supplement which promises advanced joint support, containing UC-II collagen as its star ingredient. With carefully-resourced ingredients and clinically proven research, Instaflex Advanced can be used to fight joint disease.
Pros
Improves joint mobility and flexibility; improved joint health for an active lifestyle
The formula guarantees relief in less than a week, with only one capsule per day
Fast and effective for pain relief
Potent ingredient – UC-II collagen – more effective than glucosamine; used in combination with chondroitin, it improves overall joint function
Natural extracts – turmeric, resveratrol – anti-inflammatory and antioxidant properties to reduce joint damage
Cons
Cannot be taken by pregnant or nursing women
Not recommended for those allergic to salicylates
May interact with other prescribed medications
Not recommended for those with gastric problems
Ingredients: Turmeric Extract, Resveratrol, AprèsFlex®-Boswellia serrata Extract, Hyaluronic Acid, Bioperine®-Black Pepper Extract (fruit)
Price: The cost is $48.49 on the official site + Shipping
---
14. NOW MSM Powder
This supplement is a powder and contains MSM as its main ingredient.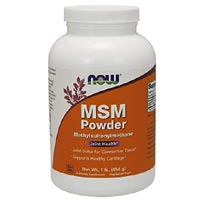 Pros
Available in the form of powder so it's very easy to take
Supports joint health with the potential to preserve further breakdown of cartilage
Does not contain gluten, dairy, eggs, gluten, nuts; non-GMO;
GMP quality assured and clinically tested
Cons
Can not be taken by pregnant or nursing women
May interact with other prescribed medications, such as those for glaucoma
Ingredients: MSM (Methylsulphonylmethane)
Price: It is very reasonably priced at $14.88
---
15. Kirkland Signature Extra Strength Glucosamine Chondroitin
This supplement offers the perfect blend of glucosamine and chondroitin, being recommended to those who are interested in keeping their joints healthy. It is suitable for those who have already been diagnosed with joint disease.
Pros
Supports healthy joints and a better range of motion for an active lifestyle
Combination of glucosamine and chondroitin – joint lubrication and cushioning
Does not contain gluten, lactose, or sugar
Cons
Contains shellfish (for those with allergies)
Not recommended for pregnant or nursing women
May interact with other prescribed medications
Ingredients: Glucosamine Hydrochloride, Chondroitin Sulfate Sodium (Bovine), Croscarmellose Sodium, Microcrystalline Cellulose, Silicon Dioxide, Stearic Acid, Magnesium Stearate, Hydroxypropyl Methylcellulose, Sodium Lauryl Sulfate
Price: $29.99
---
VeraFlex is an all-natural supplement that promises optimal support to painful joints. It uses ingredients including Univestin UP446 (250mg) and BiAloe Organic Aloe Vera (Aloe barbadensis) Inner Leaf (160mg). This supplement can works fast to reduce joint pain and inflammation. When taken regularly in the morning it may improve flexibility by reducing joint stiffness.
Pros
Can work on different types of joint pain issues including arthritis
Might help slow degenerative joint diseases
It can improve lubrication and mobility
Cons
For long-term benefits, you'll need to keep using the product as recommended
May not help for serious cases of joint deterioration
Some people experience delayed results
Ingredients: Univestin UP446 (250mg), BiAloe Organic Aloe Vera (Aloe barbadensis) Inner Leaf (160mg)
Price: It costs $39.95 for 1 bottle, 2 bottles at $77, 3 bottles at $108 and 6 bottles at $193. You can get additional offers from the official site.
---
FAQs
What are the side effects of joint pain supplements?
The potential side effects of joint pain supplements are determined by the ingredients they contain and dosages used. Many people experience temporary gastric discomfort as they become accustomed to the intake of the new supplement.
Common side effects include nausea, vomiting, and diarrhea. Heartburn and abdominal pain may also occur. It is important to read the label of the joint pain supplement before taking it.
As mentioned before, discuss the supplement with your healthcare provider to ensure it will not interfere with any pre-existing health conditions or any medications you are taking.
Always follow instructions to the letter. If concerning side effects appear, discontinue the supplement and see your doctor.
What is the recommended dosage?
These are some of the recommended dosages for ingredients contained in natural products for joint pain:
Glucosamine sulfate – 1500 mg per day
Chondroitin sulfate – between 800 and 1200 mg per day
MSM – 1500 mg per day
Same – between 600 and 1200 mg per day
Boswellia – between 900 and 1200 mg per day
Fish oil – 1000 mg per day
Note: your doctor or pharmacist may recommend specific dosages for joint pain. Do not exceed those recommended dosages.
Do joint pain supplements work?
The answer is yes, BUT they may not work well for everyone. Although joint pain relief products contain active ingredients that reduce joint pain and support overall joint health, not all joint-related issues or diseases can be managed by supplements alone. Patience and consistency are also key. Most supplements for joint pain relief will take time to work and will only work if taken on a regular basis.
Who should buy the supplements for arthritis and joint pain?
Joint pain prevention supplements are generally recommended for those who have had joint/ligament types of surgeries, those beginning to exhibit the first signs of arthritis, and overall for the older population due to normal wear and tear on joints with age.
Joint supplements may also be taken for preventative measures to support the already healthy functioning of joints and potentially delay the aging process and painful symptoms related to joint degeneration.
Can vitamin supplements cause joint pain?
Generally speaking, some vitamins will help ease joint pain and improve general health. There's no evidence to show that they actually cause joint symptoms. However, there is a possibility that an overdose of multivitamins can lead to bone or muscle pain, or muscle weakness.
What supplements can you take for joint pain?
This article has suggested a number of top joint pain supplements you can consider for treating your joint pain. Read the descriptions carefully and make sure you've selected the right product for you. Look at the ingredients, side effects, manufacturer, and price, and read the reviews on the products you like best. In addition, consider other products such as EienHealth Triple Power Joint Support, Joint N-11, Arthrozene and do a joint pain relief supplement comparison like Instaflex Joint Support vs. MoveMD and GNC TriFlex vs. Heal-n-Soothe.
Can you buy joint pain supplements at local or online stores?
Yes, there are many of these products available at online stores, like joint pain supplements Amazon and joint pain supplements GNC. There are also a number of brands which are sold in offline stores like Walmart joint pain supplements or joint pain supplements Costco.
Should you give glucosamine and chondroitin supplements a try?
Glucosamine and chondroitin are substances which exist naturally in the connective tissue, and they are very effective at healing joint tissue and helping to lessen arthritis symptoms. This is especially true if they occur together.
If you are considering taking a supplement, there are some health warnings you have to note. For example, glucosamine comes from seafood, so if you have an allergy you should avoid joint pain supplements. Glucosamine is not suitable for people with diabetes, asthma, glaucoma, high cholesterol, and high blood pressure.
Chondroitin is not suitable for people with asthma, blood clotting disorders, or prostate cancer.
Alternative Therapies – What Other Options Keep the Joints Healthy
Now that you're aware of some of the best joint pain supplements on the market, here are some alternative therapies for arthritis that you could also consider.
Topical Creams and Gels – These creams are meant to be massaged into your skin. They contain ingredients like capsaicin which stimulate nerve endings, helping to block pain receptors. Australian Dream, Biofreeze, Aspercreme, and Penetrex Cream are the few brands to consider for joint pain relief.
Physical Therapy – A physical therapist can help you with body movement and correct positioning, which can ease your symptoms. They can also provide you with equipment to help you like braces and splints.
Electrical Stimulation – This involves placing electrodes on the part of your body that's in pain and delivering electrical stimulation.
Acupuncture – These small needles placed in your body at various points can improve your blood flow and stimulate nerves, muscles, and connective tissue. This can stimulate natural pain killers in the body.
Massage – Massage is a good solution, but not when you are actively in terrible pain. Otherwise, the manipulation of your muscles may lessen the pain and swelling associated with arthritis.
When to See a Doctor
The rule of thumb is that if your joint pain and swelling last more than 2 weeks, you should go see a doctor. Of course, if the pain is really bad you may want to make an appointment before that. There's a good chance that your physician will refer you to a specialist like a rheumatologist. This is a doctor who focuses specifically on arthritis and other joint conditions.
Final Verdict
Natural joint pain supplements are meant to help improve the health of joints, reduce pain, and enhance mobility to continue living an active lifestyle.
All of the joint supplements mentioned above contain active ingredients beneficial for typical aches and pains with the potential to preserve cartilage and slow down the progression of joint degeneration.
Do not hesitate to try a variety of joint pain supplements that work and which is best for you. Everyone's body is different and has different needs, which is why there are so many joint pain products available.
When trying new knee and joint pain supplements, it may be a good idea to keep a diary of how you feel each day and any differences you notice in order to eliminate supplements that either do not work for you or cause negative side effects.
Unfortunately, arthritis is a progressive condition and drastically affects the overall quality of life. With the help of joint pain supplements online, you may find some relief from your symptoms. Choose the best joint pain supplements Glucosamine, Chondroitin, Boswellia, and MSM for Joint Health.
HealthInsiders Medical Reference
Sources © HealthInsiders. All rights reserved.
Arthritis | How CDC Improves Quality of Life for People With Arthritis. National Center for Chronic Disease Prevention and Health Promotion (NCCDPHP)
https://www.cdc.gov/chronicdisease/resources/publications/factsheets/arthritis.htm
Int J Clin Pract. 2013 Jun;67(6):585-94.
doi: 10.1111/ijcp.12115
. Efficacies of different preparations of glucosamine for the treatment of osteoarthritis: a meta-analysis of randomised, double-blind, placebo-controlled trials.
Arthritis Rheum
. 2007 Feb;56(2):555-67. Glucosamine sulfate in the treatment of knee osteoarthritis symptoms: a randomized, double-blind, placebo-controlled study using acetaminophen as a side comparator.
Rheumatology International
. January 2010, 30:357| Cite as Effect of glucosamine or chondroitin sulfate on the osteoarthritis progression: a meta-analysis
Cochrane Database Syst Rev
. Author manuscript; available in PMC 2016 May 26. Published in final edited form as: Cochrane Database Syst Rev. 2015; 1: CD005614. Published online 2015 Jan 28. doi: 10.1002/14651858.CD005614.pub2 PMCID: PMC4881293 NIHMSID: NIHMS781262 PMID: 25629804 Chondroitin for osteoarthritis
BMC Musculoskelet Disord
. 2004; 5: 6. Published online 2004 Feb 26. doi: 10.1186/1471-2474-5-6 PMCID: PMC387830 PMID: 15102339 S-Adenosyl methionine (SAMe) versus celecoxib for the treatment of osteoarthritis symptoms: A double-blind cross-over trial. [ISRCTN36233495]
J Med Food
. 2016 Aug 1; 19(8): 717–729. Published online 2016 Aug 1. doi: 10.1089/jmf.2016.3705 PMCID: PMC5003001 PMID: 27533649 Efficacy of Turmeric Extracts and Curcumin for Alleviating the Symptoms of Joint Arthritis: A Systematic Review and Meta-Analysis of Randomized Clinical Trials
Joint Bone Spine
. 2000;67(5):462-7. Harpagophytum procumbens in the treatment of knee and hip osteoarthritis. Four-month results of a prospective, multicenter, double-blind trial versus diacerhein.
Nutrients
. 2017 Jan; 9(1): 42. Published online 2017 Jan 6. doi: 10.3390/nu9010042 PMCID: PMC5295086 PMID: 28067815 Marine Oil Supplements for Arthritis Pain: A Systematic Review and Meta-Analysis of Randomized Trials
BMC Complement Altern Med
. 2011; 11: 50. Published online 2011 Jun 27. doi: 10.1186/1472-6882-11-50 PMCID: PMC3141601 PMID: 21708034 Efficacy of methylsulfonylmethane supplementation on osteoarthritis of the knee: a randomized controlled study
Arthritis Foundation: "Tip-offs to Rip-offs, Common Therapies to Consider, Supplement Guide-Osteoarthritis, Supplements to Avoid."
Natural Standard: "The Authority on Integrative Medicine."
Harvard Health Publications: "Online Medical Dictionary."
Consumer Reports
. "The facts about joint supplements: Of the 16 products we tested, seven didn't contain all that they claimed." Published online August 2013.