Do prostate supplements really work? When you try to find the right supplements to treat a health condition, it can feel like a shot in the dark.
VitaPost Prostate Plus formula is our top pick because it is made with modern and traditional ingredients, and is designed to provide nutrients in support of your prostate. Take care of your body's nutrition. Try Prostate Plus today and get support for your prostate's health.
It's important to note that not every prostate health supplement will work for everyone, and your results may vary.
What is a prostate supplement and how do they work?
A prostate supplement is an organic product which contains ingredients that can lessen the swelling in the prostate gland and therefore reduce urinary tract symptoms like frequent urination or leaking. Most of these products contain plant sterols, and evidence indicates that they diminish prostate hyperplasia.
However, they do not reduce the size of the prostate. These supplements are also rich in anti-inflammatory properties, which can decrease prostate swelling. Most of these products have a lot of antioxidants, which helps with healing and elevates your overall immunity. If you have a prostate ultrasound which indicates that your prostate is enlarged, you may want to consider one of these supplements.
What are the best prostate supplement ingredients?
Some of the best primary active prostate ingredients include:
Dispel the myths on Saw Palmetto and Lycopene
The media claims that both Saw Palmetto and Lycopene are very effective supplements for treating the symptoms of prostate enlargement. However, the research for both of these substances is less than certain about their efficacy in prostate health.
Rating Factors in Evaluating Prostate Supplements
When you are evaluating different prostate supplements, consider the following factors:
The quality of the ingredients for easing prostate symptoms
The price compared to other brands
The reputation of the manufacturer
The return policy or money back guarantee
Whether it includes artificial ingredients or allergens
If it's made in a GMP certified facility and follows safety guidelines
The Best Prostate Health Supplements
This supplement contains ingredients which support overall prostate health, urinary functioning, and immunity. The product is unique in that, besides including the typical substances in most prostate supplements like zinc, selenium, Pygeum, nettle, saw palmetto, and green tea, it also contains some unique inclusions like raspberry powder and three types of Japanese mushrooms. It should be a potent formula, and at $29.95 a bottle it's reasonably priced.
Frotrol is a prostate supplement which promises to support bladder control and health, help prevent accidents and leakage, and improve your sleep. Unfortunately, the manufacturer does not provide a full list of ingredients. They mention a few substances included such as soy, pumpkin seed, and plant sterols. This makes it difficult to compare it to other brands, or to check for allergens.
Another issue with this supplement is the fact that it's only sold on the manufacturer's website through a free trial. You can't make a one-time purchase, and you can't see the price until you sign up with your details.
This prostate health supplement was made by Dr. Dudley Danoff, the 'urologist to the stars' who has worked with famous people like Frank Sinatra and Ray Charles. ProstaGenix is also promoted by noted TV personality Larry King. The manufacturer calls it a 'multiphase prostate support compound' which can improve urinary flow, reduce frequency and urgency of urination, and enhance your sleep.
Although you can find the ingredients on Amazon, the official website doesn't provide them. The ingredients are quality substances which do help to treat the symptoms of BPH. However, the list is a little short compared to some of the other brands. At $49.95 a bottle it's a little more expensive than other supplements as well.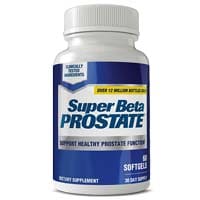 This prostate supplement promises to reduce enlarged prostate symptoms in men. It claims to improve bladder emptying, decrease nighttime urinary frequency, and reduce the urge to urinate. It also supports overall healthy bladder function.
Although the 10 organic ingredients are substances that support prostate health, there are things missing like pumpkin seed and saw palmetto. The product also contains the allergens soy and oysters, which will be problematic for some potential users. One bottle costs $29.95.
This is a high quality organic prostate supplement which supports overall prostate health and improves prostate enlargement symptoms. Users loved this supplement. The reviews for New Chapter Prostate 5LX were overwhelmingly positive, with 90% of customers giving this product a very high rating.
The ingredient list isn't long, but it includes all of the right organic substances for prostate health like saw palmetto, nettle, ginger, and green tea. It does contains soy, which allergic users should take note of. This is a very reasonably-priced supplement at $27.
This product provides help for prostate problems on 4 different levels. It promises to reduce the size of the prostate, promote normal urinary flow, reduce inflammation, and improve urinary health.
Urologist Dr. Geo Espinosa formulated this product for use with his patients. Prost-P10x contains 12 potent organic ingredients which support prostate health like green tea, plant sterols, Pygeum, and stinging nettle. The supplement is fairly expensive, but the users were happy with it in general, finding it effective in reducing symptoms. At $79.99, it's a little expensive.
This is a potent product for reducing urinary tract symptoms and supporting the health of the prostate. This supplement contains powerful organic substances like Boron, Turmeric, Lycopene, Zinc, Saw Palmetto, plant sterols, and Pygeum. It contains no artificial ingredients, and they produce it in a safe GMP facility. In addition, the price of the product is reasonable at $29.99.
Superior Prostate with Beta Sterols is a pharmacist formulated vitamin blend specifically designed to support healthy urinary function.
This prostate supplement is a potent formula which contains a very high amount of saw palmetto, as well as other ingredients that may be helpful for the urinary tract like garlic, pumpkin seeds, and stinging nettle.
The product promises to treat the symptoms of BPH, get rid of erectile dysfunction, and possibly also help with hair loss. It could also give you extra energy and improve your libido. This is a very reasonably-priced supplement at 19.99.
This is an extremely healthy product which supports overall prostate health, urinary health, and flow, and reduces the symptoms of BPH. It's rich in numerous ingredients which support prostate function and reduce inflammation.
In addition, it contains vitamins and minerals which support general health and immunity. According to the testimonials on the official website and Amazon, this is an excellent product which does work to lessen the symptoms of BPH. One bottle of this product costs $28.95.
Proquil is a natural prostate supplement which promises to decrease urinary frequency, improve voiding, and support a normal urinary flow. The manufacturer states that it does not increase your libido.
Unlike many other supplements, this product relies on only 3 primary active ingredients including saw palmetto, pumpkin seed, and Pygeum. It is missing some ingredients, and it also includes the allergen soy as well and bovine, making it unsuitable for vegetarians. In terms of price, this product is reasonable at $29.99.
Prostate PQ is a supplement which claims to support pelvic and prostate function as well as overall urinary tract health. It is very rich in antioxidants which heal the body and promote immune functioning.
One issue with the product is that it only relies on two primary active ingredients, which are quercetin and rye grass flower pollen. These are potent substances but there are some missing ingredients. In addition, this is an expensive product at $95.
ProstatePure Plus is an organic prostate health supplement which is rich in vitamins, minerals, antioxidants, and substances which treat prostate enlargement and urinary tract symptoms like nettle and beta-sitosterol.
There are some common substances missing like saw palmetto, Pygeum, and lycopene. In general, the reviewers were very happy with this supplement and said it did help reduce their symptoms and improve their lives. And at $21.99, this supplement is very affordable.
LifeSeasons Pros-T is a glandular support product, which supports normal prostate function and urinary flow in men. It contains a high amount of beta-sitosterol, a plant sterol which is very effective at reducing urinary symptoms.
Other ingredients include saw palmetto, stinging nettle, pollen extract, zinc, selenium, and pumpkin seed. It does contain soybean oil, which is problematic for people with an allergy. This product is somewhat expensive at $45.99.
Prostavec is a liquid prostate health supplement which can encourage healthy prostate and urinary flow. The liquid formula provides a change from the usual supplements, and this product contains a nice list of very potent substances like nettle, saw palmetto, damiana leaf, olive leaf, turmeric, and Pygeum.
The product got moderately good reviews, with over 70% of users finding the product highly effective. At $34, this supplement is reasonable for the market.
This is a potent prostate health supplement which is rich in high levels of ingredients, including beta sitosterol, zinc, pomegranate, lycopene, saw palmetto, nettle, turmeric, and pumpkin seed oil.
The manufacturer promises that it supports optimal prostate function with targeted nutrients. At $34.99, the supplement is fairly reasonably priced. The reviewers mostly loved this product. There were very few complaints.
Recommended Dose & Side Effects
Some of the common ingredients in prostate supplements can lead to some mild side effects. For example, nettle may cause an upset stomach, diarrhea, fluid retention, or sweating (2). In addition, saw palmetto could lead to symptoms like headache, dizziness, nausea, vomiting, diarrhea, and constipation (3). Beta sitosterol may lead to gas, diarrhea, nausea, indigestion, or constipation (4).
In terms of dosage, a good prostate supplement contains about 450 mg worth of ingredients. However, it's also important to look at the dosages of the individual ingredients, and research what the proper amounts would be. For example, 320 mg is a good daily dose of saw palmetto.
FAQ
What do prostate supplements do?
Prostate supplements contain ingredients with anti-inflammatory properties which reduce the swelling in the prostate. If you've had a prostate exam that shows you are enlarged, this can diminish urinary symptoms like frequent urination. They also contain plant sterols, which have demonstrated the ability to lessen prostate enlargement symptoms. These supplements tend to be high in antioxidants, which help with healing and strengthen your immune system. They can also decrease your prostate-specific antigen levels.
What are the top prostate vitamins?
The best of the prostate vitamins is Vitamin D. Low levels of this substance may lead to a higher risk of cancer. Doctor also suggests B vitamins, although not in high amounts as this could increase your cancer risk. The same is true of Vitamin E (1).
What are the best herbs for the prostate?
Some of the best herbs for prostate symptoms include Pygeum, stinging nettle, lycopene, saw palmetto, pumpkin seed, beta-sitosterol, and green tea.
Can supplements help your prostate?
Not everyone has faith in organic products, but they really do help with prostate health. Give the right ingredients, they can reduce the swelling in the prostate and eliminate some of the uncomfortable urinary symptoms like leaking or difficulty urinating. They may also lower prostate-specific antigen levels. In addition to supplements, there are other methods to help your symptoms such as prostate massage.
Who should buy a prostate supplement?
Men who are experiencing symptoms associated with an enlarged prostate should consider using a supplement along with their medical treatment. The ingredients will help to reduce the size of the prostate organ and lessen symptoms.
Which prostate supplements work, and which ones don't?
Generally, it's a question of the ingredients. A prostate supplement should contain plant sterols, as they can reduce urinary tract symptoms. It should also include other quality natural ingredients with anti-inflammatory and antioxidant properties, such as Pygeum, pumpkin seed, garlic, and green tea. If it doesn't contain these ingredients it may not be a good product.
How to decide which prostate supplements you should be using
Consider first the ingredients, as we've discussed. In addition, make sure there are no substances that you are allergic to include. You should also look up the manufacturer to make sure it's a reputable company.
Check the return policy to make sure you can get your money back if the supplement doesn't suit you. Finally, and very importantly, go to your doctor before starting any new product and make sure it fits in with your overall medical plan.
How to avoid being "scammed" or "ripped off"!
Stay away from free trial offers. More often than not, this is a way to get your credit card number so the company can charge you for purchases you don't want. When you buy a prostate supplement, choose a brand with a one-time purchase. Then when you see how the product works for you, you can decide if you want to repurchase.
Conclusion
As men get older, many of them begin to suffer from urinary tract symptoms associated with having an enlarged prostate. There are several treatment options for this condition, one of which is taking a natural supplement to reduce symptoms along with your other treatments. Organic supplements can be very effective and are also filled with properties which enhance general health and immunity.
It's important to evaluate a supplement carefully before you decide to take it, researching the ingredients and manufacturer and comparing it to other brands. Before you begin taking a new prostate supplement, check with your doctor to makes sure it's suitable for you and fits in with your other treatments.
*Disclaimer: Health Insiders (HI) provides information that should not take the place of medical advice. We encourage you to talk to your healthcare providers (doctor, registered dietitian, pharmacist, etc.) about your interest in, questions about, or use of dietary supplements and what may be best for your overall health. Any mention in this publication of a specific product or service, or recommendation from an organization or professional society, does not represent an endorsement by Health Insiders of that product, service, or expert advice.
READ THIS NEXT
View All