About CurcuminMD
CurcuminMD is a joint pain supplement that may help relieve stiff, sore and painful joints, according to its manufacturer.
It contains a blend of natural ingredients that are free from soy, gluten, preservatives, dairy and GMO products.
This makes it suitable for vegans as well as those who suffer from allergic reactions. This is exactly what CurcuminMD promises to achieve. It also claims to be doctor recommended, which suggests that may be safe and effective.
Since pain is the most prevalent health care problem, patients usually look for pain relievers to better their situation and that's why there are many products like this.
---
QUICK FACTS
Buy on Website
Quick Facts & Specs
CurcuminMD
CurcuminMD Plus helps relieve occasional sore, stiff joints, promote heart health, and encourage cognitive health.
Form:

Capsules

Type:

Supplement

Benefit:

Improves cognitive health, relieves joint stiffness, protects joints and tissues

Phone & Address:

(888) 393-4030

Brand:

1MD Nutrition

Uses:

Supports natural production of antioxidant enzymes, encourages good health, reduces joint discomfort and help maintain strong cartilage

Price:

$36.99*

Active Ingredients:

Curcumin, Boswellia Serrata
CurcuminMD Pros & Cons
Pros
It may help relieve joint pain, soreness, and stiffness
Claims to support heart health
Said to have cognitive boost properties
Claims to be all-natural and safe for long term use
CurcuminMD claims to be hypoallergenic
Cons
The product claims lots of benefits but has only two ingredients
It may trigger side effects such as bloating on some people
Joint pain may resurface after dose completion
---
How Does It Work? | The Science Behind CurcuminMD
Joint pain usually occurs due to a number of reasons such as cartilage loss, inflammation of the cushioning pads around joints and injury.
CurcuminMD claims to work in stages;
Week 1
Curcumin which is absorbed in the body makes noticeable physical and mental benefits. By following a regular routine allows antioxidant curcumin to reach the required level.
Week 4 (1 month)
Joint health and overall health benefits are achieved. This, however, is dependent on your body mass and physical condition. If your body mass is of normal weight, results will be positive.
Week 8 (2 months)
Through curcumin's antioxidant power, you are able to feel less soreness and stiffness in the joint area. Feelings of discomfort will be eased while mood may improve.
Week 12 (3 months)
By the third month, the benefits have been achieved and are stored for future use.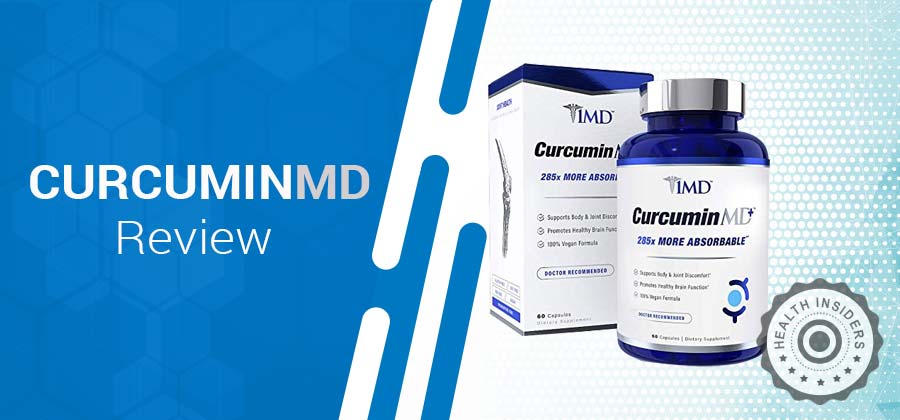 CurcuminMD Ingredients – The Breakdown
This supplement claims to conduct all its actions through its constituents which are;
Curcumin – This ingredient is extracted from turmeric and is claimed to reduce arthritic symptoms. According to a review article in the Journal of Medicinal Foods, curcumin may reduce pain and inflammation thus it is recommended for arthritis pain. In that, it mimics the working of pain relievers like ibuprofen and diclofenac.
Boswellia Serrata – In the Indian Journal of Pharmacology, one study report mentions that Boswellia may reduce the Pain Threshold and Pain Tolerance in individuals. This was concluded in an experiment where individuals were subjected to Boswellia supplementation while others were given a placebo. The Boswellia group surpassed the placebo group.
CurcuminMD – Questions and Answers
Q: How to Take CurcuminMD?
A: Take 1 capsule twice a day with a full glass of water on an empty stomach or as instructed by a physician. If you are concerned about sensitivity, you can take it with a small meal.
Q: Does CurcuminMD Have Any Side Effects?
A: Yes, you may experience side effects such as stomach sensitivity, mild headache, and nausea.
Q: Can I Take CurcuminMD If I Have A Health Condition?
A: No, the manufacturer recommends you seek a physician's advice if you have a health condition.
Q: Does CurcuminMD Work?
A: Yes, this product may work as it contains ingredients that are backed by scientific proof.
Q: What Is CurcuminMD Money-back Guarantee, Return & Refund Policy?
A: This supplement can be returned within 90 days. However, you should observe the following requirements;
Before returning the goods you should either call the company's customer care or write a notice on the package. Failure to do so will revoke your right to get a refund.
The return package should include all the bottles that were present in the original package. This means you should return all bottles whether opened, unopened or fully used.
CurcuminMD Alternatives
| Brand | Price | Active Ingredients |
| --- | --- | --- |
| Joint N-11 | $49 | Turmeric, Boswellia Serrata, basil leaf powder, ginger root powder, rosemary root powder |
| VitaPost Turmeric Curcumin Plus | $23.95 | Turmeric, Curcuminoids(e. curcumin), BioPerine (Piperine) |
| Primal Flex | $49.96 | Eggshell Membrane, Collagen Type 2, Vitamin C, Turmeric, Ashwagandha, Magnesium, Boswellia Serrata, Natural Astaxanthin |
| Primal Harvest Turmeric Complex | $38.95 | Turmeric, Bioperine |
Is CurcuminMD Safe? – Warnings & Complaints
This product could be safe as it has no preservatives, soy, gluten, dairy, and GMOs. Most customers complained that CurcuminMD a little pricey.
CurcuminMD Customer Reviews & Results
Users of this supplement were satisfied with the product. Those who gave positive reviews remarked that the product worked and was easy on the stomach and helped relief pain.
CurcuminMD: Packages, Deals, Prices & Where to Buy It
A bottle of CurcuminMD contains 60 capsules. It is sold on the company's Official Website as well as other online retail stores.
You can find it at these prices;
1 bottle costs $45.00
3 bottles cost $38.33 each
6 bottles cost $38.16 each
The Bottom Line
Joint pain is one of the most excruciating pains that an individual can experience. Whether it is due to injury or age, joint pain can become unbearable. Some conditions can also prompt this issue and keep you from living life to the fullest.
Luckily, there are various best supplements and vitamins for joint pain in the market that can help you feel better again. CurcuminMD is one such product. It promises to deliver its users from joint pain and provide overall health. In fact, you can get a cognitive boost while using this supplement.
This potency formula contains only natural ingredients and is free from most allergens, which is a good thing if you are a sensitive individual. Moreover, CurcuminMD has lots of positive reviews online that you could view for your purchasing needs.
You may also have to enquire from your doctor if you have a health condition and depending on your condition, you may be warned against using it.
Is There Anything Else You Should Know About CurcuminMD?
If you are using a multivitamin, you can still use this product. However, it is best if you enquire from your doctor just to be sure.
This also goes for those under any medication of some sort. That is, enquire to avoid any contraindications.

Where To Find 1MD CurcuminMD
You can BUY it directly from the manufacturer's Official Website
YOU CAN ALSO READ – ProJoint Plus Review
SOURCES
Health Insiders relies on peer-reviewed studies, academic research institutions, and medical associations. We avoid using tertiary references. You can learn more about how we ensure our content is accurate and current by reading our editorial policy.
[1] Chen, B., Li, L., Donovan, C. et al. Prevalence and characteristics of chronic body pain in China: a national study. SpringerPlus 5, 938 (2016). https://doi.org/10.1186/s40064-016-2581-y
[2] James W. Daily, Mini Yang, and Sunmin Park.Journal of Medicinal Food.Aug 2016.717-729.http://doi.org/10.1089/jmf.2016.3705
[3] Prabhavathi K, Chandra UJ, Soanker R, Rani P U. A randomized, double blind, placebo controlled, cross over study to evaluate the analgesic activity of Boswellia serrata in healthy volunteers using mechanical pain model . Indian J Pharmacol 2014;46:475-9
[4] Majeed M, Majeed S, Narayanan NK, Nagabhushanam K. A pilot, randomized, double-blind, placebo-controlled trial to assess the safety and efficacy of a novel Boswellia serrata extract in the management of osteoarthritis of the knee. Phytother Res. 2019 May;33(5):1457-1468. doi: 10.1002/ptr.6338. Epub 2019 Mar 6. PMID: 30838706; PMCID: PMC6681146