About Osteo Bi-Flex
Osteo Bi-Flex wants you to "keep doing what you love" because you are "made to move." This company offers a variety of products from capsules and cream to even Epsom salt for joint health. Osteo Bi-Flex promotes their supplements to preserve and improve joint cartilage, reduce joint pain and inflammation, and enhance joint mobility and range of motion.
This review will take a look at some key factors you should know about Osteo Bi-Flex and will focus on their oral supplements.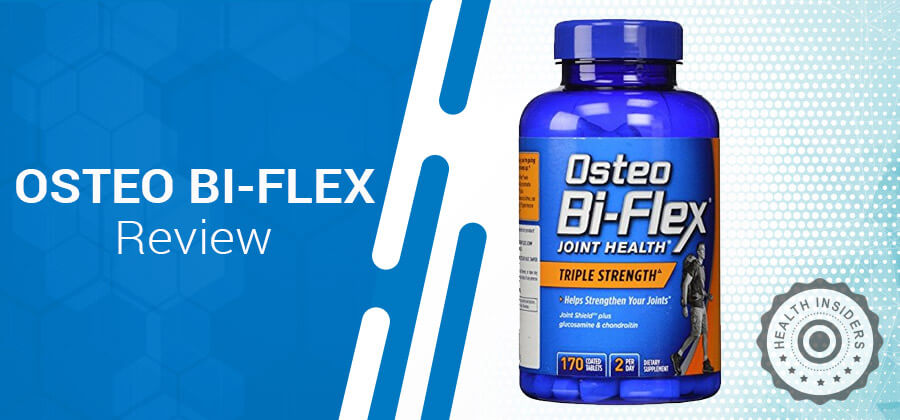 Osteo Bi-Flex Ingredients – The Breakdown
There are 4 main ingredients Osteo Bi-Flex uses in their oral supplements, noting not all of them are present in each supplement:
How Does It Work – The Science Behind Osteo Bi-Flex
The science behind oral supplements is in the ingredients. Individually, most of them seem promising, but there is little to no research available in regards to the variety of ingredient combinations Osteo Bi-Flex offers. Although the company website discusses specific benefits of each major ingredient in their supplements, their blanket statement is each supplement will "improve joint comfort in just 7 days" – based on the few studies listed on their website.
Osteo Bi-Flex Pros & Cons
Pros
The variety of products target several joint-related issues
Most products are gluten-free
Research behind individual ingredients overall support the effectiveness of them
Customer reviews are more positive than negative
Appears to be a reputable company
Offers Rewards Points on certain products
Cons
Majority of the products contain shellfish and pork (undesirable for those with food allergies or religious preferences)
Some supplements may not contain the most beneficial amount of certain ingredients in order to experience the maximum benefits
Glucosamine HCl may not be the most effective form of glucosamine for joint support
There is no scientific evidence through clinical trials to support the use of any Osteo Bi-Flex products
Glucosamine HCl may interact with certain medications for blood clotting, Diabetes, and cancer
Not regulated by the Food and Drug Administration
People Also Ask - Questions and Answers
Osteo Bi-Flex Alternatives

Although Osteo Bi-Flex makes several types of supplements for joint health, there are always alternative ones to try:
Osteo Bi-Flex Customer Reviews & Results
Below are positive and negative reviews about a few different products:
One Per Day

(+) improved arthritis symptoms, significantly reduced joint pain, knees felt stronger, benefits observed in less than a week (several reviews)
(-) no relief, large pill size (a few reviews)

Triple Strength MSM

(+) resolved joint pain altogether, reduced inflammation, improved range of motion, benefits observed in less than a week (several reviews)
(-) large pill size (a few reviews)

Triple Strength Turmeric

(+) significantly reduced pain and inflammation, increased flexibility (several reviews)
(-) minimal change in pain (a few reviews)

Ease

(+) improved joint mobility (several reviews)
(-) no relief from aches and pain, bad taste, not satisfied due to it not containing glucosamine HCl or chondroitin sulfate (several reviews)

Pain Relieving Cream

(+) resolved pain for a few hours, improved general aches and pains (a few reviews)
(-) no relief, undesirable odor (1 review)
Osteo Bi-Flex: Where to Buy and How to Save
You can buy Osteo Bi-Flex products through various retailers, but you may save the most money by purchasing online. However, managing returns and refunds may be easier through physical retail stores.

The Bottom Line on Osteo Bi-Flex
Osteo Bi-Flex seems to be a solid brand and has built a strong reputation. The company has several options for joint relief and you may find some better joint pain supplements such as MoveMD, Heal-n-Soothe and Arthrozene work better than others due to the different combinations and amounts of ingredients. Although not all joint-related issues or diseases can be managed by supplements alone, more often than not, users have experienced significant improvement in joint pain among other benefits.
The main red flag is the company website does not disclose any potential side effects or interactions with medications but does advise discussing any questions or concerns about their products with a healthcare professional.
Is There Anything Else I Should Know about Osteo Bi-Flex?
It appears to be a very transparent company (aside from not disclosing side effect information) and welcomes any questions or concerns by phone or e-mail. The company also makes a few more products than what is initially viewable on their website if you go to their shop link.
References
[1] Crowley D.
Safety and Efficacy of Undenatured Type II Collagen in the Treatment of Osteoarthritis of the Knee: A Clinical Trial
. International Journal of Medical Sciences. 2009;6(6):312-321.
[2] Debbi EM, et al.
Efficacy of Methylsulfonylmethane Supplementation on Osteoarthritis of the Knee: A Randomized Controlled Study
. BMC Complementary and Alternative Medicine. 2011 Jun 27;11:50. doi:10.1186/1472-6882-11-50.
[3] Hess A.
Chondroitin Sulfate and Glucosamine Supplements in Osteoarthritis
. Arthritis Foundation.
[4] Marcus DM.
Herbal Remedies, Supplements & Acupuncture for Arthritis
. American College of Rheumatology. 2015.
[5] Sengupta K, et al.
A Double Blind, Randomized, Placebo Controlled Study of the Efficacy and Safety of 5-Loxin for Treatment of Osteoarthritis of the Knee
.
Arthritis Research & Therapy. 2008;10(4):R85. doi:10.1186/ar2461.
[6] Lugo JP, et al. J Int Soc Sports Nutr 2013, 10:48.
[7] Crowley DC, et al. Int J Med Sci 2009, 6:312-321.
[8] Vishal AA, et al. Int J Med Sci 2011, 8:615-622.