About 1MD KrillMD
1MD KrillMD is a dietary supplement that claims to be formulated with highly potent Antarctic Krill oil which contains omega-3 fatty acids EPA (eicosapentaenoic acid) and DHA (docosahexaenoic acid).
Additionally, this supplement features antioxidant astaxanthin and krill phospholipids to enhance the absorption of ingredients into the body. According to Harvard Health, consumption of fatty acids EPA and DHA reduce the risk for cardiovascular disease.
---
QUICK FACTS
Buy on Website
Quick Facts & Specs
1MD KrillMD
KrillMD features pure, sustainable Antarctic krill oil with the highly potent omega-3 fatty acids EPA and DHA as well as the powerful antioxidant astaxanthin and krill phospholipids to maximize efficient and effective absorption by the body. By working to reduce common types of oxidative stress in the body, KrillMD is an important part of long-term joint, heart, and brain health
Form:

Capsule

Type:

Supplement

Benefit:

Joint comfort support, enhances cognitive functioning, aids healthy cholesterol levels, improved mobility

Phone & Address:

(888) 393-4030

Brand:

1MD Nutrition

Uses:

Support Cognitive, Heart, and Joint Health

Price:

$49.99*

Active Ingredients:

Krill Oil, EPA, DHA, Phospholipids, Astaxanthin
1MD KrillMD Pros & Cons
Pros
Claims to be formulated with clinically proven pure krill oil
May improve cognitive function, cholesterol levels, and joint health
May reduce oxidative damage caused by free radicals
May work two times more than fish oil
Krill MD formula is supposedly free from harmful fillers or additives
Cons
Results are not instant, requires up to 3 months for the full effects to be felt
Not suitable for users with fish allergy
In high amounts, krill oil may cause bleeding
Once discontinued cognitive, joint, and heart health may deteriorate
---
How Does It Work? | The Science Behind 1MD KrillMD
KrillMD is a doctor-recommended formula that claims to provide optimal heart, brain, and joint health. It is supposedly free from gluten, dairy, non-GMO, soy, and preservatives. These supplements work in three main ways; mood support, cholesterol support, and joint comfort support. KrillMD is able to do this by reducing oxidative damage, enhancing joint mobility, and regulating healthy cholesterol levels.
In 2 weeks, KrillMD helps to relieve joint soreness and stiffness. After 4 weeks, joint inflammation is highly reduced while improvements are observed in cognitive, heart, and joint health. At the 2-month mark, oxidative damage continues to reduce thus improving joint soreness and overall flexibility. Bad cholesterol is reduced while good cholesterol is improved. In 3 months and beyond, users may experience the full effects of this supplement. They may experience improved memory, mood, and cognitive function.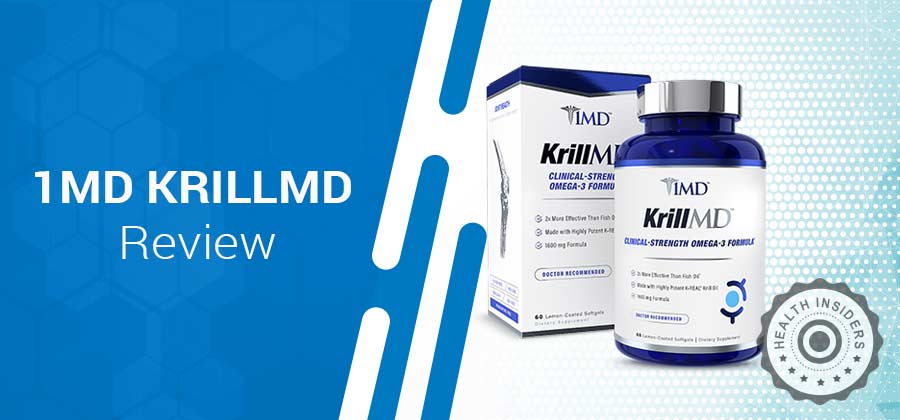 You can BUY it directly from the manufacturer's Official Website

1MD KrillMD Ingredients – What to Look For
Krill Oil – Krill is a key source of food for most marine species and is derived from small shrimp-like crustaceans. Compared to fish oil, krill oil is considered to be more sustainable.
According to the Journal of Dietary Supplements, krill oil may manage and treat inflammation, hyperlipidemia, and arthritis.
EPA – Eicosapentaenoic acid is considered an omega-3 fatty acid that is derived from fish and fish oil. It is largely derived from consumption and can be synthesized in small amounts from plants.
According to the Journal of Nutrition, EPA improves cardiovascular health by affecting cardiac diastolic filling and arterial compliance.
DHA – Docosahexaenoic acid is also an omega-3 fatty acid that is associated with cardiovascular function and Alzheimer's disease.
According to Advances in Nutrition, DHA is a key component of the cell membrane and is found abundantly in the brain and retina. Like EPA, DHA plays a major role in anti-inflammation.
Phospholipids – Dietary phospholipids have been used for centuries in the fight against coronary disease and inflammation.
According to Lipids in Health and Disease, phospholipids are claimed to have a positive impact on diseases without causing side effects.
Astaxanthin – According to Frontiers in Nutrition, astaxanthin is a lipid-soluble antioxidant. It is claimed to could exercise metabolism, performance, and recovery due to its antioxidant capacity.
1MD KrillMD – Questions and Answers
Q: How Should You Take 1MD KrillMD?
A: 1MD KrillMD is an adult-only recommended dietary supplement. Consume two (2) soft gel capsules with plenty of water. Alternatively, you can take them according to your healthcare professional's advice.
Q: How Much Does 1MD KrillMD Cost?
A: 1MD KrillMD comes as a single packaged product as well as multiple packaged products. There is a one-bottle package to be used for a month which costs $40. There is a package of three bottles to be used for three months and it costs $35. Lastly, there is a package of six bottles to be used for six months and it costs $29.
Q: What is 1MD KrillMD Return Policy?
A: 1MD KrillMD does have a return policy. However, with all the intense research, the majority of their customers love the product. But still, if you feel that you need to return the product upon delivery for various reasons, you are free to do so within 90 days from the date of purchase. The refund includes the purchase amount only. It does not cater to shipping costs.
Q: Does 1MD KrillMD Offer a Free Trial?
A: The free trial version of the product has not been mentioned anywhere on the company's website, meaning that the product does not offer free trials. This means that if you want to know whether or not the product works as it claims, you will have to buy it.
1MD Best Sellers
| Brand | Price | Active Ingredients | Explore Products |
| --- | --- | --- | --- |
| 1MD KrillMD | $49.99 | Krill Oil, EPA, DHA, Phospholipids, Astaxanthin | Shop Now |
| MoveMD | $54.95 | Hyaluronic acid, chicken collagen, Boswellia serrata | Shop Now |
| 1MD D3 | $40.99 | EVNolMax, Siliphos Bioavailable Silybin, N-acetyl Cysteine, Alpha Lipoic Acid, Zinc, Selenium | Shop Now |
| 1MD Complete Probiotics Platinum | $40.99 | Bifidobacterium lactis, Lactobacillus acidophilus, NutraFlora prebiotic fiber | Shop Now |
| 1MD OsteoMD | $45.99 | Calzbone, MenaQ7, Vitamin D3 as Cholecalciferol, Calcium Hydroxyapatite | Shop Now |
| 1MD B12 | $16.99 | B12 as Methylcobalamin, Olive Oil, Tapioca Starch, Glycerine, Candelilla Wax | Shop Now |
| 1MD CholestMD | $45.99 | Bergavit Bergamot Orange Fruit Extract, Niacin, Olive Leaf 40% Oleuropein Extract, and Garlic Bulb 20:1 Extract | Shop Now |
| 1MD Prostate MD | $49.99 | Saw Palmetto, Pumpkin Seed Oil, Pygeum, Stinging Nettle, Pine Bark Extract, Lutein, Lycopene, Copper, Safflower Oil | Shop Now |
Is 1MD KrillMD Safe? – Warnings & Complaints
This product could be safe as it is free from major allergens. However, those who are nursing, pregnant, trying to conceive, or on medication should only use KrillMD after getting approval from their doctor.
Most buyers on Amazon complained about broken capsules which affected their overall experience. Due to these broken pills, all the other capsules in the bottle were oily and users had to wash their hands after every use.
1MD KrillMD Customer Reviews & Results – What Users Are Saying
KrillMD reviews are both for and against this product. Some users claim that the supplements work great and have no fishy aftertaste and smell. On the other hand, some reviewers were disappointed in the quality of the capsules yet the product comes with a hefty price tag.

1MD KrillMD: Packages, Deals, Prices & Where to Buy It
KrillMD comes in a bottle of 60 capsules for a month's supply. For one-time purchase, a bottle costs $49.99, 3 bottles cost $43.99 each, 6 bottles cost $37.99 each. If you subscribe to the automatic delivery option, you get to save a couple of dollars for every purchase. In this arrangement, 1 bottle costs $40.99, 3 bottles cost $35.99, and 6 bottles cost $29.99.
You can buy this supplement from the company's Official Website
The Bottom Line on 1MD KrillMD
KrillMD is a doctor-recommended dietary supplement claimed to be formulated using pure Antarctic krill oil. With the fatty acids present in this supplement, users may experience a boost in their cardiovascular health, joint health, and cognitive health.
However, there are some limitations for those who can use this supplement. Additionally, many reviewers have complained about the quality of the capsules which are claimed to be leaky. Since krill oil capsules are susceptible to spoiling and oxidation, some people consider other sources for their omega 3 fatty acids.
Is There Anything Else You Should Know About 1MD KrillMD?
KrillMD features a patented Multi-Stage Oil (MSO) extraction technology that supports the absorption of ingredients into the body. This means that the supplement ensures all ingredients are well circulated into the body to work optimally. KrillMD also claims to support long-term heart, brain, and joint health. Other benefits of this supplement include;
Contains 1600 mg of pure krill oil per serving
Performs twice as effective as fish oil and has no fishy aftertaste
Formulated with more astaxanthin compared to other krill oil supplements
Where To Find It
You can BUY it directly from the manufacturer's Official Website
SOURCES
Health Insiders relies on peer-reviewed studies, academic research institutions, and medical associations. We avoid using tertiary references. You can learn more about how we ensure our content is accurate and current by reading our editorial policy.
[1] By the way, doctor: Is krill oil better for the heart than fish oil? https://www.health.harvard.edu/newsletter_article/is-krill-oil-better-for-the-heart-than-fish-oil
[2] Jonathan M. Kwantes & Oliver Grundmann (2015) A Brief Review of Krill Oil History, Research, and the Commercial Market, Journal of Dietary Supplements, 12:1, 23-35, DOI: 10.3109/19390211.2014.902000
[3] Mozaffarian D, Wu JH. (n-3) fatty acids and cardiovascular health: are effects of EPA and DHA shared or complementary? J Nutr. 2012 Mar;142(3):614S-625S. doi: 10.3945/jn.111.149633. Epub 2012 Jan 25. PMID: 22279134; PMCID: PMC3278271
[4] Swanson D, Block R, Mousa SA. Omega-3 fatty acids EPA and DHA: health benefits throughout life. Adv Nutr. 2012 Jan;3(1):1-7. doi: 10.3945/an.111.000893. Epub 2012 Jan 5. PMID: 22332096; PMCID: PMC3262608
[5] Küllenberg, D., Taylor, L.A., Schneider, M. et al. Health effects of dietary phospholipids. Lipids Health Dis 11, 3 (2012). https://doi.org/10.1186/1476-511X-11-3
[6] Brown DR, Gough LA, Deb SK, Sparks SA, McNaughton LR. Astaxanthin in Exercise Metabolism, Performance and Recovery: A Review. Front Nutr. 2018 Jan 18;4:76. doi: 10.3389/fnut.2017.00076. PMID: 29404334; PMCID: PMC5778137
[7] van der Wurff ISM, von Schacky C, Bergeland T, Leontjevas R, Zeegers MP, Jolles J, Kirschner PA, de Groot RHM. Effect of 1 Year Krill Oil Supplementation on Cognitive Achievement of Dutch Adolescents: A Double-Blind Randomized Controlled Trial. Nutrients. 2019; 11(6):1230. https://doi.org/10.3390/nu11061230