Each product we feature has been independently selected and reviewed by our editorial team. If you make a purchase using the links included, we may earn a commission.
What are Over-the-Counter Sleep Aids?
Sleep aids, also known as sleeping pills, are medications or supplements that help a person sleep. You don't need a prescription in order to buy over-the-counter (OTC) sleeping pills.
OTC sleep aids use antihistamines as their primary ingredient. Antihistamines work by blocking certain brain chemicals, which make you feel sleepy. There are also natural sleeping aids that use herbs or other natural elements.
Let's explore when to use sleeping pills and the popular options that are available.

When to Use OTC Sleeping Pills?
Many people take OTC sleeping pills to get quality sleep, but many people may not need them. Exercising, avoiding alcohol and other healthy behaviors can often improve sleep[1] and prevent insomnia.
If lifestyle changes don't work or you're still experiencing poor sleep, an OTC may be a good solution. They may help you adopt better sleeping habits.
Sleeping pills are generally safe for short-term use. Yet, studies[2] of OTC sleep aids don't have reliable results on both how well they work and how safe they are.
Tips for Choosing the best Sleep supplement
First, identify what is affecting your sleep. There are lots of factors that may be preventing you from getting a good night's rest. Since OTC sleep aids are best for short-term use, figuring out what kind of sleep problems you have will help you decide if they are right for you.
Then, talk with your healthcare provider. They can make sure the sleep supplement won't interact with any other medications you are taking. Always ask your provider if you are pregnant or breastfeeding before choosing a supplement.
Remember to read the label and look for any precautions. Some supplements may have limitations if you have medical conditions, such as diabetes, kidney disease or cancer. Keep in mind that sleeping aids may also affect other areas of your life, like driving.

Review of Popular Sleeping Aids
The following supplements are highly popular in the market. They are commonly used sleeping pills with reviews from buyers.
Sleep Supplements: The options
Visit Official Website
Sleep Support Plus is a Natrium Health supplement. The company promotes every supplement must be tested and have natural ingredients in it.
Pros:
This OTC claims to help you fall asleep faster and helps you stay asleep all night.
The product belongs to the American Herbal Products Association.
This supplement has all-natural ingredients, is gluten-free, and non-GMO.
Cons:
For some people the recommended dose is too powerful, resulting in side-effects. Natrium Health suggests reducing the dose to one pill if any side effects occur.
Ingredients: Tryptophan, Melatonin, Goji Berry, Lemon Balm, Chamomile, Valerian
Price: $35.99 for 60 count or $59.99 for 120 count
Results: Since this product is free of melatonin, it is a good option for those that do not want to use melatonin supplements. Sleep Support Plus reviews are positive and you can definitely consider buying it.
---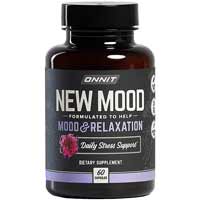 Visit Official Website
Onnit New Mood is an organic mood supplement which promises to elevate positive mood, lower stress and anxiety, and promote a calm and relaxed demeanor.
Pros:
Onnit New Mood supports heart and nervous system health.
It can eliminate daily stressors and promote a better mood balance.
It's free of gluten, dairy, soy, nuts, and caffeine.
Cons:
Onnit New Mood is a fairly expensive supplement.
It could make you somewhat drowsy.
Ingredients: 5-HTP, Magnesium, Tryptophan, Vitamins B3 and B6, Chamomile, Valarian Root, Jujube Seed, Lemon Balm
Price: $59.90 for a one-month supply
Results: Onnit New Mood contains a number of ingredients which promote a relaxed, calm feeling. It also raise levels of serotonin and other neurotransmitters, which can boost good mood and decrease feelings of anxiety.
---
ZzzQuil is an OTC that has an antihistamine in it.
Pros:
It's used to reduce the time it takes you to fall asleep and to help you stay asleep.
You take it when you need it, so you don't have to follow a specific schedule.
They offer a variety of options, including gummies, liquid, LiquiCaps and tablets.
Reviews on their website are very positive.
Cons:
It can cause blurred vision, affecting your ability to drive or do other daily activities.
Many people report having strange dreams when using ZzzQuil.
Ingredients: Melatonin, Ashwagandha, Valerian (Valeriana officinalis L.) root extract, Lemon Balm (Melissa officinalis) leaf extract
Price: The price depends on the type and amount. On their website, price per product ranges from $5.49 to $14.99.
Results: There are not any peer-reviewed studies on ZzzQuil. Yet, many people comment that it works.
---
Natrol Melatonin is an OTC that uses Melatonin.
Pros:
Melatonin can help you fall asleep faster and stay asleep longer.
The gummies are non-GMO, gelatin-free and vegetarian.
According to their website, they are ranked the #1 melatonin brand in America.
Cons:
There are no consumer reviews on their website.
Melatonin doesn't work for everyone.
Ingredients: Coconut Oil, Pectin, Sodium citrate, Organic tapioca syrup, Organic cane sugar
Price: Since they don't sell direct to consumer on their website, prices vary. Amazon had tablets starting at $12.99.
Results: Melatonin supplements have been heavily researched in peer-reviewed studies with mixed results.
---
Pros:
It comes in the form of quick-dissolvable tablets.
Contains melatonin and other herbs that may help reduce anxiety and improve sleep quality.
Cons:
Ingredients within Avinol PM all have minimum dosing requirements, which may not be enough to be effective.
There is no direct website for this sleeping aid.
Ingredients: Melatonin, Calcium, Magnesium, GABA, Hops Flower Powder
Price: $44.95 for 30 tablets
Results: Currently there are no peer-reviewed studies using Avinol-PM and many of the consumer reviews are mixed.
---
6. Unisom
Reported as the #1 Pharmacist recommended OTC Sleep-Aid Brand by Pharmacy Times Survey in 2015.
Pros:
These products have histamine and fast-acting sleep ingredients in them.
Unisom provides references to their statements and claims.
Comes in easy-to-swallow gels, tablets, little capsules, and dissolvable tablets.
The products are reported as non-habit forming.
Cons:
You should not take this if you have glaucoma, asthma or other chronic lung diseases, or an enlarged prostate.
The primary ingredient is an antihistamine, which slows down breast milk production. Individuals breast-feeding should not use this medication.
Ingredients: 5mg Melatonin
Price: Unisom is sold through retailers, so the price varies. Amazon lists 48 tablets at $10.50.
Results: The SleepGels have a 4.7-star rating with over 550 reviews on their website. Many of the reviews report it helped them fall asleep and they woke up feeling refreshed.
---
Sleep Aids are Not a Magic Cure
OTC sleep aids are not a magic cure. They may be effective for an occasional sleepless night. Yet, with long-term use, many people develop a tolerance to them. So the longer you take them, the less likely they will help sleep issues.
Many people also report feeling groggy the next day. While others report other side effects, such as dry mouth, blurred vision or daytime drowsiness. Stop using OTC sleeping pills if you have any side effects.
Keep in mind that OTC supplements are not reviewed and regulated by the FDA. There is no standardization in terms of dosage or formulas. This doesn't mean they don't work. It just means it's important to buy from reputable sources and to review the labels.

FAQs
Q. What is the difference between OTC sleeping pills and prescribed sleeping pills?
A. A primary difference is prescribed sleeping pills are approved by the FDA, while OTC sleeping pills are not. OTC sleep supplements typically contain natural ingredients. Prescription sleeping pills tend to have chemicals.
Q. Are sleeping pills or sleep aids right for you?
A. OTC sleeping aids may be right for you if you have short-term difficulty sleeping and if you've talked with your physician to ensure it is safe for you to take.
Q. Can sleeping pills treat insomnia?
A. Sleeping pills do work and can be an effective treatment for insomnia. There are side effects and it's important to take as recommended.
Q. How long do OTC sleeping pills take to work?
A. Once you've taken a sleeping pill, it's important to plan on going to bed shortly after. Many OTC sleep supplements recommend taking 15-20 minutes before bedtime. It's also helpful to stop doing activities after taking the supplement.
Q. When should I take a sleeping pill?
A. If you're planning on taking a sleeping pill, take at least eight hours before you want to wake up. If you take sooner than that, you may wake up feeling groggy.
Q. What causes poor sleep?
A. Stress is a common cause of insomnia. Yet, there are many factors that affect sleep quality. Nutrition choices, hormones, chronic disease, or work schedules can affect sleep.

The Bottom Line
Taking OTC sleep supplements can be helpful for those who are unable to get quality sleep on their own. Since there are different formulas for each brand, trial and error can help individuals find the right one.
Always be sure to talk with your healthcare provider about supplements before starting to take one. Experts also agree that sleeping pills are not the only part of the solution.
*Disclaimer: Health Insiders aims to improve the quality of life for people struggling with substance use or sleep disorder with fact-based content about the nature of sleep health conditions, treatment options, and their related outcomes. We publish material that is researched, cited, edited and reviewed by licensed medical professionals. The information we provide is not intended to be a substitute for professional medical advice, diagnosis or treatment. It should not be used in place of the advice of your physician or other qualified healthcare providers.
Sources
Health Insiders relies on peer-reviewed studies, academic research institutions, and medical associations. We avoid using tertiary references. You can learn more about how we ensure our content is accurate and current by reading our
editorial policy
.
1. Effects of moderate aerobic exercise training on chronic primary insomnia
2. @article{Randall2008OverthecounterSA, title={Over-the-counter sleep aid medications and insomnia}, author={Surilla Randall and Timothy Roehrs and Thomas Roth}, journal={Primary psychiatry}, year={2008}, volume={15}, pages={52-58} }