About SculptMedix
SculptMedix is an anti-aging and skin firming cream that aims to help restores the skin back to its youthful glory. It is supposedly doctor-developed and that it uses ingredients that can help re-sculpt, firm, and notably improve the skin's appearance.
Sculptmedix face and neck cream claim to combine the power of nutrients, the Epidermal Growth Factor[1], and moisturizing ingredients to smooth out the skin. It may tighten saggy skin, improve the appearance of fine lines, and improve facial wrinkles.
SculptMedix – Quick Facts & Specs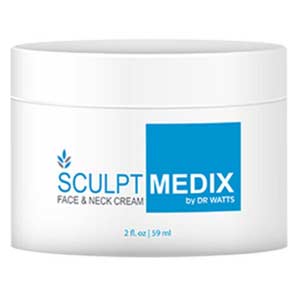 Buy on Amazon
SculptMedix is a powerful cream containing high-quality skin nourishing ingredients that will give your skin the youthful, tightened appearance you desire.
Form:

Cream

Type:

Skin

Benefit:

The cream claims to help keep the skin firm.

Brand:

DermalMedix

Uses:

It may offer deep moisturizing benefits.

Active Ingredients:

Oligosaccharides, Ethylhexylglycerin (EGF), Oligopeptide-1, Sodium Hyaluronate

Price:

$80.00

Phone & Address:

12100 Wilshire Boulevard, 8th floor, Los Angeles, CA 90025. 800-425-0243
Pros And Cons Of SculptMedix

The cream claims to help keep the skin firm
It may offer deep moisturizing benefits
Claims to help enhance a person's self-esteem
It prides on being an all-natural anti-aging solution

It may not work on scars or other skin blemishes
Some people may face allergic reactions especially rash
To retain the benefits, you may have to keep using the product
It's only available online
How Does It Work? | The Science Behind SculptMedix
The working principle of SculptMedix is that it supports the production of collagen, courtesy of the high levels of peptides. Now, with healthy levels of this component in the skin tissues, the skin may regain elasticity and that it becomes tighter and less wrinkled. Sufficient collagen may also help clear out fine lines.
Besides that, SculptMedix Dr. Watt's formula claims to be packed with ingredients that support skin regeneration. Meaning it helps in the replacement of old skin cells. The presence of sodium hyaluronate, on the other hand, is associated with strengthening the aspect of keeping the skin deeply moist to enhance a young-looking skin.
SculptMedix Ingredients – What to Look For
The active ingredients in dermalmedix sculptmedix include;
Oligosaccharides – This compound ingredient is said to play an active role in supporting the body's mechanism of replacing old and damaged cells, according to one article at Cosmetics and Toiletries[1]. They are polymers and occur in abundance in common foods such as onions and bananas.
Ethylhexylglycerin (EGF) – Is a common ingredient component in skincare products. It supports healthy blood movement inside the skin tissues.
A review article in the PloS One Journal[2]– indicates that EGF may offer skin protection against unhealthy microbial growth.
Oligopeptide-1 – This is a family of peptides and in composition exists as chains of amino acids. The key benefit of this compound ingredient is that it may help restore skin elasticity as it improves collagen levels in the body.
That is, it may help firm the skin to clear off fine lines, as suggested in a review article in the Journal of Experimental Dermatology[3].
Advertisement
*All individuals are unique. Your results can and will vary.
Sodium Hyaluronate – This ingredient is one of the building components of hyaluronic acid and is also said to exist naturally beneath the skin. This formula is associated with the property of being an intense moisturizer and helps to keep the skin plump.
In the International Journal of Dermatology[4], this sodium salt was shown to possess skin repair properties.
SculptMedix Alternatives
| Brand | Price | Active Ingredients |
| --- | --- | --- |
| Sisley Sisleya L'Integral Anti-Age Cream | 530.00 | Apple Pip Extract, Shea Butter, Vitamins, Glycerine |
| Revision Intellishade | $75 | Titanium Dioxide, Peptides, THD Ascorbate |
| Plexaderm | $59.95 | Titanium Dioxide, Acetyl hexapeptide-8, hydrolyzed rice protein |
| Hydroxatone | $67.99-79.95 | Acetyl Hexapeptide-8, Grape Seed Extract, Chamomile, Sodium Hyaluronate, Shea Butter, Licorice |
| Tatcha | $36-$135 | Vitamin E, Algae Extract, Vitamin B3 and B5, Carthmus Tinctorius Seed Oil, Jojoba Seed Oil |
| Prevage | $60-$419 | Green Tea, Squalane, Algae Extract, Sodium Hyaluronate |
| Crepe Erase | $49.95 | Coconut Oil, Shea Butter, Cocoa Butter, Beeswax |
| Juvederm | $400 to $600 | Hyaluronic Acid |
| StriVectin SD | $79 | NIA-114 Molecule, Aloe Vera, Peptides, Hyaluronic Acid |
| Boots No.7 | $400 to $600 | Pro-retinol, Alfalfa Extract, Peptides, Siloxanes, Dimethicone and Glycerin, Ginseng Root Extract |
Is SculptMedix Safe? – Warnings & Complaints
Yes, this anti-aging cream might be safe as it draws its strength from lab-tested ingredients and that most of these constituents have been used previously on similar skincare products such as Algenist GENIUS Ultimate Anti-Aging Cream, Dermiva Cream, Wunderlift 60, and BioXin Skincare.
SculptMedix Customer Reviews & Results
Most SculptMedix reviews online seem to praise the cream. The reviews specifically point out that it reduced their fine lines and wrinkles to a large extent and that their skin became firmer or tighter. In comparison some comments agree that the users felt and looked younger, judging from their SculptMedix before and after pictures. However, some reviewers said that they would have found it better if the cream was a bit lighter.
SculptMedix: Packages, Deals, Prices & Where to Buy It
Currently, SclulptMedix is only available on the official website.
1 Jar $80.00
2 Jars $144.00 (save $16.00)
3 Jars $204.00 (save $36.00)
SEE ALSO – SiO Beauty and ResQiD
Is There Anything Else You Should Know About SculptMedix?
The brain behind this cream is Dr. David Watts, a surgeon based in California and it is manufactured by a company called DermalMedix, a branch under the California Skin Products LLC. Now, according to the company, the results from using this cream are often more noticeable on the more mature skin than young skin, and that it works for both men and women.
Final Verdict
As an anti-aging cream SculptMedix face and neck cream might be worth giving a minute of attention. First, because it claims to be a herbal solution for wrinkles, and second because its list of ingredients is backed by science.
It promises to boost collagen production, improve the appearance of unsightly sagging skin, and that the long-term use might improve skin elasticity[5].
However, compared to other creams like Bioderm RX, Majestic Pure, POND'S Rejuveness, and SkinCeuticals C E Ferulic that make the same claims, some people might find this formula unaffordable. Also, to keep the benefits it is a requirement to keep using the product continuously, which some people might find kind of enslaving.
SculptMedix – Frequently Asked Questions
Q: How to use SculptMedix?
A: The direction of use for SculptMedix is that you should apply the cream daily. Place a generous amount on your hand and massage the cream gently on your face and neck, preferably in an upward motion.
Q: Does SculptMedix have any side effects?
A: Although this cream is termed safe, people with sensitive skin or those with a reactive history of any of the components in this formula may experience some mild negative effects.
Q: Can I use SculptMedix if I have a skin condition?
A: No information from the producer appears to bar users with health conditions from this cream. However, the rule of thumb when it comes to skincare products is that don't start a regimen unless your doctor approves.
Advertisement
*All individuals are unique. Your results can and will vary.
Q: Does SculptMedix work?
A: SculptMedix claims to harness the power of hyaluronic acid, and its other ingredients to help improve the skin's state, precisely to help tighten loose skin, and reduce wrinkles.
Q: What is the phone no. that I call to place an order?
A: For customer service, please call customer support toll-free at:
1-800-425-0243
Mon – Fri 6AM-5PM PST
Sat – Sun 6AM-4PM PST
Q: How do I contact SculptMedix?
A: If you have any questions, concerns, or suggestions, feel free to contact them by phone or email. The dedicated customer support specialists are there to help. Customer satisfaction is the top priority, so you'll always receive top-notch customer service with a personal touch.
DermalMedix
12100 Wilshire Blvd, 8th Floor
Los Angeles, CA 90025
[email protected]
Q: What Is SculptMedix money-back guarantee, return & refund policy?
A: This cream is covered by the DermalMedix 90-day refund policy, which is their standard guarantee policy on all their products. The policy allows room were users who didn't find the cream satisfactory to claim a refund.
Sources
Health Insiders relies on peer-reviewed studies, academic research institutions, and medical associations. We avoid using tertiary references. You can learn more about how we ensure our content is accurate and current by reading our editorial policy.
[1] Dreher F. (2016) Topical Growth Factors for Skin Rejuvenation. In: Farage M., Miller K., Maibach H. (eds) Textbook of Aging Skin. Springer, Berlin, Heidelberg. https://doi.org/10.1007/978-3-642-27814-3_100-3.
[2] Langsrud S, Steinhauer K, Lüthje S, Weber K, Goroncy-Bermes P, Holck AL (2016) Ethylhexylglycerin Impairs Membrane Integrity and Enhances the Lethal Effect of Phenoxyethanol. PLoS ONE 11(10): e0165228. https://doi.org/10.1371/journal.pone.0165228.
[3] Bioactive oligopeptides in dermatology: Part I.
[4] Role of topical peptides in preventing or treating aged skin.
[5] Skin anti-aging strategies.