About Revision Intellishade
Revision Intellishade is a 5-in-1 age-defying skincare product by Revision Skincare. It is a tinted moisturizer that also contains a broad-spectrum sunscreen of SPF45. It is available in three variants — Original, Matte, and TruPhysical.
The Original variant has the best moisturizing feel and is suitable for use during dry, cold months.
The Matte variant has a lightweight finish and pore-minimizing effects, making it suitable for use during warm, humid months.
The TruPhysical variant is the latest among the three, and it is said to have the most potent antioxidant effects.
---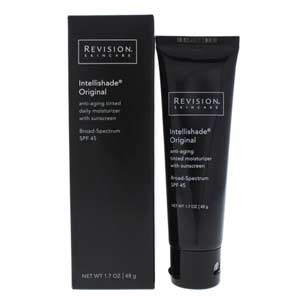 Buy on Official Website
Buy on Amazon
Quick Facts & Specs
Revision Intellishade
Revision Intellishade is a five-in-one anti-aging skin care product that claims to deliver the best moisturising experience and is perfect for use throughout the dry, winter months.
Form:

Cream

Type:

Skin

Benefit:

It claims to help make fine lines and wrinkles less obvious.

Brand:

Revision Skincare

Uses:

It provides broad-spectrum UV protection to help fight and prevent photodamage.

Ingredients:

Titanium Dioxide 3.5% and Zinc Oxide 3%, Peptides, THD Ascorbate, Proprietary Blend of Extracts

Price:

$75
Revision Intellishade Pros & Cons
Pros
It consists of clinically-proven anti-aging ingredients.
It claims to help make fine lines and wrinkles less obvious.
It provides broad-spectrum UV protection to help fight and prevent photodamage.
It blends with the natural color of the skin to help hide and correct skin imperfections.
It is suitable for all skin types, but most ideal for dry skin.
Cons
Retail price is higher than other brands.
Individual results may vary.
---
How Does It Work? | The Science Behind Revision Intellishade
Revision Intellishade is an award-winning formula that claims to leave the skin with a healthy, natural glow through its combination of more than 20 anti-aging ingredients.
These ingredients work via two key mechanisms. One is by providing the skin with intense moisturization and sun protection benefits, another is by shielding the skin against further damage induced by free radicals.
Advertisement
*All individuals are unique. Your results can and will vary.
Revision Intellishade Ingredients – The Breakdown
The following ingredients are common to Revision Intellishade Original, Matte, and TruPhysical. There may be additional ingredients depending on the variant.
Titanium Dioxide 3.5% and Zinc Oxide 3% – These are physical sunscreens that provide both UVA and UVB protection. According to studies, these two are the safest and most effective of its kind. Learn more about sunscreen agents and the science behind them in this article from the Pharmaceutical Journal.
Peptides – Stimulates collagen production to plump up the skin and make it smoother, in turn reducing the appearance of fine lines and wrinkles. These molecules have many other skincare benefits, all of which are discussed in this report by the Oregon State University.
THD Ascorbate – A lipid-soluble form of vitamin C considered the most potent and most stable, according to this 2002 double-blind study[1] from Dermatologic Surgery. It works to induce collagen production and even out skin tone. It also has some powerful antioxidant effects that help protect against free radicals.
Proprietary Blend of Extracts – This includes white birch extract, yeast extract, plankton extract, and coenzyme Q10. These extracts work together to erase fine lines and wrinkles.
Revision Intellishade – Questions and Answers
Q: How should I use Revision Intellishade?
A: Revision Intellishade must be applied evenly on the skin as the last step of your daytime skincare regimen to help protect the skin against sun-induced aging and damage.
After application, it is important to wait for at least 15 minutes before going out in the sun.
Q: Does Revision Intellishade have any side effects?
A: Unless you have extremely sensitive skin, Revision Intellishade should not produce any side effects.
Q: Can I take Revision Intellishade if I have a skin condition?
A: Revision Intellishade should be used safely by individuals with medical problems.
Q: Does Revision Intellishade work?
A: The manufacturer of Revision Intellishade conducted a study on this product and they found that the majority of the participants were able to perceive improvements in terms of tactile smoothness, brightness, and overall skin tone.
Q: What are the choices of sunscreen & what do products cost?
A: The Brightening Regimen – Formulated to brighten the face as well as the neck and chest area, this five piece set includes a Brightening Facial Wash; C+ Correcting Complex 30%; Nectifirm ADVANCED for the neck and décolletage and Retinol Complete 0.5. The package includes the choice of Revision Skincare age-defying moisturizer with sunscreen or Intellishade Multi-Protection Broad-Spectrum SPF 50. The products will cost you $70.00 to $243.00.
Advertisement
*All individuals are unique. Your results can and will vary.
Q: What Is Revision Intellishade money-back guarantee, return, and/or refund policy?
A: Revision Skincare has a 30-day money-back guarantee for customers who will buy Revision Intellishade.
Revision Intellishade Alternatives
Brand
Price
Active Ingredients
Kollagen Intensiv
$59.95
Retinol, Shea Butter, Avena Sativa
Instantly Ageless
$69.99
Sodium Silicate, Magnesium Aluminum Silicate,
Acetyl Hexapeptide-8 (Argireline), Phenoxyethanol
Hydroxatone
$67.99-79.95
Acetyl Hexapeptide-8, Grape Seed Extract, Chamomile,
Sodium Hyaluronate, Shea Butter, Licorice
Renee Rouleau Skin Care
$30.50-162
Lactic Acid, Hyaluronic Acid, Citric Acid, Ethyl Lactate, Vitamin E, Licorice Root, Kakadu Plum
ALASTIN Skincare
$30 to $195
TriHex Peptide
Advanced Dermatology
$30.50-162
Plant Stem Cells, Peptides and Neuropeptides, Antioxidants
Miami MD
$49
Progeline, Haloxyl, Matrixyl 3000, Eyeliss, Argireline, Acetyl Hexapeptide
Musely FaceRx
$30-$80
Tretinoin, Hyaluronic Acid, Titanium Dioxide, Cucumber Extract
Is Revision Intellishade Safe? – Warnings & Complaints
Revision Intellishade uses ingredients that have a track record of both safety and effectiveness. So far, there are no major complaints associated with the product.
Revision Intellishade Customer Reviews & Results
Revision Intellishade has before and after pictures on the official website, suggesting how effective it is. Customer reviews further support these, as most reviews say that the product is indeed effective in delivering anti-aging and sun protection benefits.
Revision Intellishade: Packages, Deals, Prices & Where to Buy It
Revision Intellishade is available as a small tube containing 48g product. It can be purchased from the brand's official website or through third-party retailers. It costs $75 per tube. Shipping is free.
SEE ALSO – Confidence in a Cream and BioXin Skincare
Advertisement
*All individuals are unique. Your results can and will vary.
The Bottom Line
Revision Intellishade comes off as a good option for individuals who are not only looking for a product with moisturizing and sun protection effects, but also one that can even out skin tone and hides their blemishes instantly.
This tinted product has made a lot of customers happy with its rich yet lightweight formula, and you can find proof of this through the reviews on the official websites and other online stores that carry the product.
Even better is that you have three variants to choose from with each one ideal for different climates.
Overall, the only thing that would probably discourage interested customers with Revision Intellishade is the price.
To be honest, you can find cheaper options such as Olay Regenerist Micro-Sculpting Cream, Olay Pro X & Crepe Erase, but you can't be sure if they'll be as effective as this product. If the price is not a problem, we suggest that you try this product and experience the benefits yourself.
Is There Anything Else You Should Know About Revision Intellishade?
Revision Skincare has authorized skincare professionals to inquire if you're not sure which products are right for your skin type or condition. All you have to go to the official website and click the link provided.
Sources
Health Insiders relies on peer-reviewed studies, academic research institutions, and medical associations. We avoid using tertiary references. You can learn more about how we ensure our content is accurate and current by reading our editorial policy.
[1] Fitzpatrick RE, Rostan EF. Double-blind, half-face study comparing topical vitamin C and vehicle for rejuvenation of photodamage. Dermatol Surg. 2002 Mar;28(3):231-6. doi: 10.1046/j.1524-4725.2002.01129.x. PMID: 11896774.