About POND'S Rejuveness
POND'S Rejuveness is an anti-wrinkle cream that claims to diminish the appearance of fine lines and wrinkles in as early as two weeks of regular use.
It boasts of key ingredients like alpha hydroxy acids and collagen, both of which have tried-and-tested anti-aging and skincare benefits.
Regular use of this product shall render the skin smoother, more radiant, and overall younger-looking.
Rejuveness is a product of POND'S, an American brand of personal care products. It is one of the many brands of the multinational company Unilever.
Advertisement
*All individuals are unique. Your results can and will vary.
---
POND'S Rejuveness Pros & Cons
Pros
It features two key ingredients with proven skin care benefits.
It claims to help reduce the appearance of fine lines and wrinkles on the face.
It can help exfoliate the skin to brighten up dull, lifeless skin.
It claims to replenish the skin's collagen stores to make the skin plumper and smoother.
It may also help to improve the skin's overall tone, texture, firmness, and elasticity.
It is tested and approved by dermatologists to be hypoallergenic and non-comedogenic.
Cons
It may not be suitable for individuals with very sensitive skin.
It may produce varying results among individuals.
---
How Does It Work? | The Science Behind POND'S Rejuveness
POND'S Rejuveness, based on its ingredients, claims to combat the signs of aging by inducing skin exfoliation to reveal fresher, smoother skin. It can also replenish the skin's collagen supply to make the skin plumper, in turn, making fine lines and wrinkles less obvious.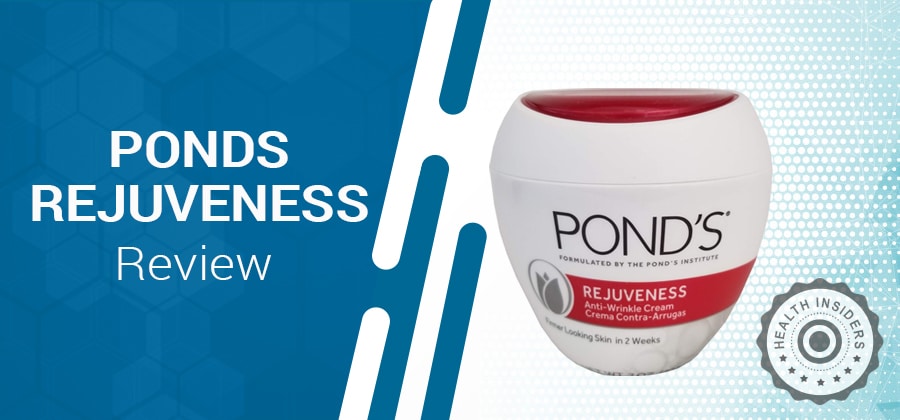 POND'S Rejuveness Ingredients – What to Look For?
POND'S Rejuveness utilizes the power of two of the most commonly used skin care ingredients to achieve fast and effective results. These include:
Advertisement
*All individuals are unique. Your results can and will vary.
Alpha Hydroxy Acids (AHAs) – These are fruit-derived acids that provide powerful exfoliating effects, helping to get rid of dead skin cells to reveal fresh, new skin. It helps brighten up dull skin and make the skin look smoother and more radiant. The application of AHAs in dermatology is discussed in this 2012 article from Journal der Deutschen Dermatologischen Gesellschaft.[1]
Collagen – This is a naturally-occurring structural protein in the skin, along with elastin. It tends to decline as one age, so replenishing it is a must. Adequate collagen supply makes the skin plump and smooth, in turn diminishing the appearance of fine lines and wrinkles. The benefits of topical collagen was one of the things highlighted in this 2009 study from The Journal of Clinical and Aesthetic Dermatology.[2]
SEE ALSO – RoC RETINOL CORREXION and Confidence in a Cream

POND'S Rejuveness – Questions and Answers
Q: How should I use POND'S Rejuveness?
A: POND'S Rejuveness must be used twice a day — in the morning and at night — after washing and toning your skin, preferably with POND'S products also.
Dispense a small amount then apply it evenly all over the face, concentrating on the problem areas.
Massage until fully absorbed.
Q: Does POND'S Rejuveness have any side effects?
A: POND'S Rejuveness should not produce any side effects. However, there are customers who reported having experienced minor skin irritations after using the product. If you have sensitive skin, it is best to consult your dermatologist first before use.
Q: Can I take POND'S Rejuveness if I have a skin condition?
A: POND'S Rejuveness may be safely used by individuals with medical problems — that is, unless your condition has anything to do with allergies.
Q: Does POND'S Rejuveness work?
A: POND'S is a popular beauty brand that has millions of users around the world. They are known for their effective formulas, and the Rejuveness cream is no exception. This product is developed and approved by dermatologists to be effective in what it promises to do.
Q: What Is POND'S Rejuveness money-back guarantee, return, and/or refund policy?
A: POND'S is available through numerous stores worldwide, and any return or refund policy should depend on where you will buy your product.
POND'S Rejuveness Alternatives
Brand
Price
Active Ingredients
Beverly Hills MD
$50 up
Saw Palmetto, MSM, Vitamin A
Revision Intellishade
$75
Titanium Dioxide, Peptides, THD Ascorbate
Plexaderm
$59.95
Titanium Dioxide, Acetyl hexapeptide-8, hydrolyzed rice protein
Hydroxatone
$67.99-79.95
Acetyl Hexapeptide-8, Grape Seed Extract, Chamomile,
Sodium Hyaluronate, Shea Butter, Licorice
Olay Regenerist Micro-Sculpting Cream
$25.12
Vitamin B3, Amino Peptides, Hyaluronic Acid
Crepe Erase
$49.95
Coconut Oil, Shea Butter, Cocoa Butter, Beeswax
Cindy Crawford Meaningful Beauty
$49.95-69.95
Retinol, Hyaluronic Acid, Melon Leaf Stem Cells, Superoxide Dismutase (SOD)
Miami MD Age Defying Lift & Firm Cream
$49
Progeline, Haloxyl, Matrixyl 3000, Eyeliss, Argireline, Acetyl Hexapeptide
Musely Spot Cream
$30-$80
Tretinoin, Hyaluronic Acid, Titanium Dioxide, Cucumber Extract
Advertisement
*All individuals are unique. Your results can and will vary.
Is POND'S Rejuveness Safe? – Warnings & Complaints
POND'S Rejuveness is dermatologist-tested and approved to be safe for daily use. No major complaints have been associated with the use of this product yet.
POND'S Rejuveness Customer Reviews & Results
POND'S Rejuveness has hundreds, if not thousands, of reviews online and a great majority of them have only good things to say about it. One user, for instance, says how much she loves this cream and how it has become her "new favorite". Another user claims that this product for her grandmother's almost 90-year old skin.
POND'S Rejuveness: Packages, Deals, Prices & Where to Buy It
It is sold in drugstores and supermarkets. Price is anywhere from $7.99 to $14.49.
ALSO READ – COSRX Triple C Lightning Liquid and Egg Mellow Cream

The Bottom Line
When it comes to anti-aging creams, collagen creams are touted to be among the best especially if you pick the right product for you. However, doing so can be quite challenging, given the thousands of products you can choose from.
When it comes to manufacturer reputation, ingredients, and most importantly the price, POND'S Rejuveness is one of the best picks you'll have.
With the hundreds of positive reviews under its wing, it only proves why POND's is among the best personal care brands out there.
Is There Anything Else You Should Know About POND'S Rejuveness?
Alpha Hydroxy acids, although generally safe, can render the skin more sensitive to sunlight.
Thus, it is advisable to use a sun protection product during the day, especially if you're going out in the sun.
Then again, even with sun protection, it is still possible to experience adverse skin reactions like redness, itching, and skin discoloration. This is especially true if the AHA concentration is more than 10%.
READ NEXT – Majestic Pure Review and BioXin Skincare Review
Sources
Health Insiders relies on peer-reviewed studies, academic research institutions, and medical associations. We avoid using tertiary references. You can learn more about how we ensure our content is accurate and current by reading our
editorial policy
.
1. Cosmetic and dermatologic use of alpha hydroxy acids.
2. Immediate and Long-term Clinical Benefits of a Topical Treatment for Facial Lines and Wrinkles.