What is Tatcha?
Tatcha is a popular skin care brand which offers a range of benefits, including exfoliating, cleansing, anti-aging, brightening, moisturising, improving tone and texture, and others.
Many of the ingredients as well as the wisdom behind these products come from Japanese culture. In addition, the company offers full time skin consultants wanting to answer your questions. Here are some of the top products in the brand.
Tatcha The Deep Cleanse – This is a natural exfoliating cleanser which eliminates dirt, oil, and dead skin cells from the pores and deeply hydrates the complexion.
Tatcha The Dewy Skin Cream – This is a hydrating moisturizer which replenishes the skin and eliminates dryness, leaving you with a rosy, healthy glow.
Tatcha Luminous Dewy Skin Mist – This is a quickly-absorbing moisturizing mist which you can use anytime, anywhere to give your skin a lift.
Tatcha Indigo Cream – This is a soothing moisturizer which provides long-lasting hydration and is ideal for sensitive skin.
| | |
| --- | --- |
| Features | Cruelty-Free |
| Form | Creams, Serums |
| Health Benefits | Cleansing, Exfoliating, Anti-Aging, Hydrating, Skin Repair and Protection, Brightening, Toning, Improving Texture, Cell Rejuvenation |
| Ingredients | Green Tea, Squalane, Algae Extract, Japanese Indigo Extract, Inositol, Japanese Wild Rose, Japanese Leopard Lily, Hadasei-3 Complex, Gold, Sodium Hyaluronate |
| Type | Skin Care Products |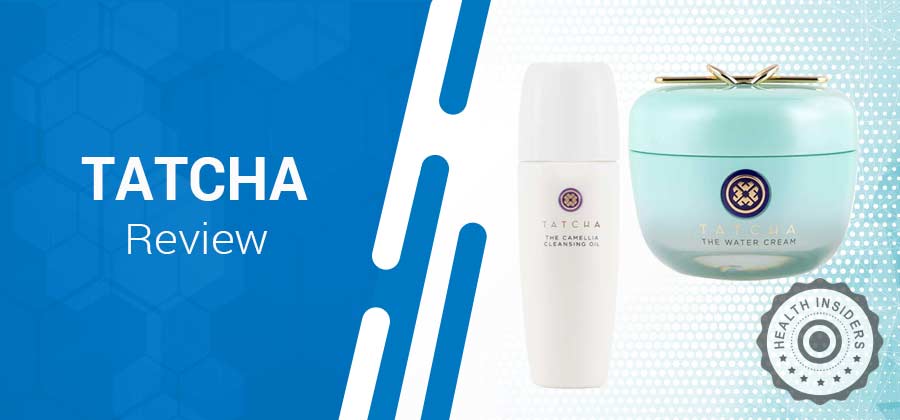 How Does Tatcha Work?
Tatcha includes a wide range of products, with many benefits. For example, there are ingredients which cleanse and exfoliate the skin, removing dirt and dead skin cells and shrinking the pores.
In addition, anti-inflammatory agents decrease redness and swelling, and can help heal skin conditions and acne. There are also substances included which brighten the skin and help remove pigmentation.
These are very hydrating formulas which moisturize and get rid of dry patches. The liquid plumps the skin, which can help smooth wrinkles and lines.
Other ingredients boost collagen production, which firms the skin and also helps eliminate fine lines. A review article in the Journal of Cosmetic Dermatology explored the cosmetic uses of collagen [1].
Tatcha products are high in antioxidants, which can destroy free radicals and decrease oxidative stress. This promotes general skin health and repair and protects the complexion from UV rays and pollutants. An article in Anais Brasileiros de Dermatologia discussed the role of antioxidants in dermatology [2].
Advertisement
*All individuals are unique. Your results can and will vary.
What Are the Ingredients in Tatcha?
These are some of the primary active Tatcha ingredients:
Green Tea – Green tea contains antioxidants called polyphenols which help repair skin barrier damage and protect from UV rays and pollutants. In addition, it contains caffeine which improves circulation and gives the skin a glow. An article in Oxidative Medicine and Cellular Longevity explored the protective effects of green tea polyphenols on the skin [3].
Coconut Oil – This is a deeply hydrating oil which moisturizes and eliminates dryness. It's also high in anti-inflammatory agents which decrease swelling and redness and can heal skin conditions.
Finally, it's a potent antioxidant which heals and protects the skin. An article in Natural Medicine Journal discussed the treatment of dermal infections with topical coconut oil [4].
Avena Sativa – This comes from oatmeal, and it's a common treatment for dryness and skin conditions. It helps lipid regulation in the skin, balances the PH, and can promote a stronger skin barrier. A study in the Journal of Drugs and Dermatology found that Avena Sativa improves skin barrier function [5]).
Algae Extract – Algae is deeply hydrating and can moisturize and get rid of dry patches, as well as helping to smooth lines and wrinkles. In addition, it can revitalize the skin cells, balance tone, and provide antioxidant benefits.
An article in Science of the Total Environment discussed the use of algae in cosmetics to counter environmental stress [6].
Pros and Cons of Tatcha
Pros
They offer expert skin consultation by phone.
Tatcha has Ritual Finder on their website to help you find a skin routine for your type.
They have a rich collection of products for every skin concern.
The ingredients are all completely natural and based on science.
Tatcha products are safe and do not have side effects.
Cons
Some products have a fragrance, which not every user will enjoy.
They only offer free shipping for U.S orders.
The results will vary for different users.
How Does Tatcha Rate?
| Feature | Rating | Comments |
| --- | --- | --- |
| Ingredients | 10 | Rich collection of ingredients, many from Japan, benefits supported by scientific studies |
| Manufacturer | 10 | Highly reputable manufacturer with 12 years of experience in the industry, owned by consumers goods giant Unilever |
| Safety | 9 | 100% pure and natural ingredients, no harmful additives or fillers, no side effects |
Frequently Asked Questions (FAQs)
Q: Is Tatcha Worth It?
A: Tatcha skin care is one of the top skin care lines on the market, with its rich formulations that include the most potent skin care botanicals available. In addition, the products are fairly reasonable for the market.
This skin care brand is more than worth it. Read through some of the Tatcha reviews and you'll see how highly users praised these products.
Q: Where to Buy Tatcha?
A: You can buy the Tatcha products on the manufacturer's website, on numerous other sites, and from a number of offline stores and even hotels like The Ritz Carleton. They manufacturer offers free shipping for U.S orders. Here are the prices of some of the top products in the line:
Advertisement
*All individuals are unique. Your results can and will vary.
Tatcha Deep Hydration Duo – $135
Tatcha Sensitive Skin Duo – $106
Tatcha Water Cream – $69
Tatcha Deep Cleanse – $39
Tatcha Dewy Skin Cream – $20
Tatcha Essence – $65
Tatcha Rice Wash – $36
Q: What is the Tatcha Return Policy?
A: The manufacturer is offering a 90-day return policy for items purchased in the U.S. on the official website. For international returns, contact the company by email.
If you're not happy with the product, let the company know and then send the items back within 90 days of the purchase date. The customer pays the shipping fees.
Q: Who Owns Tatcha?
A: Tatcha LLC is a luxury skin care and beauty line located in San Francisco, California. Founded in 2010 by Vicki Tsai, this company uses Japanese ingredients and wisdom in the formulation of their skin care. They are a well-reputed organization which sells their products internationally.
Q: Is Tatcha Cruelty-Free?
A: Yes, Tatcha is cruelty-free. They do not test on animals, nor ask others to do so on their behalf. None of their suppliers or other business associates support animal testing. In addition, they do not do business in areas of the world where they do such testing.
Q: How Does Tatcha Compare with Other Brands?
| Brand | Price Range | Ingredients |
| --- | --- | --- |
| Apsara Skin Care | Approx. $6-160 | Lavender, Carrot Seed, Eucalyptus, Clove, Neem, Vitamin C, Aloe Vera, Coconut Oil, Walnut Shell Powder |
| Clarins | Approx.$15-140 | Shea Butter, Rosemary Leaf Oil, Hazel Seed Oil, Bisabolol, Bitter Orange, Coconut Oil, Avena Sativa |
| Estee Lauder | Approx.$22-$405 | Narcissus Tazetta Bulb, Cucumber, Algae Extract, Apricot Kernel Oil, Peptides, Caffeine, Cholesterol, Oleic Acid, Sodium Hyaluronate |
| SkinMedica | $38.00-$530.00 | Alge extract, Aloe vera, Amino Acids, AHAS |
| Tru Alchemy | $10.60-$38.60 | Mangifera Indica, Dimethicone, Glycolic Acid, Butrospermum ParkiiDi-C12-15 Alkyl Fumarate |
Q: What Sets Tatcha Apart From the Competition?
A: Besides the incredibly high quality of the products, what makes them unique is that the founder of the company went to Japan to research key ingredients and learn about aspects of the culture to incorporate into the products.
In addition, this company offers free skin consultants available full time five days a week to answer any questions you have.
Q: What Do the Customers Think of Tatcha?
A: The vast majority of the Tatcha reviews raved about the wonderful benefits of these products. Customers said their skin had never looked this good, and some even said this was the miracle skin care brand they were looking for. Users found the prices reasonable, and they loved being able to contact an expert for skin care advice.
Q: Is Tatcha Vegan?
A: The entire line is not vegan, but Tatcha has a number of vegan products to offer. These include the following:
The Essence
The Rice Polish: Deep
Ageless Enriching Renewal Cream
The Rice Polish: Gentle
Camellia Gold Spun Lip Balm
Gold Camellia Beauty Oil
The Rice Wash
Aburatorigami Japanese Beauty Papers
The Water Cream
Pure One Step Camellia Cleansing Oil
Violet-C Brightening Serum
READ ALSO – BellaBiotics Review
Advertisement
*All individuals are unique. Your results can and will vary.
Conclusion
Tatcha is a brand of rich organic skin products which include many ingredients from Japan and based on Japanese wisdom and knowledge of herbals. The formulas are quite unique yet have science and research supporting their efficacy. The products are quite reasonably-priced and offer a range of skin health benefits.
You only have to read through the Tatcha reviews once to realise how much users loved this skin care brand. They mentioned wonderful anti-aging, exfoliating, and moisturizing benefits, as well as improvements in skin tone and texture. Customers said the products absorbed quickly and were not greasy.
Tatcha is one of the best skin care lines on the market, and it includes only 100% natural botanicals which are safe. The products include no harmful sulfates or parabens and should not lead to a skin reaction. If you're looking for quality skin care, Tatcha is a good choice!
11 sources
Health Insiders relies on peer-reviewed studies, academic research institutions, and medical associations. We avoid using tertiary references. You can learn more about how we ensure our content is accurate and current by reading our editorial policy.
[1] María Isabela Avila Rodríguez MRS,Laura G Rodríguez Barroso MRS,Mirna Lorena Sánchez PhD Collagen: A review on its sources and potential cosmetic applications, DOI : https://doi.org/10.1111/jocd.12450
[2] Addor FAS. Antioxidants in dermatology. An Bras Dermatol. 2017 May-Jun;92(3):356-362. doi: 10.1590/abd1806-4841.20175697. PMID: 29186248; PMCID: PMC5514576.
[3] OyetakinWhite P, Tribout H, Baron E. Protective mechanisms of green tea polyphenols in skin. Oxid Med Cell Longev. 2012;2012:560682. doi: 10.1155/2012/560682. Epub 2012 Jun 26. PMID: 22792414; PMCID: PMC3390139.
[4] TTreatment of Dermal Infections With Topical Coconut Oil Treatment of Dermal Infections With Topical Coconut Oil | Natural Medicine Journal
[5] Ilnytska O, Kaur S, Chon S, Reynertson KA, Nebus J, Garay M, Mahmood K, Southall MD. Colloidal Oatmeal (Avena Sativa) Improves Skin Barrier Through Multi-Therapy Activity. J Drugs Dermatol. 2016 Jun 1;15(6):684-90. PMID: 27272074.
[6] Ayesha Aslam, Ali Bahadar, Rabia Liaquat, Muhammad Saleem, Adeel Waqas, Mohammed Zwawi,Algae as an attractive source for cosmetics to counter environmental stress,Science of The Total Environment,Volume 772,2021,144905,ISSN 0048-9697, https://doi.org/10.1016/j.scitotenv.2020.144905.
[7] Bouslimani, A., da Silva, R., Kosciolek, T. et al. The impact of skin care products on skin chemistry and microbiome dynamics. BMC Biol 17, 47 (2019).
[8] Lin, Yin-Ku & Leu, Yann-Lii & Huang, Tse-Hung & Wu, Yi-Hsiu & Chung, Pei-Jen & Pang, Jong-Hwei & Hwang, Tsong-Long. (2009). Anti-inflammatory effects of the extract of indigo naturalis in human neutrophils. Journal of ethnopharmacology. 125. 51-8. 10.1016/j.jep.2009.06.014.
[9] Kim JH, Lee JE, Kim KH, Kang NJ. Beneficial Effects of Marine Algae-Derived Carbohydrates for Skin Health. Mar Drugs. 2018 Nov 21;16(11):459. doi: 10.3390/md16110459. PMID: 30469402; PMCID: PMC6266229.
[10] Koch W, Zagórska J, Marzec Z, Kukula-Koch W. Applications of Tea (Camellia sinensis) and Its Active Constituents in Cosmetics. Molecules. 2019; 24(23):4277. https://doi.org/10.3390/molecules24234277
[11] Huang ZR, Lin YK, Fang JY. Biological and pharmacological activities of squalene and related compounds: potential uses in cosmetic dermatology. Molecules. 2009 Jan 23;14(1):540-54. doi: 10.3390/molecules14010540. PMID: 19169201; PMCID: PMC6253993.