About Omnitrition
Omnitrition is a line of weight loss and nutritional support supplements manufactured by Omnitrition International Incorporated.
This is a company that promises to help its client base get the essential nutrients[1] needed for a healthy lifestyle.
Omnitrition products include; protein shakes, Omnitrition drops, fiber supplements, nail and hair growth supplements. The Omni Drop is the most popular product by the brand that targets individuals looking to shed some extra pounds.
This company claims to have been in the market for almost 30 years. Omnitrition International Inc. conducts multi-level marketing, where members are recruited to sell products for the company. Customers can also sign up to become distributors of Omnitrition products.
---
Buy on Official Website
Quick Facts & Specs
Omnitrition
Omnitrition is a weight-loss supplement that assists our customers in acquiring the nutrients they want for a balanced diet.
Form:

Liquid

Type:

Supplement

Benefit:

Energy levels may be improved.

Brand:

Omnitrition

Uses:

You may not experience food cravings and be more satiated.

Ingredients:

HCG, Vitamin B12, Natural Phosphate, Magnesium Phosphate

Price:

Unknown
Omnitrition Pros & Cons
Pros
Weight loss may be achieved in the long run.
Users may benefit from the nutritional boost from plant-based foods and lean proteins.
Energy levels may be improved.
You may not experience food cravings and be more satiated.
Cons
HCG may cause side effects such as stomach pain, headache, and fatigue.
Low caloric intake could cause serious health effects, please consult a dietitian and/or physician prior to starting a program like this.
Product may not work as advertised, according to reviews.
HCG is no longer a common ingredient in weight loss products, due to it not being a sustainable weight loss product.
---
How Does It Work | The Science Behind Omnitrition
The Omni Drop program entails a detailed meal plan, known as the Omnitrition Diet, and includes exercise activities along with the HCG drops. The diet plan consists of plant-based foods and lean meat only.
With this diet, the caloric intake is reduced while proteins and healthy fats are increased. Through this diet, Omnitrition promises its clients that they will lose up to one pound each day until they reach their desired weight loss goal.
It should be noted this is not a healthy rate of weight loss and therefore may not be sustainable long term. A healthy rate of weight loss is up to 2 pounds per week.
Advertisement
*All individuals are unique. Your results can and will vary.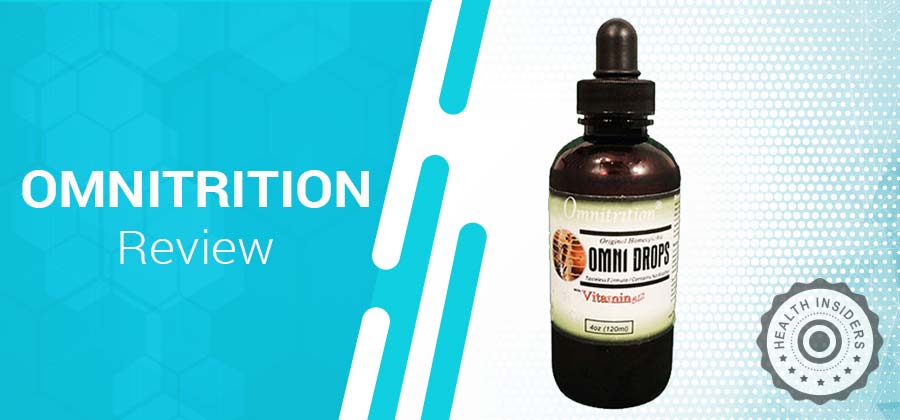 Omnitrition Ingredients – What to Look For
The active ingredients in the product include;
HCG – Human chorionic gonadotropin is a natural hormone that is produced during pregnancy. It may be associated with the reduction of caloric intake without the side effects caused by a caloric deficit. A research article in the British Journal of Clinical Pharmacology[2] seems to conclude that there is no scientific evidence that links HCG to the effective treatment of obesity. (Note: More research is needed).
Vitamin B12 – This vitamin is essential for DNA synthesis as well as cellular energy production. According to a review article in the Nutrients[3] journal, vegetarians and persons observing strict diets are at risk of facing vitamin B12 deficiencies.
Natural Phosphate – In a study published in the Nutrition and Diabetes[4] journal, subjects who were administered with phosphorus supplementation for 12 weeks observed a decrease in body weight, waist circumference, BMI and subjective appetite scores. This shows the potential benefit of phosphorus for weight loss, but further research is needed.
Magnesium Phosphate – Magnesium may play major roles in body functions in terms of energy production, enzyme activation, cardiovascular systems, and much more. In the Nutrients[5] journal, magnesium is documented to play a major role in vasodilation of the coronary and peripheral arteries. This function usually becomes restricted in obese individuals, leading to potential health problems. Therefore this ingredient can be helpful in preventing these complications.
Omnitrition – Questions and Answers
Q: How to Use Omnitrition?
A: 10 drops to be taken three times a day. Put the drops under the tongue and wait for it to sit on the tongue for 30 seconds before you swallow. This product is recommended to be used with the Omnitrition Diet protocol. Low caloric intake could cause serious health effects, please consult a dietitian and/or physician prior to starting a program like this.
Q: Does Omnitrition Have Any Side Effects?
A: The manufacturers don't mention any side effects. However, HCG is known to cause side effects for some individuals.
Q: Can I Take Omnitrition If I Have A Health Condition?
A: Yes, but you should consult your doctor, not all health conditions are the same. Some situations might be more delicate and therefore not safe to introduce any other substances.
Q: Does Omnitrition Work?
A: This product claims to work, but with no scientific evidence that supports HCG's role in weight loss, it is hard to tell whether Omnitrition weight loss supplements will work for you.
Q: What Is Omnitrition Work Moneyback Guarantee, Return & Refund Policy?
A: Omnitrition offers a 30-day money-back guarantee for all products purchased directly from their website.
Advertisement
*All individuals are unique. Your results can and will vary.
Omnitrition Alternatives
Brand
Price
Active Ingredients
Thrive Patch
$54.00
Forslean, Green Coffee Extract, Garcinia Cambogia, White Willow Bark, Green Tea Extract, Cayenne Pepper, Cosmoperine
PhenQ
$69.95
Capsimax, calcium carbonate, chromium picolinate, caffeine, nopal, L-carnitine fumarate, lacys reset
Noom
$59/month with discounts for longer subscriptions
Nutritional information, biometric tools, coaching and support group
Plexus Slim
$89.95
Chromium, Garcinia Cambogia, Green Coffee, Xylooligosaccharide
Fitmiss Delight
$27.99
Vitamin D, minerals, whey protein, and digestive enzymes
Phen375
$65.95
Caffeine Anhydrous, L-Carnitine,Citrus Aurantium,Chromium,
Cayenne Pepper
RazaLean
$69.95
Capsaicin, caffeine, kelp, apple cider vinegar, turmeric, arginine
Is Omnitrition Safe? – Warnings & Complaints
The producer claims the product is safe. However, HCG supplements need to be researched more as there is little to no evidence they are effective for weight loss.
The government body also cautions users on the low caloric diets that these supplements advocate for (usually HCG diets are within a range of 500-1000 calories daily).

Omnitrition Customer Reviews & Results
Customers who took Omnitrition weight loss supplement had mixed reactions. Some consumers said it helped them lose weight, while some complained about the horrible side effects they faced while using it.

Omnitrition: Packages, Deals, Prices & Where to Buy It?
Omnitrition weight loss supplements can be ordered online from either the manufacturer's site or another retailer website.
To get the info about the prices of this line of products, users have to complete the process of registering to be able to sign-in to the website.
The Bottom Line
Omnitrition weight supplements come in various forms such as drops or capsules. According to the manufacturer, using it as per the guidebook provided will help users achieve a healthy weight. You may also get an energy boost while using this product.
While this product may be efficient, it could have potential health implications as HCG, one of its ingredients, has had negative reviews in some research reports[6]. As such, it may be wiser to go for or consider looking for a safer options such as Found Weight Loss Program.
Advertisement
*All individuals are unique. Your results can and will vary.
Is There Anything Else You Should Know About Omnitrition?
The Omnitrition Diet that users should follow when using Omnitrition weight supplements is divided into four phases;
Phase 1– This is also called the loading phase because dieters are expected to observe a high-fat diet for two to three days. HCG drops are also used.
Phase 2– In this phase, a caloric intake between 500 to 700 calories is allowed. Exercise should be included in this phase.
Phase 3– For this phase, lower caloric intake is administered. No exercise is encouraged for this phase.
Phase 4– This is the maintenance phase. At this level, dieters are supposed to be used to the diet, which they are recommended to continue observing.
It is strongly advised that you consult a dietitian AND your physician prior to beginning a program that includes such a low-calorie diet, these diets can be detrimental to your health.
The weight loss seen with a diet this restrictive is often only short term, with consumers gaining their weight back shortly after completion.
Read Next – Zuccarin and Modere Trim
Sources
Health Insiders relies on peer-reviewed studies, academic research institutions, and medical associations. We avoid using tertiary references. You can learn more about how we ensure our content is accurate and current by reading our editorial policy.
[1] Lichtenstein AH, Russell RM. Essential Nutrients: Food or Supplements? Where Should the Emphasis Be? JAMA. 2005;294(3):351–358. doi:10.1001/jama.294.3.351
[2] The effect of human chorionic gonadotropin (HCG) in the treatment of obesity by means of the Simeons therapy: a criteria-based meta-analysis.
[3] O'Leary, F.; Samman, S. Vitamin B12 in Health and Disease. Nutrients 2010, 2, 299-316. https://doi.org/10.3390/nu2030299
[4] Ayoub, J., Samra, M., Hlais, S. et al. Effect of phosphorus supplementation on weight gain and waist circumference of overweight/obese adults: a randomized clinical trial. Nutr & Diabetes 5, e189 (2015). https://doi.org/10.1038/nutd.2015.38
[5] Gröber, U.; Schmidt, J.; Kisters, K. Magnesium in Prevention and Therapy. Nutrients 2015, 7, 8199-8226. https://doi.org/10.3390/nu7095388
[6] Pandey SK. HCG: Yet another fraudulence. J Pharm Bioall Sci 2012;4:255-6