About Modere Trim
Modere Trim is marketed as a weight support product that may give consumers a full body transformation to help them achieve a trimmed and sculpted look, according to the manufacturers.
The formulation is touted to be the first-in-the-world of its kind since as it has been created using two of the most popular technologies – Collagen/HA Matrix and Conjugated Linoleic Acid (CLA), which may help with improved metabolism. CLA's function may accelerate fat reduction while Collagen/HA Matrix might work to tone muscles and restore youthful skin.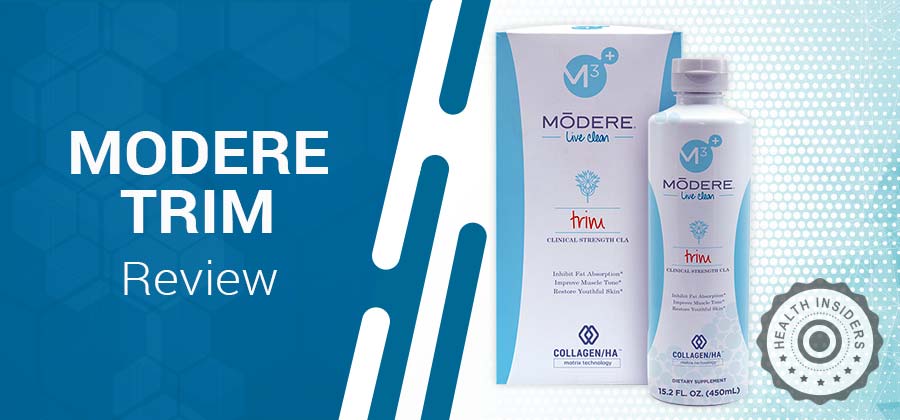 Modere Trim Ingredients – What to Look For
Trim is a formulation with two main components and other supporting ingredients that claim to achieve the role of fat reduction.
Below are some details of the ingredients in the product:
How Does It Work | The Science Behind Modere Trim
Modere Trim formulation was created using two leading technologies; CLA and Collagen/HA Matrix.
CLA is claimed to have the ability to speed up fat reduction and support fat metabolism. It may work to stop fat transportation from the bloodstream and into the fat cells.
On the other hand, Collagen/HA Matrix Technology boosts hyaluronic acid (HA) and collagen levels such that your skin is said to get restored to its youthful form. Joint muscle and muscle fitness may also be supported.
Apart from the technical properties of this product, Trim contains two main active ingredients to steer fat reduction in the body. These are Biocell and CLA. While CLA may reduce fat mass in the body, biocell may increase the skin's collagen level which might improve the skin's strength and elasticity.
Modere Trim Pros & Cons
Like all other products, Modere Trim features both advantages and disadvantages. Here they are:
Pros
Product claims to support fat metabolism.
Cellular fat storage may be inhibited according to the manufacturer.
Believed to help in the reduction of fat cells.
Consumers may achieve improved muscle tone.
Cons
CLA is usually associated with side effects such as nausea, fatigue and an upset stomach.
Only has two ingredients that may actually support fat reduction.
The liquid biocell exists as a proprietary blend, therefore it may not be as effective.
May not be suitable for vegans because it contains chicken sternal cartilage extract.
Customer Questions and Answers
Modere Trim Alternatives
Brand
Price
Active Ingredients
Modere Trim
$99.99
CLA, BioCell, Tocopherols, Potassium Sorbate, Sunflower Oil
PhenQ
$69.95
Calcium Carbonate, Caffeine Anhydrous, Capsimax, Piperine Extract, A-lacy's Reset, Chromium Picolinate
Burn TS
$59.95
Green tea, caffeine, Garcinia Mangostana, chromium
Phen375
$65.95
Caffeine Anhydrous, L-Carnitine,Citrus Aurantium,Chromium,
Cayenne Pepper
Plexus Slim
$89.95
Chromium Polynicotinate, green coffee bean extract, garcinia Cambogia
Trimtone Natural Fat Burner
$49.95
Green Tea, Green Coffee, Caffeine, Glucomannan, Grains of Paradise
RazaLean
$69.95
Capsaicin, caffeine, kelp, apple cider vinegar, turmeric, arginine
Is Modere Trim Safe? – Warnings & Complaints
Ingredients of this product are naturally occurring in the body and are considered to be safe. There are no warnings given by the manufacturers in terms of allergens or side effects. The common complaint about this product is its poor taste.
Modere Trim Customer Reviews & Results
Reviews on the company's official website are mostly positive. On Amazon, however, most customers are critical of Modere Trim saying that it does not work.
Modere Trim: Packages, Deals, Prices & Where to Buy It?
On the company's website, the 450 ml bottle of Modere Trim retails for 99.99 for a one-time purchase and $94.99 for the recurring order option.
The Bottom Line
Modere Trim is a collagen-based product that may block fat formation, tone muscles, reduce weight and restore skin. Since some customers claim it works and others say it doesn't, we may not boldly stand on either side of the claims since it seems to work differently for everyone. Nevertheless, if you are looking to reduce fat cells or improve your muscle tone this formulation may help.
However, if you are seeking to lose weight through a dietary supplement only, this product may disappoint you. There are other products such as Hydroxycut, Slimvance, and Active PK with better weight loss and fat burning ingredients on the market.
Is There Anything Else You Should Know About Modere Trim?
Modere Trim may work to help you achieve a sculpted body but is not effective for fat burning and weight loss. However, with only two main fat loss ingredients, we can say the product falls short (compared to its rivals) thus not enough to achieve the desired results.
As such, for efficient weight loss, the consumer should still observe the two keys to weight loss:
A healthy, balanced diet
Consistent exercise