About LuxeBiotics
There are 2 anti-aging eye products available from LuxeBiotics. Luxebiotics Anti-Wrinkle Cream is a cream that can eliminate wrinkles, puffiness, and dark circles from around your eyes. There is also Luxebiotics Dark Circle Serum which is focused specifically on removing dark circles from under the eyes. These are enriching, hydrating products that benefit overall skin health.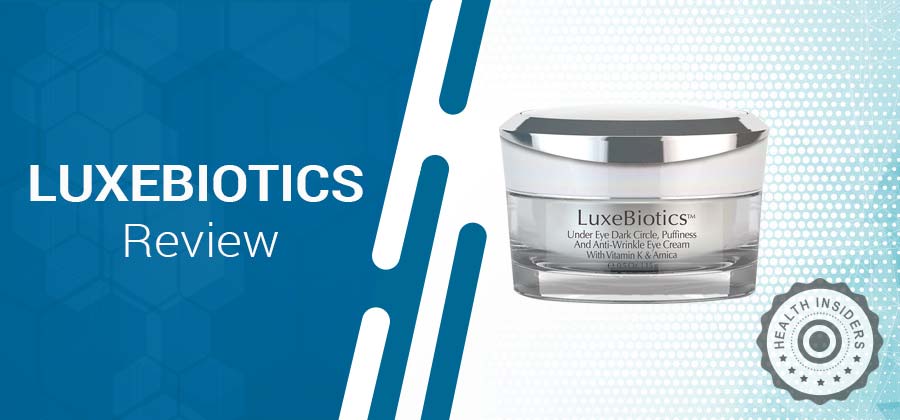 LuxeBiotics Ingredients – The Breakdown
Here are some of the primary active LuxeBiotics Eye Serum ingredients:
Jojoba Oil – This is the oil that comes from a shrub called Simmondsia Chinensis, which grows in Mexico and the Southern United States. It's a very hydrating substance that provides the skin with a lot of moisture, giving it volume and helping to smooth wrinkles and lines. It's rich in antioxidants and anti-inflammatory benefits. According to Science Direct, it's very compatible with the sebum in the skin.
Seaweed Extract – Seaweed is very enriching for the skin. It has antioxidants that can repair skin damage and help remove the signs of aging. In addition, it's very hydrating and provides the skin with a lot of moisture. An article published in Marine Drugs looked at the beneficial effects of marine algae for skin health.
Apricot Kernel Oil – Oil from the apricot fruit is very high in antioxidants, which can repair skin damage and protect it from harm. It also contains anti-inflammatory benefits, and it's an excellent moisturizer. An article in Utilization of Apricot Oil for the Development of Cosmetic Products described the development of enriching massage oil for the skin using apricot kernel oil.
How Does It Work? | The Science Behind LuxeBiotics
The LuxeBiotics under eye serum includes peptides, and the anti-wrinkle cream includes jojoba. Both of these stimulate the production of collagen, which makes the skin firmer and more elastic. This can smooth out wrinkles and lines.
A study in
Nutrients
discovered that providing collagen can improve many aspects of the skin, like hydration and density.
LuxeBiotics Eye Cream is a very hydrating formula. The liquid goes under the skin, smoothing out lines and wrinkles. These creams also deeply moisturize the skin and get rid of dryness.
The products are high in antioxidants, which repair damage to the skin barrier and protect it from environmental stressors. There are also anti-inflammatory benefits that lessen redness and swelling.
There are ingredients in LuxeBiotics that improve the circulation around the eyes, which helps to get rid of dark circles. A review in the Journal of Cutaneous and Aesthetic Surgery examined the pathogenesis, evaluation, and treatment of dark circles.
LuxeBiotics Pros & Cons
Pros
These products help remove wrinkles and lines.
They may remove dark circles from under the eyes.
The creams can lessen puffiness.
They may soften the skin and make it smoother.
LuxeBiotics could moisturize the skin deeply
Cons
The products are somewhat expensive.
The ingredients include soy and rice bran, which are common allergens.
It may take several weeks for full results.
People Also Ask - Questions and Answers
LuxeBiotics Alternatives
| Brand | Price | Active Ingredients |
| --- | --- | --- |
| LuxeBiotics | $49 | Jojoba Oil, Apricot Kernel Oil, Squalane, Arnica Montana Extract, Hyaluronic Acid, Soy Protein |
| ReVive Anti-Aging Eye Serum | $285 | Black Tea Ferment, Biotin, Peptides, Allantoin, Melia Azadirachta Flower Extract, Corallina Officinalis Extract, Mica, Aloe, Turmeric, Eggplant |
| G.M. COLLIN Diamond Eye Contour | $120 | Peptides, Watermelon Fruit Extract, Apple Fruit Extract, Tocopherol, Black Diamond, Sodium Hyaluronate, Squalene, Snow Algae |
| Drunk Elephant Shaba Complex Eye Serum | $60 | Black Tea Ferment, Copper Peptides, Niacinamide, |
| DermaSet 3D Rollerball Eye Serum | $39 | Hyaluronic acid, kinetin triple peptide compound, caffeine barley extract |
| Plexaderm | $59.95 | Titanium Dioxide, Acetyl hexapeptide-8, hydrolyzed rice protein |
| Sudden Change Under Eye Firming Serum | $12.97 | Dextran Sulphate, Hyaluronic Acid, Tetrasodium EDTA, Dimethicone, Serum Albumin |
| Kiehl's Vitamin C Eye Serum | $59 | Vitamin C, Tri-Peptide and Hyaluronic Acid |
| Murad Renewing Eye Cream | $82 | Retinol, Mango Butter, Eye Brightening Complex, Advanced Peptides |
| Simple Beauty Eye Serum | $49 | Aloe Vera, Sodium Hyaluronate, Green Tea, Peptides |
LuxeBiotics does quite well in the market. The range of prices is wide for eye creams, and this product comes out as average. In terms of ingredients, it includes a rich collection which compares well to other products such as Genucel, Cryotin, No7 Eye Cream, and Neora Age IQ Eye Serum.
Is LuxeBiotics Safe? – Warnings & Complaints
LuxeBiotics is a safe, organic product with no toxic ingredients. It's only unsafe for those who have an allergy to one of the ingredients. If you have a skin reaction, stop using the product right away and see a dermatologist if you need to.
LuxeBiotics Customer Reviews & Results
The LuxeBiotics reviews were only mediocre. Less than 70% of reviewers gave this product a very high rating. There were quite a few people who appreciated the results of this cream and said it worked well.
Some customers said the LuxeBiotics dark circle serum before and after was impressive. However, there were also complaints that it was ineffective, or that it gave them a skin reaction.
LuxeBiotics: Packages, Deals, Prices & Where to Buy It
You can buy LuxeBiotics on the manufacturer's official website, on Amazon, and from several other online sellers. It's $49 on Amazon and on the official site.
The Bottom Line
LuxeBiotics includes 2 organic cream which treats the skin around the eyes, focusing on wrinkles, lines, puffiness, and dark circles under the eyes. These products have antioxidants that repair damage to the skin and restore a more youthful appearance.
LuxeBiotics eye cream reviews were fairly positive. The majority of the users did like the creams and found them to be very effective at eliminating the signs of age. However, about 30% of reviewers didn't find the products effective or had a skin reaction.
If you do have a skin reaction to one of these ingredients, stop using the products right away. It's a good idea to go to a dermatologist before using a new product, to make sure it's suitable for your skin.
Is There Anything Else You Should Know About LuxeBiotics?
LuxeBiotics Eye Serum is a luxurious cream that should reduce the signs of age from around your eyes. There is also a LuxeBiotics dark circle under eye serum. We hope these products worked well for you, removing wrinkles, lines, puffiness, and dark circles. There are some natural methods for helping to eliminate eye wrinkles. Here are some tips:
Make sure to avoid the sun or use sunblock and a hat. The skin around the eyes is very vulnerable and sensitive to these rays.
You can do exercise with your face which can really tighten up the skin and help eliminate lines and wrinkles.
Follow a nutritious diet i.e. the military diet high in fruits and vegetables, grains, fish, and lean meat, Make sure to include antioxidant-rich foods like berries which help repair sun damage.
When you exfoliate, make sure not to miss the skin around your eyes. Be very gentle and don't get any of the product inside your eyes.