About Olay Ultimate Eye Cream
Olay Eyes is marketed as 4 separate eye creams that claims to brighten dark circles, hydrate tried eyes, decrease puffiness, and reduce wrinkles.
They also claim their eye creams will hide your secrets and give you a youthful look. Their creams are for all skin types. Olay does not test their products on animals.
---
QUICK FACTS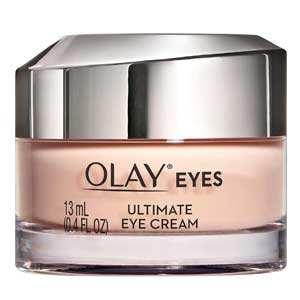 Buy on Website
Buy on Amazon
Quick Facts & Specs
Olay Eyes
Olay Ultimate Eye Cream gives your eyes a boost, reduces dark circles, wrinkles and puffy eyes, visibly and instantly.
Form:

Cream

Skin Type:

All skin types

Benefit:

Smooths and hydrates the eye area

Phone & Address:

1-800-285-5170

Brand:

Olay

Uses:

Replenish skin with moisture, acts as a touch of concealer matching all the skin tones.

Price:

$33.49*

Active Ingredients:

Niacinamide, Vitamin C and Caffeine , Optic Brighteners, Amino Peptide
Olay Eyes
Pros
Scent free
Absorbs easily
Inexpensive
A little goes a long way
Decreases eye bags
Look less tired
Cons
Burns and Reddens skin
Irritates skin
Ineffective
Sticky feeling around eyes
Dried skin around eyes
Made eyes itch
---
How Does It Work? | The Science Behind Olay Ultimate Eye Cream
The manufacturer states the area around your eyes is thin and delicate. It is the area that shows stress and fatigue. They enrich their formulas with vitamins. The claim when you use it daily you will see improvement in 28 days.
Use in the morning and evening on clean skin. Place dots around the eye area, under eyes, outer corners, and eyelids and lightly rub until thoroughly absorbed.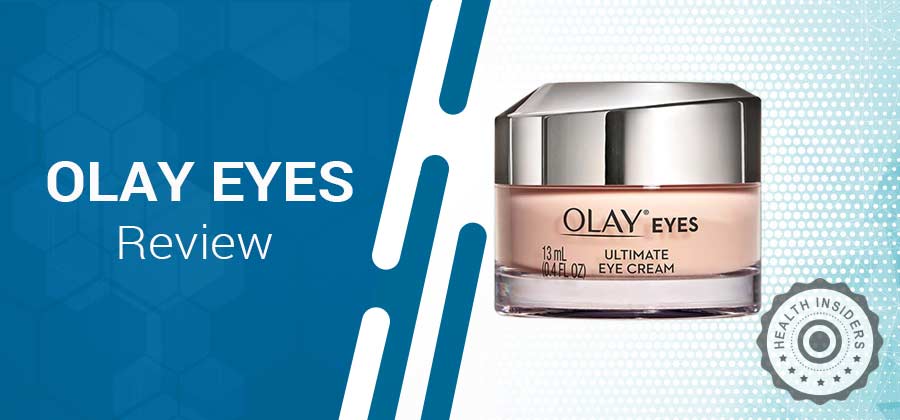 Olay Eyes Ingredients – The Breakdown
There are several primary active ingredients in these eye creams.
They include:
Advertisement
*All individuals are unique. Your results can and will vary.
Vitamin B3 (Niacinamide) – According to Dermatological Surgery[1], niacinamide improves skin appearance, reduces wrinkles and red blotchiness. It also improves elasticity of the skin.
Vitamin C and Caffeine – In combination have wound healing effects on the skin according to a study in Therapeutic Delivery[1].
Optic Brighteners – Fluoresce under light and make the skin appear brighter according to International Journal of Organic Chemistry[2].
Hyaluronic Acid – According to a study in Dermato Endocrinology[3], hyaluronic acid helps skin retain its moisture.
Cucumber Extract & Witch Hazel – According to Journal of Inflammation[4] has anti-inflammatory and anti-oxidant properties for the skin.
Amino Peptide – According to Applied Microbiology and Biotechnology[5], amino peptides have anti-microbial properties and are extensively used in cosmetics.
Pigments – Are Iron oxides that are used in cosmetics to add color to the skin according to Science Direct[6].
Retinoid Complex – According to Advances in Dermatology and Allergology[7], retinoid complex, known as vitamin A, is an anti-wrinkle agent and is used in cosmetics.
Vitamin E – Is an antioxidant and is important for maintaining skin health according to Oregon State University.
Other inert ingredients:
Water, Vinyl Dimethicone/ Methicone Silsesquioxane Crosspolymer, Glycerin, Isohexadecane, Isopropyl Isostearate, Stearyl Alcohol, Palmitoyl Pentapeptide-4, Dimethicone, Cetyl Alcohol, Behenyl Alcohol, Polyacrylamide, C13-14 Isoparaffin, Benzyl Alcohol, Ethylparaben, Peg-100 Stearate, Dimethiconol, Methylparaben, Propylparaben, Stearic Acid, Cetearyl Glucoside, Cetearyl Alcohol, Laureth-7, Disodium Edta, Titanium Dioxide.
Olay eye cream – Questions and Answers
Q: Which Olay eye cream is best?
A: This will depend on what issues you wish to resolve. They have 4 formulas. Each formula helps with the following conditions: brighten dark circles, hydrate tried eyes, decrease puffiness, and reduces wrinkles.
Q: How good is Olay Eyes Ultimate Eye Cream?
A: It can be used for all skin types. It is fragrance-free and has been rated well among customers.
Advertisement
*All individuals are unique. Your results can and will vary.
Q: How do you use Olay eyes?
A: Use morning and evening on clean skin. Place a small amount around the eyes and blend in.
Q: What does Olay Eyes Ultimate Eye Cream do?
A: The manufacturers claim it renews the skin surface after weeks of use and reduces puffiness around the eyes. It also claims to brighten and hydrate the skin around your eyes.
Olay Ultimate Eye Cream Alternatives
| Brand | Price | Active Ingredients |
| --- | --- | --- |
| Drunk Elephant Shaba Complex Eye Serum | $60 | Black Tea Ferment, Copper Peptides, Niacinamide, |
| Peptide Night Cream | $46.00 | Peptides, Shea Butter, Cholesterol, Ceramides, Allantoin, Vitamin E |
| Plexaderm | $59.95 | Titanium Dioxide, Acetyl hexapeptide-8, hydrolyzed rice protein |
| Sudden Change Under Eye Firming Serum | $12.97 | Dextran Sulphate, Hyaluronic Acid, Tetrasodium EDTA, Dimethicone, Serum Albumin |
| Kiehl's Vitamin C Eye Serum | $59 | Vitamin C, Tri-Peptide and Hyaluronic Acid |
| Murad Renewing Eye Cream | $82 | Retinol, Mango Butter, Eye Brightening Complex, Advanced Peptides |
| ReVive Anti-Aging Eye Serum | $285 | Black Tea Ferment, Biotin, Peptides, Allantoin, Melia Azadirachta Flower Extract,Corallina Officinalis Extract, Mica, Aloe, Turmeric, Eggplant |
| G.M. COLLIN Diamond Eye Contour | $120 | Peptides, Watermelon Fruit Extract, Apple Fruit Extract, Tocopherol, Black Diamond, Sodium Hyaluronate, Squalene, Snow Algae |
| Airbrush Eye Cream | $68 | Emu Oil, Collagen, Aloe Vera, Ylang Ylang, Green Tea, Ceramides, Vitamin E, Urea |
| DRMTLGY Needle-less Serum | $69.00 | Niacinamide (Vitamin B3), Hyaluronic Acid (Sodium Hyaluronate), Panthenol (Provitamin B5), Bambusa Vulgaris Leaf/Stem Extract |
Is Olay Ultimate Eye Cream Safe? – Warnings & Complaints
Olay is made by Procter & Gamble and has received an A+ rating from the Better Business Bureau.
The manufacturers of Olay claim to have more than 500 scientists and professionals who make sure their products meet safety and regulatory standards.
Customer complaints included irritated and burning skin.
EWG[8], Environmental Working Group, uses the power of information to protect our health and environment. EWG gave Olay eyes a score of 3 which is of moderate concern and nearing low hazard for people with allergies and skin sensitivities.
Olay Eyes Customer Reviews & Results
Customer reviews at Amazon gave it a 4.3 out of 5 stars. There were 207 positive reviews and 49 critical reviews. Of the critical reviews, the main complaint was irritated and burning skin.
Advertisement
*All individuals are unique. Your results can and will vary.
Olay Eyes: Packages, Deals, Prices & Where to Buy It?
You can purchase Olay eyes at the official site for $25 – $29 for a 0.5-ounce portion size. Amazon has these products available for $11.99 plus shipping cost. It is also available at Walmart, Ulta, CVS and Target.
The Bottom Line
Overall, customers have positive reviews about this product. There are 4 different eye creams available for purchase: Regenerist Retinol24, Brightening Eye Cream, Deep Hydrating Eye Gel, and Ultimate Eye Cream.
All appear to brighten, reduce puffiness, hydrate, and soften fine lines. All four creams are affordable for most customers. There are customer complaints about irritation and skin burning and redness for those who suffer from skin sensitivity and allergies. Check with your dermatologist prior to using this product.
READ NEXT – Genucel Reviews and Cryotin Reviews
SOURCES
Health Insiders relies on peer-reviewed studies, academic research institutions, and medical associations. We avoid using tertiary references. You can learn more about how we ensure our content is accurate and current by reading our editorial policy.
[1] Bissett DL, Oblong JE, Berge CA. Niacinamide: A B vitamin that improves aging facial skin appearance. Dermatol Surg. 2005 Jul;31(7 Pt 2):860-5; discussion 865. doi: 10.1111/j.1524-4725.2005.31732. PMID: 16029679
[2] Okuom M, Wilson M, Groathouse J, Lee J, Symonsbergen D, Gustafson C, Trauernicht M, Barcena H, Reicks C, Sikich S, Burks R, Holmes A. Synthesis of a Fluorophore with Improved Optical Brightness. Int J Org Chem (Irvine). 2013 Dec;3(4):256-261. doi: 10.4236/ijoc.2013.34037. PMID: 25429353; PMCID: PMC4241686
[3] Papakonstantinou E, Roth M, Karakiulakis G. Hyaluronic acid: A key molecule in skin aging. Dermatoendocrinol. 2012 Jul 1;4(3):253-8. doi: 10.4161/derm.21923. PMID: 23467280; PMCID: PMC3583886
[4] Thring TS, Hili P, Naughton DP. Antioxidant and potential anti-inflammatory activity of extracts and formulations of white tea, rose, and witch hazel on primary human dermal fibroblast cells. J Inflamm (Lond). 2011 Oct 13;8(1):27. doi: 10.1186/1476-9255-8-27. PMID: 21995704; PMCID: PMC3214789
[5] Rahnamaeian M, Vilcinskas A. Short antimicrobial peptides as cosmetic ingredients to deter dermatological pathogens. Appl Microbiol Biotechnol. 2015 Nov;99(21):8847-55. doi: 10.1007/s00253-015-6926-1. Epub 2015 Aug 26. PMID: 26307444; PMCID: PMC4619455
[6] 3 - Color and cosmetic color materials, Editor(s): Takeo Mitsui, New Cosmetic Science, Elsevier, 1997, Pages 70-98, ISBN 9780444826541, https://doi.org/10.1016/B978-044482654-1/50005-3
[7] Zasada M, Budzisz E. Retinoids: active molecules influencing skin structure formation in cosmetic and dermatological treatments. Postepy Dermatol Alergol. 2019 Aug;36(4):392-397. doi: 10.5114/ada.2019.87443. Epub 2019 Aug 30. PMID: 31616211; PMCID: PMC6791161
[8] Vitamin E and Skin Health https://lpi.oregonstate.edu/mic/health-disease/skin-health/vitamin-E