About ReVive Anti-Aging Eye Serum
ReVive Anti-Aging Eye Serum is a serum which could diminish the signs of aging around the eyes. This includes bags, dark circles, crepiness, wrinkles, and fine lines.
The eye care treatment can soften and smooth the skin, and make it look bright and luminous. It gives the area around the eyes volume and contour, and makes you look more youthful.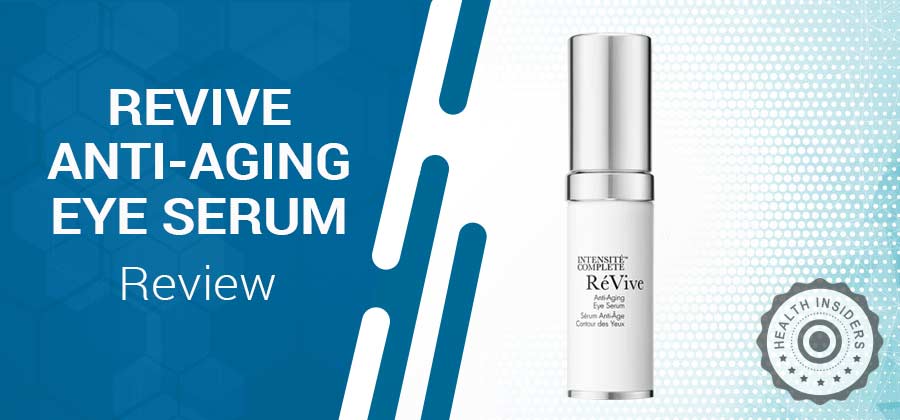 ReVive Anti-Aging Eye Serum Ingredients – The Breakdown
There are some of the primary active ingredients in this serum.
How Does It Work? | The Science Behind RéVive Intensité Complete Anti-Aging Eye Serum
The serum contains a lot of peptides, which are chains of amino acids that initiate the production of additional collagen. As we age, collagen diminishes. The additional amount helps to make the skin firmer and more elastic, which can eliminate wrinkles and fine lines.
Revive eye serum also contains anti-inflammatory agents, which can lessen puffiness and bags under the eyes. It has antioxidants that improve the skin's immunity and can fix skin damage.
There are substances in Revive anti-aging eye serum which improve the circulation under the eyes and prevent blood vessels from breaking. This stops you from getting dark circles.
There are several hydrating ingredients in this serum, which give volume to the skin. This helps to smooth out wrinkles and lines, and moisturize.
ReVive Anti-Aging Eye Serum Pros & Cons
Pros
The product lessens wrinkles and lines around the eyes.
It can lessen bags under the eyes and crepiness.
The product brightens the skin around the eyes.
The serum can diminish dark circles.
It softens the area around the eyes.
Cons
The product is extremely expensive.
There are many ingredients, increasing the chance of an allergic reaction.
Customer Questions and Answers
ReVive Anti-Aging Eye Serum Alternatives
| Brand | Price | Active Ingredients |
| --- | --- | --- |
| ReVive Anti-Aging Eye Serum | $285 | Black Tea Ferment, Biotin, Peptides, Allantoin, Melia Azadirachta Flower Extract,Corallina Officinalis Extract, Mica, Aloe, Turmeric, Eggplant |
| G.M. COLLIN Diamond Eye Contour | $120 | Peptides, Watermelon Fruit Extract, Apple Fruit Extract, Tocopherol, Black Diamond, Sodium Hyaluronate, Squalene, Snow Algae |
| Drunk Elephant Shaba Complex Eye Serum | $60 | Black Tea Ferment, Copper Peptides, Niacinamide, |
| DermaSet 3D Rollerball Eye Serum | $39 | Hyaluronic acid, kinetin triple peptide compound, caffeine barley extract |
| Plexaderm | $59.95 | Titanium Dioxide, Acetyl hexapeptide-8, hydrolyzed rice protein |
| Sudden Change Under Eye Firming Serum | $12.97 | Dextran Sulphate, Hyaluronic Acid, Tetrasodium EDTA, Dimethicone, Serum Albumin |
| Kiehl's Vitamin C Eye Serum | $59 | Vitamin C, Tri-Peptide and Hyaluronic Acid |
| Murad Renewing Eye Cream | $82 | Retinol, Mango Butter, Eye Brightening Complex, Advanced Peptides |
| Simple Beauty Eye Serum | $49 | Aloe Vera, Sodium Hyaluronate, Green Tea, Peptides |
| DRMTLGY Needle-less Serum | $69.00 | Niacinamide (Vitamin B3), Hyaluronic Acid (Sodium Hyaluronate), Panthenol (Provitamin B5), Bambusa Vulgaris Leaf/Stem Extract |
The prices for anti-aging creams and serums range from low to very high, and clearly ReVive Anti-Aging Eye Serum is on the high end of the scale.
However, it clearly offers advantages in the area of ingredients. It's much richer than the other brands presented here.
Is ReVive Anti-Aging Eye Serum Safe? – Warnings & Complaints
The ingredients in Revive eye serum are perfectly safe. The only possible risk is if you have an allergic to the ingredients. Before you use the product, make sure you aren't allergic to any of the ingredients. If so, avoid the product.
ReVive Anti-Aging Eye Serum Customer Reviews & Results
There are a number of Revive intensite complete anti-aging serum reviews online, and most of them are quite positive. Users said the serum got rid of crepey skin, bags, and dark circles under their eyes. They were on the whole very happy with the results. There was no mention of side effects.
ReVive Anti-Aging Eye Serum: Packages, Deals, Prices & Where to Buy It
You can buy Revive eye serum on the manufacturer's official website, and from a number of other retailers. It's listed on Amazon, but is currently unavailable. On the official website, the serum is $285.
The Bottom Line
ReVive Anti-Aging Eye Serum is an eye care treatment that is meant to diminish the signs of aging around the eyes. This includes wrinkles and expression lines, bags, puffiness, and dark circles. It includes a wide collection of high-quality ingredients, and research supports their effectiveness.
The price for this product is high, but according to many of the users, it's worth every penny. Customers claimed that it smoothed and hydrated their skin, and made them look younger by removing the signs of aging.
There is a chance that you may have an allergic reaction to this product. If this occurs, this is not the right serum for you and you should stop using it. It's a good idea to go to a dermatologist before using this product to make sure it's suitable for your skin.
Is There Anything Else You Should Know About ReVive Anti-Aging Eye Serum?
ReVive eye renewal serum is an organic serum that should help reduce the signs of aging around your eyes. We hope this is the ideal serum for you, and that it helps to reduce puffiness, bags, wrinkles, and dark circles.
There are also some natural ways to take care of the skin around your eyes. Here are some suggestions[2]:
Stay out of the sun. It can damage your skin, and especially the area around your eyes. This is because it's thinner and more sensitive than the rest of your skin.
Get a good massage. This can lessen fluid retention, which reduces puffiness and bags under your eyes.
If you smoke, try to quit. This can cause additional wrinkles around the eyes and lead to premature aging.
Make sure you get a good sleep every night.