About Bellacova Cream
Bellacova cream is marketed as a skin formula infused with collagen that assists in making your skin look younger.
The company claims it tightens and rebuilds your skin's structure.
---
Bellacova Cream Pros & Cons
Pros
Skin feels smooth
Easy to apply
Claims to smooth out wrinkles
Claims to improve collagen levels
May give skin more hydration
May help smooth out fine lines and age spots
Claims to work on all skin types
Cons
Results may take 2 weeks
Does not reduce fine lines
Customer service for this product may be lacking
---
How Does It Work? | The Science Behind Bellacova Cream
According to the manufacturer, this anti-wrinkle skin product is enriched with peptide-rich collagen molecules. When applied to your skin, it can absorb into the deepest layers and rebuilds your skin.
When it comes to the benefits this skin cream provides, here are some claims from the manufacturer:
Tightens facial skin
Reduces fine lines and wrinkles
Hydrates your skin
Evens skin tone and age spots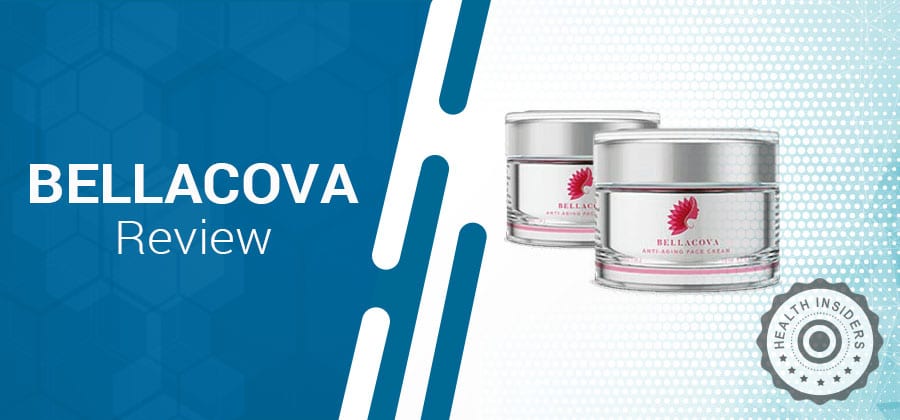 Bellacova Cream Ingredients – The Breakdown
The ingredients present in this product include;
Acetyl hexa-peptide 38 – Acetyl hexa-peptide 38 is made by a company called Creative Peptides. According to Creative-peptides, lipids accumulate in the cheeks creating a more youthful appearance.
According to a study in European Journal of Pharmaceutal Science[1], acetyl hexa-peptide 38 appears in many cosmetics but additional studies are needed to verify effects of this ingredient.
Persea Gratissima – Cosmetic Info indicates Persea Gratissima, avocado oil, conditions the skin and comes from the avocado fruit. It is used in many different cosmetic products.
Jojoba oil – Jojoba oil is the liquid from the jojoba plant, native to Arizona, California, and Mexico. This oil is used for pharmaceuticals and cosmetics[1].
Caprylic triglyceride – Caprylic triglyceride is used in pharmaceuticals, food, and cosmetics and has been tested for skin sensitivity and is used to smooth out wrinkles based on a study from Food and Chemical Toxicology : an International Journal Published for the British Industrial Biological Research Association[2].
Advertisement
*All individuals are unique. Your results can and will vary.
Malus Domestica – According to Journal of Phytomedicine[3], Malus Domestica is a fruit extract from apples used in cosmetics as an anti-microbial agent.
Peony flower extract – Peony flower extract is an active ingredient that is intended to combat the loss of volume of tissues, particularly in the face.
YOU MAY ALSO LIKE – DermaWand and DermaFlash
How to use?
Apply cream to the face and neck two times per day. Use after cleansing and toning. Let absorb before applying makeup. For external use only.
Bellacova Cream Customer Reviews
Bellacova Cream received a 3.9 rating on Amazon based on 22 customer reviews which indicated the product made skin feel soft and was easy to use.
Bellacova Cream: Precautions
Mixing with other products may cause skin sensitivity
If burning occurs, wash off immediately
Consult your doctor before use if you have skin allergies or sensitivity
Bellacova – Questions and Answers
Q: Who can use this cream?
A: According to the manufacturer of this product, people aged 30 and above may use this product.
Q: Will my skin improve?
A: Claims indicate this product removes wrinkles and fades dark circles under the eyes.
Q: Is this clinically tested?
A: The sellers of this skin cream state it's tested and safe to use.
Please consult your physician or dermatologist before use, especially those who have skin allergies or sensitive skin.
Q: What does it cost and where can I buy it?
A: You can purchase this product on Amazon for $25.97 and it can be shipped within 2 days or eBay for $22.00 and will be shipped in 4 days.
Advertisement
*All individuals are unique. Your results can and will vary.
Bellacova Cream Alternatives
| Brand | Price | Active Ingredients |
| --- | --- | --- |
| Bellacova Cream | $25.97 | Acetyl hexa-peptide 38, Persea Gratissima, Jojoba oil, Caprylic triglyceride, Malus Domestica |
| Crepe Erase | $49.95 | Coconut oil, Shea butter, Beeswax, Cassava |
| LuxeBiotics | $49 | Jojoba Oil, Apricot Kernel Oil, Squalane, Arnica Montana Extract |
| Hanacure | $110.00 | Lotus Leaf Extract, Green Tea Leaf Extract, Honeysuckle Flower Extract, Ginkgo Biloba Leaf Extract, Nicotynol Dipeptide, Copper Tripeptide |
| Clarins Double Serum | $124.00 | Burdock, Hyaluronic acid, Maritime pine, Green banana, Hops |
| Miami MD Progeline Cream | $49 | Progeline, Haloxyl, Matrixyl 3000, Eyeliss, Argireline, Acetyl Hexapeptide |
| Musely Skin Care | $30-$80 | Tretinoin, Hyaluronic Acid, Titanium Dioxide, Cucumber Extract |
The Bottom Line
Dermatologists say there is no reason to invest in anti-aging creams. Their recommendation is to maintain good skin conditions by avoiding the sun and not smoking.
There's no evidence these creams work. These products are cosmetics and not drugs; they don't go through the rigorous clinical studies that the FDA requires of medications.
There are many creams available on the market that claim anti-aging benefits such as DermaRPX, InvisiCrepe Body Balm, and Rush Remedy. In reality, most are moisturizers marketed as anti-aging products.
Sources
Health Insiders relies on peer-reviewed studies, academic research institutions, and medical associations. We avoid using tertiary references. You can learn more about how we ensure our content is accurate and current by reading our editorial policy.
[1] Hoppel M, Reznicek G, Kählig H, Kotisch H, Resch GP, Valenta C. Topical delivery of acetyl hexapeptide-8 from different emulsions: influence of emulsion composition and internal structure. Eur J Pharm Sci. 2015 Feb 20;68:27-35. doi: 10.1016/j.ejps.2014.12.006. Epub 2014 Dec 9. PMID: 25497319.
[2] Traul KA, Driedger A, Ingle DL, Nakhasi D. Review of the toxicologic properties of medium-chain triglycerides. Food and Chemical Toxicology : an International Journal Published for the British Industrial Biological Research Association. 2000 Jan;38(1):79-98. DOI: 10.1016/s0278-6915(99)00106-4. PMID: 10685018.
[3] Evaluation of antimicrobial activity of Malus domestica fruit extract from Kashan area.