About VeraFlex
VeraFlex is a joint health supplement sold by AloeCure, a trademark of the American Global Health Group, LLC. VeraFlex is meant to relieve joint pain and stiffness as well as improve joint mobility.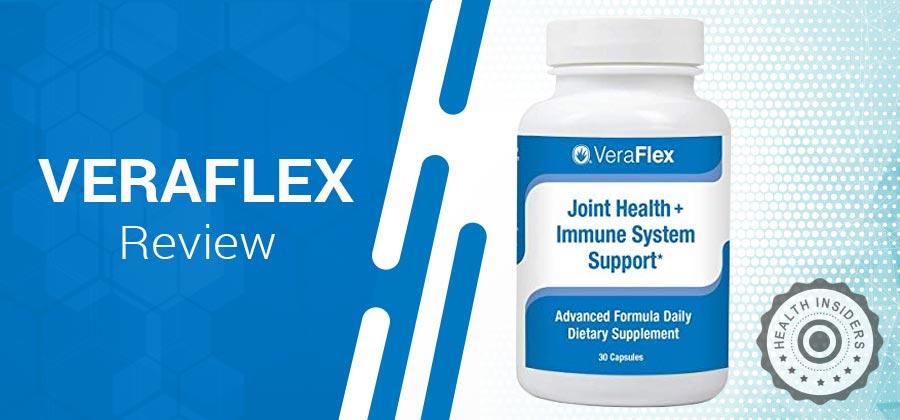 VeraFlex Ingredients – The Breakdown
There are 2 main ingredients:
Univestin UP446 (250mg): A patented and clinically proven formula used in supplements to reduce joint stiffness and improve joint mobility and function. The Univestin link breaks down positive results of a 90-day clinical trial. Univestin was also compared to naproxen (nonsteroidal anti-inflammatory drug) in a 1-week trial proving to be just as effective in reducing pain and stiffness and improving range of motion in those with osteoarthritis. The patented formula contains two botanicals – Scutellaria baicalensis and Acacia catechu that have powerful antioxidant and antimicrobial properties to support joint health and slow the process of cartilage degradation.
BiAloe Organic Aloe Vera (Aloe barbadensis) Inner Leaf (160mg): A high quality and patented aloe vera of Lorand Laboratories. Aloe contains acemannan, which has several medicinal benefits especially topically, because of its anti-inflammatory properties.
This
study
not only discusses its ability to reduce joint pain and improve mobility, but its role in promoting alveolar bone healing, wound healing, digestion, and immunity.
Lorand Laboratories
claims its aloe to be the best quality, contain the highest amount of acemannan, and be the most bioavailable compared to any other aloe vera product on the market.
How Does It Work – The Science Behind VeraFlex
The science behind VeraFlex is in the ingredients used to help relieve joint discomfort, stiffness, and improve mobility.
Unlike many other over the counter joint pain supplements, VeraFlex includes patented ingredients – Univestin being a key component clinically proven to ease joint issues.
VeraFlex Pros and Cons
Pros
Includes patented formulas
Research supports the effectiveness of ingredients to relieve joint pain
May experience improvement in joints in as little as 3-7 days
May additionally promote digestion and immune function
Is free of gluten, yeast, egg, and soy
Only 1 capsule per day
No side effects have been reported
Cons
May be expensive compared to other joint support supplements
There is limited research available on aloe vera's role in supporting joint health
Somewhat lengthy list of "other ingredients"
No customer reviews are available on the company's website and of the reviews available on Amazon, they are split 50/50 as to whether the supplement worked
People Also Ask - Questions and Answers
VeraFlex Alternatives
Similar products include:
VeraFlex Customer Reviews & Results
The official website does not provide customer reviews, but Amazon has a small number of them. From customers who purchased VeraFlex through Amazon, reviews are split evenly between some customers not experiencing any improvements and others experiencing significant pain relief and improved mobility.

The Bottom Line On VeraFlex
VeraFlex is quite different in that it contains Univestin, a patented and clinically proven formula to relieve joint pain.
Aloe vera is also a unique addition and although there is not a significant amount of research supporting its ability to support joints, it could still work for you solely because of Univestin.
However, as with any supplement, this product may or may not work for you as everyone's health status and needs vary.
It seems a little pricey compared to other supplements such as FlexoPlex, Theraflex Advance, Qunol Turmeric and Curamin, but appears to be a good option to try if you're willing to lose out on shipping on handling fees if it doesn't work for you.