About Qunol Turmeric
Qunol Turmeric is marketed as an all-natural joint and pain support supplement that aims to provide a range of health benefits. Quten Research Institute LLC claims they've used superior ingredients in the formula and that the constituents are extensively researched for potency.
This product aims to improve joint function in a number of ways, including by reducing inflammation associated with normal wear and tear, by neutralizing free radicals resulting from normal body metabolism, and through supporting liver function.
---
QUICK FACTS
Buy on Amazon
Buy on Walmart
Quick Facts & Specs
Qunol Turmeric
Qunol Turmeric provides anti-inflammatory benefits for physical overexertion and can also help promote joint comfort.
Form:

Capsule

Type:

Supplement

Benefit:

Supports healthy inflammatory response, improves joint health, provides healthy immunity support

Phone & Address:

1-877-290-2621; 10 Bloomfield Ave b

Brand:

Qunol

Uses:

Provides anti-inflammatory benefits for physical overexertion and can also help improving joint comfort

Price:

$29.99*

Active Ingredients:

Turmeric
Qunol Turmeric Pros & Cons
Pros
May help promote joint comfort
May help reduce inflammation
May possess anti-oxidant properties
Utilizes extensively researched
Cons
Only available for purchase online.
May not be appropriate for everyone.
Not much information available for the product
Potential side effects such as stomach upsets, abdominal bloating and nausea
---
How Does it Work? | The Science behind Qunol Turmeric
Qunol Turmeric claims to work in a simple and efficient way. Its active ingredients act as antioxidants as well as anti-inflammatories, thus regulating the effects of everyday joint wear and tear.
It may reduce inflammation and neutralize free radicals, providing pain relief to inflamed joints. Additional benefits of this supplement may include reducing blood lipid levels and regulating blood sugar levels in those with diabetes.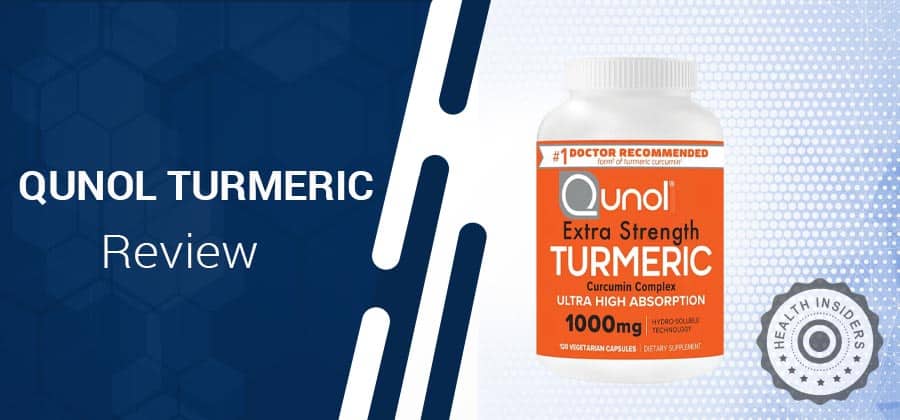 Advertisement
*All individuals are unique. Your results can and will vary.
Qunol Turmeric Ingredients – What to look for
Some of the ingredients in Qunol Turmeric are:
Medium-chain triglycerides – As per HHS Public Access study, these fatty acids may help control weight, and may also help regulate blood sugars in diabetes.
Gelatin – May aid in digestion, help relieve joint pain and promote bone strength. The American Journal of Clinical Nutrition states that gelatin may help in joint tissue repair.
Sunflower lecithin – May help lower blood cholesterol (source), regulate blood sugars and help smooth and moisturize the skin.
Glycerin – May help keep the skin moist while giving it a more youthful look and increased In addition, it may also help maintain regular bowel movements.
Gamma cyclodextrin – This soluble fiber may help regulate blood lipids and aide in weight loss, according to the European Journal of Biochemistry.
Qunol Turmeric – Questions and Answers
Q: How to use Qunol Turmeric?
A: Take two soft gels of Qunol Turmeric every day with plenty of water, according to the manufacturer.
Q: Does Qunol Turmeric have any side effects?
A: According to the manufacturer, there are no side effects reported. However, everyone reacts differently, therefore side effects are possible.
Q: Can I take Qunol Turmeric if I have a health condition?
A: There are no stated contraindications, however, be sure to consult with your doctor prior to starting the supplement.
Q: What Qunol Turmeric Moneyback Guarantee, Return & Refund Policy?
A: Qunol Turmeric producers allow a 30-day money-back guarantee on all their products.
Qunol Alternatives
| Brand | Price | Active Ingredients |
| --- | --- | --- |
| Turmeric Boswellia Extract | $22.88 | Turmeric 95% Extract, Boswellia Serrata Plant Extract, Black Pepper Extract |
| Turmeric Curcumin Plus | $23.95 | Turmeric, BioPerine (Piperine), & Curcuminoids(e. curcumin) |
| Curamin | $38.95 | DL-Phenylalanine, Curcumin, Boswellia Serrata |
| MoveMD | $54.95 | Hyaluronic Acid, Chicken Collagen, AprèsFlex Boswellia Serrata Extract |
| Relief Factor | $79.95-93.95 | Icariin, Turmeric, Resveratrol, Omega 3 |
| Omega XL | $39 + shipping | Vitamin E, Green Lipped Mussel Oil and Olive Oil |
Advertisement
*All individuals are unique. Your results can and will vary.
Is Qunol Turmeric safe? – Warnings & Complaints
So far, there are no safety warnings or complaints that have been reported about this product.
Qunol Turmeric Customer reviews & results
Consumers seem pleased with Qunol Turmeric, as most of the users who reviewed the product had positive feedback to give, such as:
"I had tried other brands of turmeric and it did not work. So I tried this turmeric and was absolutely amazed. I had troubles with my tailbone for 9 months to the point I could not sit down anymore. Within a few days of using this, I was able to sit down and now rarely have problems with my tail bone as long as I continue to take the anti-inflammatory turmeric."
Qunol Turmeric Packages, Deals, Prices & Where to buy it?
Qunol Turmeric is available for purchase from both the producer and retailer websites.
One-time purchase 1 bottle (120 capsules)retails for $29.99.
Auto-refill subscription results in savings of %10 on every order.
Ordering 3 or more products results in a 15% discount and free shipping within the U.S.
SEE ALSO – Heal-n-Soothe Review
The Bottom Line
On the surface, it appears that most consumers are happy with Qunol Turmeric, reporting it helped reduced joint pain and inflammation while also providing other health benefits including a reduced cholesterol level and healthier skin.
However, some consumers felt that the product did not deliver its promises. They reported noticing no difference or improvement in their symptoms.
Advertisement
*All individuals are unique. Your results can and will vary.
However, no side effects were reported by any of the consumers. It is important you consult with your doctor before taking the joint pain supplements if you have a pre-existing medical condition or are on medication.
Is there anything else you should Know about Qunol Turmeric?
Qunol Turmeric also claims to help improve liver function, though the exact mechanisms are poorly understood. The manufacturers claim that the curcumin used to formulate this product and the sweeteners used (Lou Han Goo) are all-natural.
For the best results, be sure to follow the instructions on the label.
SOURCES
Health Insiders relies on peer-reviewed studies, academic research institutions, and medical associations. We avoid using tertiary references. You can learn more about how we ensure our content is accurate and current by reading our editorial policy.
[1] Turmeric https://www.nccih.nih.gov/health/turmeric
[2] St-Onge MP, Bosarge A, Goree LL, Darnell B. Medium chain triglyceride oil consumption as part of a weight loss diet does not lead to an adverse metabolic profile when compared to olive oil. J Am Coll Nutr. 2008 Oct;27(5):547-52. doi: 10.1080/07315724.2008.10719737. PMID: 18845704; PMCID: PMC2874191
[3] Gregory Shaw, Ann Lee-Barthel, Megan LR Ross, Bing Wang, Keith Baar, Vitamin C–enriched gelatin supplementation before intermittent activity augments collagen synthesis, The American Journal of Clinical Nutrition, Volume 105, Issue 1, January 2017, Pages 136–143, https://doi.org/10.3945/ajcn.116.138594
[4] Amouni Mohamed Mourad, Eder de Carvalho Pincinato, Priscila Gava Mazzola, Maricene Sabha, Patricia Moriel, "Influence of Soy Lecithin Administration on Hypercholesterolemia", Cholesterol, vol. 2010, Article ID 824813, 4 pages, 2010. https://doi.org/10.1155/2010/824813
[5] Differential effects of α-, β- and γ-cyclodextrins on human erythrocytes https://febs.onlinelibrary.wiley.com/doi/abs/10.1111/j.1432-1033.1989.tb15171.x
[6] Ohtani Y, Irie T, Uekama K, Fukunaga K, Pitha J. Differential effects of alpha-, beta- and gamma-cyclodextrins on human erythrocytes. Eur J Biochem. 1989 Dec 8;186(1-2):17-22. doi: 10.1111/j.1432-1033.1989.tb15171.x. PMID: 2598927.