About Theraflex Advance
Theraflex Advance is a joint support supplement as explained by the producer. It is supposedly a chondroprotector, which combines the potency of dietary supplements and analgesics.
As such, the product may not only provide joint pain relief but might also improve joint function.
This formulation is accessible over the counter and may ease osteoarthritis in large joints, as well as help manage osteochondrosis of the spine that is usually associated with moderate pain.
Theraflex Advance claims to be a systemic treatment that may enhance joint flexibility, ease motion, renew cartilages and connective tissues. It may be useful in increasing the quality of the lubricating fluid inside the joints.
---
Theraflex Advance Pros & Cons
Pros
Your joint pains may recede after sometimes of using the product
It claims to improve cartilage renewal to prevent future pains
The users' joint functions may be improved
Its ingredients are supported by scientific evidence
Cons
Ibuprofen is associated with a number of side effects such as gastric discomfort, nausea, and allergic reactions
Pain may resurface after the dose has been completed
If consumed in the last trimester of pregnancy could cause delivery complications or affect the unborn child
There's no guarantee it works the same for everybody
---
How Does It Work? | The Science Behind Theraflex Advance
Joint pain such as that caused by arthritis occurs when pain mediators are released abnormally from the synovium bone or any other tissues.
This, in turn, induces the sensitization of pain receptors, which means the affected individual, get to experience the pain. When this happens discomfort is felt and joint function is compromised.
Theraflex Advance claims to improve this situation by providing pain relief and providing components that may support cartilage renewal.
In precise, Glucosamine and Chondroitin in this dietary supplement are responsible for cartilage while ibuprofen, an analgesic plays the pain-relieving role.
At the least, users of this product may benefit from both the short term relief and the preventive function of the formula.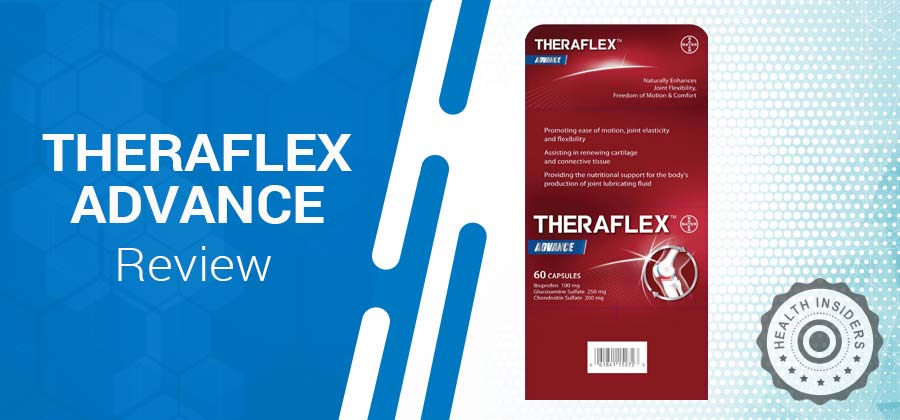 Theraflex Advance Ingredients – What to Look For
This pain-relieving formula contains a number of active and inactive ingredients. The active ingredients include;
Advertisement
*All individuals are unique. Your results can and will vary.
Ibuprofen – Is an analgesic, which contains propionic acid and is usually prescribed as an NSAID. In a research paper appearing in the Oman Medical Journal, the authors point out that this ingredient may have anti-inflammatory properties. In the study, it played the roles of an analgesic and an antipyretic, and it inhibited the production of prostaglandins which are associated with causing pain.
Glucosamine Sulfate – This is a dietary supplement that is also asymptomatic slow-acting drugs (SYSADOAs). Despite occurring naturally, one review article in the Journal of Orthopedic Surgery and Research says this ingredient may be responsible for the biosynthesis of proteoglycan. It may help relieve pain, reduce the rate of cartilage loss and joint destruction.
Chondroitin Sulfate – Like glucosamine, chondroitin is an SYSADOA. This ingredient is commonly present in dietary supplements used by osteoarthritis patients. The Journal of BMC Musculoskeletal Disorders has an article that points out that the partial absorption of chondroitin might reduce the rate of pain and cartilage loss.
ALSO READ – ProJoint Plus Side Effects

Theraflex Advance – Questions and Answers
Q: How to Use Theraflex Advance?
A: Take 1 capsule after every 4-6 hours if the pain does not recede. However, ensure that you don't take more than 6 capsules within 24 hours. In the instance that pain fails to respond to 1 capsule, you can take 2, but still do not exceed the limit.
CAUTION: This product is not for children below the age of 12 years unless a doctor recommends it.
Q: Does Theraflex Advance Have Any Side Effects?
A: Yes, this product contains ibuprofen which is associated with side effects such as nausea, gastric discomfort, and allergic reactions such as facial swelling and hives.
Q: Can I Take Theraflex Advance If I Have A Health Condition?
A: There are no restrictions for those with health conditions. However, it is highly recommended to consult your doctor before using this product.
Q: Does Theraflex Advance Work?
A: Theraflex Advance may work since it contains ingredients that are scientifically proven to aid joint pain relief.
Q: What Is Theraflex Advance Work Moneyback Guarantee, Return & Refund Policy?
A: If you are unsatisfied with this product, you can return its remains to the manufacturer for a refund within 30 days.
Theraflex Advance Alternatives
| Brand | Price | Active Ingredients |
| --- | --- | --- |
| Theraflex Advance | $109.25 | Ibuprofen, Glucosamine Sulfate and Chondroitin Sulfate |
| Omega XL | $39 + shipping | Vitamin E, Green Lipped Mussel Oil and Olive Oil |
| Flexitrinol | $35.99 | Chondroitin Sulfate, MSM, Glucosamine HCl, Flaxseed Oil |
| Osteo Bi-Flex | $40.00 | Boswellia, Hyaluronic Acid, Boron, Vitamin C, Collagen |
| Turmeric Curcumin Plus | $23.95 | Turmeric, Curcuminoids(e. curcumin), BioPerine (Piperine) |
| Curamin | $38.95 | DL-Phenylalanine, curcumin, Boswellia Serrata |
Is Theraflex Advance Safe? – Warnings & Complaints
This product is not for those with Ibuprofen allergies as it may cause serious reactions such as asthma attacks.
Advertisement
*All individuals are unique. Your results can and will vary.
CAUTION: If pregnant or nursing, ensure to consult your doctor for approval.
Once you reach the last trimester of the pregnancy discontinue use as it may cause complications for you and your unborn baby.

Theraflex Advance Customer Reviews & Results
The product has no customer reviews in most of the retailing websites. If you are intending to buy this product, you will not have reviews to guide you on whether it works or not.

Theraflex Advance: Packages, Deals, Prices & Where to Buy It
A box of Theraflex Advance contains 60 capsules that go for $109.25 and can be bought from a number of online retailers.
The Bottom Line
Unfortunately, most conventional treatments have not been able to offer a safe remedy for muskoskeletal disorders. That is, joint pains caused by chronic conditions such as arthritis affects millions of people worldwide.
Now, this particular supplement is among many joint support supplements that seek to help resolve this problem.
In other words, Theraflex Advance may offer temporary support to joint health as suggested by the clinical tests conducted on its ingredients. It may be convenient. That is, as an over-the-counter product, you can order it, without having to go through a doctor.
However, if you are allergic to ibuprofen this product may not be for you. In that case, you will have to look for products that will not cause you allergic reactions.
Is There Anything Else You Should Know About Theraflex Advance?
The presence of glucosamine and chondroitin are not only for supplementing the joint fluid but also potentiate the working of the analgesic which in this case is ibuprofen.
Advertisement
*All individuals are unique. Your results can and will vary.
This means that these two ingredients reinforce the pain-relieving functions of ibuprofen.
However, if you are fond of taking alcoholic drinks daily, you should consider staying away from this product as the ibuprofen in it may react to cause stomach bleeding.
SOURCES
Health Insiders relies on peer-reviewed studies, academic research institutions, and medical associations. We avoid using tertiary references. You can learn more about how we ensure our content is accurate and current by reading our editorial policy.
[1] Kidd, B.L., Langford, R.M. & Wodehouse, T. Arthritis and pain. Current approaches in the treatment of arthritic pain. Arthritis Res Ther 9, 214 (2007). https://doi.org/10.1186/ar2147
[2] An Overview of Clinical Pharmacology of Ibuprofen https://omjournal.org/articleDetails.aspx?coType=2&aId=2171
[3] Zhu, X., Sang, L., Wu, D. et al. Effectiveness and safety of glucosamine and chondroitin for the treatment of osteoarthritis: a meta-analysis of randomized controlled trials. J Orthop Surg Res 13, 170 (2018). https://doi.org/10.1186/s13018-018-0871-5
[4] Permuy, M., Guede, D., López-Peña, M. et al. Comparison of various SYSADOA for the osteoarthritis treatment: an experimental study in rabbits. BMC Musculoskelet Disord 16, 120 (2015). https://doi.org/10.1186/s12891-015-0572-8
[5] THE BURDEN OF MUSCULOSKELETAL CONDITIONS AT THE START OF THE NEW MILLENIUM https://apps.who.int/iris/bitstream/handle/10665/42721/WHO_TRS_919.pdf?sequence=1