About Opti Farms Keto
Opti Farms Keto is a supplement for individuals who are currently following a ketogenic diet, which is where they are dramatically reducing their carbohydrate intake and increasing their calories from fat [1].
This product may help to reduce some of the unpleasant side effects of the keto diet, such as the flu-like symptoms that many experiences, and aid in appetite regulation through providing the body with exogenous ketones [2].
---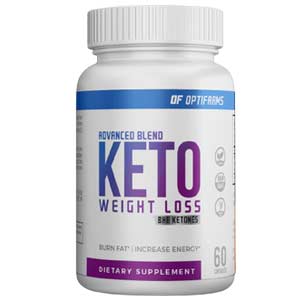 Quick Facts & Specs
Opti Farms Keto
Opti Farms Keto is a supplement designed to help those who are following a ketogenic diet, which entails substantially reducing carbohydrate intake and increasing fat-based calories.
Form:

Capsule

Type:

Supplement

Benefit:

It may boost levels of BHB in the blood.

Brand:

Opti Farms

Uses:

Suppresses appetite, which can help with diet adherence.

Ingredients:

BHB ketones, Garcinia Cambogia, Lemon Extract, "vitamins"

Price:

$89.85
Opti Farms Keto Pros & Cons
Pros
It may boost levels of BHB in the blood, which has been theorized to suppress appetite, which can help with diet adherence.
Cons
It was stated that you have to be following a ketogenic diet for the product to be effective.
This product can be dangerous if you take more than the recommended dosage.
The ingredients are similar to every other organic diet supplement.
Many of the 'fat burning' claims are not supported with proper research.
---
How Does It Work | The Science Behind Opti Farms As Described By The Company
One of the active ingredients in this supplement is beta-hydroxybutyrate or BHB. As mentioned above, BHB is one of 3 ketone bodies released by the liver when carbohydrate intake is consistently very low and ketogenesis occurs [3].
This product is supposed to be geared towards those who are already on the keto diet, as it will provide them with additional ketone bodies that can be used by the body as an alternative fuel source to carbohydrates.
The website states that it is the ketone bodies that help, in conjunction with the keto diet, to speed up weight loss. Currently, however, there are no firm conclusions yet as to the effectiveness of exogenous ketones alone for fat loss in humans.
There are also a number of other ingredients mentioned briefly, including Garcinia Cambogia and other extracts and vitamins that are supposed to help support weight loss. Once again, however, they don't have evidence to support the effectiveness of these ingredients.
Overall, all of these ingredients are claimed to help boost your metabolism and help to 'burn fat'. It should be noted, however, that all of these statements included by the company are not supported with evidence.
Advertisement
*All individuals are unique. Your results can and will vary.
Opti Farms Keto Ingredients – What to Look For?
There isn't a full ingredient list on the official websites, which leads us to promote the use of caution when considering this product, but one of the important ingredients that are highlighted is beta-hydroxybutyrate (BHB).
BHB is one of the ketone bodies that are produced naturally by the liver when fats are being metabolized and ketogenesis is occurring.
Although the exact mechanism that enables weight loss in those following a ketogenic protocol is not clearly understood, there are some theories that the ketone bodies themselves play a role.
Some studies suggest an appetite suppression effect of increased ketone bodies, such as BHB, which can help with compliance to a weight loss protocol.
There are even some studies that theorize that these ketone bodies can be taken in place of the ketogenic diet and see similar rise in blood ketones [2]. Whether or not this is effective for weight loss is something that needs more researching.
Opti Farms Keto – Questions and Answers
Q: How to Use Opti Farms Keto?
A: The recommended dosage of this supplement one capsule in the morning and another in the evening, with a glass of water. It is mentioned that you should not exceed the stated dosage under any circumstances.
Q: Does Opti Farms Keto Have Any Side Effects?
A: The product itself doesn't state that you should experience side effects, however, everyone is different. You may experience some flu-like symptoms on the keto diet in general and so if you are taking this product it would be difficult to determine how the diet vs the supplement is affecting that. If you do experience anything more serious, stop taking the product immediately and go to a doctor.
Q: Can I Take Opti Farms Keto If I Have A Health Condition?
A: If you have a health condition you should always discuss changing anything to your diet or supplement routine with your doctor first to assess risk.
Q: Does Opti Farms Keto Work?
A: There are some positive reviews on the website from those using the product. As mentioned above, these are simply in association with a diet so whether or not the supplement is very effective for weight loss is left unknown. There is some research to support some utility for the ingredients when dieting, but more evidence is needed.
Q: What Is Opti Farms Keto Moneyback Guarantee, Return & Refund Policy?
A: There's a 30-day return policy for this product. If you're dissatisfied with the supplement, you can return it to the company within 30 days of your purchase and request a refund. In order to receive your money, you must send the bottles back sealed and unopened.
Advertisement
*All individuals are unique. Your results can and will vary.
Opti Farms Keto Alternatives
Brand
Price
Active Ingredients
Opti Farms Keto
$89.85
BHB ketones, Garcinia Cambogia, Lemon Extract, "vitamins"
Phen Q
$69.95
Capsimax, calcium carbonate, chromium picolinate, caffeine, nopal, L-carnitine fumarate, lacys reset
Keto Slim
N/A
Coleus Forskohlii
Keto Burn Xtreme
$17.95
Beta-hydroxybutyrate, Medium Chain Triglycerides, L-arginine
SuperSonic Keto
$89.97
BHB Ketones, Apple Cider Vinegar, MCT,
Green Tea Leaf Extract
Phen375
$65.95
Caffeine Anhydrous, L-Carnitine, Citrus Aurantium, Chromium, Cayenne Pepper
Keto Flux
$94.87
BHB ketones, maltodextrin, forskolin
Pure Primal Keto
$35.97
Sodium and Calcium Beta-Hydroxybutyrate, Magnesium Beta-Hydroxybutyrate, Garcinia cambogia, Raspberry ketones, Green Coffee Bean Extracts, Forskolin
Thrive Society Keto
$94.12
BHB Ketones, Garcinia Cambogia
Keto Go Fit
$29.99
BHB Ketones
If you are looking at price, Opti Farms Keto is much higher. Most of the products charge a quarter of that and do appear to have a similar composition. Pure Keto has ketones and also includes other similar organic ingredients and it's a quarter of the price of this supplement.
Is Opti Farms Keto Safe? – Warnings & Complaints
There are no particular warnings about this product except that people with heart disease or diabetes should avoid it. There were no complains because there were no reviews.
WARNING: The product should then be judged similarly to any other product with BHB Ketones. For the majority of people, it's should be fine if taken properly. If you have any concerns, are under the age of 18 or have health concerns, please see your doctor first.
Opti Farms Keto Customer Reviews & Results
There are very few reviews online so it is hard to make a comment on how the product is viewed.
BBB files indicate that the products listed in this BBB Business Profile have a pattern of complaints concerning unauthorized and/or unexpected charges and unresolved refund disputes. Complaints filed by consumers state that they signed up for what they thought was a free trial and later discovered additionally unauthorized and/or unexpected charges to their credit cards for additional amounts. BBB contacted the business on June 2019 about the pattern of complaints, but have not received a response at this time.
Opti Farms Keto: Packages, Deals, Prices & Where to Buy It
You can only purchase this product on one of the official product websites. The cost of one bottle is $89.85 on a regular month. In order to buy this product, you have to sign up for a trial where you pay for postage and get a free bottle.
After that, you'll be put in the auto-shipment program where you'll get and be charged for a bottle every month.
Advertisement
*All individuals are unique. Your results can and will vary.
The Bottom Line on Opti Farms Keto
There are no reviews from customers on this product, which makes it hard to evaluate what people subjectively feel about it.
From an objective and scientific perspective, this product doesn't appear to have much evidence to back up its claims and often uses misleading claims such as "melts fat away" that are not actually possible.
If you do decide to purchase Opti Farms Keto, make an appointment with your doctor before you start taking them. You should get medical approval, and make sure that it doesn't interact with any of your medications or it doesn't put you at risk for adverse effects.
Is There Anything Else You Should Know About Opti Farms Keto?
The biggest bottom-line point is that taking Opti Farms Keto alone will not help you burn fat and lose weight. Diet and lifestyle are what helps allow for the process of weight loss to take place over time.
Be patient and consistent, as there are no quick fixes.
Read Next – Keto Infinite Accel and Keto Slim RX