About Thrive Society Keto
Thrive Society Keto is an organic supplement for people who are following a ketogenic diet. This product is meant to help keep you in the state of ketosis.
It could also give you increased energy, helping you to be more active.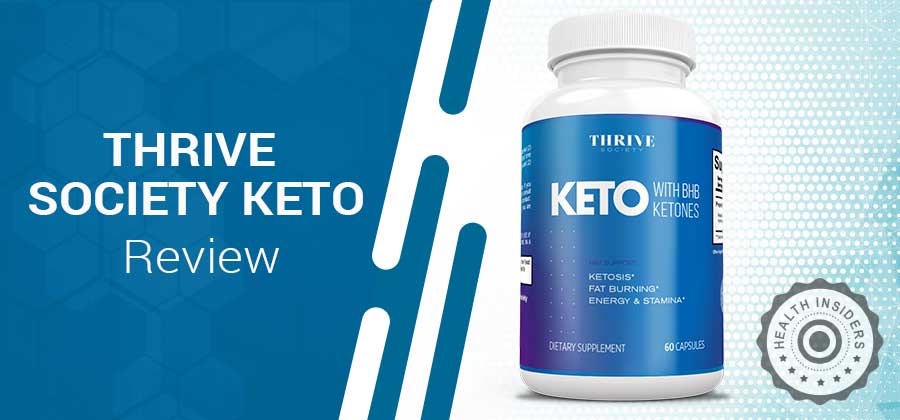 Thrive Society Keto Ingredients – What to Look For?
BHB Ketones – This is beta-hydroxybutyrate, which is ketones. Studies have shown that BHB ketones can help you lose weight.
Garcinia Cambogia – This is a fruit from Asia with weight loss properties from hydroxycitric acid in the rind. It claims to prevent fat from forming in your body. Research shows it can lead to short-term weight loss.
How Does It Work | The Science Behind Thrive Society Keto
This product is meant for people who are following the keto diet. Harvard Health considers the keto diet to be a helpful method for losing weight. This product contains additional ketones that can help keep you in a state of ketosis, even if you sometimes have carbohydrates.
Thrive Society Keto Pros & Cons
Pros
May help you burn fat rapidly.
Can give you increased
Can help you lose weight fast.
Cons
May lead to mild side effects like upset stomach, headache, nausea, diarrhea, dizziness.
These are big capsules that may be hard to swallow.
There's no list of allergens.
Customer Questions and Answers
Thrive Society Keto Alternatives – Compare with Similar Items
| Brand | Price | Active Ingredients |
| --- | --- | --- |
| Thrive Society Keto | $94.12 | BHB Ketones, Garcinia Cambogia |
| Phen375 | $65.95 | Caffeine Anhydrous, L-Carnitine, Citrus Aurantium, Chromium, Cayenne Pepper |
| Opti Farms Keto | $89.85 | BHB ketones, Garcinia Cambogia, Lemon Extract, "vitamins" |
| PhenQ | $69.95 | Capsimax, calcium carbonate, chromium picolinate, caffeine, nopal, L-carnitine fumarate, lacys reset |
| Keto Flux | $94.87 | BHB ketones, maltodextrin, forskolin |
All these products have very similar ingredients, however, it is priced much higher than the others on the market.
There is no obvious justification for the increased cost.
Is It Safe? – Warnings & Complaints
There's nothing in this Keto supplement that could be considered unsafe.
Thrive Society Keto Customer Reviews & Results
There are very few user reviews of this product online, making it hard to determine if it's effective. The ones that do exist complain that this is another free trial scam, stating that they have been charged for products they never ordered even after canceling their subscription.
People also said they were unable to get in touch with customer service.
Thrive Society Keto: Packages, Deals, Prices & Where to Buy It?
The only place to buy this product is on the official website. You have to sign up for the 2-week trial offer, where you get a bottle of the product for only $5 in shipping and handling.
At that point, you are signed up for the auto-shipping program, which involves being sent and charged for one bottle each month at the price of $94.12. It is possible to cancel during the 2-week trial offer to avoid the auto-shipping program.
The Bottom Line
There are very few reviews of Thrive Society Keto online. This could be because it's a fairly new product but it makes it difficult to determine it's effectiveness.
The ones that do exist complain about this supplement being another 'free trial scam'.
There is the possibility of a few mild side effects with this product. Consult with your doctor before starting the supplement.
Is There Anything Else You Should Know About This Keto Supplement?
If you're following a ketogenic diet, a keto supplement may be the right thing for you. However, it isn't designed to be a long-term change. It is important to plan for a long-term healthy lifestyle.
Here are some tips to help:
Choose healthy, homemade foods that fit your lifestyle. Variety is key.
Avoid high sugar, high-carb junk foods.
Incorporate exercise into your lifestyle. Find activities you enjoy, which will help you stay active.
Try to keep your stress level low; this will improve your overall health.