About NuHair
NuHair is a hair supplement that can support hair growth. According to the manufacturer, this is a formula that is specifically designed for the needs of women. The product can deeply nourish the scalp and follicles, and it may help the hair grow longer and thicker.
---
QUICK FACTS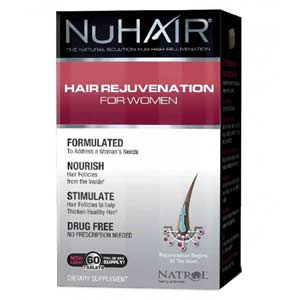 Buy on Amazon
Quick Facts & Specs
NuHair
NuHair formulated specifically for women, this safe and effective drug-free hair growth and rejuvenation formula provides intensive nourishment to revitalize the scalp and enhance hair growth.
Form:

Tablet

Type:

Supplement

Benefit:

Stimualates and nourishes the hair follicles from the inside, thickens Hair Naturally

Brand:

Natrol

Uses:

Appearance of thicker and healthier hair, energizes follicular growth

Price:

$28.99*

Active Ingredients:

Folic acid, Biotin, Zinc, Silica, Bioperine, Pantothenic acid
NuHair Pros & Cons
Pros
This product may nourishes the scalp.
It can help hair grow longer and thicker.
Specially formulated for women.
Cons
There are additives and preservatives included.
This product contains soy, which is a common allergen.
You can't drink alcohol with this supplement.
---
How Does It Work? | The Science Behind NuHair
This product may help the hair grow longer, thicker, and fuller by delivering nutrients directly to the hair follicles. It can also fix the issues that led to hair loss.
Some of the substances in Nuhair suppress the release of the hormone DHT, which initiates hair loss. Advances in Dermatology and Allergology says that DHT is one of the most common reasons that hair loss happens.
NuHair Ingredients – The Breakdown
There are a number of main substances in this supplement, including several vitamins. Some of the primary active ingredients include:
Biotin – This mineral may reinforce the hair follicles and scalp. As a result, you lose less hair. An article in Skin Appendage Disorders said that there's only limited evidence that biotin may lead to hair growth.
Advertisement
*All individuals are unique. Your results can and will vary.
Zinc – It can produce DNA and RNA, which deconstruct hair follicles. This is an important cause of developing healthy hair. An article in Dermatology and Therapy suggested that there's no real connection between zinc and hair growth.
He Su Wu – This is a flowering plant called Reynoutria multiflora. It's used as an herbal remedy, especially in Chinese medicine. It can also use to treat diabetes, hair loss, heart disease, constipation, and cancer.
A study in the Journal of Ethnopharmacology found that this substance creates resting growth of the hair follicles.
NuHair – Questions and Answers
Q: How to Take NuHair?
A: The recommended dosage is one capsule, once in the morning and once before bed, with food. Take for a minimum of 3-4 months for the best results.
CAUTION: Do not take more than the suggested dosage under any circumstances.
Q: Does NuHair Have Any Side Effects?
A: If you experience unexplained fatigue, abdominal pain, loss of appetite, fever, vomiting, brown urine, light-colored stools, yellow eyes, or skin, it may signal liver difficulties.
WARNING: See a physician immediately. In fact, you must see your doctor before you begin taking this supplement.
Q: Can I Take NuHair If I Have A Health Condition?
A: You can't take this product if you have problems with your liver, or if you drink excessively alcohol. Check with a doctor before you begin taking this supplement, especially if you are on medication.
Q: Does NuHair Work?
A: This product appears to be very effective. Over 75% of user reviews on Amazon were from very happy customers who experience hair growth with this supplement. A smaller percentage of users found the product to be ineffective.
Q: What Is NuHair Moneyback Guarantee, Return & Refund Policy?
A: There's no money-back guarantee or return policy on the manufacturer's website. However, you can buy this product from Amazon and from numerous other third-party websites, and they have a policy.
NuHair Alternatives
| Brand | Price | Active Ingredients |
| --- | --- | --- |
| NuHair | $21.95 + $11.81 shipping | Folic acid, Biotin, Zinc, Silica, Bioperine, Pantothenic acid |
| LES Labs Hair Health | $29.99 | Biotin, Bamboo extract, Hydrolyzed keratin, MSM |
| Folexin | $24.95 | Fo-Ti, Biotin, L-Tyrosine, Saw Palmetto |
| Kerotin | $34.99 | Biotin, Magnesium oxide, Fo-Ti root, Vitamin D |
| Propidren | $39.99 | Green Tea Extract, Fo Ti Root, Nettle Extract, Saw Palmetto, Horsetail Extract. |
| Elanveda | $48 | Brahmi, Amalaki, Bhringraj, Jatamansi root, Vishnukranthi |
| Groh Hair | $50 (supplement) | Hydroxypropylmethylcellulose and purified water |
| Shapiro MD | $49.95 | Green Tea (EGCG), Caffeine, Saw Palmetto |
The price of NuHair is very average for the market and it's affordable. The ingredients have a lot of overlap with other brands, but there are some unique additions like Bioperine.
Advertisement
*All individuals are unique. Your results can and will vary.
Is NuHair Safe? – Warnings & Complaints
There's a small chance you could develop liver problems as a result of using this product.
A review of research in Evidence-Based Complementary and Alternative Medicine went over the cases of liver damage that have occurred with people using NuHair.

NuHair Customer Reviews & Results
This product got glowing reviews from users. They said the product takes about 3 months to be effective, but it really works well to grow and thicken the hair. A very small percentage said it didn't work.
SEE ALSO – Nutrafol Reviews and Foligain Reviews
NuHair: Packages, Deals, Prices & Where to Buy It
You can't buy this product on the manufacturer's website. You can buy it on Amazon and from several other online retailers.
On Amazon, the supplement is $21.95 + $11.81 for the shipping and handling fees. On iHerb you'll pay $39.15.
The Bottom Line
NuHair is an organic hair growth supplement that is a popular product in the market. About 75% of customer reviews were very positive.
Advertisement
*All individuals are unique. Your results can and will vary.
Users felt that this product reversed their hair loss issues and allowed their hair to grow thick and full.
A very small number of customers were disappointed with NuHair. This is an affordable product that seems like it's well worth a try.
If you experience unpleasant symptoms, stop taking the product and see a doctor if you think it's necessary.
CAUTION: Before you begin using this supplement, make an appointment with your physician and make sure that it's medically suitable for you.
SEE NEXT – Amplixin Serum
Is There Anything Else You Should Know About NuHair?
NuHair could be the perfect hair growth product for you. Hopefully, it will make your hair grow longer, thicker, and fuller.
There are some natural methods you may try to help your hair grow. They aren't scientifically tested, but they may work.
Follow a nourishing diet packed with vitamins and antioxidants. This will nourish the hair follicles and lead to healthier hair.
Mashed avocado may be a good treatment for getting the hair to grow. Put it on your hair and leave it in for half an hour, then wash it out.
Olive oil may cause hair growth. Try spreading some in your hair once a day.
Get your hair trimmed every 3-4 months. Getting the ends cut gets rid of split ends, which makes the hair healthier.
SOURCES
Health Insiders relies on peer-reviewed studies, academic research institutions, and medical associations. We avoid using tertiary references. You can learn more about how we ensure our content is accurate and current by reading our editorial policy.
[1] Urysiak-Czubatka I, Kmieć ML, Broniarczyk-Dyła G. Assessment of the usefulness of dihydrotestosterone in the diagnostics of patients with androgenetic alopecia. Postepy Dermatol Alergol. 2014 Aug;31(4):207-15. doi: 10.5114/pdia.2014.40925. Epub 2014 Sep 8. PMID: 25254005; PMCID: PMC4171668
[2] Patel DP, Swink SM, Castelo-Soccio L. A Review of the Use of Biotin for Hair Loss. Skin Appendage Disord. 2017 Aug;3(3):166-169. doi: 10.1159/000462981. Epub 2017 Apr 27. PMID: 28879195; PMCID: PMC5582478.
[3] Almohanna HM, Ahmed AA, Tsatalis JP, Tosti A. The Role of Vitamins and Minerals in Hair Loss: A Review. Dermatol Ther (Heidelb). 2019 Mar;9(1):51-70. doi: 10.1007/s13555-018-0278-6. Epub 2018 Dec 13. PMID: 30547302; PMCID: PMC6380979
[4] Park HJ, Zhang N, Park DK. Topical application of Polygonum multiflorum extract induces hair growth of resting hair follicles through upregulating Shh and β-catenin expression in C57BL/6 mice. J Ethnopharmacol. 2011 May 17;135(2):369-75. doi: 10.1016/j.jep.2011.03.028. Epub 2011 Mar 17. PMID: 21419834
[5] Lei X, Chen J, Ren J, Li Y, Zhai J, Mu W, Zhang L, Zheng W, Tian G, Shang H. Liver Damage Associated with Polygonum multiflorum Thunb.: A Systematic Review of Case Reports and Case Series. Evid Based Complement Alternat Med. 2015;2015:459749. doi: 10.1155/2015/459749. Epub 2015 Jan 12. PMID: 25648693; PMCID: PMC4306360