About LES Labs Hair Health
LES Labs Hair Health is an organic supplement which is meant to promote hair growth. The manufacturer claims that this product will promote longer hair that is also stronger and healthier.
An added benefit of LES Labs Hair Health is that it supports healthy skin as well.
---
QUICK FACTS
Buy on Amazon
Quick Facts & Specs
LES Labs Hair Health
Hair Health is a dietary supplement for taken daily to support hair growth and strength and the healthy appearance of skin and nails by encouraging cellular production and providing essential vitamins, trace minerals and phytonutrients.
Form:

Capsule

Type:

Supplement

Benefit:

Promotes hair growth & fullness, supports healthy & radiant skin, supports hair & nail strength

Phone & Address:

1 (877) 567-5370; LES Labs, 340 S. Lemon Ave, Suite 7087, Los Angeles, CA 91789; [email protected]

Brand:

LES Labs

Uses:

Metabolism improvement, supports healthy skin formation, helps reduce breakage and thinning of hair

Price:

$29.99*

Active Ingredients:

MSM, biotin, pumpkin seed extract, keratin, collagen
LES Labs Hair Health Pros & Cons
Pros
It can create longer, strong hair with regular use.
This product may make your hair and nails healthier.
Itis made of solely organic ingredients.
The product supports healthy skin.
Cons
A small percentage of users found the product to be ineffective.
Stomach aches have been reported as a potential side effect. Other potential side effects may occur
---
How Does It Work | The Science Behind LES Labs Hair Health
This product provides nutrients to the hair follicles. This can make the hair longer, thicker, and fuller. It may also resolve some of the deficiencies which were the cause of the hair loss. Some substances reinforce the hair follicles and scalp.
Some of the ingredients in this supplement suppress the release of a hormone called Dihydrotestosterone (DHT), which initiates hair loss. According to Advances in Dermatology and Allergology, the release of DHT is a major cause of hair loss.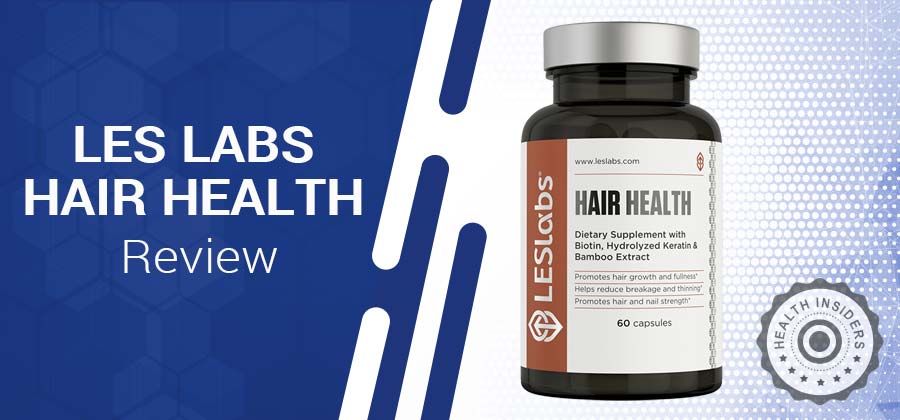 LES Labs Hair Health Ingredients – What to Look For
There are a number of active substances in this supplement, many of which are vitamins and minerals. Some of the primary active ingredients include:
Advertisement
*All individuals are unique. Your results can and will vary.
Methylsulfonylmethane (MSM)– This is a sulfur chemical compound which is an anti-inflammatory agent. It's often used as a treatment for joint conditions, and it's also thought to make the hair grow. A study published in Biomolecules and Therapeutics found that ingesting MSM is a good treatment for hair loss in mice.
Bamboo Extract – Bamboo is rich in anti-oxidants, which strengthens the hair and makes it healthier. Its nutrient base is rich in silica, which is excellent for the hair. This plant can also help keep the hair moisturized. A review in Anais Brasileiros De Dermatologia highlighted the benefits of silica for skin and hair care but warns about the fact that there are few studies evaluating the safety, efficacy, and bioavailability of the different existing chemical forms of silicon.
Hydrolyzed Keratin – This is keratin that has gone through the process of hydrolysis, where it's broken down into smaller pieces that can be absorbed more easily by the hair follicles. An article in the International Journal of Trichology found that hydrolyzed keratin is an effective treatment for hair loss. Again, more information is needed to confirm its safety.
LES Labs Hair Health – Questions and Answers
Q: How to Use LES Labs Hair Health?
A: The recommended dosage is either 1 or 2 capsules daily, with a glass of water. Taking 2 capsules on a daily basis for 2 months should lead to results.
CAUTION: Do not take more than the recommended dosage under any circumstances.
Q: Does LES Labs Hair Health Have Any Side Effects?
A: Customers have reported mild side effects such as stomach upset and gas. If you experience side effects that are unpleasant, stop taking the product immediately and see a doctor if necessary.
Q: Can I Take LES Labs Hair Health If I Have A Health Condition?
A: There are no specific health conditions that preclude taking this supplement. However, the manufacturer recommends that anyone with a medical condition get the approval of a physician before taking this product.
Q: Does LES Labs Hair Health Work?
A: According to the reviews, it certainly does appear to work. The vast majority of customer reports were from happy customers who did experience hair growth as a result of this product. There were some reviews stating that the product was ineffective, but these were minimal.
Q: What Is LES Labs Hair Health Moneyback Guarantee, Return & Refund Policy?
A: The manufacturer has a 60-day money-back guarantee. If you're dissatisfied with the product, send it back to the company and let them know you want a refund. The bottles must be sealed for you to get your money back, and you can only get a refund for one unopened bottle.
LES Labs Hair Health Alternatives
| Brand | Price | Active Ingredients |
| --- | --- | --- |
| LES Labs Hair Health | $29.99 | Biotin, bamboo extract, hydrolyzed keratin, MSM |
| Lipogaine | $20-$29.95 | Minoxidil 2% and Minoxidil 5% |
| Folexin | $24.95 | Fo-Ti, Biotin, L-Tyrosine, Saw Palmetto |
| Propidren | $39.99 | Green Tea Extract, Fo Ti Root, Nettle Extract, Saw Palmetto, Horsetail Extract. |
| H-Boost | $54.99 | Copper, selenium, vitamin C, pantothenic acid |
| Kerotin | $34.99 | Biotin, magnesium oxide, Fo-Ti root, Vitamin D |
LES Labs Hair Health is priced very reasonably for the market of the best hair, skin, and nails vitamins, as long as you buy on the official website, but there are shipping costs when purchasing for less than 40$.
There is a lot of overlap in ingredients with these hair growth supplements. However, it does include a couple of unique substances.
Advertisement
*All individuals are unique. Your results can and will vary.
Is LES Labs Hair Health Safe? – Warnings & Complaints
The ingredients in this supplement are all quite safe. You may experience mild side effects like stomach discomfort and gas, but no other side effects have been reported and are thought to be rare.
READ NEXT – Keranique Hair Regrowth System Review
LES Labs Hair Health Customer Reviews & Results – What Users Are Saying
The majority of the reviewers were very happy with this product. They felt that it made their hair grow in fuller and thicker, and it made it healthier.
There were a few negative reports from people who found the product ineffective, but they were not numerous. A few users mentioned mild side effects like stomach aches and gas.
LES Labs Hair Health: Packages, Deals, Prices & Where to Buy It
This product is for sale on the manufacturer's official website for $29.99. It's also sold on Amazon for $29.99 + $13.65 shipping for a one-time purchase, and $28.49 + $13.65 shipping if you subscribe to the auto-shipping program.
NOTE: You can also find it on other retail websites.
Advertisement
*All individuals are unique. Your results can and will vary.
The Bottom Line
LES Labs Hair Health is an herbal supplement that is for hair growth. This is a popular product, as judging from customer reviews. Most users loved the product and found that it did what it was supposed to do – give them longer fuller hair. A small number of customers found the product to be ineffective.
A few users mentioned mild side effects like stomach aches and gas. If you experience unpleasant symptoms, stop taking the product and see a doctor if you think it's necessary.
Before you begin using this supplement, make an appointment with your physician and make sure that it's medically suitable for you.
Is There Anything Else You Should Know About This Product?
LES Labs Hair Health may be the natural hair growth product that solves your hair loss problem. Hopefully, this is the case, but there are other more natural methods you can use to get your hair to grow in addition.
Here are some tips:
Following a healthy diet filled with vitamins and minerals will nourish the hair follicles and make for healthier hair.
Olive oil is purported to be a substance that leads to hair growth. Although there aren't many studies able to prove this, there is no harm in using it.
Get your hair trimmed every 3-4 months. Getting the ends cut gets rid of split ends, which makes the hair healthier.
Some people believe that mashed avocado is an effective treatment for getting the hair to grow. Put it all over your hair and leave it in for half an hour, then wash it out. Just like with olive oil, studies are sparse, but there are no side effects.
SOURCES
Health Insiders relies on peer-reviewed studies, academic research institutions, and medical associations. We avoid using tertiary references. You can learn more about how we ensure our content is accurate and current by reading our editorial policy.
[1] Araújo, L. A. D., Addor, F., & Patrícia Maria Berardo Gonçalves Maia Campos. (2016). Use of silicon for skin and hair care: an approach of chemical forms available and efficacy. Anais Brasileiros De Dermatologia, 91(3), 331–335. doi: 10.1590/abd1806-4841.20163986
[2] Dias, M. F. G. (2015). Hair cosmetics: An overview. International Journal of Trichology, 7(1), 2. doi: 10.4103/0974-7753.153450
[3] Shanmugam, S., Baskaran, R., Nagayya-Sriraman, S., Yong, C.-S., Choi, H.-G., Woo, J.-S., & Yoo, B.-K. (2009). The Effect of Methylsulfonylmethane on Hair Growth Promotion of Magnesium Ascorbyl Phosphate for the Treatment of Alopecia. Biomolecules and Therapeutics, 17(3), 241–248. doi: 10.4062/biomolther.2009.17.3.241