What is Kerotin?
Kerotin is an oral supplement that is supposed to lead to hair growth. The product provides nutrients to the hair and to the hair follicles, stimulating healthy hair growth. It should ultimately lead to hair that's longer and stronger.
---
Kerotin Pros & Cons
Pros
Kerotin delivers nutrients to your hair follicles.
It may help your hair grow longer.
Kerotin may improve the strength of your hair.
It may also improve the overall health of your hair.
Kerotin is rich in vitamins and minerals.
Cons
Kerotin contains rice flour, which is a common allergen.
It takes several weeks to start working.
Users reported side effects like a rash and an upset stomach.
---
How Does It Work? | The Science Behind Kerotin
There are a number of vitamins and minerals in Kerotin, which make the hair follicles healthier and therefore stronger.
According to Science Daily, there's currently a tremendous amount of research going into how to make the hair follicles stronger.
The Kerotin ingredients can also inhibit the release of a hormone called DHT. This hormone has been directly linked to hair loss. An article in Expert Opinion on Drug Discovery said that DHT leads to hair growth in mice.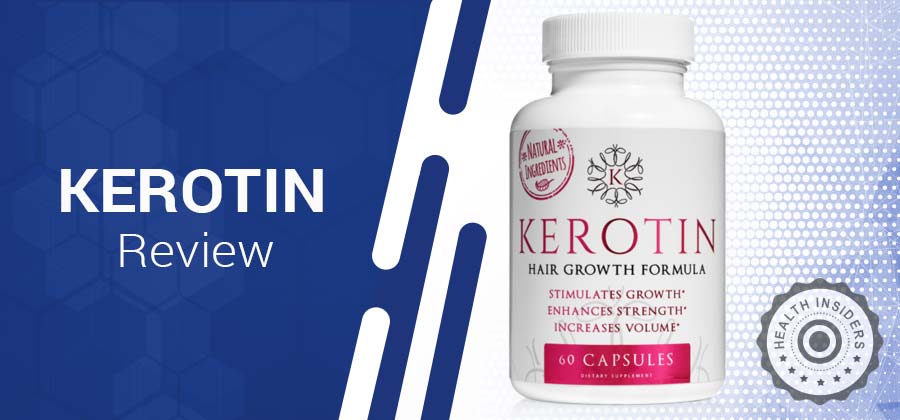 Kerotin Ingredients – What to Look For
There are a number of Kerotin ingredients, which serve to strengthen the hair and make it grow longer.
Biotin – This is a vitamin in the B family, which helps to convert nutrients into energy. It can help to strengthen the hair follicles and scalp, which may help the hair grow longer. A review in re to the skin. This may smooth out wrinkles and fine lines, and hydrates the skin. A review in Skin Appendage Disorders said that the evidence for biotin as a hair growth substance is weak.
Fo-Ti Root – This is an herb which is known for its numerous medicinal properties. This smooths out wrinkles and fine lines, and it hydrates the skin. A review in Pharmocognosy Research. It's thought to initiate hair growth and can increase the number of hair follicles.[2]
Saw Palmetto – This tree has numerous medicinal properties. A report in Skin Appendage Disorders said that, "SP blocks nuclear uptake of DHT in target cells and decreases DHT binding to androgen receptors by approximately 50%."
Kerotin FAQs
Q: How to Use Kerotin?
A: The recommended Kerotin dosage is 2 capsules in the morning with a glass of water.
CAUTION: Do not take more than the suggested dosage under any circumstances.
Advertisement
*All individuals are unique. Your results can and will vary.
Q: Does Kerotin Have Any Side Effects?
A: Customer reviews have mentioned mild Kerotin side effects like upset stomach or a rash somewhere on their body.
WARNING: If you should experience unpleasant side effects, stop taking the product immediately and see a doctor if necessary.
Q: Can I Take Kerotin If I Have A Health Condition?
A: There are no particular health conditions that preclude taking Kerotin. However, it's always important to get medical approval before taking any new supplement.
Q: Does Kerotin Work?
A: Considering that there's over 70% of good Kerotin reviews on Amazon, it's comfortable to conclude that this product does work. There was also a smaller percentage of users who found the product ineffective or has side effects.
Q: What Is Kerotin Moneyback Guarantee, Return & Refund Policy?
A: The company has a 30-day money-back guarantee. If you're dissatisfied with the product, contact customer service to request a refund and get instructions for returning it.
The company does state that the policy doesn't apply to all health products. However, they don't give any more specific information. If you have ordered a subscription, you have to wait until your first order is received in order to cancel.
Kerotin Alternatives
| Brand | Price | Active Ingredients |
| --- | --- | --- |
| Kerotin | $34.99 | Biotin, magnesium oxide, Fo-Ti root, Vitamin D |
| Folexin | $24.95 | Fo-Ti, Biotin, L-Tyrosine, Saw Palmetto |
| LES Labs Hair Health | $29.99 | Biotin, bamboo extract, hydrolyzed keratin, MSM |
| Propidren | $39.99 | Green Tea Extract, Fo Ti Root, Nettle Extract, Saw Palmetto, Horsetail Extract. |
| Women's Rogaine | $58.23-$79.99 | Minoxidil 5% |
| Lipogaine | $20-$29.95 | Minoxidil 2% and Minoxidil 5% |
The price of Kerotin is quite average for the market. The ingredients are fairly standard as well, as you can see that there's a fair bit of overlap.
Is Kerotin Safe? – Warnings & Complaints
Yes, Kerotin is perfectly safe unless your allergic to any of the ingredients.
Kerotin Customer Reviews & Results
On the whole, Kerotin reviews were very good – glowing in many cases. Customers were very impressed by how well this worked. It grew and thickened their hair in just a few weeks.
There were some unhappy customers as well, but not very many. Some users mentioned Kerotin side effects like a rash or upset stomach.
Advertisement
*All individuals are unique. Your results can and will vary.
Stopped My Shedding—After an illness, my hair started shedding terribly! I was using another much advertised and expensive product that did nothing. Out of desperation, I decided to try Kerotin. After taking the capsules and using the growth drops for only a week, my hair stopped shedding from handfuls to just a few strands. I am thrilled, to say the least, and will continue to use it as long as needed. I'm very pleased with Kerotin products. ~ review by Andrea Kruger
Kerotin: Packages, Deals, Prices & Where to Buy It?
You can buy Kerotin on the manufacturer's official website, on Amazon, eBay, and from other online retailers. The prices on the official website are as follows:
1 bottle – $34.99 (one-time); $31.49 subscribe and save
3 bottles – $94 (one-time); $84.60 subscribe and save
6 bottles – $168 (one-time); $160.20 subscribe and save
They provide an option to pay in several monthly payments. Amazon charges the same for a bottle, but a couple of dollars more for the subscribe and save.
Kerotin – The Bottom Line
Kerotin is marketed as an organic supplement that is meant to encourage hair growth. This is a top-rated product, according to customer reviews. Users were thrilled with how much their hair grew within a few weeks. A smaller number of users found this product to be ineffective.
The Kerotin ingredients are organic, but they're still powerful ingredients. A few users mentioned side effects like a rash or an upset stomach. You must see your physician before you begin taking this hair growth supplement, to ensure that they're medically suitable for you.
Is There Anything Else You Should Know About Kerotin?
Ideally, Kerotin will be the product that works for you in terms of hair growth. However, there are some natural methods that may help make your hair grow longer and thicker.
Here are some tips:
If you follow a healthy diet rich in vitamins, minerals and nutrients, you have a better chance of growing longer, thicker hair.
Many people think that avocado, which is rich in anti-oxidants, can help make the hair grow fuller. Use it as a mask, spreading it all over your hair and leaving it in for 30 minutes.
Olive oil is another potentially hair-growing substance. Run it through your hair once a day and you may see fuller locks soon.
Apparently, aloe vera is an effective hair-growth substance. Leave it on your hair for 30 minutes and then wash it out. You can do this a couple of times a week.
READ NEXT – Keranique Hair Regrowth System Review – Is It Safe & Does It Work To Regrow Hair?
Advertisement
*All individuals are unique. Your results can and will vary.