About FlexJoint Plus
FlexJoint Plus is a revolutionary joint health supplement clinically-proven to promote and maintain the health of the joints.
It consists of ingredients that claims to work together to improve joint flexibility and mobility, at the same time reducing joint pain and discomfort. It is recommended for both men and women who face joint issues.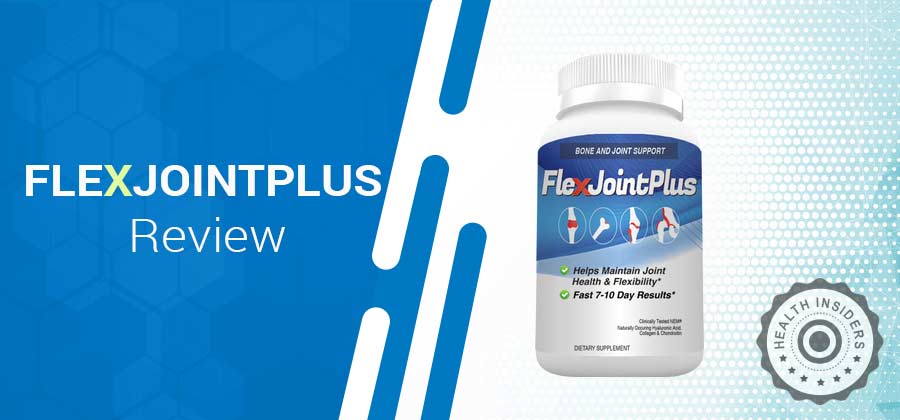 FlexJoint Plus Ingredients – The Breakdown
FlexJoint Plus consists of the following active ingredients to exert its effects:
How Does It Work? | The Science Behind FlexJoint Plus
FlexJoint Plus promotes optimum joint health and function by nourishing the joints and reducing inflammation that may lead to pain and discomfort.
It also claims to replenish various other components of the joint tissue in order to enhance its flexibility and mobility.
FlexJoint Plus Pros & Cons
Pros
It can help reduce joint pain and stiffness.
It claims to enhance joint flexibility and mobility.
It may also support joint health and promotes optimum joint function.
It also claims to reduce the risk of rheumatoid arthritis and osteoarthritis.
It may protect the joint tissues against further damage.
Cons
It is more expensive than other brands of joint pain relief natural supplements.
It has a couple of ingredients that have nothing to do with promoting joint health.
It takes 30-60 days before full results are observed.
Its pain relief properties vary among individuals.
People Also Ask - Questions and Answers
FlexJoint Plus Alternatives
| Brand | Price | Active Ingredients |
| --- | --- | --- |
| Proflexoral | $29.99 | Turmeric, Glucosamine, Boswellia Extract, Quercetin, Methionine |
| ProJoint Plus | $29.95 | Glucosamine Sulfate, Boswellia Extract, Turmeric, Methionine |
| Tissue Rejuvenator | 32.95 | Turmeric, Glucosamine and Chondroitin, Boswellia Serrata, Enzymes, Collagen Peptides |
| LunaFlex PM | $49.95 | Perluxan® Hops Extract, Valerian Root Extract, UC-II® Collagen |
| Joint Vibrance | $58 | Collagen, Hyaluronic Acid, Glucosamine, Chondroitin, MSM |
| Arthrozene | $49.95 | Type 2 collagen, Boswellia, Hyaluronic Acid |
| Move MD | $49.99 | Type II Chicken Collagen, Hyaluronic Acid, Boswellia Serrata, Eggshell Membrane Collagen, Astaxanthin |
Is FlexJoint Plus Safe? – Warnings & Complaints
FlexJoint Plus is an all-natural formula consisting of safe and effective ingredients, as claimed by the manufacturer. It can be used on a regular basis without any problems, but precautions must still be taken especially by those with allergies and other health problems.
FlexJoint Plus Customer Reviews & Results
FlexJoint Plus does not have that many reviews as other brands of joint supplements, but the available ones claim that this product indeed took care of the users' joint health and allowed them to be engaged in more physical activities again.
FlexJoint Plus: Packages, Deals, Prices & Where to Buy It
FlexJoint Plus can be bought through the official website, where it is sold for $59.95 per bottle of 60 capsules.
Reach out to them using the contact number on the website for special pricing and discounts.
The Bottom Line
FlexJoint Plus seems to be doing a good job for users who were able to try this product. Much like any other joint supplements like Joint MD, Trigosamine, and Solgar No. 7, it has its fair share of pros and cons.
The pros are about promoting joint health and all that. The cons, meanwhile, has something to do with the price and the fact that the product takes a bit of time to work. Then again, those cons will all be worth it once you get your desired results.
To do that, we suggest that you try this product to be able to experience the benefits first hand. You may also want to consider the suggestions in the table above.
Is There Anything Else You Should Know About FlexJoint Plus?
FlexJoint Plus may induce allergic reactions in certain individuals due to its eggshell membrane content. Take note that the reaction to this ingredient varies greatly among individuals.
Some won't show any noticeable reactions, while others will present with more severe allergy symptoms.
If you really wish to try this product out, it is advised that you consult a physician first and if approved, go for lower doses first then gradually increase to the recommended dose as your body gets used to it.