About FlexJoint Plus
FlexJoint Plus is a revolutionary joint health supplement clinically proven to promote and maintain the health of the joints.
It consists of ingredients that claim to work together to improve joint flexibility and mobility, at the same time reducing joint pain and discomfort. It is recommended for both men and women who face joint issues.
---
QUICK FACTS
Buy on Website
Quick Facts & Specs
FlexJoint Plus
FlexJoint is a powerful and revolutionary joint supplement that helps maintain joint health and flexibility without side effects.
Form:

Tablet

Type:

Supplement

Benefit:

Helps maintain mobility & flexibility, supports bone and joint health

Phone & Address:

1-800-755-6910

Brand:

FlexJoint Plus

Uses:

Reduces joint pain and swelling, healthy inflammatory support, promotes bone health

Price:

$59.95*

Active Ingredients:

Turmeric Root Powder, Grape Seed Extract, Boswellia Serrata Extract, Vitamin D3
FlexJoint Plus Pros & Cons
Pros
It can help reduce joint pain and stiffness.
It claims to enhance joint flexibility and mobility.
It may also support joint health and promotes optimum joint function.
It also claims to reduce the risk of rheumatoid arthritis and osteoarthritis.
It may protect the joint tissues against further damage.
Cons
Headache
It is more expensive than other brands of joint pain relief natural supplements.
It has a couple of ingredients that have nothing to do with promoting joint health.
It takes 30-60 days before full results are observed.
Its pain relief properties vary among individuals.
---
How Does It Work? | The Science Behind FlexJoint Plus
FlexJoint Plus promotes optimum joint health and function by nourishing the joints and reducing inflammation that may lead to pain and discomfort.
It also claims to replenish various other components of the joint tissue in order to enhance its flexibility and mobility.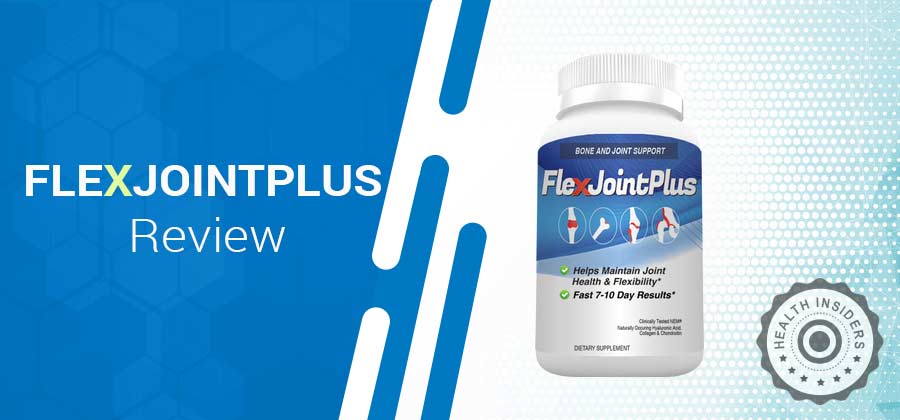 FlexJoint Plus Ingredients – The Breakdown
FlexJoint Plus consists of the following active ingredients to exert its effects:
Advertisement
*All individuals are unique. Your results can and will vary.
NEM (Eggshell Membrane) – This ingredient has been a popular addition in plenty of joint supplements since 2009. It is rich in glycosaminoglycans, proteins, and other nourishing ingredients needed for healthy joints. The effectiveness of eggshell membrane in relieving osteoarthritis was evaluated in this 2009 clinical study published in Clinical Rheumatology.
Turmeric Root Powder – This popular cooking ingredient has powerful anti-inflammatory and antioxidant properties, rendered by the active compound curcumin. The effects of curcumin on human health is discussed in this 2017 review from Foods.
Grape Seed Extract – This extract is obtained by crushing the seeds of red wine grapes. Like turmeric, it is also known for its anti-inflammatory and antioxidant properties, enabling it to reduce joint pain and swelling in addition to protecting the joint tissues against oxidative damage. These properties, along with other beneficial effects, is the subject of this 2016 review from Nutrition and Metabolic Insights.
Boswellia Serrata Extract – This plant possesses a wide variety of medicinal properties, the most important of which are its anti-inflammatory and natural pain relieving effects. These properties are the subjects of the 2011 article from the Indian Journal of Pharmaceutical Sciences.
Vitamin D3 – This vitamin's main role is promoting bone health, but low levels have been linked to increased risk of rheumatoid arthritis, according to this 2012 article from Endocrinology and Metabolism.
FlexJoint Plus – Questions and Answers
Q: How should I take FlexJoint Plus?
A: Two capsules of FlexJoint Plus must be taken twice a day, in the morning and at night, with or without food.
Q: Does FlexJoint Plus have any side effects?
A: Due to FlexJoint Plus' eggshell membrane content, this supplement may not be suitable for individuals with egg allergies. Other than potential allergic reactions in susceptible individuals, this supplement is not expected to produce any other side effects.
Q: Can I take FlexJoint Plus if I have a health condition?
A: FlexJoint Plus is composed of ingredients that are all deemed safe, but it is still advised to consult your healthcare professional before taking this product. This is especially true for pregnant or breastfeeding women, individuals taking other medications or supplements, and individuals with medical problems.
Q: Does FlexJoint Plus work?
A: According to FlexJoint Plus' official website, there's scientific evidence which states that users experienced significant improvements after just a week of use. Full results may be expected after 30-60 days of regular use.
Q: What Is FlexJoint Plus's money-back guarantee, return, and/or refund policy?
A: There are no details regarding any money-back guarantee or return policy for FlexJoint Plus. You'd learn more about them once you order the product.
FlexJoint Plus Alternatives
| Brand | Price | Active Ingredients |
| --- | --- | --- |
| Proflexoral | $29.99 | Turmeric, Glucosamine, Boswellia Extract, Quercetin, Methionine |
| Tissue Rejuvenator | 32.95 | Turmeric, Glucosamine and Chondroitin, Boswellia Serrata, Enzymes, Collagen Peptides |
| LunaFlex PM | $49.95 | Perluxan® Hops Extract, Valerian Root Extract, UC-II® Collagen |
| Joint Vibrance | $58 | Collagen, Hyaluronic Acid, Glucosamine, Chondroitin, MSM |
| Arthrozene | $49.95 | Type 2 collagen, Boswellia, Hyaluronic Acid |
| Move MD | $49.99 | Type II Chicken Collagen, Hyaluronic Acid, Boswellia Serrata, Eggshell Membrane Collagen, Astaxanthin |
Advertisement
*All individuals are unique. Your results can and will vary.
Is FlexJoint Plus Safe? – Warnings & Complaints
FlexJoint Plus is an all-natural formula consisting of safe and effective ingredients, as claimed by the manufacturer. It can be used on a regular basis without any problems, but precautions must still be taken especially by those with allergies and other health problems.
FlexJoint Plus Customer Reviews & Results
FlexJoint Plus does not have that many reviews as other brands of joint supplements, but the available ones claim that this product indeed took care of the users' joint health and allowed them to be engaged in more physical activities again.
SEE ALSO – MoveWell Review – Is MoveWell by LiveWell Safe and Effective?

FlexJoint Plus: Packages, Deals, Prices & Where to Buy It
FlexJoint Plus can be bought through the official website, where it is sold for $59.95 per bottle of 60 capsules.
Reach out to them using the contact number on the website for special pricing and discounts.
The Bottom Line
FlexJoint Plus seems to be doing a good job for users who were able to try this product. Much like any other joint supplements like Joint MD, Trigosamine, and Solgar No. 7, it has its fair share of pros and cons.
The pros are about promoting joint health and all that. The cons, meanwhile, have something to do with the price and the fact that the product takes a bit of time to work. Then again, those cons will all be worth it once you get your desired results.
To do that, we suggest that you try this product to be able to experience the benefits firsthand. You may also want to consider the suggestions in the table above.
Advertisement
*All individuals are unique. Your results can and will vary.
Is There Anything Else You Should Know About FlexJoint Plus?
FlexJoint Plus may induce allergic reactions in certain individuals due to its eggshell membrane content. Take note that the reaction to this ingredient varies greatly among individuals.
Some won't show any noticeable reactions, while others will present with more severe allergy symptoms.
If you really wish to try this product out, it is advised that you consult a physician first and if approved, go for lower doses first then gradually increase to the recommended dose as your body gets used to it.
SOURCES
Health Insiders relies on peer-reviewed studies, academic research institutions, and medical associations. We avoid using tertiary references. You can learn more about how we ensure our content is accurate and current by reading our editorial policy.
[1] Ruff, K. J., Winkler, A., Jackson, R. W., DeVore, D. P., & Ritz, B. W. (2009). Eggshell membrane in the treatment of pain and stiffness from osteoarthritis of the knee: a randomized, multicenter, double-blind, placebo-controlled clinical study. Clinical rheumatology, 28(8), 907–914. https://doi.org/10.1007/s10067-009-1173-4
[2] Hewlings SJ, Kalman DS. Curcumin: A Review of Its Effects on Human Health. Foods. 2017 Oct 22;6(10):92. doi: 10.3390/foods6100092. PMID: 29065496; PMCID: PMC5664031
[3] Garavaglia J, Markoski MM, Oliveira A, Marcadenti A. Grape Seed Oil Compounds: Biological and Chemical Actions for Health. Nutr Metab Insights. 2016 Aug 16;9:59-64. doi: 10.4137/NMI.S32910. PMID: 27559299; PMCID: PMC4988453
[4] Siddiqui MZ. Boswellia serrata, a potential antiinflammatory agent: an overview. Indian J Pharm Sci. 2011 May;73(3):255-61. doi: 10.4103/0250-474X.93507. PMID: 22457547; PMCID: PMC3309643
[5] Kostoglou-Athanassiou I, Athanassiou P, Lyraki A, Raftakis I, Antoniadis C. Vitamin D and rheumatoid arthritis. Ther Adv Endocrinol Metab. 2012 Dec;3(6):181-7. doi: 10.1177/2042018812471070. PMID: 23323190; PMCID: PMC3539179