About Joint Vibrance
Joint Vibrance is a clinically-formulated, comprehensive joint rebuilding formula by Vibrant Health.
As the name suggests, it is intended specifically for the joints, but it also has additional benefits for the hair skin, and nails.
Regular intake should result in healthier joints and significantly reduced joint pain and discomfort.
---
QUICK FACTS
Buy on Website
Buy on Amazon
Quick Facts & Specs
Joint Vibrance
Joint Vibrance is a comprehensive rebuilding formula for your worn-out joints, bones and cartilage. It is designed with carefully selected ingredients including two types of collagen, glucosamine, chondroitin, turmeric and more to support your active lifestyle.
Form:

Capsule

Type:

Supplement

Benefit:

Supports joint comfort, strength, flexibility and health, protects the joints from free radical damage

Phone & Address:

(800) 242-1835; 1 Waterview Drive Suite 103, Shelton, CT 06484;

[email protected]

Brand:

Vibrant Health

Uses:

Helps repair and maintain healthy cartilage, reduces pain and inflammation

Price:

$58*

Active Ingredients:

Chondroitin, Hyaluronic Acid, Collagen, Glucosamine, MSM
Joint Vibrance Pros & Cons
Pros
It has the highest collagen content of joint health supplements.
It may help provide comprehensive joint health support.
It claims to help rebuild cartilage and increase the production of synovial fluid.
It also claims to calm joint inflammation and prevent further damage.
It may benefit the hair, skin, and nails.
It comes in a refreshing orange-pineapple flavor.
Cons
It is not suitable for individuals with allergy to shellfish.
The formula doesn't dissolve easily and needs to be mixed with hot water first.
Some users prefer the old formula and tablet form (which is also available).
---
How Does It Work? | The Science Behind Joint Vibrance
Joint Vibrance claims to promote and maintain joint health by incorporating a mix of ingredients that work together to nourish the cells needed to build collagen and to encourage the production of hyaluronic acid.
In addition, some of the ingredients also exert some potent anti-inflammatory and antioxidant benefits that can help reduce joint inflammation and prevent further damage, thus resulting in the alleviation of joint pain and discomfort.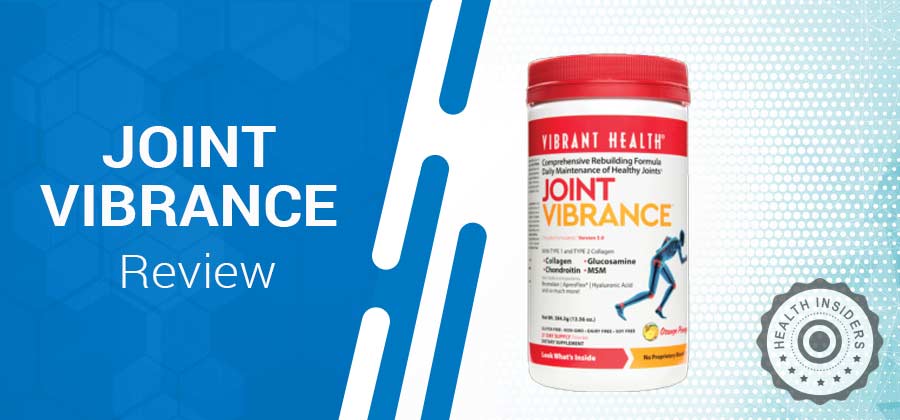 Advertisement
*All individuals are unique. Your results can and will vary.
Joint Vibrance Ingredients – The Breakdown
Joint Vibrance consists of tried-and-tested ingredients with proven joint health benefits. These include:
Collagen – The collagen contained in this formula is 10,600mg and consists of Type 1 (bovine) and Type 2 (avian) collagen. Collagen is considered the backbone of this formula, and it is important in supporting not only cartilage formation, but also in supporting tendon and bone health. The effectiveness of type 1 collagen in osteoarthritis is discussed in this 2017 article from PLOS ONE, and that of type 2 collagen in this 2016 article from The Eurasian Journal of Medicine.
Hyaluronic Acid – Other than its skin moisturizing properties, hyaluronic acid also serves as lubricant in the joints. It is also responsible for maintaining balance of waste and nutrients in cartilage cells. Furthermore, according to this 2016 review article from Nutritional Journal, orally-ingested hyaluronic acid also relieves knee pain.
Glucosamine – A staple in joint health supplements, it is added to cushion the joints and to stimulate the cartilage to produce glycosaminoglycans (GAGs). GAGs improve elasticity. Learn more about the other benefits of oral glucosamine in joint health through this 2013 review article from BMC Research Notes.
Chondroitin – Another staple in joint health supplements, chondroitin renders the cartilage elastic. It is also thought to possess some anti-inflammatory effects to help relieve painful joint swelling. The beneficial effects of chondroitin, along with glucosamine, in osteoarthritis is reported in this 2011 study from the International Journal of Rheumatology.
MSM – Methylsulfonylmethane, or MSM, decreases joint pain and prevents joint degeneration. Such effects, and more, are discussed in this 2014 study published in the International Journal of Orthopedics.
Joint Vibrance – Questions and Answers
Q: How should I take Joint Vibrance?
A: To take Joint Vibrance, it must be added to the beverage of your choice (water or juice).
Dissolve one scoop of the powder in hot water to dissolve it first. Once dissolved, add to any choice of cold liquid — apple juice, grape juice, grapefruit juice, lemonade, etc. Shake or stir until fully mixed.
Take the supplement once to twice daily, ideally between meals to maximize absorption.
Q: Does Joint Vibrance have any side effects?
A: Joint Vibrance should not produce any side effects unless you have an allergy or history of allergy to shellfish. The glucosamine used in this formula is derived from a crustacean.
Q: Can I take Joint Vibrance if I have a health condition?
A: Before taking Joint Vibrance, it is best to consult your healthcare specialist first to avoid any unwanted interactions with your health problem or any medications that you might be taking.
Q: Does Joint Vibrance work?
A: Joint Vibrance is composed of ingredients that are commonly found in many joint health supplements due to their history of effectiveness.
Not only this formula incorporates those ingredients, but it also comes in a form that is much easier and pleasing to take which, in turn, allows for more convenient and consistent use.
Q: What Is the Joint Vibrance money-back guarantee, return, and/or refund policy?
A: Vibrant Health has a satisfaction guarantee for purchases of Joint Vibrance made from the brand's official website. The guarantee is valid for 90 days from the date of purchase.
Advertisement
*All individuals are unique. Your results can and will vary.
Joint Vibrance Alternatives
| Brand | Price | Active Ingredients |
| --- | --- | --- |
| Joint N-11 | $49 | Turmeric, Boswellia Serrata, basil leaf powder, ginger root powder, rosemary root powder |
| Omega XL | $39 + shipping | Vitamin E, Green Lipped Mussel Oil and Olive Oil |
| Turmeric Curcumin Plus | $23.95 | Turmeric, Curcuminoids(e. curcumin), BioPerine (Piperine) |
| Relief Factor | $79.95-93.95 | Icariin, Turmeric, Resveratrol, Omega 3 |
| Move MD | $49.99 | Type II Chicken Collagen, Hyaluronic Acid, Boswellia Serrata, Eggshell Membrane Collagen, Astaxanthin |
| Arthrozene | $49.95 | Type 2 collagen, Boswellia, Hyaluronic acid |
| Instaflex | $48.49 | Hyaluronic Acid, turmeric, collagen II, ginger, white willow bark |
Is Joint Vibrance Safe? – Warnings & Complaints
Joint Vibrance is formulated to be safe for regular use, so long as the user is not allergic to shellfish or any other elements in the supplement. Take that precaution in mind and there won't be any problems with the product.
Joint Vibrance Customer Reviews & Results
Joint Vibrance has a couple of reviews on Vibrant Health's official website. According to these reviews, the product has helped them in so many ways, like alleviating their aches like no other doctor-prescribed medications ever did.
It also allowed them to sleep more soundly because there were no discomforts anymore. And the best part is the formula's amazing taste.
Joint Vibrance: Packages, Deals, Prices & Where to Buy It
Joint Vibrance is available in powder form that you make into a refreshing drink. It is supplied in tubs containing 388.5g powder, costing $58 per tub for a one-time purchase. If you subscribe to auto-ship, you'll get a 20% discount. Shipping is free.
SEE ALSO – FlexJoint Plus Review

The Bottom Line
Joint Vibrance is just like any supplements for joint pain out there — in terms of the ingredients such as BioCell Collagen, Arnicare Arthritis, and Aleve PM. What sets it apart is its formula, which you can make into a nice beverage.
Advertisement
*All individuals are unique. Your results can and will vary.
That may not seem a big deal for others, but the beverage form is actually a pretty good idea for those who don't like taking pills since it allows them to get the daily dose of the formula with much ease.
As for the price, the formula is a bit more expensive than others but not by much. With that, we think that this product is still worth a try, but you can always check out the suggestions we have above if you still prefer the pill form.
Is There Anything Else You Should Know About Joint Vibrance?
The ingredients listed above are the key ingredients that make up the formula. It is also important to mention the presence of other ingredients that provide further support for joint health.
These include boron, Boswellia extract, bromelain, grapeseed, and turmeric.
SOURCES
Health Insiders relies on peer-reviewed studies, academic research institutions, and medical associations. We avoid using tertiary references. You can learn more about how we ensure our content is accurate and current by reading our editorial policy.
[1] Dar Q-A, Schott EM, Catheline SE, Maynard RD, Liu Z, Kamal F, et al. (2017) Daily oral consumption of hydrolyzed type 1 collagen is chondroprotective and anti-inflammatory in murine posttraumatic osteoarthritis. PLoS ONE 12(4): e0174705. https://doi.org/10.1371/journal.pone.0174705
[2] Bakilan F, Armagan O, Ozgen M, Tascioglu F, Bolluk O, Alatas O. Effects of Native Type II Collagen Treatment on Knee Osteoarthritis: A Randomized Controlled Trial. Eurasian J Med. 2016 Jun;48(2):95-101. doi: 10.5152/eurasianjmed.2015.15030. PMID: 27551171; PMCID: PMC4970562
[3] Oe M, Tashiro T, Yoshida H, Nishiyama H, Masuda Y, Maruyama K, Koikeda T, Maruya R, Fukui N. Oral hyaluronan relieves knee pain: a review. Nutr J. 2016 Jan 27;15:11. doi: 10.1186/s12937-016-0128-2. PMID: 26818459; PMCID: PMC4729158
[4] Henrotin, Y., Chevalier, X., Herrero-Beaumont, G. et al. Physiological effects of oral glucosamine on joint health: current status and consensus on future research priorities. BMC Res Notes 6, 115 (2013). https://doi.org/10.1186/1756-0500-6-115
[5] Jerosch J. Effects of Glucosamine and Chondroitin Sulfate on Cartilage Metabolism in OA: Outlook on Other Nutrient Partners Especially Omega-3 Fatty Acids. Int J Rheumatol. 2011;2011:969012. doi: 10.1155/2011/969012. Epub 2011 Aug 2. PMID: 21826146; PMCID: PMC3150191
[6] Gagliardi A, Totino V, Cacciotti F, Iebba V, Neroni B, Bonfiglio G, Trancassini M, Passariello C, Pantanella F, Schippa S. Rebuilding the Gut Microbiota Ecosystem. Int J Environ Res Public Health. 2018 Aug 7;15(8):1679. doi: 10.3390/ijerph15081679. PMID: 30087270; PMCID: PMC6121872.