About Olay Pro X
Olay Pro X is an advanced facial cleansing brush system.[1] It removes makeup with Olay Exfoliating Renewal Cleanser and a 2-speed rotating brush that cleans and exfoliates.
Replace brush every 3 months or sooner depending on use. Two AA batteries are needed for the brush to rotate. Apply moisturizer after use.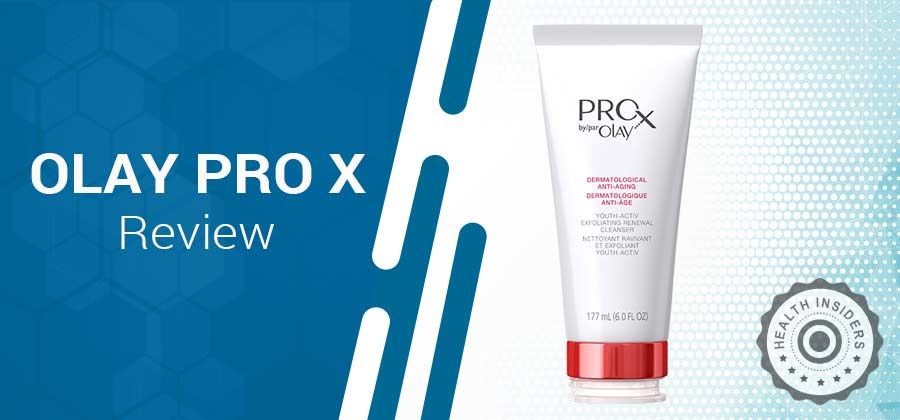 Olay Pro X Ingredients – What to Look For
There are two primary active ingredients in Olay Pro X Exfoliating Renewal Cleanser. They include:
Other ingredients include:
Water/Eau, Lauramidopropyl Betaine, Sodium, Cocoyl Isethionate, Sorbitol, Acrylates, Copolymer, Peg-200 Hydrogenated Glyceryl, Palmate, Citric Acid, Potassium Hydroxide, Polyquaternium-10, Peg-7 Glyceryl Cocoate, Peg-100, Disodium, Edta, Methylchloroisothiazolinone, Methylisothiazolinone.
How Does It Work? | The Science Behind Olay Pro X
Olay Pro X uses a rotating brush and cleanser to exfoliate and deep clean skin. The company claims it primes the skin to receive anti-aging moisturizer.
The brush has 2 speeds so you can control how the brush treats your skin. The brush is waterproof so you can use it in the shower.
The claim is your skin will feel smooth and fresh. You can use it on most skin types according to the company.
Pros & Cons
Pros
As claimed by the manufacturer, the benefits are as follows;
Well-made
Waterproof
Soft brush
Cleans well
Great for Acne
Gentle on face
face feels smoother and cleaner
Pores appear smaller
Cons
Brush needs to be replaced in about a month
Brush is too soft
Cream does not exfoliate
Brush pulls at skin and breaks capillaries
Harsh on skin
No difference noticed compared with using fingers
Customer Questions and Answers
Olay Pro X Safe Alternatives
Brand
Price
Ingrediets
DermaSet
$99.00
Hyaluronic Acid, Apple Stem Cells, Sea Fennel Stem Cells, Argireline Extract
DermaWand
$119.95
its a device and can only use on the face
Hanacure
$110.00
Lotus Leaf Extract, Green Tea Leaf Extract, Honeysuckle Flower Extract, Ginkgo Biloba Leaf Extract, Nicotynol Dipeptide, Copper Tripeptide
Clarins Double Serum
$124.00
Burdock, Hyaluronic acid, Maritime pine, Green banana, Hops
Tatcha Water Cream
$68.00
Hadasei-3 Complex, Japanese Wild Rose, Sophora Angustifolia Root Extract
Olay Regenerist Micro-Sculpting Cream
$25.12
Vitamin B3, Amino Peptides, Hyaluronic Acid, Capric Triglyceride
Hydroxatone
$67.99-79.95
Acetyl Hexapeptide-8, Grape Seed Extract, Chamomile,
Sodium Hyaluronate, Shea Butter, Licorice
Is Olay Pro X Safe? – Warnings & Complaints
It is recommended you do not use the brush and exfoliating cream around the eye area as it is delicate and could become irritated.
Some customers complained the brush and cream are too harsh for the skin and have noticed broken capillaries under the skin.
Olay Pro X Customer Reviews & Results
There are 7,015 customer reviews on the Amazon website. It received 4.3 stars out of 5. There are 4,870 positive reviews and 1,226 critical reviews. The top complaint was the brush stopped working after about 1 month of use.
Olay Pro X: Packages, Deals, Prices & Where to Buy It?
The brush sells for $35.24 on the official website and $24.76 at Walmart. Amazon sells it for $25.87.
At Walmart and Amazon, the 6-ounce Pro X Exfoliating Renewal Facial Cleanser sells for $10.34 and $16.12 at the Olay website.
The Bottom Line
Olay is trusted by millions all over the world and is the best-selling anti-aging skin care product. The product contains glycerin which hydrates skin and diminishes fine lines.
The silica acts as an abrasive to exfoliate the skin. The facial cleaning brush also assists in exfoliating the skin.
Customers appear satisfied with this product as there are copious reviews and it received a 4.3-star rating. Of the few customers that were dissatisfied, they stated the brush needed to be replaced often.
The directions indicate the brush will need to be replaced every 3 months or so depending on use. So, no surprise there.
Olay uses standard ingredients in their products and has been well received for over 60 years. Olay does not test on animals and works with governments to use alternative research methods.
Olay skincare products are affordable and effective with proven results.