About Proquil
Proquil is an organic supplement for men who are experiencing symptoms associated with having an enlarged prostate. This may include frequent urination, difficulty urinating, or a weak urine stream.
This product supports normal urinary function, proper voiding, and a decrease in urinary frequency. In addition, Proquil supports healthy immunity, as it's very high in antioxidants.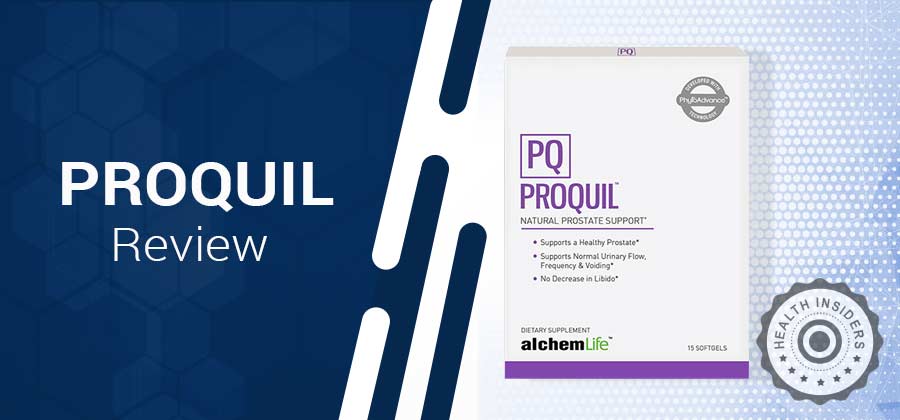 Proquil Ingredients – What to Look For
Here are some of the active ingredients in Proquil:
Pumpkin Seed Oil – This substance treats the symptoms of benign prostatic hyperplasia. This is because they contain plant sterols, as well as fatty acids. They also have micronutrients and antioxidants. A one-year study published in Urologia Internationalis looked at the effect of pumpkin seeds on prostate enlargement symptoms and found it to be effective.
Saw Palmetto – This is a palm tree which originates in the southwestern United States. It is a treatment for the symptoms of an enlarged prostate. It contains antioxidants and anti-inflammatory agents which reduce swelling. However, according to a review of the research in Reviews in Urology, the results of studies vary and its efficacy is not certain.
Flaxseed Oil – This substance is made from pressed flax seeds, and it's also called linseed oil. It's as fiber which contains a lot of nutrients, like omega-3 fatty acids and manganese.It's a powerful anti-inflammatory that can reduce swelling in the prostate and decrease symptoms. A study published in Cancer Epidemiol Biomarkers Prevention found that flaxseed oil may protect against the risk of prostate cancer.
How Does It Work? | The Science Behind Proquil
There are substances in Proquil which contain plant sterols called phytosterols. These support prostate health and they can lessen the urinary tract symptoms which go along with prostate enlargement.
In addition, Proquil is high in antioxidants, which help with overall immunity and speed up healing in the body.
There are also anti-inflammatory agents that can lessen swelling in the prostate, also helping to reduce symptoms.
Proquil Pros & Cons
Pros
Proquil may help reduce the size of the prostate.
The supplement may support a healthy prostate.
It could create a normal urinary flow.
Proquil may slow down urinary frequency.
It's high in antioxidants.
Cons
It contains bovine derivatives so it's not suitable for vegetarians.
One bottle of the product only lasts 15 days.
It contains soy, which is a common allergen.
Customer Questions and Answers
Proquil Alternatives
| Brand | Price | Active Ingredients |
| --- | --- | --- |
| Proquil | $29.99 | Saw Palmetto, Pumpkin Seed, Flaxseed Oil, Pygeum |
| Prostate PQ | $95 | Quercetin, Flower Pollen Extract |
| Prostavec | $34 | Pygeum Bark, Turmeric, Nettle, Kelp, Cornsilk, Prickly Ash Bark, Saw Palmetto, Olive Leaf |
| ProstatePure Plus | $21.99 | Nettle, Lycopene, Zinc, Selenium, Copper, Magnesium, Plant Sterols, Glycine, Pomegranate, Pygeum Bark |
| Prostate Plus | $26.84 | Vitamins E and B6, Saw Palmetto and Green Tea |
| Superior Prostate | $29.99 | Beta Sitosterol, Saw Palmetto, Nettle Leaf, Pumpkin Seed, Enzyme Blend, Lycopene, Grape Seed Extract |
| LifeSeasons Pros-T | $45.99 | Saw Palmetto, pumpkin seed oil, zinc, selenium, nettle root, Swedish flower pollen extract |
| Flotrol | $59.95 | Magnesium Stearate, Pumpkin Seed Extract, Soy Isoflavones |
| NOW Prostate Health Clinical Strength | $34.99 | Quercetin, Stinging Nettle, Turmeric, Plant Sterols, Saw Palmetto, Pumpkin Seed Oil, Lycopene, Zinc, Selenium, Vitamin D3 |
Proquil is priced very reasonably for the market. When it comes to ingredients, it's a little lacking compared to the other brands. There are missing ingredients.
Is Proquil Safe? – Warnings & Complaints
This is a very safe supplement that uses quality organic ingredients. Make sure to heed the health warnings. Otherwise, you may only experience mild side effects. If you experience uncomfortable symptoms, stop taking the product and see a doctor if necessary.
Proquil Customer Reviews & Results
Strangely, there are really very few reviews of Proquil online, and often none on sites where you can purchase it and have the option to write a review. It's hard to know why customers haven't commented on the product.
Proquil: Packages, Deals, Prices & Where to Buy It
You can buy Proquil on the manufacturer's official website, on Amazon, and from a number of other both online and offline locations. You can get it on Amazon for $19. On the official website, the price is $29.99, but you get discounts for buying in bulk:
If you buy 3, you get a 5% discount plus free shipping.
If you buy 6, you get 10% off plus free shipping.
If you buy 9, you get 10% off plus free shipping.
The Bottom Line
Proquil is an organic supplement that is for men who have an enlarged prostate and have been experiencing urinary tract symptoms like frequent urination and difficulty urinating.
It supports overall prostate health, as well as elevating your immune system with its antioxidants.
Proquil is a reasonably-priced supplement that would be affordable for most people. The ingredients are of high quality, but it contains fewer substances than some similar supplements like Prostate 911, Prostaplex, VitalFlow.
In terms of customer reviews, there were none to be found online. We really can't get a good idea of customer opinion on this product.
Proquil is a fairly safe product, but there is still a chance that you could have some mild side effects. If you have uncomfortable symptoms, stop taking the supplement right away.
Before you begin taking this product, go to a doctor, and make sure it's medically suitable for you.
Is There Anything Else You Should Know About Proquil?
Proquil is one of the natural prostate supplements that work and can ease the symptoms that go along with prostate enlargement like frequent urination and difficulty urinating. We hope this product worked well for you and made you feel more comfortable. There are some natural things you can do to elevate your prostate health. Here are some tips:
Try to drink mostly water and avoid beverages which will increase urination such as coffee, alcohol, and carbonated beverages.
Eat foods high in antioxidants to increase your immunity. Try nuts, lean meat, fatty fish, fruit, and leafy vegetables.
Exercise regularly in order to reduce your level of stress. Stress can impact negatively on the prostate.
Try Kegel exercises to strengthen your urinary tract.