About VitalFlow
VitalFlow is an all-natural formula designed to help resolve the symptoms caused by enlarged prostate. It may help address frequent urination as well as reduce recurring urethra and bladder pain.
This prostate health support supplement is the brain of one researcher named Sam Morgan. He claims to have had a strong passion to help men who are suffering from BPH. VitalFlow prostate supplement is a blend of over 34 ingredients and that all these have been tested and found effective against BPH symptoms.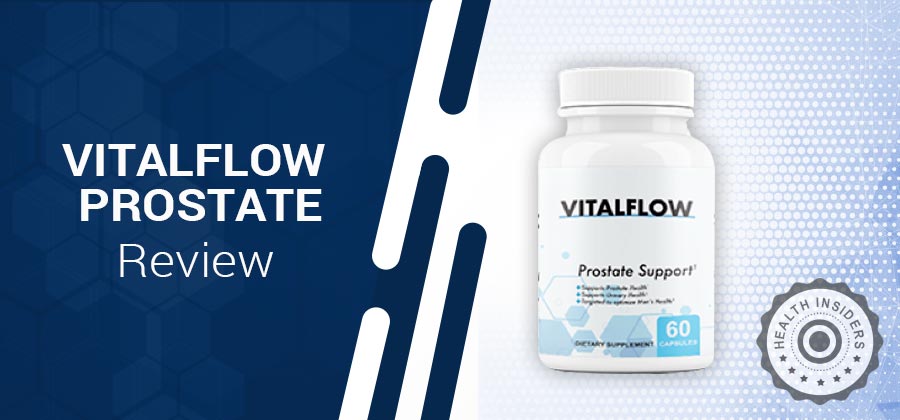 VitalFlow Ingredients – What to Look For
During the research stage, claims are that out of the 144 ingredients that were considered for testing, 34 come out promising, in that they might help strengthen prostate health. Top on the list of VitalFlow ingredients include;
How Does It Work? | The Science Behind VitalFlow
The way VitalFlow works is that it targets to reduce the levels of dihydrotestosterone (DHT) in the body. DHT is a chemical that supposedly begins to build up with age. That is, with age some people may see their male hormone testosterone begin to convert to DHT. Some of the conditions that allow the first build-up of this hormone include diabetes, age, genetics, and obesity. To help keep DHT levels in control, this supplement helps to give your natural testosterone a boost as well as rid your body of high DHT levels.
VitalFlow Pros & Cons
Pros
It may help relieve painful bathroom visits
Might help reverse the symptoms of an enlarged prostate
It is all-natural and claims to offer a safer solution for improving prostate health
The product boasts of being prescription free
It claims to increase the user's sex drive
Cons
The product is only available online
It may not be a good option for people with certain pre-existing medical conditions
Seems like it is still a new product
Not everybody may see quick results
People Also Ask - Questions and Answers
VitalFlow Alternatives
| Brand | Price | Active Ingredients |
| --- | --- | --- |
| LES Labs Prostate Health | $29.99 | Stinging Nettle, Beta Sitosterol, Lycopene, Pumpkin Seed Extract, Zinc, Saw Palmetto, Boron, Turmeric |
| NOW Prostate Health Clinical Strength | $34.99 | Quercetin, Stinging Nettle, Turmeric, Plant Sterols, Saw Palmetto, Pumpkin Seed Oil, Lycopene, Zinc, Selenium, Vitamin D3 |
| Prost-P10x | $79.99 | Plant Sterols, Stinging Nettle, Saw Palmetto, Quercetin, Green Tea, Pygeum, Zinc, Vitamin D, Cranberry, Curcumin |
| Prostate PQ | $95 | Quercetin, Flower Pollen Extract |
| Prostate Plus | $26.84 | Vitamins E and B6, Saw Palmetto and Green Tea |
| LifeSeasons Pros-T | $45.99 | Saw Palmetto, pumpkin seed oil, zinc, selenium, nettle root, Swedish flower pollen extract |
| Flotrol | $59.95 | Magnesium Stearate, Pumpkin Seed Extract, Soy Isoflavones |
| Prostate 911 | $69.95 | Saw Palmetto, Plant Sterol, Green Tea, Pygeum Africanum, Stinging Nettle, Shiitake Mushroom, Reishi Mushroom |
Is VitalFlow Safe? – Warnings & Complaints
The key reason VitalFlow is considered safe is that it uses all-natural ingredients that may not cause any adverse side effects. However, the company behind it warns that it should only be used for enlarged prostate and that healthy people should not use it. Under 18s' are also discouraged and should not use this product. No complaints have been reported against this supplement so far.
VitalFlow Customer Reviews & Results
The comments on VitalFlow prostate support reviews on the official website give the impression that this product has what it takes to be worth the attention it is demanding. That is, some users have that it helped reduce their need for night bathroom visits by half. "It is two months since I started this supplement and I call tell that it works for me. My nighttime visits have gone down from 5 to only 2 and now I feel much emptied than before." -Antony C.
VitalFlow: Packages, Deals, Prices & Where to Buy It
1 bottle retails for $69.00
3 bottles – $177.00
6 bottles – $294
You can order VitalFlow from its official website.
The Bottom Line
The source of the ingredients behind this product is one detail that makes the supplement appealing. In precise, VitalFlow is all-natural and that it uses an organic approach to help improve prostate health.
Also, with all factors considered and the fact that this product only supports the natural body function of managing BPH build-up, it easy to conclude that the supplement is worth the try.
However, like most supplements such as ProstatePure Plus, Prostaplex, and Prostavec users may have to wait long for the results, in some cases up to three months.
Is There Anything Else You Should Know About VitalFlow?
While this product has been listed as a potent inhibitor of DHT build-up, the producer seems very strict to the fact that only people who are suffering from the symptoms of enlarged prostate should use it. That means the supplement should not be used as a prevention against non-existing enlarged prostate issues. Besides that, you may need to research to be sure that you are not allergic to any of the ingredients, bearing in mind it has over 34 ingredients.