About Super Beta Prostate
Super Beta Prostate is a dietary supplement that promises to improve men's life quality by enhancing the urinary urges when it's necessary.
It claims to reduce nighttime bathroom trips which will ultimately lead to good night sleep. It supports healthy bladder emptying hence reducing constant urges to visiting the bathroom.
Additionally, the manufacturer of this dietary supplement claims that it has been formulated with naturally sourced ingredients.
According to Harvard Health Publishing, most men at 60 reach develop an enlarged prostate, a condition known as benign prostatic hyperplasia. And since it happens gradually, men tend to think that frequent bathroom trips are common with aging.
With a product like Super Beta Prostate, men may be able to achieve normal urination once again.
Super Beta Prostate – Quick Facts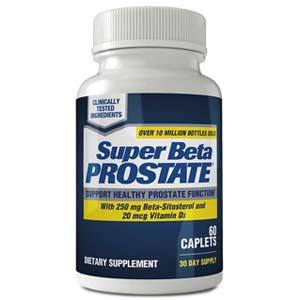 Buy on Amazon
Super Beta Prostate supports prostate health naturally and reduce frequent urges to use the bathroom during day & night, plus better bladder emptying.
Form:

Pill

Type:

Supplements

Benefit:

Reduces prostate swelling.

Address & Phone:

63 Oser Avenue, Hauppauge, NY 11788. 1-888-997-2941

Brand:

New Vitality

Uses:

Reduces dribbling & improves sleep quality.

Active Ingredients:

Beta-Sitosterol, Boron, Silica

Price:

$19.00 to $39.95
Pros And Cons of Super Beta Prostate supports

This supplement claims to reduce prostate swelling.
It might reduce bathroom trips frequency
Can help you regain control over your urinary urges
Using it as recommended may reduce dribbling
It can also help improve sleep quality

It might not completely cure frequent urination
It doesn't work instantly, may take up to 3 weeks
The result may be short term and not a long term
May require one to use alongside multivitamins
How Does It Work? | The Science Behind Super Beta Prostate
As claimed by the manufacturer, this product works by controlling the bladder through its natural ingredients which supplement the organ. When the bladder is in optimal condition, it can hold and release urine effectively.
This way the nighttime bathroom trips are reduced allowing you to sleep soundly without disruption. And when all this is achieved, your life quality improves.
Super Beta Prostate Ingredients – The Breakdown
The ingredients present in this product are natural products ranging from plant extracts to trace elements. Some of the active ingredients include;
Beta-Sitosterol – A plant substance that is similar to cholesterol, also mentioned in our Prostate Plus+ review article. It may help reduce cholesterol levels by limiting intake by the body. According to The Cochrane Database of Systematic Reviews[1], a research report explains that this ingredient helps to reduce prostate swelling which then improves urinary symptoms.
Boron – This is a micronutrient that has diverse yet important roles in the metabolism of plants, animals, and humans. In the journal Integrative Medicine[2], a review article points out that boron may be important in the preventive measures of prostate cancer. It also plays roles such as wound healing, boosting magnesium absorption, and bone growth.
Advertisement
*All individuals are unique. Your results can and will vary.
Silica – This is a chemical compound that occurs naturally and is a foundational mineral that our bodies require. Although it majorly supports bone health it may also play a vital role in supporting healthy urinary function, according to a review article in The American Journal of Clinical Nutrition[3].
Super Beta Prostate Alternatives
| Brand | Price | Active Ingredients |
| --- | --- | --- |
| ProstaGenix | $49.95 | Quercetin, Beta Sitosterol and Grape Seed Extract |
| Semenax | $80.38 | Arginine, Swedish pollen flower, L-Lysine, Zinc, L-carnitine |
| Flotrol | $59.95 | Magnesium Stearate, Pumpkin Seed Extract, Soy Isoflavones |
| Saw Palmetto | $17.49 | Saw Palmetto |
| Prostrex | $46.86 | Saw Palmetto, pumpkin seed, turmeric, organic pine bark |
| Prostate 911 | $69.95 | Saw Palmetto, Plant Sterol, Green Tea, Pygeum Africanum, Stinging Nettle, Shiitake Mushroom, Reishi Mushroom |
Is Super Beta Prostate Safe? – Warnings & Complaints
Having all-natural ingredients without additives or preservatives, this prostate natural supplement may be safe to consume. There are warnings issued to any special group, however, it is always good to consult. As for complaints, most customers mentioned the side effects.
Super Beta Prostate: Packages, Deals, Prices & Where to Buy It
A bottle of this product contains 60 tablets that are to be used within 30 days. It can be bought from the official website as well as other online retailers. The price ranges from $19.00 to $39.95 depending on where you buy it.
The Bottom Line
With age, men's prostate glands become enlarges and cause problems to their urinary tract. This is experience through frequent urinating which not only affects their sleep but also their life in general. However, some medications may help solve this problem.
Super Beta Prostate is a non-prescription supplement that claims to reduce the urinary urges that come with prostate enlargement.
Through its natural ingredients, the bladder may be nourished with all the right nutrients that will keep the bladder running at optimum levels.
However, this supplement is not a treatment that can cure underlying issues of an enlarged prostate thus it may offer temporary relief only. Another downside is that it causes side effects in some individuals.
To see results, individuals will have to wait up to three weeks which may be considered a long time. If there are products that can offer instant relief, maybe you should check them out.
Is There Anything Else You Should Know About Super Beta Prostate?
Super Beta Prostate claims to help reduce burning micturition which is commonly known as painful urination. This discomfort in urinating is usually caused by the inflammation of the prostate.
READ NEXT – Prostate Plus Ingredients and LifeSeasons Pros-T
Super Beta Prostate – Questions and Answers
Q: How to Use Super Beta Prostate?
A: Take 1 tablet in the morning and 1 in the evening. As for whether before or after a meal, it has not been mentioned which means it will depend on your preference.
Q: Does Super Beta Prostate Have Any Side Effects?
A: Although this product is touted as all-natural, it may still cause side effects such as nausea, indigestion, constipation, and even skin itching as well as rashes.
Q: Can I Use Super Beta Prostate If I Have A Health Condition?
A: This information has not been given but it is still recommended to consult your doctor before taking this supplement or any other supplement for that matter.
Advertisement
*All individuals are unique. Your results can and will vary.
Q: Does Super Beta Prostate Work?
A: Super Beta Prostate may work because the ingredients have scientific evidence in terms of their effectiveness.
Q: What Is Super Beta Prostate Money-back Guarantee, Return & Refund Policy?
A: This supplement comes with a 100% money-back guarantee and the company behind it promise to refund if you are unsatisfied with the product after completing the 30 day supply. To get your refund, simply return the empty bottle to the manufacturer.
Sources
Health Insiders relies on peer-reviewed studies, academic research institutions, and medical associations. We avoid using tertiary references. You can learn more about how we ensure our content is accurate and current by reading our editorial policy.
[1] Wilt TJ, Ishani A, MacDonald R, Stark G, Mulrow CD, Lau J. Beta‐sitosterols for benign prostatic hyperplasia. Cochrane Database of Systematic Reviews 1999, Issue 3. Art. No.: CD001043. DOI: 10.1002/14651858.CD001043. Accessed 29 November 2021. ,BR.
[2] Pizzorno L. Nothing Boring About Boron. Integr Med (Encinitas). 2015;14(4):35-48.