About LifeSeasons Pros-T
LifeSeasons Pros-T is an organic supplement designed to lessen the symptoms associated with prostate enlargement.
It can restore your urine flow to normal, and it can also reduce the frequency of your urination during the day and at night. This product is rich in vitamins, minerals, and healthy antioxidants.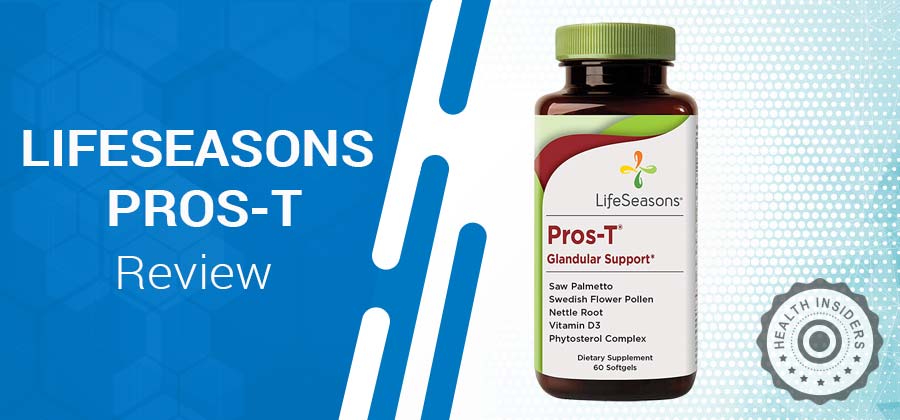 LifeSeasons Pros-T Ingredients – The Breakdown
There are several main substances in this prostate health supplement. Some of the primary active ingredients include:
Pumpkin Seed Oil – It's good for prostate and cardiovascular health. It contains phytosterols, which support prostate health and urine flow. It's rich in healthy antioxidants. A study in Journal of Medicinal Food found that pumpkin seed extract had an impact on symptom frequency and severity in men with benign prostate hyperplasia.
Zinc – This is an essential mineral required by the body. Studies say that it can both increase libido and effectively treat erectile dysfunction and it can also enhance fertility in men. It may support enzyme and hormone production. An article in Prostate Cancer and Prostatic Diseases looked at the important role of zinc in treating prostate cancer.
Saw Palmetto – This tree helps to regulate normal prostate function and urinary health, promoting a healthy urine flow. It can also increase the amount of testosterone in your system, increasing libido. A study in the New England Journal of Medicine showed no significant change when men with prostate symptoms ingested saw palmetto.
How Does It Work? | The Science Behind LifeSeasons Pros-T
This supplement contains phytosterols, which may support prostate health and urine flow. Oregon State University suggests that phytosterols may inhibit the growth of prostate cancer according to research.
It's rich in antioxidants, which promote healing. In addition, it has anti-inflammatory agents, which reduce the swelling in the prostate.
LifeSeasons Pros-T Pros & Cons
Pros
The supplement can reduce inflammation in the prostate.
The product can restore your urine flow to normal.
It may reduce frequency of urination during the day and night.
The supplement contains healthy vitamins and minerals.
Cons
The product contains soy, which is a common allergen.
It's not suitable for vegetarians, as it contains bovine.
It may lead to mild side effects like dizziness, headache, nausea, vomiting, constipation, and diarrhea.
Customer Questions and Answers
LifeSeasons Pros-T Alternatives
| Brand | Price | Active Ingredients |
| --- | --- | --- |
| LifeSeasons Pros-T | $45.99 | Saw Palmetto, pumpkin seed oil, zinc, selenium, nettle root, Swedish flower pollen extract |
| Semenax | $80.38 | Arginine, Swedish pollen flower, L-Lysine, Zinc, L-carnitine |
| Flotrol | $59.95 | Magnesium Stearate, Pumpkin Seed Extract, Soy Isoflavones |
| Saw Palmetto | $17.49 | Saw Palmetto |
| Prostrex | $46.86 | Saw Palmetto, pumpkin seed, turmeric, organic pine bark |
| Prostate 911 | $69.95 | Saw Palmetto, Plant Sterol, Green Tea, Pygeum Africanum, Stinging Nettle, Shiitake Mushroom, Reishi Mushroom |
This isn't a cheap supplement, but there are brands that are more expensive.
These brands have quite a lot of overlap in terms of ingredients. However, LifeSeasons Pros-T does contains a rich collection of substances.
Is LifeSeasons Pros-T Safe? – Warnings & Complaints
The ingredients in this product are quite safe. Remember to get medical approval from a physician before you begin taking this supplement.
LifeSeasons Pros-T Customer Reviews & Results
Users loved this prostate supplement. There were an overwhelming number of positive reviews – over 80%. Men raved about how well this took care of their prostate enlargement issues like blocked flow and frequency of urination.
Users mentioned being thrilled that they no longer have to get up all night to use the bathroom.
LifeSeasons Pros-T: Packages, Deals, Prices & Where to Buy It
You can buy this product on the manufacturer's official website, and on many other third-party websites.
The price on the official website is $45.99 for a one-time purchase and $41.39 if you subscribe to the monthly program.
The Bottom Line
LifeSeasons Pros-T is an organic supplement intended to treat the symptoms that can occur when men have enlargement of the prostate.
According to the men who reviewed the supplement, this product works wonders to restore urine flow and reduce the frequency of urination.
It has a rich collection of substances included, and it appears to be worth the cost.
This product has some potential side effects which could occur. If you experience any unpleasant side effects, stop taking the supplement immediately and see a physician if necessary.
Before you begin taking this supplement, see your doctor and make sure it's medically suitable for you.
Is There Anything Else You Should Know About LifeSeasons Pros-T?
Hopefully, LifeSeasons Pros-T is the right supplement for you, and it helps you to reduce the symptoms you have been experiencing.
There are also some lifestyle tips you can follow for reducing the symptoms of an enlarged prostate.
Here are some tips:
Try to keep your weight in the normal range. Being overweight can intensify prostate symptoms.
Exercise on a regular basis – at least 3-4 times per week.
Avoids products like cold medications which could make you dehydrated.
Try to lessen your stress levels, as stress can exacerbate symptoms.