About Aleve PM
Aleve PM is an NSAID (non-steroidal anti-inflammatory drug) that claims to relieve small aches and pains in the body so that you can sleep more easily.
It allows you to rest comfortably free of pain and wake up well-rested. The product is for anyone above the age of 12.
---
QUICK FACTS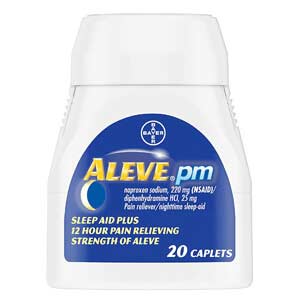 Buy on Amazon
Buy on Walmart
Quick Facts & Specs
Aleve PM
Aleve PM is a non-steroidal anti-inflammatory drug (NSAID) that promises to treat minor aches and pains in the body, allowing you to sleep better.
Form:

Caplets

Type:

Supplement

Benefit:

Provides anti-inflammatory support, provides relief from occasional sleeplessness associated with minor aches and pains

Brand:

Aleve

Uses:

Relieves minor pain from minor arthritis pain, headache, backache, muscle aches, menstrual cramps, dental pain, helps in falling asleep and stay asleep

Price:

$15.99*

Active Ingredients:

Naproxen sodium, Diphenhydramine HCl
Aleve PM Pros & Cons
Pros
The product could help you sleep.
It claims to help ease minor aches and pains.
The product comes in small, easy-to-swallow capsules.
It's priced very cheaply.
Cons
Headache
There are many health warnings for this product.
It can make you drowsy.
The product may give you a stomach ache.
---
How Does It Work? | The Science Behind Aleve PM
This product contains an antihistamine whose purpose is to induce sleep, and it may also clear up any congestion the user is experiencing.
According to the Mayo Clinic, they both treat congestion and induce sleep by working contrary to chemicals called histamines that are made in the central nervous system.
The product also contains an NSAID. It contains analgesic properties that claim to deal with aches and pains, and it also has anti-inflammatory properties which reduce swelling and pain.
According to Science Direct, it produces these effects by inhibiting the synthesis of prostaglandins.
Advertisement
*All individuals are unique. Your results can and will vary.
Aleve PM Ingredients – The Breakdown
There are only 2 active ingredients in this joint pain supplement:
Diphenhydramine Hydrochloride – This is an antihistamine which counters the effects of chemical histamines in the body. It's used to treat cold symptoms, insomnia, and nausea. A study in The Primary Care Companion for CNS Disorders showed limited effect of this substance for inducing sleep.
Naproxen Sodium – This is an NSAID which has analgesic and anti-inflammatory properties. It's purpose is to reduce pain and swelling. A study published in the Cochrane Database of Systematic Reviews found this to be an effective pain reliever.
Aleve PM – Questions and Answers
Q: How to Take Aleve PM?
A: If you're over the age of 12, take 2 capsules before you go to bed with a full glass of water. Do not take with food, or it will take longer to absorb. Do not take more than 2 capsules a day under any circumstances.
Q: Does Aleve PM Have Any Side Effects?
A: There are a number of potential side effects mentioned on the label of the product. It runs the risk of causing stomach bleeding. In addition, because this is an NSAID, it can elevate the risk of heart attack, stroke, and heart failure. If you have an allergy to Naproxen sodium, the symptoms could include hives, rash, facial swelling, skin reddening, blisters, shock, and asthma.
Q: Can I Take Aleve PM If I Have A Health Condition?
A: There are numerous health conditions listed on the label of the product which preclude taking this supplement. They are as follows:
An allergy to Naproxen Sodium
Stomach bleeding or a bleeding disorder
High blood pressure
Heart disease
Cirrhosis of the liver
Kidney disease
Asthma
Had a stroke
Glaucoma
Difficulty urinating due to an enlarged prostate
Breathing problems such as emphysema or chronic bronchitis
In addition, you should avoid the product if you're taking diuretics, sedatives, tranquilizers, any sleep aid, a blood-thinning drug, or antihistamines. If you're taking any medication, see a doctor and make sure it's suitable to take with this product. In addition, even if you have no medical condition and are not taking medication, you should still get approval from a doctor before taking this product.
Q: Does Aleve PM Work?
A: This product should certainly work. It contains a good dosage of antihistamines, which would induce sleep. It also has a good quantity of an NSAID as a pain killer. The users tend to agree that this is a very effective product.
Q: Is Aleve PM bad for your liver?
A: Nonprescription pain relievers such as acetaminophen (Tylenol, others), aspirin, ibuprofen (Advil, Motrin IB, others) and naproxen (Aleve, others) can damage your liver, especially if taken frequently or combined with alcohol.
Q: Is Aleve PM safe to take every night?
A: Yes, Aleve PM is safe and effective when used as directed.
Q: Is Aleve PM bad for your kidneys?
A: Kidney problems can sometimes occur with the use of NSAID medications, including naproxen.
Advertisement
*All individuals are unique. Your results can and will vary.
Q: What Is Aleve PM Moneyback Guarantee, Return & Refund Policy?
A: You can't buy this product directly from the manufacturer, so they do not have a refund policy, However, you can buy this from a number of other online and offline retailers, all of whom have their own individual policy.
Aleve PM Alternatives
Brand
Price
Active Ingredients
Aleve PM
$15.99
Diphenhydramine Hydrochloride,
Naproxen Sodium
Avinol PM
$49.99
Melatonin, Calcium, Magnesium, GABA, Hops Flower Powder
Turmeric Curcumin Plus
$23.95
Turmeric, Curcuminoids(e. curcumin), BioPerine (Piperine)
Instaflex
$48.49
Hyaluronic Acid, turmeric, collagen II, ginger, white willow bark
Relief Factor
$79.95-93.95
Icariin, Turmeric, Resveratrol, Omega 3
Arthrozene
$49.95
Type 2 collagen, Boswellia, Hyaluronic Acid
These are all very inexpensive brands, but Aleve PM has the highest price. Nonetheless, it's still very affordable.
In terms of ingredients, there's a lot of overlap with these products. For the most part, they contain similar ingredients.
Is Aleve PM Safe? – Warnings & Complaints
There are a number of health risks with this product. Read them very carefully, and make sure you avoid the product if you have any of the conditions listed or are taking any of the medications mentioned.
Read over the side effects and decide for yourself if the product is for you and if you're willing to take those risks.
Aleve PM Customer Reviews & Results
The reviews for this product were excellent. Over 90% of reviewers wrote very positive comments about Aleve PM, stating that it really reduced their pain and allowed them to get a good night's rest.
Despite the number of health warnings, very few people complained of any side effects.
Advertisement
*All individuals are unique. Your results can and will vary.
Aleve PM: Packages, Deals, Prices & Where to Buy It
The manufacturer does not sell this product directly. There are a number of online and offline retailers who sell the product such as Amazon, Walmart, and Walgreens.
The product is not available at the moment on Amazon and there's no price listed. It costs $15.99 at Walgreens and $16.17 at Walmart.
SEE ALSO – Joint Pain Hack Review
The Bottom Line
Aleve PM is a product that is intended to treat aches and pains in order to allow the user to get a good night's sleep and wake up well-rested. The product contains 2 ingredients, an ant-histamine and an N-SAID for pain.
It should be effective, but it does have numerous health warnings that could make it risky for some users to take.
Nonetheless, the customer reviews for this product were really good. People raved about how well this product helped them sleep, and how it quelled their pain. Very few mentioned anything in the way of side effects.
Especially given the health warnings for a number of conditions, it's really essential that anyone considering taking this product see a doctor first and makes sure it's medically suitable. Also, check carefully that it doesn't interact with any of your medications.
Is There Anything Else You Should Know About Aleve PM?
Aleve PM is a product intended for people who suffer from minor aches and pains that leave them sleepless. It lessens the pain, so you get a good night's sleep. We hope this product works well for you.
There are some natural ways you can diminish pain. Here are some tips:
Exercise often has an impact on pain. Try gentle activities like walking or swimming.
Meditation and mindfulness do have an impact on lessening pain. There's a lot of evidence that these techniques are effective.
Massage can lessen pain by relaxing your muscles and joints.
There's evidence that music can distract you from pain, which helps to diminish it.
SOURCES
Health Insiders relies on peer-reviewed studies, academic research institutions, and medical associations. We avoid using tertiary references. You can learn more about how we ensure our content is accurate and current by reading our editorial policy.
[1] Adult health https://www.mayoclinic.org/healthy-lifestyle/adult-health/expert-answers/sleep-aids/faq-20058393
[2] Naproxen https://www.sciencedirect.com/topics/agricultural-and-biological-sciences/naproxen
[3] Culpepper L, Wingertzahn MA. Over-the-Counter Agents for the Treatment of Occasional Disturbed Sleep or Transient Insomnia: A Systematic Review of Efficacy and Safety. Prim Care Companion CNS Disord. 2015 Dec 31;17(6):10.4088/PCC.15r01798. doi: 10.4088/PCC.15r01798. PMID: 27057416; PMCID: PMC4805417
[4] Mason L, Edwards JE, Moore RA, McQuay HJ. Single dose oral naproxen and naproxen sodium for acute postoperative pain. Cochrane Database Syst Rev. 2004 Oct 18;(4):CD004234. doi: 10.1002/14651858.CD004234.pub2. Update in: Cochrane Database Syst Rev. 2009;(1):CD004234. PMID: 15495091; PMCID: PMC4164452
[5] Zeidan F, Vago DR. Mindfulness meditation-based pain relief: a mechanistic account. Ann N Y Acad Sci. 2016 Jun;1373(1):114-27. doi: 10.1111/nyas.13153. PMID: 27398643; PMCID: PMC4941786
[6] Men's Health https://www.health.harvard.edu/topics/mens-health