About HSD Deactivate
HSD Deactivate by All Natural Nutrition is a natural weight-loss supplement with a unique concept. The product helps you lose weight by managing the HSD enzyme in your body that is responsible for storing fat. Unfortunately, as your stress levels rise, HSD will store more fat.
In addition to the supplement, the company also offers an HSD Deactivating Foods Guide for you to purchase. The guide recommends specific foods that will additionally decrease HSD enzyme activity to help you lose weight.
---
Buy on Official Website
Quick Facts & Specs
HSD Deactivate
HSD Deactivate is a natural weight-loss supplement that works by controlling the HSD enzyme, which is in charge of fat storage in the body.
Form:

Pills

Type:

Supplement

Benefit:

May lower HSD activity to reduce fat storage and promote weight loss.

Brand:

HSD Deactivate

Uses:

May increase energy levels resulting in more calories burned each day.

Ingredients:

Rhodiola Extract Sal 1% HPLC, Lutein (5%), Ashwagandha, Magnolia officinalis, Passion Flower

Price:

$49.99
HSD Deactivate Pros & Cons
Pros
May lower HSD activity to reduce fat storage and promote weight lose
May increase energy levels resulting in more calories burned each day
Vegan friendly
Purchasing the HSD Deactivating Foods Guide may assist in further weight loss
Cons
Ingredients are atypical to those in other weight-loss products and research does not directly connect them to weight loss
Limited information discussing how the supplement promotes weight loss, especially because there is more than 1 type of HSD enzyme and no way of ensuring this supplement is targeting the right pathway to reduce fat storage
This supplement is focused on reducing fat storage related to stress, so you would likely still need to reduce total calories consumed per day for optimal results
---
How Does It Work | The Science Behind HSD Deactivate
The company website claims their supplement "turns off" the HSD enzyme, but no specific ingredient listed has evidence-based research supporting that claim.
It is more realistic that the supplement may reduce HSD activity by lowering stress levels in the brain and the body, in turn reducing the amount of fat stored.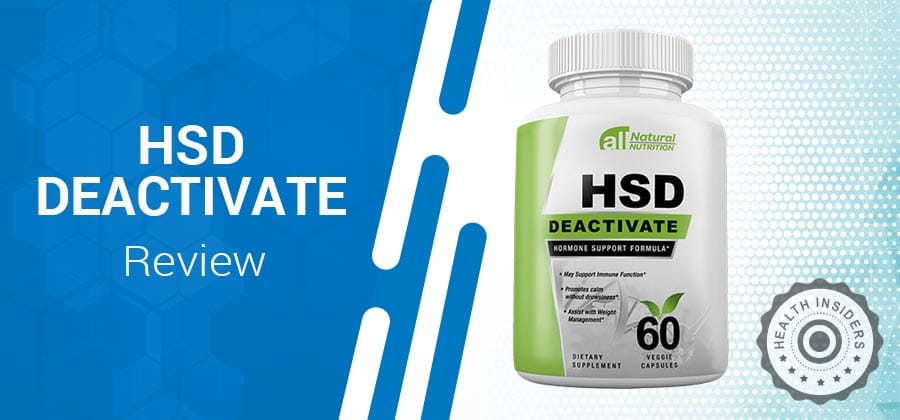 HSD Deactivate Ingredients – The Breakdown
This supplement has a number of active ingredients including several vitamins and minerals, but the main ingredient is the Proprietary Blend. It is the main contributor to reducing fat storage and promoting weight loss.
Advertisement
*All individuals are unique. Your results can and will vary.
The following are a few ingredients found in the Blend:
Rhodiola Extract Sal 1% HPLC – Flourishes in very cold and mountainous environments and is commonly taken to reduce mental fatigue. This review[1] mentions animal literature has found Rhodiola to manage stress hormones and boost energy metabolism. In humans, the same review discusses benefits such as increased concentration and the potential to reduce the development of stress-induced medical conditions.
Lutein (5%) – Helps protect your vision as you age and is very new to the weight-loss realm. This single, but very intriguing study[2], found rats who specifically consumed lutein-fortified milk voluntarily exercised significantly more compared to the other rat groups, resulting in efficient lipid metabolism and overall increased energy expenditure.
Ashwagandha – Common Ayruvedic herb with anti-inflammatory properties. Many studies like discussed in this review, have found this herb may help reduce stress and anxiety.
Magnolia officinalis – A popular Traditional Chinese herb used to treat several conditions including depression, anxiety, headaches, and gastrointestinal disorders.
Passion Flower – An exotic vine flower that has been used as a mild sedative since the 16th Century. Although there is not much research available supporting the use of this herb for any condition, it is still used today for many things like sleep disorders, anxiety, pain, heart rhythm issues, attention-deficit hyperactivity disorder (ADHD), and hemorrhoids.
HSD Deactivate – Questions and Answers
Q: How to take HSD Deactivate?
A: Take 2 capsules once a day, 20-30 minutes before a meal with 8 ounces of water.
Q: How Much Does HSD Deactivate Cost?
A: This supplement appears to only be available online through 2 different HSD Deactivate official websites, here and here. The prices listed are from the first website and are currently being sold at a reduced price.
1-month supply (60 capsules): $49.99
3-month supply: $119.00
6-month supply: $199.00
At the moment, if you purchase the supplement through the first website, you will also get the HSD Deactivating Foods Guide at no additional cost.
Q: Does It Have Any Side Effects? What If I Have A Health Condition?
A: There does not appear to be any side effects known at this time, however, the lengthy list of herbal ingredients could interact with a variety of medications by lowering or enhancing their effectiveness.
Q: What If I Have A Health Condition?
It is important to consult your doctor prior to starting this supplement to ensure there are no pre-existing health condition concerns or medication interactions.
Q: What Is HSD Deactivate's Return & Refund Policy?
A: The company provides a 60-day, 100% money-back return policy. In order to get a refund, you simply submit a ticket to: www.clickbank.com/corp/support/ or email their support desk at [email protected].
Advertisement
*All individuals are unique. Your results can and will vary.
HSD Deactivate Consumer Reviews & Results
Interestingly, there are no consumer reviews of this supplement.
HSD Deactivate Alternatives
Brand
Price
Active Ingredients
Fit Affinity
$39.99
Cayenne powder, Green Tea Leaf powder, caffeine, Acetyl L-Carnitine
PhenQ
$69.95
Capsimax, calcium carbonate, chromium picolinate, caffeine, nopal, L-carnitine fumarate, lacys reset
Phen375
$65.95
Caffeine Anhydrous, L-Carnitine,Citrus Aurantium,Chromium,
Cayenne Pepper
Slimvance
$59.99
Moringa oleifera Leaf Extract, Curry (Murraya koenigii) Leaf Extract, Turmeric (Curcuma longa Root Extract)
RazaLean
$69.95
Capsaicin, caffeine, kelp, apple cider vinegar, turmeric, arginine
The Bottom Line
This product is very different from other weight-loss supplements due to the ingredients and science behind how it's supposed to induce weight loss. Unfortunately, there are several red flags with this supplement.
The company does not:
Discuss the role of specific hormones and enzymes that naturally promote fat storage.
Explain the function of HSD enzymes and specify the type of HSD enzyme the supplement is claiming to "block" to reassure consumers the supplement is targeting the correct pathway.
Discuss how the supplement ingredients are specifically interacting with the body and HSD to promote weight loss.
Provide any consumer reviews.
This supplement could still assist you in your weight loss efforts despite the lack of information, but there appear to be more promising weight-loss aids available at this time.
Keep in mind supplements can only do so much for you and it's important to do your part to create healthy eating habits and keep an active lifestyle to achieve your weight loss goal and keep the pounds off!
READ NEXT – Hydroxycut Black and Synedrex
Advertisement
*All individuals are unique. Your results can and will vary.
Sources
Health Insiders relies on peer-reviewed studies, academic research institutions, and medical associations. We avoid using tertiary references. You can learn more about how we ensure our content is accurate and current by reading our editorial policy.
[1] Stress management and the role of Rhodiola rosea: a review
[2] Matsumoto M, Hagio M, Inoue R, et al. Long-term oral feeding of lutein-fortified milk increases voluntary running distance in rats. PLoS One. 2014;9(4):e93529. Published 2014 Apr 3. doi:10.1371/journal.pone.0093529