About Formulyst Cream
According to the manufacturer, Formulyst cream visibly reclaims the youthful complexion you had when you were younger. It lifts, refines, and smooths the appearance and tone of your facial skin. This formula is a blend of lipids and botanicals that has anti-aging properties. It should make the skin appear smooth and healthy-looking. The manufacturer also promises that this formula will firm and lift your skin and add a radiant glow to your appearance.
---
QUICK FACTS
Buy on Website
Quick Facts & Specs
Formulyst cream
Formulyst Lifting and Wrinkle Smoothing Cream is Formulated to help lift, smooth and refine the appearance and tone of your skin, this velvety smooth formula contains a powerful blend of lipids and botanicals that have targeted anti-aging benefits.
Form:

Cream

Type:

All skin types

Benefit:

Visibly reclaims youthful-looking complexion, provides intense moisturization, improves the appearance of skin density for a smoother, recontoured look

Phone & Address:

+1 (888) 921-8458 (US), +44 808 189 5140 (UK); Formulyst Corporation Limited, L15, 3 Columbus Circle, NY, NY 10019

Brand:

Formulyst

Uses:

Helps to visibly brighten and refine skin, complexion feels firmer and visually lifts with a radiance

Price:

$80*

Active Ingredients:

Moringa Oleifera Seed Oil, Evodia Ruteacarpa Fruit Extract, Paeonia Albiflora Root Extract
Formulyst cream Pros & Cons
Pros
Anti-aging formula
May reduce the appearance of wrinkles and fine lines
Evens out skin tone
Reduces inflammation
Keeps skin hydrated
Cons
You can only purchase it on the manufacturer's website
You could develop a skin allergy to one of the ingredients.
There are only reviews on the manufacturer's website.
---
How Does It Work? | The Science Behind Formulyst cream
This is a rich cream that includes a number of effective skincare ingredients. It's very high in antioxidants in substances like shea butter, tocopherol, and others. These repair damage to the skin barrier and protect it from future harm. They also have anti-aging benefits, helping to get rid of wrinkles.
The cream is high in anti-inflammatory agents which can lessen swelling and redness on the skin. It also has anti-bacterial properties which clean the skin of infections.
Formulyst is a very hydrating formula replete in liquid which moisturizes the skin and eliminates dryness. It also goes under the skin and plumps it up, smoothing out wrinkles and fine lines.
There is some caffeine in this product in the cocoa, which improves circulation and gives the skin a healthy, radiant glow.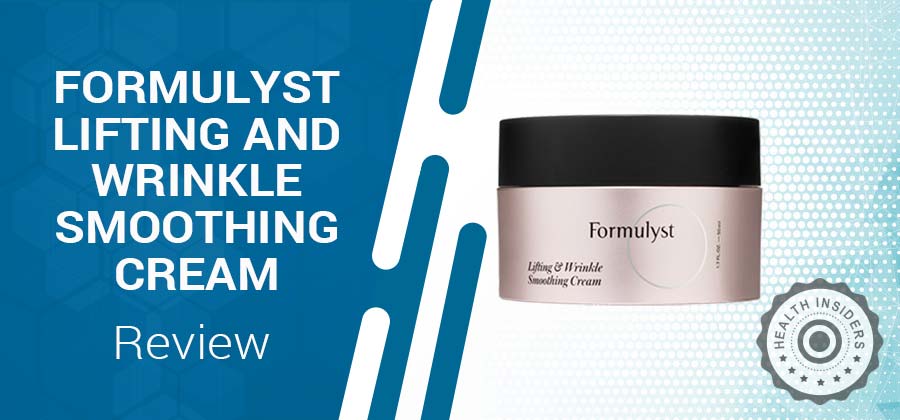 Advertisement
*All individuals are unique. Your results can and will vary.
Formulyst Ingredients – The Breakdown
Moringa Oleifera Seed Oil – According to Lipids in Health and Disease[1], the fatty acid in Moringa Oleifera Oil is oleic acid which is used in cosmetics to remove dirt and cleanse the skin. It is used in cosmetics because it does not leave a greasy feel to the skin.
Evodia Ruteacarpa Fruit Extract – Is a dermatological agent and has been studied in Chinese Medicine[2] and found to have anti-inflammatory and anti-infectious effects on the skin.
Paeonia Albiflora Root Extract – According to the International Journal of Cosmetic Science[3], this extract is used in cosmetics as a whitening agent to reduce hyperpigmentation of the skin.
Other inert ingredients: Water, Dimethicone, Cetearyl Alcohol, Caprylic/Capric Triglyceride, Glycerin, Propanediol, Sodium Acrylate/Sodium, Acryloyldimethyl Taurate Copolymer, Glyceryl Stearate, Gluconolactone, Oleic/Linoleic/Linolenic Polyglycerides, Polysilicone-11, Theobroma Cacao (Cocoa) Seed Butter, Butylene Glycol, Hydrogenated Phosphatidylcholine, Sodium Benzoate, Xanthan Gum, Tocopheryl Acetate, Butyrospermum Parkii (Shea) Butter, Pentylene Glycol, Sodium Hydroxide, Linoleic Acid, Phospholipids, Phytosterols, Squalane, Decyl Glucoside, Calcium Gluconate, Ceramide NP, Tocopherol.
Formylyst FAQ
Q: How to Use Formylyst?
A: After cleaning your face, massage Formulyst cream into your skin.
Q: How do I use and how much Formylyst dark spot solution?
A: Developed for daily use, Formulyst's Dark Spots Solution Serum targets the appearance of dark spots and uneven skin tone caused by hyperpigmentation. After cleansing, massage three to five drops onto the face. Apply morning and evening. Size: 1 FL OZ / 30ML
Q: Is Formylyst a good brand?
A: Yes, Formulyst is a high-quality brand which rich, effective ingredients which can nourish and protect the skin.
Q: Does Formulyst test on animals?
A: There is no indication that the manufacturers of this product test on animals.
Q: What is recommended for extra dry and sensitive skin?
A: We've recommended Drmtlgy Needle-less Serum as a solution for extremely dry skin before, but it's just as effective and gentle for your face.
Formulyst Cream Alternatives
| Brand | Price | Active Ingredients |
| --- | --- | --- |
| ReVive Anti-Aging Eye Serum | $285 | Black Tea Ferment, Biotin, Peptides, Allantoin, Melia Azadirachta Flower Extract |
| StriVectin SD | $79 | NIA-114 Molecule, Hyaluronic Acid, Aloe Vera, Peptides |
| Crepe Erase | $49.95 | Coconut oil, Shea butter, Beeswax, Cassava |
| Chanique Cream | $103 | Collagen |
| LifeCell | $189 | Hyaluronic Acid, Retinol, Deanol, Ubiquinone |
| Lift Factor Plus | $79 | Aloe Vera, green tea, arginine |
| Musely | $30-$80 | Tretinoin, Hyaluronic Acid, Titanium Dioxide, Cucumber Extract |
| Miami MD | $49 | Progeline, Haloxyl, Matrixyl 3000, Eyeliss, Argireline, Acetyl Hexapeptide |
Formulyst Cream Customer Reviews
There are only customer reviews on the manufacturer's website. There are 18 reviews and every customer gave a 5-star review. Users were very happy with this product and found it very effective. However, it would be nice to be able to confirm this on other websites.
Advertisement
*All individuals are unique. Your results can and will vary.
One review says, "I think it is a good idea to review Formulyst products outside its website because the reviews are vetted by the Formulyst staff and only 5-star reviews appear on the website.
I ordered several Formulyst products. I liked it while it was shipped from the Formulyst main office in NYC. But when they outsourced order fulfillment to Texas, you could tell something went wrong. The bottles arrive not full, which is very visible in serum products. Sometimes they sent a totally wrong product, not even Formulyst brand.
I noticed a bad skin reaction to the aging cream and not sure what to attribute it to: was the product tempered with at their fulfillment center or is the formula too strong and causes irritation? I had to return the Formulyst Daily Anti-Ageing Moisturizer because it aggravated my vitiligo. It basically started destroying the pigment maybe because it is too harsh? I liked the Formulyst Peptide serum and the Formulyst Anti-Ageing Eye Cream with caffeine." ~ by Anna
RELATED – SkinMedica HA5 and Cindy Crawford Meaningful Beauty

What does it cost and where can I buy it?
You can purchase this product at Formulyst.com in the US for $80.00. You can also buy it in the United Kingdom; just add 14.95 for shipping. There are no other sites that offer this product.
According to the manufacturer, if you are not satisfied, return the product for a full refund minus shipping. You must return it within 31 days of receiving the product by calling (888) 921-8458.

The Bottom Line
Formulyst is an organic anti-aging cream that provides rich benefits for the skin. It contains a high number of antioxidants that help to repair and protect the skin, as well as eliminate wrinkles and fine lines. This product is deeply hydrating, moisturizing the skin and getting rid of dryness. It's a high-quality product with enriching ingredients.
The Formulyst reviews mostly exist on the manufacturer's official website, and they are all 5-star reviews. Users seemed to be very happy with the benefits of this cream and said it removed lines and wrinkles and made them look younger. However, we would have liked to see reviews on other websites to confirm these opinions.
There is a chance that you could end up with a skin reaction to one of the ingredients. If this happens, do not continue using the product. It's a good idea to go to a dermatologist before using a new skin product to make sure it's suitable for you.
Advertisement
*All individuals are unique. Your results can and will vary.
Sources
Health Insiders relies on peer-reviewed studies, academic research institutions, and medical associations. We avoid using tertiary references. You can learn more about how we ensure our content is accurate and current by reading our editorial policy.
[1] Nadeem, M., Imran, M. Promising features of Moringa oleifera oil: recent updates and perspectives. Lipids Health Dis 15, 212 (2016). https://doi.org/10.1186/s12944-016-0379-0
[2] Anti-inflammatory and anti-infectious effects of Evodia rutaecarpa (Wuzhuyu) and its major bioactive components.
[3] Qiu J, Chen M, Liu J, Huang X, Chen J, Zhou L, Ma J, Sextius P, Pena AM, Cai Z, Jeulin S. The skin-depigmenting potential of Paeonia lactiflora root extract and paeoniflorin: in vitro evaluation using reconstructed pigmented human epidermis. Int J Cosmet Sci. 2016 Oct;38(5):444-51. doi: 10.1111/ics.12309. Epub 2016 Mar 4. PMID: 26826350.