About Phenastin
Phenastin is an organic weight-loss supplement. Phenastin includes ingredients that may aid in weight loss by increasing how much energy the body uses on a daily basis.
This product starts working very quickly, according to reviews on amazon as well as the supplement's website (amazon.com, phenastin.com). Phenastin also contains ingredients that may act as an appetite suppressant, helping you to avoid overeating.
---
Buy on Official Website
Buy on Amazon
Quick Facts & Specs
Phenastin
Phenastin is a weight-loss pill made from natural ingredients. Ingredients in phenastin may help with weight loss by boosting the amount of energy the body uses on a daily basis.
Form:

Capsule

Type:

Supplement

Benefit:

This product may help suppress your appetite.

Brand:

Phenastin

Uses:

Phenastin may speed up your metabolism.

Ingredients:

MenthaPiperita, Yohimbine, Caffeine Anhydrous

Price:

$27
Phenastin Pros & Cons
Pros
This product may help suppress your appetite.
Phenastin may speed up your metabolism.
This supplement may help you lose weight.
You may see results rather quickly.
Cons
The supplement capsules are large and may be hard to swallow.
The product contains caffeine, which may cause jitters and anxiety.
One of the key ingredients is yohimbine, which is associated with side effects like dizziness, increased motor activity, tremors, high blood pressure, and increased heart rate.
---
How Does It Work? | The Science Behind Phenastin
The ingredients in this supplement initiate the process of thermogenesis, which leads to fat burning and consistent weight loss.
Studies have indicated that being in thermogenesis can cause weight loss[1] by increasing how much energy subjects burn during their usual daily activities. The peppermint extract may also aid in hunger as mentioned above, suppressing the appetite.
A secondary process of this supplement is to help tightly control glucose levels, which leads to decreased hunger and fewer calories consumed overall. Research does show the weight-loss effects of modulating levels of glucose.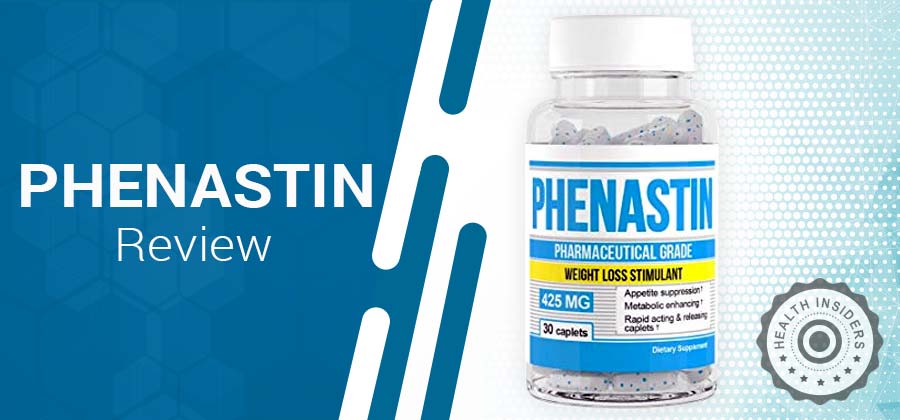 Advertisement
*All individuals are unique. Your results can and will vary.
Phenastin Ingredients – What to Look For
There are 6 active ingredients in this product, which may help speed up metabolism and initiate the fat-burning process of thermogenesis.
The following are three of the key ingredients –
MenthaPiperita – This is a common peppermint extract native to Europe and North America. More research is needed on the benefits of this supplement for weight loss, although research[2] has shown it may be effective in suppressing the appetite.
It can also be helpful in reducing gastric motility (how quickly and how often our digestive system works), which is helpful for those with irritable bowel disease.
Yohimbine – This is a nerve-blocking agent that has been used for both weight loss and for the treatment of erectile dysfunction. Yohimbine acts to increase blood flow and improve circulation throughout the body. This substance is associated with some potentially serious side effects such as an increase in blood pressure, kidney disease, heart problems, seizures, or liver disease.
Studies have found this to be an effective fat-loss agent[3], but there needs to be more research on its weight-loss implications.
Caffeine Anhydrous – This substance provides users with an increase in energy as well as increased thermogenesis. It ultimately aids in weight loss, but is shown[4] to be more effective when combined with other ingredients.
According to the Mayo Clinic, the amount of weight you can lose by consuming caffeine alone is limited. Therefore, the combination of caffeine with the other ingredients in Phenastin makes its potential for weight loss greater.
ALSO READ – ToxiBurn Reviews
Phenastin – Questions and Answers
Q: How to Use Phenastin?
A: The manufacturer suggests 1 capsule per day, in the morning or early afternoon. Take it approximately 30 minutes before you eat.
NOTE: Do not exceed the recommended dosage under any circumstances. They also recommend beginning with half of a capsule daily, to ensure your tolerance level is not exceeded. Most users begin with this dose, according to the reviews on Amazon and their site.
Q: Does Phenastin Have Any Side Effects?
A: Due to the presence of yohimbine in this supplement, there are some potentially serious side effects. These include kidney, liver, or thyroid problems, high blood pressure, seizures, and heart problems – to name a few.
Advertisement
*All individuals are unique. Your results can and will vary.
Q: Can I Take Phenastin If I Have A Health Condition?
A: According to the product's website, you should avoid taking this product if you have kidney, liver, thyroid, or heart problems, any seizure disorder, and/or high blood pressure.
Q: Does Phenastin Work?
A: As per the Amazon reviews: 45% of the customers were unsatisfied and gave the product a one-star rating. There were some satisfied customers, with 50% giving the product a rating of three stars and above. Many users said that this supplement did very little for them in terms of weight loss.
However, many did note that this product helped to curb their appetite. It should be noted that this is out of 39 total reviews, and there may be developments in the "general consensus" as more consumers buy this product and review it.
Q: What Is Phenastin Money Back Guarantee, Return & Refund Policy?
A: The manufacturer of Phenastin is offering a 30-day return policy. If you are dissatisfied with the product for any reason, you can let the company know and return the product within 30 days of the purchase date.
If you bought more than one bottle, then only one can be unopened to receive the full refund.You can also purchase this product from third-party online retailers, but the prices may vary slightly.
Phenastin Alternatives
| Product | Price | Active Ingredients |
| --- | --- | --- |
| Phen375 | $65.95 | Caffeine Anhydrous, L-Carnitine, Citrus Aurantium, Chromium, Cayenne Pepper |
| Cellucor D4 Thermal Shock | $20 | Caffeine, white willow, passion flower, bitter orange |
| PhenQ | $69.95 | Capsimax, calcium carbonate, chromium picolinate, caffeine, nopal, L-carnitine fumarate, lacys reset |
| RazaLean | $69.95 | Capsaicin, caffeine, kelp, apple cider vinegar, turmeric, arginine |
| Burn TS | $59.95 | Green tea, caffeine, Garcinia Mangostana, chromium |
It is clear that Phenastin is a reasonably priced item, compared to a similar product with similar ingredients.
Is Phenastin Safe? – Warnings & Complaints
Customers complained that the product made them feel very jittery and warned that you should not take it later in the day or with other beverages containing caffeine. Other customers warned that you should eat after taking this capsule, or it may cause you stomach discomfort and nausea.
Customers said that the product tastes of mint, due to the peppermint extract. Some customers enjoyed this and others were not fans of the minty taste, per the Amazon reviews.
Advertisement
*All individuals are unique. Your results can and will vary.
Phenastin Customer Reviews & Results
Unfortunately, many customers reported that this product had little to no weight-loss effects, although many noted that it did suppress their appetite. Others complained of side effects such as jitteriness and stomach pain.
Some customers reported that this supplement did lead to weight loss, according to Amazon reviews.
PEOPLE ALSO SEARCH FOR – Slimvance Reviews and Active PK Reviews
Phenastin: Packages, Deals, Prices & Where to Buy It
On the official product website, there are several purchasing options for Phenastin. At the moment the prices are reduced.
1 bottle with 30 capsules is $27, reduced from $39.99.
1 bottle with 60 capsules is $44, reduced from $79.98.
2 bottles with 60 capsules each is $79.99, reduced from $159.98.
You can also purchase the supplement from some third-party websites (such as Amazon, at $44). The prices may vary depending on which site you choose to buy this product.
The Bottom Line
This product had variable customer reviews, with slightly more negative than positive reviews. Overall, customers did not find this to be an effective weight loss product. Many users complained that they did not lose any weight, while others complained of side effects.
The presence of yohimbine in the product makes users vulnerable to many different side effects, some of them serious if customers have certain health conditions.
Phenastin is made of organic ingredients, but they are still substances that can lead to side effects and medical complications.
People with various conditions cannot take the supplement at all. It is essential that you ask your healthcare provider about this supplement including Bioleptin, Phenastin and ThermoFight X IT Works before you begin taking it.
Is There Anything Else You Should Know About Phenastin?
Taking a weight loss supplement may aid in your weight loss goals. However, this supplement should be your secondary method of weight loss. Always ensure that you are practicing healthy habits and living a healthy lifestyle:
Follow a healthy and balanced diet, making half of your plate fruits and vegetables. Ensure you are eating enough protein daily as well as fiber-rich whole grains (aim for each of these to take up 1/4th of your plate).
Remember to exercise on a regular basis! The Department of Health and Human Services recommends that adults get at least 5 to 5 hours of moderate-intensity activity, or 1.25 to 2.5 hours of vigorous-intensity aerobic physical activity on a weekly basis.They also recommend spreading activity throughout the week for optimal results. Additional health benefits are added when individuals exceed 5 hours of weekly activity.
Remember to be patient with your weight-loss journey. Quick results are not sustainable or long-lasting. As long as you are going in the right direction, that is what matters!
READ NEXT – Rapid Tone and Thrive Society Keto
Sources
Health Insiders relies on peer-reviewed studies, academic research institutions, and medical associations. We avoid using tertiary references. You can learn more about how we ensure our content is accurate and current by reading our
editorial policy
.
1. Belza A, Frandsen E, Kondrup J. Body fat loss achieved by stimulation of thermogenesis by a combination of bioactive food ingredients: a placebo-controlled, double-blind 8-week intervention in obese subjects. Int J Obes (Lond). 2007 Jan;31(1):121-30. doi: 10.1038/sj.ijo.0803351. Epub 2006 Apr 25. PMID: 16652130.
2. Papathanasopoulos A, Rotondo A, Janssen P, Boesmans W, Farré R, Vanden Berghe P, Tack J. Effect of acute peppermint oil administration on gastric sensorimotor function and nutrient tolerance in health. Neurogastroenterol Motil. 2013 Apr;25(4):e263-71. doi: 10.1111/nmo.12102. Epub 2013 Mar 12. PMID: 23489975.
3. Ostojic SM. Yohimbine: the effects on body composition and exercise performance in soccer players. Res Sports Med. 2006 Oct-Dec;14(4):289-99. doi: 10.1080/15438620600987106. PMID: 17214405.
4. Hoffman, J.R., Kang, J., Ratamess, N.A. et al. Thermogenic effect of an acute ingestion of a weight loss supplement. J Int Soc Sports Nutr 6, 1 (2009). https://doi.org/10.1186/1550-2783-6-1