About Xyngular Core
Xyngular Core is a line of weight-loss supplements and meal replacement products. They work to speed up metabolism, burn fat, and curb appetite. Other products in this line support general health, digestion, hormones, and other wellness issues.
They offer 3 systems which each include a variety of products, menus such as the Xyngular Core meal plan, and additional support. There's also a Xyngular approved food list of low-carb items to help with your diet.
Here are some of the top products in the line:
Accelerate – This supplement speeds up your metabolism, putting you into a high fat-burning mode so you lose weight quickly.
Lean Meal – This is a chocolate meal replacement shake high in proteins, fruits and vegetables. It should help you maintain a healthy weight and build up your muscles.
Resist – These are wild cherry flavored chews which help to suppress your appetite. You can take them before meals, or anytime you're feeling hungry.
Cheat – This is a naturally sourced fiber which fills up your stomach, making you feel full. It should lead you to eat smaller portions.
---
Buy on Official Website
Quick Facts & Specs
Xyngular Core
Xyngular Core is a system that incorporates a blend of ingredients that has been proven to improve metabolism and energy levels.
Form:

Pills

Type:

Supplement

Benefit:

Supports healthy digestion.

Brand:

Xyngular

Uses:

Improves general health and immunity.

Active Ingredients:

Fish Oil, Olive Leaf, Lady's Mantle, Cumin Seed, Wild Mint Leaf, PurePropol

Price:

$50s-70s
Xyngular Core Pros & Cons
Pros
Xyngular Core products could help you lose weight.
Some products can curb your appetite.
Xyngular Core supports healthy digestion.
The products may improve general health and immunity.
Some products might give you additional energy.
Cons
You have to be a member to buy and see prices on the official site.
Based on Amazon, the products are quite expensive.
You may get mild side effects from some supplements like nausea and dizziness.
---
How Does It Work? | The Science Behind Xyngular Core
The products in the Xyngular Core all have a different focus, but in general, they help to speed up the metabolism, which could make the body go into a state called thermogenesis where it's burning fat rapidly.
A review in the International Journal of Obesity[1] concluded that adaptive thermogenesis can help obese individuals lose weight.
There are a number of ingredients that curb hunger, such as fiber. It fills up the stomach and makes you feel full, so you eat smaller portions. Over time this adds up to a lot fewer calories.
Fiber also supports digestive helps and may eliminate symptoms like bloating and diarrhea. A study in the International Journal of Nutrition[2] concluded that increasing fiber intake reduces the risk of weight gain in women.
Advertisement
*All individuals are unique. Your results can and will vary.
The Xyngular Core products are full of nutrients and antioxidants. They kill free radicals that damage your system, and lower oxidative stress. This supports healing and strengthens the immune system.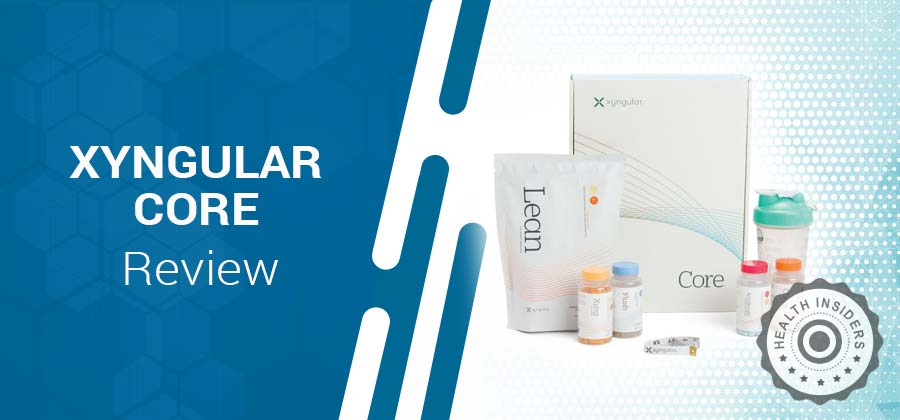 Xyngular Core Ingredients – What to Look For?
Here are some of the primary active Xyngular Core ingredients:
Soy Protein – This provides energy boosting protein which fills up your stomach and makes you feel full, therefore suppressing your appetite. There's some evidence that this can lead to a significant loss of body fat.
A study in Obesity Science and Practice[3] found that you can incorporate soy into your diet to aid in weight loss and body composition.
Glucomannan – This is a dietary fiber extracted from the konjac root. It's an ideal weight loss ingredient because it fills up the stomach, suppressing your appetite so you don't overeat. It also delays stomach emptying so that your blood sugar can decrease and digestion is more gradual.
A study in the International Journal of Obesity[4] found that glucomannan led to significant weight loss and a decrease in cholesterol.
Green Coffee Bean – Packed with caffeine, the coffee beans can really help to rev up the metabolism and put the body into a fat-burning state. It's a great ingredient for rapid weight loss. In addition, it gives you added physical energy so you get active and burn calories.
A systematic review in Gastroenterology Research and Practice[5] examined the use of green coffee bean as a weight-loss supplement and found promising results.
SEE ALSO – Carbofix Reviews and Celsius Live Fit Reviews

Advertisement
*All individuals are unique. Your results can and will vary.
Xyngular Core – Questions & Answers
Q: How to Take Xyngular Core?
A: There are numerous products in this line, and they each have different dosage instructions. Follow the directions carefully for any product you take.
Q: Does Xyngular Core Have Any Side Effects?
A: Some of these products do have mild side effects associated with some of the ingredients. For example, fish oil may lead to symptoms like rash, nausea, loose stools, heartburn, belching, bad breath, or nosebleeds.
Cumin seed may cause an upset stomach in some individuals. Mint leaf may cause nausea, vomiting, dry mouth, or heartburn.
Q: Can I Take Xyngular Core If I Have A Health Condition?
A: There are some health issues that would prevent you from taking some of these products. Do not buy these items if you have diarrhea, diabetes, bipolar disorder, depression, liver disease, high blood pressure bleeding disorders, AIDS, a fish or seafood allergy, an implanted defibrillator, or surgery within the next 2 weeks.
Q: Does Xyngular Core Work?
A: We can only speak of the line in general, as there are many products. They include ingredients in which should support weight loss, increased metabolism, and appetite suppression.
The company offers several systems which include different supplements and meal replacements bundled in a set, and they allow for several different weight loss methods at once – fat burning, curbing hunger, and increasing energy, for example. The plans include support and meal plans. These products should work, and many reviews have agreed that they do.
Q: What Is Xyngular Core Moneyback Guarantee, Return & Refund Policy?
A: The manufacturer has a 30-day return policy, but only for items that are in their original condition and resealable. If you no longer want the product, contact the company for instructions and send the items back within 30 days of the purchase date. You should get a full refund.
Q: Is Xyngular Core Worth It?
A: This is a good quality brand of weight loss products that use very natural ingredients with potent properties for fat burning and other health benefits, like digestion. We can't get the prices from the official website because you have to be a member to get that information.
However, on Amazon, the prices are somewhat high. It's an expensive brand, but many of the Xyngular Core reviews seem to think that it is worth the cost.
Q: Can I Buy Xyngular Core in Stores?
A: No, there are no regular retail stores where you can purchase the Xyngular Core products. You can get them on the official site, on Amazon, and from a few other online retailers.
Advertisement
*All individuals are unique. Your results can and will vary.
Q: Is Xyngular Core a Legitimate Brand?
A: Yes, there's no doubt at all that Xyngular Core is a legitimate brand. It's made by a very reputable company called Xyngular, available from a few online retailers, and there are Xyngular Core reviews all over the Internet discussing the benefits of the products.
Xyngular Core Alternatives – Compare with Similar Items
Brand
Price
Ingredients
Xyngular Core
$50s-70s
Fish Oil, Olive Leaf, Lady's Mantle, Cumin Seed,
Wild Mint Leaf, PurePropol
Hydroxycut
$20s-30s
Apple Cider Vinegar, Plum, Robusta Coffee Extract, Cardamom, Vitamin B12, Niacin, Riboflavin
OxyShred
$49.61
Guggul Powder, Green Coffee Bean Extract, Chromium Picolinate,
Garcinia Cambogia, Vitamin C, Raspberry Ketones
Garcinia Cambogia Extra
$49.95
Garcinia Cambogia, Raspberry Ketones
Forskolin 250
$44.99
Unknown
Slim Tone
$22.95
Magnesium Beta-hydroxybutyrate, Calcium Beta-hydroxybutyrate, Sodium Beta-hydroxybutyrate
Flat Tummy Tea
$39.00
Peppermint (leaf), Lemon Balm (leaf), Licorice (root), Dandelion (leaf and root), Cleavers (leaf)
NutraLife Keto
Unknown
Caffeine Anhydrous, BHB Ketones – Magnesium, Potassium, and Calcium
Trimstix
$64.99
Chinese Bayberries, Advantra Z, Canipure, Fibersol
Almased
$33
Soy Protein Isolate, Honey Enzymes, Skim Milk Yogurt Powder, L-Lysine,
L-Arginine, Biotin, Riboflaven, Iron, Calcium
Dexatrim
$10-60s
Green Tea, Garcinia Cambogia, Choline Bitartrate,
Hydroxycitric Acid, Niacin, Riboflavin, Betaine Hydrochloride
Meratrim
$10s-30s
Garcinia Mangostana, Sphaeranthus Indicus
The prices of Xyngular Core are somewhat higher than average. Interestingly, each of these lines is quite different but they all use potent, quality ingredients. Xyngular Core includes some unique substances and may be worth the extra cost.
Is Xyngular Core Safe? – Warnings & Complaints
Yes, this brand is very safe. They use 100% organic ingredients in their products, with no artificial or chemical ingredients. Some supplements may lead to mild side effects, but nothing more serious unless you have a medical condition that precludes taking the specific product.
Xyngular Core Customer Reviews & Results – What Users Are Saying
There are numerous products in this line, but generally speaking, the Xyngular review listings were quite good. Most users loved the benefits, and a number of people said they lost a lot of weight, particularly in the Xyngular Core System reviews.
There weren't a lot of poor reviews but the ones that existed spoke of side effects like shaking or headaches. Some said they lost no weight, and others disliked the taste of the product they chose.
Xyngular Core: Packages, Deals, Prices & Where to Buy It
You can only purchase these products on the official website if you sign up to become a member, and they won't show you the prices before that. However, some of them are available on other online sites like Amazon. The Xyngular Core cost of some of the top products are as follows:
XYNG Energy Metabolism and Appetite Control – $74.31
Xyngular Accelerate – $57.79
Xyngular Flush Gut Health and Detox – $54.49
Xyngular Axion – $67.52
The Bottom Line on Xyngular Core
Xyngular Core is a product line that includes a range of supplements and meal replacement products. The focus is on weight loss, by speeding up the metabolism and curbing hunger and cravings. The line includes other products which support digestion, healthy aging, hormones, and general health. There are also 3 weight loss systems like the Xyngular Core System that you can sign up for.
Most of the Xyngular Core review posts had very good things to say about the line. Many people said they were able to lose weight, and that it successfully suppressed their appetites. Some users said they didn't get any benefits from the supplements, and others mentioned mild side effects.
These are safe, organic products, but there could be some mild side effects. If you do have any unpleasant symptoms, stop taking the product immediately. Before you begin using it, make an appointment with your doctor and make sure it's medically suitable for you.
Is There Anything Else You Should Know About Xyngular Core?
Xyngular Core is a brand largely focused on weight loss, as well as general health and immunity. We hope you were able to lose weight with this product and are happy with your results. There are other natural ways to lose weight and maintain weight loss. Here are some tips:
Fill up on fruits and vegetables. Make them a central part of your diet to replace higher-calorie items.
Avoid situations where you know you may overeat. For example, don't choose a buffet restaurant and don't keep high-calorie snacks in the house.
Get a counter and start counting steps! When you make a game out of it, you walk more and burn a lot of calories.
Eat a proper, high-protein breakfast every morning. This should prevent you from eating too much later in the day.
Sources
Health Insiders relies on peer-reviewed studies, academic research institutions, and medical associations. We avoid using tertiary references. You can learn more about how we ensure our content is accurate and current by reading our editorial policy.
[1] Adaptive thermogenesis can make a difference in the ability of obese individuals to lose body weight
[2] Larry A. Tucker, Kathryn S. Thomas, Increasing Total Fiber Intake Reduces Risk of Weight and Fat Gains in Women, The Journal of Nutrition, Volume 139, Issue 3, March 2009, Pages 576–581, https://doi.org/10.3945/jn.108.096685
[3] Effects of consuming a high‐protein diet with or without soy protein during weight loss and maintenance: a non‐inferiority, randomized clinical efficacy trial

[4] Walsh DE, Yaghoubian V, Behforooz A. Effect of glucomannan on obese patients: a clinical study. Int J Obes. 1984;8(4):289-93. PMID: 6096282.
[5]The Use of Green Coffee Extract as a Weight Loss Supplement: A Systematic Review and Meta-Analysis of Randomised Clinical Trials.