What is Staminol?
Men's Staminol Ultra is an organic supplement for men which is meant to improve sexual performance, support prostate, and urinary health, and strengthen erections. It may also increase sexual libido. In addition, this is a healthy product which includes vitamins, minerals, and antioxidants that support general health and immunity.
---
QUICK FACTS
Buy on Website
Buy on Amazon
Quick Facts & Specs
Staminol
GNC Men's Staminol Ultra Dietary Supplement is specially formulated for men's sexual health. It contains a powerful combination of ingredients that are an essential precursor of nitric oxide which helps maintain blood vessel tone and a potent blend of herbs designed to support sexual health and vitality.
Form:

Capsules

Type:

Supplement

Benefit:

Supports normal prostate functioning and healthy urinary flow, provides antioxidant protection, defends against cell aging

Phone & Address:

1-877-GNC-47005

Brand:

GNC

Uses:

Helps maintain blood vessel tone, boosts metabolism, improves performance, supports normal reproductive health

Price:

$17.99*

Active Ingredients:

Kola Nut, Horny Goat Weed, Muira Puama, L-Arginine
Staminol Pros & Cons
Pros
Staminol may improve male sexual performance.
It could support healthy prostate function.
Staminol GNC has vitamins, mineral, and antioxidants which defend against cell aging.
The product may give you harder, stronger erections.
Staminol Ultra could improve your sexual stamina.
Cons
It contains wheat, which is a common allergen.
These are large pills which may be hard to swallow.
Some Staminol ingredients can cause anxiety or agitation.
---
How Does It Work? | The Science Behind Staminol
Staminol GNC includes ingredients which can raise levels of testosterone in the body, increasing sexual libido and helping to build muscle mass and strength.
Other substances initiate the production of additional nitric oxide, which improves circulation in the body. The additional blood flow to the penis can strengthen erections. An article published in the Journal of Clinical Hypertension discussed the role of nitric oxide in erectile dysfunction.
This product is very high in anti-inflammatory properties, which can reduce the swelling in the prostate and lessen urinary tract symptoms like frequent urination. In addition, plants like saw palmetto could promote a healthy prostate.
A study published in the New England Journal of Medicine found that saw palmetto did not really improve the symptoms of benign prostatic hypoplasia.
Finally, this supplement is high in antioxidants which are good for general health and immunity. They may also help to repair some prostate damage.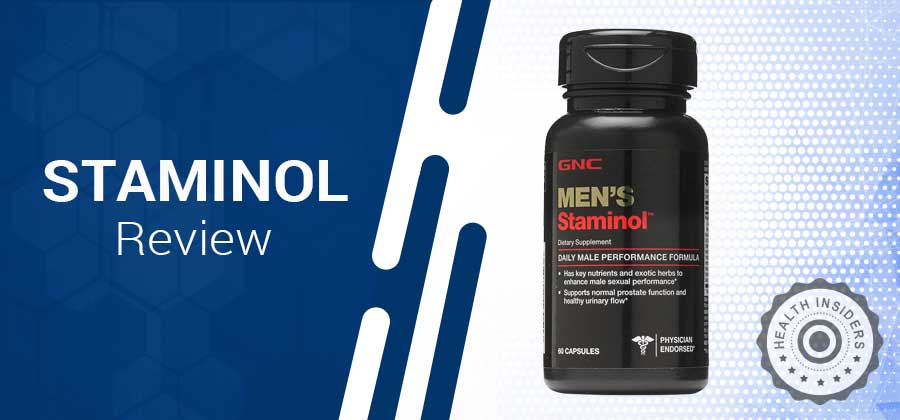 Advertisement
*All individuals are unique. Your results can and will vary.
Who Should Use Staminol?
Staminal is made exclusively for men. It's for men who want to elevate their sexual performance, stamina, and libido. It's also suitable for men who have problems with prostate enlargement and want to improve their urinary tract symptoms.

Staminol Ingredients – What to Look For
Here are some of the primary active Staminol ingredients:
Kola Nut – This is the fruit of the kola tree, and it comes mostly from the African rainforests. It was traditionally an aphrodisiac and treatment for erectile dysfunction. It contains a lot of caffeine and can also give you energy.
A study on rats published in the African Journal of Pharmacy and Pharmacology found that kola nut improved sexual desire and raised testosterone levels.
Horny Goat Weed – This comes from a flowering plant called Epimedium. Its active ingredient is icariin. It's a treatment for erectile dysfunction and it's also an aphrodisiac. Studies on mice show that it may raise testosterone levels.
An article in Phytopharmacy examined the sexual properties of horny goat weed, including increased sexual desire and erectile dysfunction treatment.
Muira Puama – This plant with other organics can treat erectile dysfunction. It may also increase muscle mass and improve athletic performance. BioMed Research International reported on one study where 60% of men with low libido showed an increase and 50% men with erectile dysfunction showed improvement.
Staminol – Questions and Answers
Q: How to Take Staminol?
A: The recommended dosage is 2 capsules daily, at whatever time you choose. Do not take more than the suggested dosage under any circumstances.
Q: Does Staminol Have Any Side Effects?
A: There are some Staminol side effects with it. For example, taking horny goat weed over the long tern could lead to nosebleed, thirst, dizziness, vomiting, or dry mouth. L-arginine may cause diarrhea, nausea, gout, bloating, abdominal pain, or an allergic response.
Yohimbe has a number of possible side effects including high blood pressure, stomach upset, excitation, sleep problems, tremor, anxiety, racing heartbeat, dizziness, sinus pain, irritability, drooling, headache, frequent urination, bloating, rash, nausea, or vomiting.
Q: Can I Take Staminol If I Have A Health Condition?
A: There are some health conditions which preclude taking this supplement. Some Staminol ingredients can slow blood clotting. This means that anyone with a blood disorder or who is having surgery in a couple of weeks should avoid this product.
In addition, there are ingredients with raise blood pressure and others that lower it, so anyone with blood pressure issues should avoid this product.
Yohimbe may cause kidney or liver issues if taken in high amounts. Other conditions that should stay away from this supplement include diabetes, anxiety, depression, prostate problems, and heart conditions.
Advertisement
*All individuals are unique. Your results can and will vary.
Q: Does Staminol Work?
A: Staminol GNC is a product which is really rich in a number of potent organic ingredients which support sexual function and prostate health. In addition, it contains a lot of antioxidants which boost the immune system. The product should work. According to the reviewers, it really does. The vast majority of users said this was a powerful product which really helped them.
Q: What Is Staminol Moneyback Guarantee, Return & Refund Policy?
A: The manufacturer for Staminol has a 30-day return policy. If you are not happy with the product, contact the manufacturer and send the item back by 30 days from the original purchase date. You'll get a full refund.
Q: Does Staminol Include Any Common Allergens?
A: Staminal pills include wheat, which is an allergen for many people. It does not contain soy, dairy, sugar, or artificial flavors.
Q: Can I Buy Staminol in Stores?
A: Yes, Staminal is available for purchase in several retail stores including Rite Aid and Walmart if you prefer buying the items in person.
Staminol Alternatives
| Brand | Price | Active Ingredients |
| --- | --- | --- |
| Male Extra | $64.95 | MSM, L-Methionine, Zinc, niacin, cordyceps, L-arginine HCl, pomegranate |
| Nugenix | $69 | L-Citrulline Malate, Zinc, Vitamin B6, Vitamin B12, Tribulus Terestris |
| Delta Prime | $99 + $6.95 shipping | Vitamin D, zinc, horny goat weed, saw palmetto, stinging nettle |
| Zydenafil | $69.95 | L-Arginine, Tribulus Terrestris, Tongkat Ali, Muira Puama |
| Red Rex | $49.97 | L-Arginine, Epimedium, Cnidium Monnieri |
| Ageless Male | $44.95 | Fenugreek, Zinc, Magnesium |
| Semenax | $59.95 | Epimedium, Wild Oat Straw. Hawthorn Berry, Cranberry, Zinc Oxide, L-Arginine, L-Lysine, Maca, Pumpkin Seed |
As you can see, Staminol is a very reasonably-priced product for the rich ingredients included. Other supplements with such a collection of substances are much more expensive, so this appears to be a good deal.
Is Staminol Safe? – Warnings & Complaints
Some people believe that yohimbe has a lot of health risks associated with it. However, the more serious side effects tend to occur when you take this product at very high levels. The amount in this product is not high enough for that. So yes, this product is relatively safe.
Staminol Customer Reviews & Results
The GNC Staminol reviews were very really excellent. About 90% of users loved the results of this product. Men said it helped to solve their erectile dysfunction issues, raised their libido, and ease prostate symptoms. There were really minimal complaints.
Advertisement
*All individuals are unique. Your results can and will vary.
Staminol: Packages, Deals, Prices & Where to Buy It
You can buy Staminal on the official GNC website, and from a number of other online and offline retailers. It is usually for sale on Amazon, but it's unavailable at the moment. The price on the official site is $17.99. If you make a purchase over $49 you get free shipping.
GNC Men's Staminol Ultra – The Bottom Line
Staminol GNC is an organic sexual health supplement for men. It aims to enhance sexual functioning by improving erections, elevating sexual performance and stamina, and increasing libido. It also improves prostate and urinary tract health and may reduce prostate symptoms.
Staminol is a very reasonably-priced supplement which has healthy natural ingredients. Apparently, it's also very effective, according to the Staminol reviews. Most of the customers said this was a potent supplement which helped them with both prostate issues and sexual health problems.
There are some Staminol side effects which could accompany this product. If you have any uncomfortable symptoms, stop using Staminol right away. It's important that you see a doctor before you begin using this supplement to get medical approval.
Is There Anything Else You Should Know About Staminol?
Staminol is a male enhancement pills which also helps with prostate and urinary tract health. We hope this product has worked well for you and has allowed you to improve your libido and sexual performance and ease prostate issues. There are some other natural ways to ease prostate symptoms you can try. These are some tips:
Stay away from caffeine and alcohol in the evening, and if you can, stop drinking anything after 6 pm. If you do drink, make it water. You will urinate less often at night.
Try to lessen your stress levels, as this can make you urinate more often. Try yoga or meditation as relaxation methods.
Do Kegel exercises. Tense and release the muscle repeatedly. It's the same muscle you would use to stop yourself from urinating.
Eat foods with a lot of anti-inflammatory agents, to reduce swelling in the prostate. This includes fatty fish, berries, olive oil, tomatoes, green leafy vegetables, and nuts.
Up Next – Xyngular Prime Review – Does It Really Work Or Just A Hype?
SOURCES
editorial policy.

[1] Doo Yong Chung, Kang-Moon Song, Min-Ji Choi, Anita Limanjaya, Kalyan Ghatak, Jiyeon Ock, Guo Nan Yin, Chang Hee Hong, Soon-Sun Hong, Jun-Kyu Suh and Ji-Kan Ryu, Neutralizing antibody to proNGF rescues erectile function by regulating the expression of neurotrophic and angiogenic factors in a mouse model of cavernous nerve injury, Andrology, 9, 1, (329-341), (2020)

[2] Saw Palmetto for Benign Prostatic Hyperplasia https://www.nejm.org/doi/full/10.1056/nejmoa053085

[3] Ralebona, N & Sewani-Rusike, Constance & Nkeh-Chungag, Benedicta. (2012). Effects of ethanolic extract of Garcinia kola on sexual behaviour and sperm parameters in male Wistar rats. Afr J Pharm Pharmacol. 6. 10.5897/AJPP11.652

[4] Edwards, Sarah & Rocha, Inês & Williamson, Elizabeth & Heinrich, Michael. (2015). Horny Goat Weed. 10.1002/9781118543436.ch58

[5] Corazza, O., Martinotti, G., Santacroce, R., Chillemi, E., Di Giannantonio, M., Schifano, F., & Cellek, S. (2014). Sexual enhancement products for sale online: raising awareness of the psychoactive effects of yohimbine, maca, horny goat weed, and Ginkgo biloba. BioMed research international, 2014, 841798. https://doi.org/10.1155/2014/841798