About OmegaWell
OmegaWell is an Omega-3 supplement and is provided by LiveWell designed to maintain joint, heart, brain, immune and vascular health. LiveWell's mission is holistic in nature. Their goal is to support the mind, body, and spirit. They create natural vitamins, probiotics, and protein powder.
---
QUICK FACTS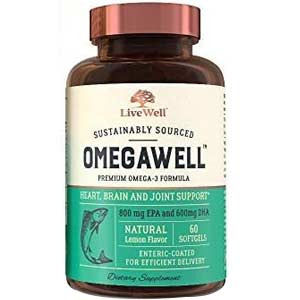 Buy on Website
Buy on Amazon
Quick Facts & Specs
OmegaWell
OmegaWell is specifically designed to support heart function and provide the benefits of the antioxidant powers of omega-3 fatty acids. It's enteric-coated softgel supports easy, efficient delivery of sustainably sourced Omega-3s.
Form:

SoftGel

Type:

Supplement

Benefit:

Brain, health and joint support

Phone & Address:

(866) 949-7799

Brand:

Live Conscious

Uses:

Prevents leg cramps, muscle cramps, and muscle spasms

Price:

$24.99*

Active Ingredients:

DHA, Fish Oil, EPA, Vitamin E
OmegaWell Pros & Cons
Pros
Enteric coated and Natural lemon flavor
Lowers cholesterol, Decreased triglycerides
Decreased pain in joints, Improved mental alertness
No fishy aftertaste, Sustainably sourced
Affordable and Good quality
Cons
Too large to swallow
Unsealed bottle
Unwanted side effects
Bad smell
No results
Does not work for some
---
How Does It Work? | The Science Behind OmegaWell
OmegaWell is fish oil that contains 800 mg EPA and 600 mg DHA and is enteric-coated which allows the supplement to travel to the stomach and then to the small intestine before it is released.
These omega-3s claims to assist the immune system and maintain brain and heart health. It also claims to promote calmness, decreases joint discomfort, and regulates blood pressure.
This supplement is soy, gluten, dairy, and preservative-free. It is also non-genetically modified. All products are made in the USA and quality-controlled by Current Good Manufacturing Practices (cGMP).
OmegaWell Ingredients – What to Look For
There are some primary active ingredients in this supplement. They include:
Advertisement
*All individuals are unique. Your results can and will vary.
Fish Oil – According to a study in Global Journal of Health Science, Fish oil (Omega-3 Fatty Acid) has significant benefits and reduces the need for analgesics and therefore is a great substitute for pain relievers.
EPA – Based on a study in Arthritis Research and Therapy, Eicosatetraenoic Acid (EPA) prevents cartilage degradation and decreases chronic inflammatory Joint disease.
DHA – is useful in relieving the pain of inflammatory arthritis according to Inflammation Research.
Vitamin E – According to Frontiers in Pharmacology, Vitamin E retards the progression of joint disease and reduces inflammation of the joint.
Other inert ingredients: Gelatin, Glycerin, Purified Water, Enteric Coating Powder.
ALSO READ – Serovital HGH Review – Is It Safe and Does It Have Any Side Effects?

OmegaWell – Questions and Answers
Q: How do I take OmegaWell?
A: Take 1 soft gel twice daily with food.
Q: Is this supplement burpless?
A: Yes, this supplement does not produce gas according to customer reviews and the company.
Q: Can I take OmegaWell if I am allergic to fish?
A: No, do not take this product if you are allergic to fish.
OmegaWell Alternatives
Brand
Price
Active Ingredients
Zipfizz
$37.99
Green coffee bean, Vitamin B12, grape seed,
Caffeine anhydrous, green tea leaf, guarana seed
Frezzor Omega-3
$40-70
Greenlip Mussel Oil, Astaxanthin
ProJoint Plus
$29.95
Chondroitin and Glucosamine, Turmeric, bromelain, methionine,
boswellia extract
Omega XL
$39 + shipping
Vitamin E, Green Lipped Mussel Oil and Olive Oil
Tru Niagen
$40.00
Niagen, Hypromellose, Microcrystalline Cellulose
Physio Flex Pro
$58
Glucosamine HCI, Chondroitin Sulfate, Bromelain, MSM
SuperBeets
$34.95
Malic Acid, Beetroot, Apple flavor
Collagen Complex
$19.80
Collagen
Flarin Joint & Muscular Pain
£5.29
Ibuprofen, Macrogol, Glyceryl Monolinoleate
Beflexible
$39.95
Bio-Boswellia, Phyto-Boron
Youtheory Tumeric
$29.99
Turmeric, Curcumin C3 Complex, Olive Leaf Extract
Is OmegaWell Safe? – Warnings & Complaints
Do not exceed the recommended dose. This supplement should not be used if you are pregnant, nursing, or under the age of 18. Do not use if you have an allergy to fish.
CAUTION: If you have a medical condition, check with your physician before beginning this supplement. Discontinue use if you experience any adverse reactions.
Advertisement
*All individuals are unique. Your results can and will vary.
Customer Reviews & Results
This supplement received a 4.7-star rating out of 5 stars based on 1,448 Amazon customer reviews. There were 1,143 positive reviews and 36 critical reviews. The critical reviews revealed this product has some unwanted side effects, did not come properly sealed, and had a bad smell.
OmegaWell: Packages, Deals, Prices & Where to Buy It?
Amazon sells a 30-day supply for $24.99. Walmart has this supplement for $34.97. LiveWell sells it for $24.99.
The Bottom Line
This is an Omega-3 supplement and many people can get enough Omega-3s in their diet by consuming fatty fish twice per week which would be salmon and sardines.
However, people with heart disease and joint issues require more than a gram per day to obtain the necessary fatty acids needed to sustain health and decrease pain. That may require the use of a supplement like OmegaWell.
This supplement for joint pain relief is large and not recommended for people with swallowing issues. There are also some complaints about unwanted side effects. This supplement is affordable for most people.
Check with your physician before starting this supplement because it could interfere with your current medications.
Advertisement
*All individuals are unique. Your results can and will vary.
SOURCES
Health Insiders relies on peer-reviewed studies, academic research institutions, and medical associations. We avoid using tertiary references. You can learn more about how we ensure our content is accurate and current by reading our editorial policy.
[1] Rajaei E, Mowla K, Ghorbani A, Bahadoram S, Bahadoram M, Dargahi-Malamir M. The Effect of Omega-3 Fatty Acids in Patients With Active Rheumatoid Arthritis Receiving DMARDs Therapy: Double-Blind Randomized Controlled Trial. Glob J Health Sci. 2015 Nov 3;8(7):18-25. doi: 10.5539/gjhs.v8n7p18. PMID: 26925896; PMCID: PMC4965662
[2] Wann AK, Mistry J, Blain EJ, Michael-Titus AT, Knight MM. Eicosapentaenoic acid and docosahexaenoic acid reduce interleukin-1β-mediated cartilage degradation. Arthritis Res Ther. 2010;12(6):R207. doi: 10.1186/ar3183. Epub 2010 Nov 8. PMID: 21059244; PMCID: PMC3046514
[4] Olson MV, Liu YC, Dangi B, Paul Zimmer J, Salem N Jr, Nauroth JM. Docosahexaenoic acid reduces inflammation and joint destruction in mice with collagen-induced arthritis. Inflamm Res. 2013 Dec;62(12):1003-13. doi: 10.1007/s00011-013-0658-4. Epub 2013 Sep 6. PMID: 24008816
[5] Chin KY, Ima-Nirwana S. The Role of Vitamin E in Preventing and Treating Osteoarthritis - A Review of the Current Evidence. Front Pharmacol. 2018 Aug 21;9:946. doi: 10.3389/fphar.2018.00946. PMID: 30186176; PMCID: PMC6113565