About SuperBeets
SuperBeets is an organic supplement that is very high in nitric oxide. It's designed to improve circulation, heart health, and lower blood pressure. This product is intended to provide an abundance of energy without caffeine or excess sugar. This review provides a detailed look at SuperBeets.
---
QUICK FACTS
Buy on Website
Buy on Amazon
Quick Facts & Specs
SuperBeets
The SuperGro laser system utilizes a whopping 272 laser diodes! Each diode is set at the best possible specifications to regrow your hair.
Form:

Capsule

Type:

Supplement

Benefit:

Promotes Nitric Oxide production in the body, supports circulation, healthy blood pressure and heart health

Phone & Address:

1.855.636.4040;

[email protected]

Brand:

HumanN

Uses:

Supports more efficient energy production and stamina, improved blood flow and healthy circulation, provides antioxidant support

Price:

$39.95*

Active Ingredients:

Non-GMO Beetroot Powder, Non-GMO Beetroot Powder (fermented), Natural Black Cherry Flavor, Malic Acid, Magnesium Ascorbate, Stevia Leaf Extract
SuperBeets Pros & Cons
Pros
Good for the circulation and for heart health.
May provide extra energy.
Lower blood pressure levels.
Cons
Only comes in 2 flavors (apple and black cherry).
Must use within 45 days.
May turn stool pink.
---
How Does It Work | The Science Behind SuperBeets
Beets are very high in nitrates, which are converted to nitric oxide in the body. Nitric oxide relaxes the blood vessels, leading to improved circulation and possibly lower blood pressure.
J Clin Hypertens (Greenwich). 2006 have noted that the provision of nitric oxide could be a useful treatment for hypertension. Luiking, et al found that lack of nitric oxide was a factor in certain diseases[1].
A review of the literature published in the Nutrients. 2015 indicated the effectiveness of beetroot at treating a number of illnesses. Another study carried out in Australia in 2016 indicated that beetroot could effectively lower blood pressure[2].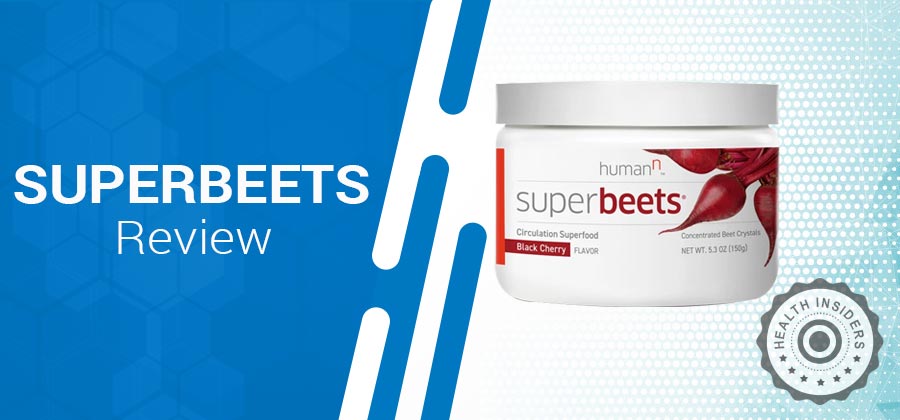 SuperBeets Ingredients – What to Look For?
This supplement is composed of several key ingredients that provide a high amount of nitric oxide.
Some of the primary ingredients in this product are:
Beetroot Powder – Research shows that beetroot, with its very high concentration of nitrates, may help manage several diseases. For example, it is considered an effective treatment for disease related to oxidative stress and inflammation.
Malic Acid – A sweet organic compound derived from apple juice, and often a food additive. Apples are high in nutrients and antioxidants.
Stevia Leaf Extract – Stevia leaf is a sweet substance derived from a plant in the Asteraceae family. Even though it tastes like sugar, it contains zero calories. Research indicates it can lower blood sugar and pressure (so people using blood sugar or pressure medications should be cautioned).
Magnesium Ascorbate – This is a carbon compound which is found in vegetables and citrus fruits. It's an important nutrient as it repairs and maintains bones and connective tissue.
Wondering if SuperBeets is Right for You? Please Watch this Video:
UP NEXT – Goli Nutrition

Superbeets – Questions and Answers
Q: How to Use Superbeets?
A: The recommended dosage is 5 grams (1 teaspoon)a day mixed in a full glass of water.
Q: Does Superbeets Have Any Side Effects?
A: Some users have reported that they had gastrointestinal distress in response to taking this supplement. Others reported dark stool. In fact, beetroot can turn your stool pink. This occurs in 10-14% of cases.
Q: Can I Take Superbeets If I Have A Health Condition?
A: If you take blood pressure medication already, it's a good idea to avoid this supplement as. It also lowers blood pressure. Otherwise, beets are quite safe. You should check with your doctor before you begin using this product.
Q: Does Superbeets Work?
A: The reviews for this product were conflicting. However, at least half of the customers were very happy with the product, reporting & that it both improved their energy levels and measurably lowered their blood pressure. Many users felt more alert and productive while taking the supplement.
The effectiveness of this product is going to be individualized because there were a number of customers who found this product was ineffective. Around a quarter of users were very disappointed with the results. They did not find themselves more energetic, and there was no change in their blood pressure.
Q: What Is Superbeets Moneyback Guarantee, Return & Refund Policy?
A: The company has a 90-day money-back guarantee. You'll receive your full purchase price back, minus the cost of the shipping and handling.
SuperBeets Alternatives
There are a number of other nitric oxide supplements on the market. Here are a few in comparison:
Brand
Price
Active Ingredients
SuperBeets
$34.95
Beetroot powder, malic acid, apple flavor
1 MD CholestMD
$45.99
Bergavit® Bergamot Orange Fruit Extract, Niacin, Olive Leaf 40% Oleuropein Extract, and Garlic Bulb 20:1 Extract
UMZU zuPOO
$29.95
Milk Thistle Seed Powder, Slippery Elm Bark Powder, Burdock Root Powder
LCR Health Telogenesis
$69.95
Unicaria Tomentosa, Astralagus, Ashwagandha
Life Extension
$17.96
Cardiose flavonoid glycoside, stearic acid
Advanced Restorative Probiotic
$69.99
Lactobacillus Casei, Lactobacillus Brevi, Lactobacillus Acidophilus,
Lactobacillus Plantarum, Lactobacillus Infantis, and Lactobacillus Fermentum
Relief Factor Energy
$34.95
Taurine, Caffeine, Vitamins, Inositol, Biotin,
Choline, Pantothenic Acid
NAD + Energiser
$32.78
Methyl folate, allicin, N-acetyl cysteine, taurine, astaxanthin
Elevacity
$55-$100
Functional Beverages, vitamin B6, Nannochloropsis, Ocular Extract, and Sodium Silicate
The prices of these products vary somewhat, with SuperBeets being the most expensive. Some users complained that the product was priced very high.
Unfortunately, there's no way to know which supplements are more effective.
Is SuperBeets Safe – Warnings & Complaints
There are no existing studies examining the safety of SuperBeets. Customers mention occasional stomach-ache, abdominal bloating and dark stools.
The majority of the complaints about this product had to do with the taste, not safety. Many users felt the taste of SuperBeets was so bad that they couldn't keep using the product. Some even said that it made them gag.
One fairly common complaint amongst customers is that when the product arrived, the container was half full.
WARNING: this product does not mix easily. It works best when you put it in a blender with your favorite Juice Blend. Once opened, limit exposure to Moisture and use the product within 30 days. The product may become hard otherwise. Do not exceed the recommended dosage. Speak with your doctor if you're pregnant, nursing, taking prescription medications, under 18 years of age or if you have a health condition before taking a dietary supplement.

SuperBeets: Packages, Deals, Prices & Where to Buy It
On the manufacturer's website, HumanN, the prices of the products are as follows:
1 Canister: $34.95
3 Canisters: $69.90 ($23.30 each)
6 Canisters: $129.90 ($21.65 each)
The last two options include free shipping and 25 nitric oxide strips. If you purchase a single canister, the shipping cost is $8.95. The product is also for sale on another retail website and is priced similarly.
The Bottom Line on SuperBeets
SuperBeets has been well-received by many customers who felt it gave them an abundance of energy. Many found that it lowers their blood pressure, and this was confirmed by their doctor.
There was a large group of customers who found this product to be quite ineffective, however and were very disappointed. Some reported very minor side effects.
Although this product is made primarily of beets and is quite safe, do show the supplement to your doctor before you begin taking it for medical approval.
Is There Anything Else You Should Know About SuperBeets?
SuperBeets is a supplement and not a replacement for a healthy lifestyle and diet.
Some key ideas to keep in mind when taking this supplement include:
Take the supplement on a daily basis for it to work properly.
Try to follow a nutritious, low-fat, that includes plenty of uncooked, green, leafy vegetables because they allow our bodies to produce nitrates.
Make exercise an important part of your life.
Be patient as it may take time for this supplement to work. Be prepared to do your part and you may benefit from this supplement.
If you are interested in trying SuperBeets, check with your medical doctor first.
SOURCES
Health Insiders relies on peer-reviewed studies, academic research institutions, and medical associations. We avoid using tertiary references. You can learn more about how we ensure our content is accurate and current by reading our editorial policy.
[1] https://www.ncbi.nlm.nih.gov/pmc/articles/PMC2953417/
[2] http://www.news.uwa.edu.au/201603078412/research/can-beetroot-juice-give-elite-athletes-edge
[3] Am J Physiol Heart Circ Physiol. 2018 Jan 1;314(1):H45-H51. doi: 10.1152/ajpheart.00389.2017. Epub 2017 Sep 29. Inorganic nitrate supplementation attenuates peripheral chemoreflex sensitivity but does not improve cardiovagal baroreflex sensitivity in older adults.
[4] Nutr J. 2012; 11: 106. Published online 2012 Dec 11. doi: 10.1186/1475-2891-11-106 PMCID: PMC3545899 PMID: 23231777 Effect of beetroot juice on lowering blood pressure in free-living, disease-free adults: a randomized, placebo-controlled trial
[5] Drinking cup of beetroot juice daily may help lower blood pressure Source: American Heart Association
[6] Nutrients. 2017 Nov; 9(11): 1270. Published online 2017 Nov 22. doi: 10.3390/nu9111270 PMCID: PMC5707742 PMID: 29165355 Acute Effects of Nitrate-Rich Beetroot Juice on Blood Pressure, Hemostasis and Vascular Inflammation Markers in Healthy Older Adults: A Randomized, Placebo-Controlled Crossover Study
[7] Am J Physiol Regul Integr Comp Physiol. 2010 Oct;299(4):R1121-31. doi: 10.1152/ajpregu.00206.2010. Epub 2010 Aug 11. Acute and chronic effects of dietary nitrate supplementation on blood pressure and the physiological responses to moderate-intensity and incremental exercise.
[8] Metabolism. 2009 Dec;58(12):1743-6. doi: 10.1016/j.metabol.2009.05.030. Epub 2009 Jul 15. Effect of grape seed extract on blood pressure in subjects with the metabolic syndrome.
[9] Nutrients. 2015 Apr; 7(4): 2801–2822. Published online 2015 Apr 14. doi: 10.3390/nu7042801 PMCID: PMC4425174 PMID: 25875121 The Potential Benefits of Red Beetroot Supplementation in Health and Disease
[10] Sports Med. 2012 Feb 1;42(2):99-117. doi: 10.2165/11596860-000000000-00000. The effect of nitric-oxide-related supplements on human performance.
[11] J Food Prot. 2002 May;65(5):872-5. Evidence that ingested nitrate and nitrite are beneficial to health.
[12] Can J Cardiol. 2004 Aug;20 Suppl B:7B-15B. The pivotal role of nitric oxide for vascular health.
[13] Beetroot juice and exercise: pharmacodynamic and dose-response relationships. PHYSIOLOGY.ORG https://journals.physiology.org/doi/full/10.1152/japplphysiol.00372.2013
[14] Eur J Appl Physiol. 2013 Jul;113(7):1673-84. doi: 10.1007/s00421-013-2589-8. Epub 2013 Feb 1. Dietary nitrate supplementation improves team sport-specific intense intermittent exercise performance.