About LeanFire XT
LeanFire XT is a fat-burning (or thermogenic) supplement. It is a product from Force Factor, a company based in Boston, Massachusetts.
According to the manufacturers, this product may amplify fat loss, enhance endurance, increase energy levels, as well as sharpen focus for both men and women.
Apart from burning fat, LeanFire XT also claims to help build muscles through its proprietary blend.
Athletes anticipating a competition may see this supplement as a fast method to get into shape and gain the required energy for long training hours.
According to an article by the Human Kinetics Journal[1], athletes are urged to check the safety and efficacy of any supplement.
This product seems to meet this requirement, as it claims to use safe and tested ingredients that are all-natural and popularly used in fat-burning products.
It should be noted that this supplement is not certified as a "banned-substance free" supplement, this means that athletes who are in college-level or professional-level sports may want to steer clear of this supplement.
---
Quick Facts & Specs
LeanFire XT
LeanFire XT contains Verilean, a highly bioavailable jitter-free ingredient clinically shown to help you lose weight quickly, reduce BMI, and burn more fat.
Form:

Capsule

Type:

Supplement

Benefit:

It may help to amplify focus.

Brand:

Force Factor

Uses:

It may help to burn stubborn fat.

Ingredients:

TeaCrine, Cayenne Pepper, Bitter Orange, Caffeine, Green Tea Leaf Extract

Price:

$69.99
LeanFire XT Pros & Cons
Pros
This product may increase weight loss results
It may improve training endurance
It may help to amplify focus
It may help to burn stubborn fat
Cons
This product requires you to reduce your caffeine intake
LeanFire XT may have traces of milk, eggs, tree nuts, shellfish, and other allergens
It may have side effects such as diarrhea, bloating, lowered blood pressure, etc.
The manufacturer does not disclose the actual amount of each ingredient as it contains a proprietary blend.
---
Advertisement
*All individuals are unique. Your results can and will vary.
How Does It Work? | The Science Behind LeanFire XT
LeanFire XT claims to help athletes, bodybuilders, and fitness enthusiasts gain more energy which they can put to use for long training hours. With increased endurance, individuals using this product may lose more weight.
Some ingredients in LeanfireXT are claimed to enhance thermogenesis and may amplify the fat-burning process.
With ingredients such as green tea leaf extract, your body may burn additional energy even when at rest, helping you to lose weight faster.
Force Factor, the manufacturer of this product, claims that other ingredients also work to help you stay focused and alert. This is said to counter the nervous anxiety that is associated with other endurance boosts.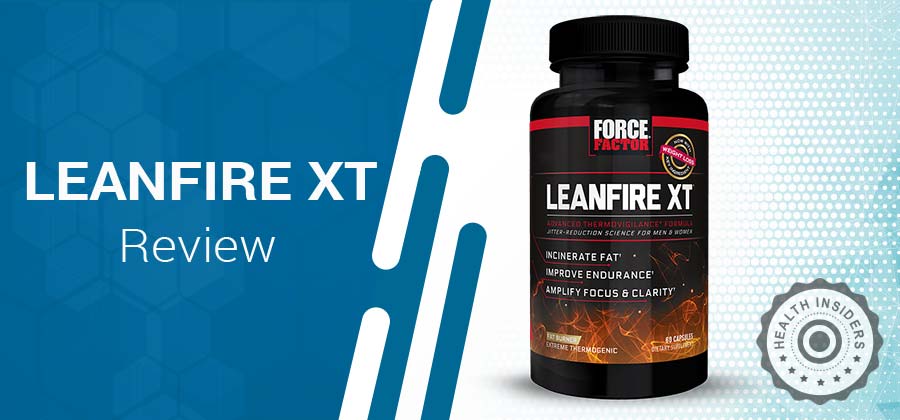 LeanFire XT Ingredients – What to Look For
The active ingredients present in this supplement include;
TeaCrine – this ingredient is a purine alkaloid that is found in tea, coffee, and some fruits. According to an article in the Journal of the International Society of Sports and Nutrition[2], TeaCrine may help reduce LDL cholesterol.
Cayenne Pepper – Capsaicinoids or CAPS is a compound found in peppers that may support metabolism. A research article in the BMC Obesity journal[3] concludes that this ingredient may decrease body fat mass.
Bitter Orange – This is rated as a stimulant that may have possible thermogenic properties. A study appearing in the International Journal of Medical Sciences[4] found that bitter orange is a safe ingredient and that it may potentially increase energy expenditure as well as weight loss.
Caffeine – Like bitter orange, caffeine is also a stimulant. One article in the American Journal of Clinical Nutrition[5] considers caffeine as an effective ingredient to help individuals slim down and have additional energy.
Green Tea Leaf Extract – According to the American Society for Nutrition[6], green tea leaf extract contains polyphenols and caffeine that may work to improve fat oxidation during training and when resting.
Advertisement
*All individuals are unique. Your results can and will vary.
LeanFire XT – Questions and Answers
Q: How to Use LeanFire XT?
A: Use 1 capsule twice daily 30 to 60 minutes before two of your biggest meals.
Q: Does LeanFire XT Have Any Side Effects?
A: The manufacturer does not mention any side effects but according to reviews, clients report a variety of side effects. These include abdominal pain, diarrhea, abnormal blood test results, gout, and low blood pressure.
Q: Can I Take LeanFire XT If I Have A Health Condition?
A: Yes if approved by your doctor. Consult your primary care physician first before starting any supplement. It will also be beneficial to consult a registered dietitian if your goal is to lose weight.
Q: Does LeanFire XT Work?
A: This supplement may work since it features well-researched fat-burning ingredients.
Q: What Is LeanFire XT Work Moneyback Guarantee, Return & Refund Policy?
A: Unfortunately this product only offers a moneyback guarantee to VIP members. If you purchase it at a retailer, such as GNC, their return policy may apply differently.
LeanFire XT Alternatives
| Brand | Price | Active Ingredients |
| --- | --- | --- |
| CrazyBulk | $59.99 | MSM, L-isoleucine, Suma Root, Ashwagandha, Tribulus Terrestris |
| Labrada Nutrition lean body | $34.99 | Vitamin B12, Vitamin A, B6, C, D, E, iron, calcium, potassium, magnesium, copper, zinc, iodine |
| Zipfizz | $37.99 | Caffeine anhydrous, Vitamin B12, guarana seed, green tea leaf, grape seed extract, green coffee bean |
| Surge Complete Nitric Oxide | $89.95 | L-Arginine HCL, L-Arginine Alpha-Ketoglutarate, and L-Arginine Ketoisocaptroate |
| Max Gains | $59.95 | Tribulus Terrestris extract, L-citrulline, L-glutamine, buchu extract, juniper berry extract, and dandelion root |
Is LeanFire XT Safe? – Warnings & Complaints
Force Factor warns lactating mothers, pregnant women, those with medical conditions, and those taking prescription medications to seek medical advice before using this product.
This product may also contain food allergen traces as it is processed using machines that handle foods such as eggs, soybeans, fish oil, shellfish, wheat, tree nuts, and peanut flavor.
Consumers are also cautioned to reduce their caffeine intake since the product already contains caffeine.
Advertisement
*All individuals are unique. Your results can and will vary.
LeanFire XT Customer Reviews & Results
While some users praise the effectiveness of the product, others complain of the side effects they experienced. Other users also complained that it didn't work for them.

LeanFire XT: Packages, Deals, Prices & Where to Buy It
A container has 60 capsules at a price of $69.99. It can be brought from the official website or other reputable online stores.
The Bottom Line
Weight loss is desired by almost everyone on the globe. While diet and exercise are the way to go, sometimes a little boost is needed. This boost can be gotten from fat burning supplements such as LeanFire XT. It claims to have ingredients which induce thermogenesis[7].
Some of these ingredients include bitter orange, caffeine, and green tea extract (which may enhance fat oxidation). When fat is burned, you might achieve that coveted sculpted physique.
While that is the positive bit of this product, you should also keep in mind that there are some side effects associated with LeanFire XT. Alternatives of this product are available and they may be free from side effects too.
Is There Anything Else You Should Know About LeanFire XT?
If you are worried about not getting value for money, you may try the product's 14 day trial period.
However, you need to be careful when signing up for the free trial because it automatically enters you into a billing program.
To avoid this, ensure to cancel before the trial period is over or you will have to pay the whole amount, which includes the shipping fee.
READ NEXT – Krill Oil Plus and Arbonne
Sources
Health Insiders relies on peer-reviewed studies, academic research institutions, and medical associations. We avoid using tertiary references. You can learn more about how we ensure our content is accurate and current by reading our editorial policy.
[1] Maughan, R. J., Shirreffs, S. M., & Vernec, A. (2018). Making Decisions About Supplement Use, International Journal of Sport Nutrition and Exercise Metabolism, 28(2), 212-219. Retrieved Dec 7, 2021, from https://journals.humankinetics.com/view/journals/ijsnem/28/2/article-p212.xml
[2] Taylor, L., Mumford, P., Roberts, M. et al. Safety of TeaCrine®, a non-habituating, naturally-occurring purine alkaloid over eight weeks of continuous use. J Int Soc Sports Nutr 13, 2 (2016). https://doi.org/10.1186/s12970-016-0113-3
[3] Rogers, J., Urbina, S.L., Taylor, L.W. et al. Capsaicinoids supplementation decreases percent body fat and fat mass: adjustment using covariates in a post hoc analysis. BMC Obes 5, 22 (2018). https://doi.org/10.1186/s40608-018-0197-1
[4] Stohs SJ, Preuss HG, Shara M. A Review of the Human Clinical Studies Involving Citrus aurantium (Bitter Orange) Extract and its Primary Protoalkaloid p-Synephrine. Int J Med Sci 2012; 9(7):527-538. doi:10.7150/ijms.4446. Available from https://www.medsci.org/v09p0527.htm
[5] A Astrup, S Toubro, S Cannon, P Hein, L Breum, J Madsen, Caffeine: a double-blind, placebo-controlled study of its thermogenic, metabolic, and cardiovascular effects in healthy volunteers, The American Journal of Clinical Nutrition, Volume 51, Issue 5, May 1990, Pages 759–767, https://doi.org/10.1093/ajcn/51.5.759
[6] Adrian B. Hodgson, Rebecca K. Randell, Asker E. Jeukendrup, The Effect of Green Tea Extract on Fat Oxidation at Rest and during Exercise: Evidence of Efficacy and Proposed Mechanisms, Advances in Nutrition, Volume 4, Issue 2, March 2013, Pages 129–140, https://doi.org/10.3945/an.112.003269
[7] Stefan GJA Camps, Sanne PM Verhoef, Klaas R Westerterp, Weight loss, weight maintenance, and adaptive thermogenesis, The American Journal of Clinical Nutrition, Volume 97, Issue 5, May 2013, Pages 990–994, https://doi.org/10.3945/ajcn.112.050310