About Surge Complete Nitric Oxide
Surge Complete Nitric Oxide is a nitric oxide booster that claims to help with lean muscle gain and, similar to other nitric oxide supplements, possibly boost workout performance and enhance endurance.
According to Men's Health Magazine, nitric oxide is a naturally occurring gas in the body that has been found to increase blood flow and improve workouts.
Ingredients that work with nitric oxide are commonly found in male enhancement supplements that claim to increase erections. However, it focuses on building vascular physique.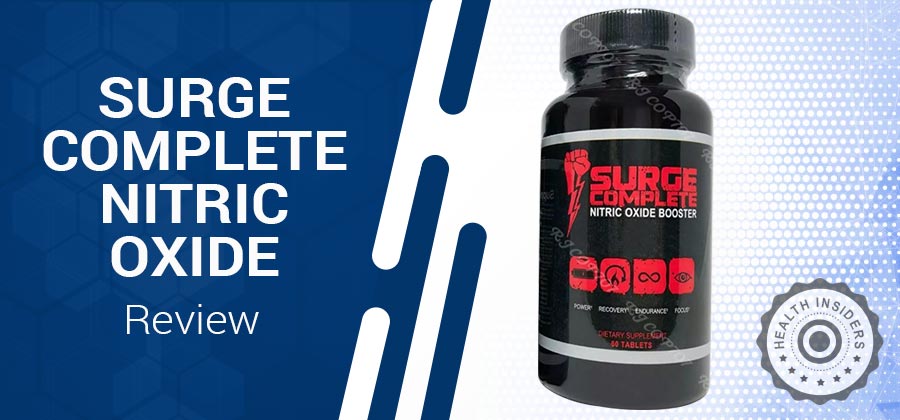 Surge Complete Nitric Oxide Ingredients – What to Look For?
This product contains three types of L-Arginine: L-Arginine HCL, L-Arginine Alpha-Ketoglutarate, and L-Arginine Ketoisocaptroate. L-arginine is an amino acid said to support normal erection function by allowing healthy blood flow within the penile blood vessels tissues.
However, supplements with L-Arginine Alpha-Ketoglutarate were found to increase nitric oxide production, resulting in vasodilation during resistance exercise. Other ingredients include dicalcium phosphate, dipotassium phosphate, and L-citrulline. L-arginine, L-citrulline, and nitrate all play a role in nitric oxide synthesis in the body.
How Does It Work – Learn The Science
L-Arginine is an amino acid that is converted in the body into nitric oxide, which causes blood vessels to open wider and improve blood flow. It also stimulates the release of insulin and other substances into the body.
Proponents of L-Arginine and nitric oxide have claimed that increased blow flow could also increase the "pump" of the muscles during workouts because they are engorged with blood.
Pros and Cons
The use of L-Arginine, which is a precursor of nitric oxide, could help improve blood flow, as nitric oxide has been found to increase a man's sexual libido and enhance his sexual stamina, strength, and staying power.
L-arginine, L-citrulline, and nitrate all play a role in nitric oxide synthesis in the body.
If purchased from the manufacturer's website, customers will be enrolled in a monthly auto-ship program.
There is very little information on the website about the quantities of the ingredients or clinical trials they use to make claims.
Customer Questions & Answers
Surge Complete Nitric Oxide Alternatives
Other nitric oxide choices that have been compared to this product include Vascular X, CrazyBulk, Nitro Strength, Max Gains, BlackWolf Workout, and CrazyBulk D-Bal.

Is It Safe – Warnings and Complaints
The bottle warns individuals who are pregnant, nursing, inflicted with kidney problems, or taking any medication to consult a doctor before taking the product.

Customer Reviews & Results
There are no reviews found on the product itself, but there were Better Business Bureau complaints about being enrolled in the subscription program without permission.

Surge Complete Nitric Oxide: Packages, Deals, Prices, & Where To Buy It
This product can be purchased on eBay for $49.99 for a one-month supply, or customers can sample a free supply and only pay $4.95 shipping and handling from the manufacturer's official Web site. However, after the 14-day trial period, the customer will be automatically billed the full retail price of $89.95 and enrolled in a subscription program that ships the product every 30 days for $89.95 plus $4.95 shipping and handling per month.

The Bottom Line
According to the manufacturer's, it may help with lean muscle gain to build a vascular physique. However, there is not a lot of information available on the reliability of the product.
Is There Anything Else You Should Know About Surge Complete Nitric Oxide?
There are many different nitric oxide supplements available on the market today, and customers should research the ingredients and results of others that may not enroll customers into a monthly subscription program.