About Keto Blast
Keto Blast is an organic weight-loss supplement that is meant for people who are already following a ketogenic regimen. This product helps you to get into a fat-burning state, enabling more rapid weight loss.
It also provides you with energy so you can maintain the level of activity necessary for workouts and beyond.
---
Keto Blast Pros & Cons
Pros
This product may help you burn fat.
Keto Blast could make you feel energized.
It may lead to rapid weight loss.
The supplement is said to be organic.
Cons
It's missing many popular weight-loss ingredients.
You can't find a price or a place to buy this product.
The capsules are big and may be hard to swallow.
---
How Does It Work | The Science Behind Keto Blast
This product is meant for someone who is already following a ketogenic diet and wants to lose more weight.
Being on a ketogenic diet entails drastically limiting your carbohydrate intake. This has the effect of depleting glucose from the body and decreasing blood levels of insulin, according to the Harvard T.H Chan School of Public Health.
With no glucose and low insulin, the body uses fat for fuel allowing the liver to release ketones. This puts your body in a state of ketosis. Burning stored fat instead of glucose for energy could result in weight loss. The extra ketones in this supplement make sure you stay in ketosis, even if you occasionally snack on some carbs.
A study in Experimental and Clinical Cardiology showed the benefits of a ketogenic diet for long-term weight loss.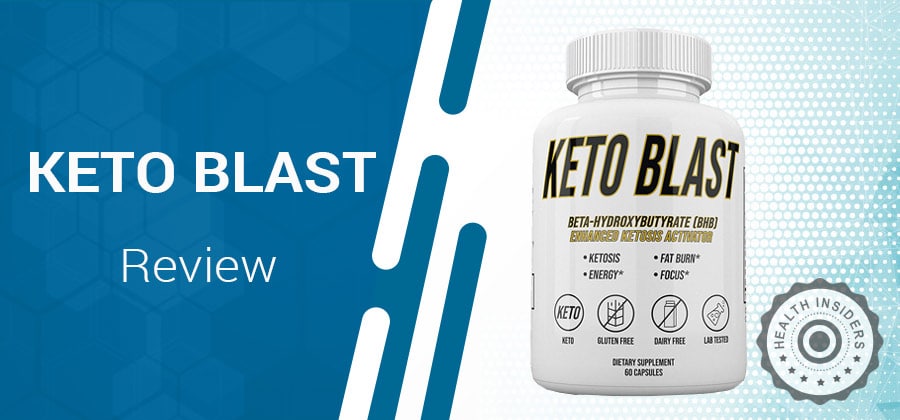 Keto Blast Ingredients – What to Look For
There's one ingredient in this supplement, BHB ketones. Ketones are released by your liver when you greatly restrict your carbohydrate intake. This puts your body in a state of ketosis, where you burn fat as fuel instead of sugar. The BHB ketones help you stay in ketosis.
Research published in Current Developments in Nutrition concluded that ingesting BHB ketones does lead to weight loss when also restricting calories.
Keto Blast – Questions and Answers
Q: How to Take Keto Blast?
A: There's no information about dosage provided on the company websites.
Q: Does Keto Blast Have Any Side Effects?
A: There are no side effects associated with taking this product. However, there are sometimes symptoms that accompany being on the keto diet. These may include abnormal heartbeat, mood swings, breath scented with ketones, dizziness, headache, and nausea.
Q: Can I Take Keto Blast If I Have A Health Condition?
A: There are no health conditions that preclude taking this supplement. There may be people who should avoid being on the keto diet altogether.
CAUTION: It is advised that you get approval from your doctor before you start taking this product.
Q: Does Keto Blast Work?
A: The reviews focus on people feeling that they were ripped off by being charged for products they didn't agree to buy. It's difficult to decide whether this product works with no reviews discussing the issue.
Q: What Is Keto Blast Moneyback Guarantee, Return & Refund Policy?
A: There's no refund policy listed on the official product websites. If you can find a place to purchase it, you'll be covered by that company's return policy.
Keto Blast Alternatives
Brand
Price
Active Ingredients
Keto Blast
Unknown
BHB ketones
PureLife Keto
$6.99
BHB, calcium
Phen375
$65.95
Caffeine Anhydrous, L-Carnitine,Citrus Aurantium,Chromium,
Cayenne Pepper
Pure Primal Keto
$35.95
Calcium & Sodium BHB, magnesium BHB, Garcinia cambogia, Forskolin, Raspberry ketones, Green Coffee extracts
PhenQ
$69.95
Calcium Carbonate, Caffeine Anhydrous, Capsimax, Piperine Extract, A-lacy's Reset, Chromium Picolinate
Keto Burn Xtreme
$37.00
Beta-hydroxybutyrate (BHB), L-arginine, Medium Chain Triglycerides
There's no price listed anywhere for Keto Blast. In addition, there are other brands that contain added ingredients. Keto Blast only includes BHB ketones.
Is Keto Blast Safe? – Warnings & Complaints
Keto Blast consists of one ingredient- BHB ketones. These are perfectly safe for the body. There may be people who shouldn't be on the keto diet, to begin with for health reasons, which is why medical approval with your health care provider is advised before using this supplement.
YOU MAY ALSO LIKE – Phentabz and Teal Farms Keto
Keto Blast Customer Reviews & Results
There are very few reviews about this product online.
Keto Blast: Packages, Deals, Prices & Where to Buy It
You can't purchase this product on the manufacturer's official website. It's not clear where you can currently get this product.
The Bottom Line
Keto Blast is an organic weight-loss supplement that is meant for people who are following a ketogenic diet. It's important to get medical approval from a physician before you begin taking this supplement.
Is There Anything Else You Should Know About Keto Blast?
If you're following a keto diet and need a boost, Keto Blast may be the right exogenous ketone supplement for you. However, you're not meant to keep taking a supplement forever, and you're not supposed to stay on the keto diet forever.
As always, here are some tips for pursuing a healthy lifestyle:
Follow a healthy diet high in protein and low in carbohydrates. Eat foods rich in vitamins, minerals, and nutrients.
Staying in shape by exercising regularly is a great way to keep your weight in check.
Stay away from sweets and junk food that are packed with empty calories.
Keep your level of stress down, so you don't engage in stress eating.
READ NEXT – MomenTrim Keto and Tavala Trim