About Cindy Crawford Meaningful Beauty
Cindy Crawford Meaningful Beauty pertains to the anti-aging skincare line created by American actress and model Cindy Crawford in 2005, with the help of French Cosmetic doctor Jean-Louis Sebagh.
Dr. Sebagh is an acclaimed anti-aging specialist not just in his country, but around the world.
Meaningful Beauty is currently sold in sets of five and seven pieces of skincare essentials. The 7-piece system is intended to fight the signs of aging on the eyes, face, and neck area, while the 5-piece system is limited to the eyes and face area only.
Each set include the following items:
1. Skin Softening Cleanser (2.0oz)
2. Youth Activating Melon Serum (0.5oz)
3. Anti-Aging Day Creme with Environmental Protection SPF30 (0.5oz)
4. Age Recovery Night Creme with Melon Extract & Retinol (0.33oz)
5. Lifting Eye Creme – Advanced Formula (0.17oz)
The two additional products in the 7-piece system include the:
6. Skin Brightening Neck & Decollete SP515 (1.0oz)
7. Dark Spot Correcting Treatment (1.0oz)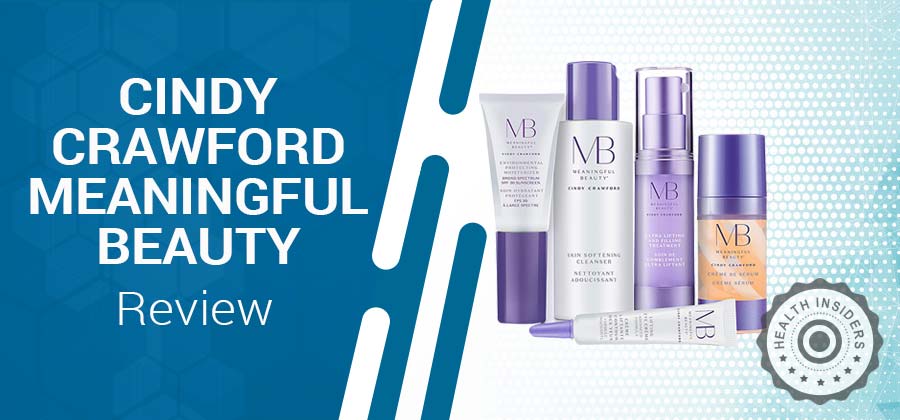 Cindy Crawford Meaningful Beauty Ingredients – What to Look For
Cindy Crawford Meaningful Beauty boasts of ingredients that are commonly used in many anti-aging skincare products due to their track record of being safe and effective for daily use. These include:
Retinol – This vitamin A derivative is one of the most well-studied anti-aging ingredients. It increases the production of collagen to help fade away fine lines and wrinkles, as well improve skin tone by stimulating the production of new blood vessels. The safety and effectiveness of retinol in the treatment of aging skin is discussed in this 2006 review article from Clinical Interventions in Aging.
Hyaluronic Acid – Like retinol, hyaluronic acid is also a staple in anti-aging skin care. Its main function is to attract and retain moisture to keep the skin from drying out. This 2012 review article from Dermato-Endocrinology further explains why hyaluronic is considered "A key molecule in skin aging."
Nonetheless, there are two key ingredients considered as the brand's most prized. It is:
Melon Leaf Stem Cells – This next-generation ingredient is derived from rare melons that grow in Southern France. It harnesses the skin's natural ability to repair and restore itself. Used regularly, they will help plump up the skin to make it softer, smoother, even-toned, and more radiant. Unfortunately, there seems to be no independent studies for this particular ingredient yet. The available study is one conducted by the makers of Cindy Crawford Meaningful Beauty.
Superoxide Dismutase (SOD) – Also derived from the same French melon, SOD this super molecule is said to be the "miracle molecule" when it comes to antioxidant capabilities. Learn more about the role of SOD in the treatment of various skin disorders in this 2014 review article from the journal Nutrifoods.
How Does It Work? | The Science Behind Cindy Crawford Meaningful Beauty
Cindy Crawford Meaningful Beauty is a complete skincare system that utilizes the power of tried and tested anti-aging ingredients.
Basically, these ingredients work to nourish, moisturize, and protect the skin against free-radical damage.
The addition of melon leaf stem cells makes the formula even better, as it helps induce repair and regeneration of aged or damaged skin.
Cindy Crawford Meaningful Beauty Pros & Cons
Cindy Crawford Meaningful Beauty has its fair share of pros and cons just like any other skincare products out there.
Pros
It consists of ingredients with tried and tested anti-aging benefits.
Claims to fade away fine lines and wrinkles.
May lighten discolorations and even out skin tone.
Can improve skin texture and elasticity.
Relatively cheaper compared to other brands of anti-aging skincare sets.
Cons
It may take quite a while before any noticeable improvements are seen.
Its results may vary among users.
It requires purchasing and using the entire set for best results.
The products in the set are more expensive when bought individually.
ALSO READ – Miami MD Reviews and Musely Reviews

Customer Questions and Answers
Q: How to Use Cindy Crawford Meaningful Beauty?
A: For best results, one has to follow Cindy Crawford's daily skincare regimen Unfortunately, there are no details provided except for the fact that each step lasts for about five minutes and that it is a daytime and nighttime routine.
Furthermore, Cindy Crawford Meaningful Beauty must be used for a period of at least four weeks to see results. In some cases, it may take up to two months.
Q: Does Cindy Crawford Meaningful Beauty Have Any Side Effects?
A: There are no side effects mentioned in the official website, but it is safe to assume that the products can potentially cause irritation to those who have sensitive skin or allergy to any of the ingredients used.
Q: Can I Take Cindy Crawford Meaningful Beauty If I Have A Health Condition?
A: While Cindy Crawford Meaningful Beauty is deemed safe, it would still help a lot if you'll consult your health specialist first especially if you have serious health conditions.
Q: Does Cindy Crawford Meaningful Beauty Work?
A: Cindy Crawford Meaningful Beauty has hundreds, if not thousands, or reviews online and a great majority of them a positive, indicating that the product must be as effective as they say.
Q: What Is Cindy Crawford Meaningful Beauty Moneyback Guarantee, Return & Refund Policy?
A: If for any reason you find yourself unsatisfied with Cindy Crawford Meaningful Beauty set or any of its products, you are entitled to ask for a full refund. All you have to do is return the used or unused bottles within 60 days from the date of purchase. The shipping and handling fees will be deducted from the refund total.
Cindy Crawford Meaningful Beauty Alternatives
| Brand | Price | Active Ingredients |
| --- | --- | --- |
| Glé Skincare for Wrinkles | $39.99 | Vitamin E, Algae Extract, Vitamin B3 and B5, Carthmus Tinctorius Seed Oil, Jojoba Seed Oil |
| Celestolite Mars Stellar Serum | $1500 | Propylene Glycol, Glycerin, Peg-40 Hydrogenated Castor Oil, Sodium Hyaluronate, Collagen |
| Crepe Erase | $49.95 | Coconut oil, Shea butter, Beeswax, Cassava |
| Meaningful Beauty | Variable | Palmitic Acid (Age recovery Cream), Sodium Hydroxide (Skin Softening Cleanser), Dextrin Palmitate (Plumping Lip Gloss) |
| LifeCell | $189 | Hyaluronic Acid, Retinol, Deanol, Ubiquinone |
| Rush Remedy | $98.87 | Aloe vera, Fruit extract |
| Clarins Double Serum | $124.00 | Burdock, Hyaluronic acid, Maritime pine, Green banana, Hops |
Is Cindy Crawford Meaningful Beauty Safe? – Warnings & Complaints
Despite getting mostly positive reviews, there are some users who complain of the product being ineffective despite using the entire set exactly as instructed. There are also concerns regarding how long it takes for the product to produce noticeable results.
Cindy Crawford Meaningful Beauty Customer Reviews & Results
It depends on who you ask, as the reviews for this skincare line are mixed. Some claim to have seen an improvement in their skin after using the products, while others find them too expensive and not worth the money.
Cindy Crawford Meaningful Beauty: Packages, Deals, Prices & Where to Buy It
Cindy Crawford Meaningful Beauty is sold in sets of five and seven skin care products. The 7-piece skincare system is priced at $69.95, while the 5-piece system is $49.95.
Purchase on any set entitles a customer to three free gifts and free shipping.
The first gift set is the eye creme and lip duo, while the other is the skin rejuvenating trio. To learn more about those freebies, visit the official website.
SEE ALSO – Plexaderm Rapid Reduction Cream and XYZ Smart Collagen
The Bottom Line
Overall, Cindy Crawford Meaningful Beauty seems a decent anti-aging product, considering that the majority of those who have tried it are happy and satisfied with the results.
The price is also good if you'll buy the whole set. The main issue, however, is that the system takes time to work so patience is key.
If you don't want to wait that long, we recommend checking out other anti-aging products that might work faster. Check out our suggestions on the table above.
Is There Anything Else You Should Know About Cindy Crawford Meaningful Beauty?
Although Cindy Crawford Meaningful Beauty is advertised mainly as a set, the products included can also be bought individually, with prices ranging from $20 to $70.
READ NEXT – Instantly Ageless and Beverly Hills MD Dermal Repair Complex