About Prostate Plus+
Prostate Plus+ is an organic supplement meant for men who are experiencing symptoms related to having an enlarged prostate. This may include frequent urination, dribbling, and difficulty urinating.
This product supports overall prostate health and it also supports the health of the urinary tract. In addition, it includes healthy vitamins and antioxidants which strengthen the immune system.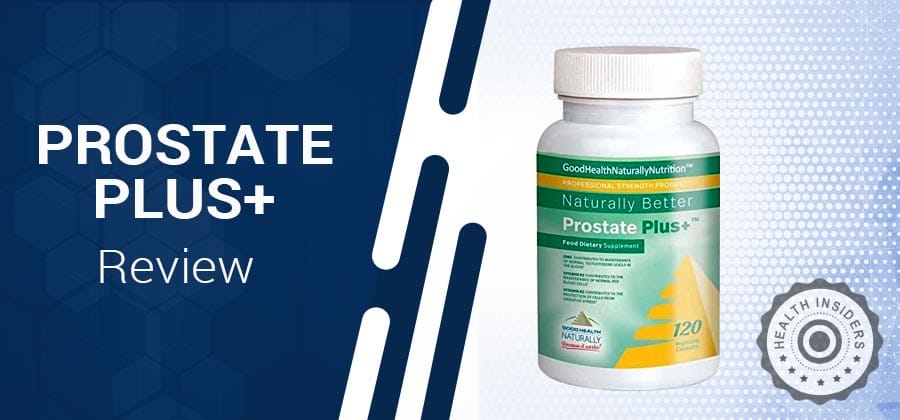 Prostate Plus+ Ingredients – What to Look For
Here are some of the Prostate Plus+ ingredients:
Beta Sitosterol – This plant sterol ester is found in some foods such as nuts, seeds, fruits, and vegetables. It's structurally very similar to cholesterol. It supports overall prostate health as well as urinary tract health, and it can reduce the symptoms associated with benign prostatic hypoplasia. A study in ancer Research found that it can also prevent or slow the progression of prostate cancer.
Saw Palmetto – This is a fatty acid from the berry of a palm tree. It's high in medicinal properties, including the ability to reduce the symptoms of benign prostatic hypoplasia. It is also high in healing antioxidants. A review of the research published in JAMA concluded that saw palmetto improved urological symptoms and flow measures.
Pumpkin Seed Extract – Pumpkin seeds are extremely nutritious. For example. they are high in zinc, which is essential for prostate health. There's some evidence it can block prostate growth. A study in the Journal of Medicinal Food concluded that pumpkin seed extract is a safe, well-tolerated substance which can reduce the symptoms of benign prostatic hypoplasia.
How Does It Work? | The Science Behind Prostate Plus+
Prostate Plus contains ingredients which have phytosterols. According to Oregon State University, there are very similar in structure to cholesterol. These are plant sterols which contain properties that support both prostate health and urinary tract health. It can help lessen the symptoms of prostate enlargement like frequent urination.
Prostate Plus also contains a high number of antioxidants, which help healing and support overall immunity. In addition, anti-inflammatory agents help diminish the swelling in the prostate which reduces symptoms. It may also help in treating prostate cancer. A review in Nutritional Cancer showed that some antioxidants may lessen oxidative stress in prostate cancer patients.
A review in
Nutritional Cancer
showed that some antioxidants may lessen oxidative stress in prostate cancer patients.
Prostate Plus+ Pros & Cons
Pros
Prostate Plus+ Health Complex may support overall prostate health.
The product could create a healthy urinary flow.
It may improve the health of the urinary tract.
Prostate Plus is very reasonably priced.
This supplement could strengthen the immune system.
Cons
You may have stomach upset or diarrhea from this supplement.
Consumer Questions and Answers
Prostate Plus+ Alternatives
Brand
Price
Active Ingredients
Prostaplex
$69.00
Lycopene, Pumpkin Seed, Zinc Oxide, Beta-Sitosterol
Prostate Formula
$39.64
Cranberry Extract, Rosemary Extract, Zinc, Lycopene, Pygeum,
Red Clover Extract, Birch Bark Extract, Flower Pollen, Saw Palmetto
Now Prostate Health
$21.41
Vitamin D3, Zinc, Selenium, Green Tea, Pomegranate, Pumpkin Seed Oil,
Lycopene, turmeric, Quercetin, Stinging Nettle
Prostate Perform
$57.17
Zinc, Free Plant Sterols, Saw Palmetto, Stinging Nettle, Tocopherol,
Cranberry, Tomato Extract, Vitamin D, Vitamin B6
The price of Prostate Plus+ is average for the market, and fairly affordable. There is a lot of overlap in ingredients for these products. However, Prostate Plus+ has a little bit fewer substances than some of the others.
Is Prostate Plus Effective?
The Prostate Plus formula appears to be very effective. It contains a rich collection of organic ingredients which help to support prostate health and urinary tract functioning. In addition, the Prostate Plus reviews have been very positive.
The vast majority of men said this supplement brought very beneficial results to them, and that it was an ideal Prostate Plus Health Complex. There weren't a huge number of complaints, however, a few users said they didn't find it helpful.

Prostate Plus: Packages, Deals, Prices & Where to Buy It
Prostate Plus Health Complex is sold on the official website exclusively. There are no other retailers who offer it, online or offline.
The prices of Prostate Plus from the official website are as follows:
1 Bottle – $39.32
3 Bottles – $117.96
6 Bottles – $235.92
The Bottom Line
Prostate Plus tablets are organic supplements made for men who have urinary tract issues related to prostate enlargement. These include difficulty urinating, urinary frequency and a weak urine stream. This supplement supports both prostate health and the health of the urinary tract, and it can reduce symptoms. This is a supplement which has many benefits.
In addition, it's priced very reasonably. The reviews were quite glowing, with most men saying this product helped them tremendously with their symptoms and it has improved their quality of life. However, a small number of customers didn't get much of an effect from this product.
There are many ingredients in this supplement, and there's a chance that you could have mild side effects or an interaction with one of your medications. This is why it's so important to go to a physician before taking Prostate Plus to make sure it's medically suitable for you.