Overview of the Force Factor brand
Force Factor is a sports nutrition supplement brand designed to boost the intensity of your workouts and exercises. According to the company, Force Factor can improve your strength and endurance both in bed and during workouts.
Force Factor products, founded in 2009 by two former Harvard University rowers, give your body everything it needs to build lean muscle quickly, burn fat, and perform at the highest level with explosive energy. Force Factor, trusted by thousands of professional athletes, bodybuilders, weightlifters, and fitness enthusiasts, is committed to assisting you in achieving success and seeing results every day.
The brand is owned by NutraClick, a technology-driven health and wellness products firm dedicated to improving the lives of its customers. Force Factor, Peak Life, Stages of Beauty, Bona Clara, Femme Factor, and ProbioSlim are among the company's award-winning brands. NutraClick products are sold online as well as in over 30,000 retail locations worldwide, including GNC, CVS, and Walmart.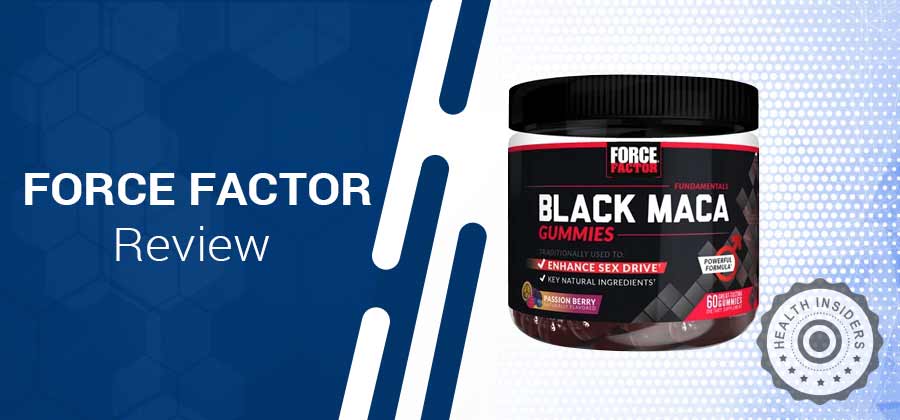 What makes Force Factor special?
Branded Ingredients
Force Factor collaborates with leading branded ingredient manufacturers who have conducted extensive clinical research on their specific ingredients. Many Force Factor products contain high-quality branded ingredients with the best scientific results for safety and efficacy.
No Banned Substances
Force Factor products are purposefully designed to contain no banned substances and to meet strict regulations for use by athletes in collegiate and professional sporting organizations such as World Anti-Doping Agency (WADA) and others. Vernon Davis, a San Francisco 49ers tight end and Force Factor spokesperson, has been an avid user of the product line since 2009, confirming that Force Factor products are safe for use in and out of competition at the highest levels.
Heavy Metal and Raw Ingredient Testing
Every ingredient used in Force Factor supplements is painstakingly tested at three different points in the manufacturing process, including two separate assessments for the individual ingredients and an overall review of the finished product. Finished products are also inspected to ensure that there are no traces of lead, cadmium, mercury, or arsenic.
How Does Force Factor Work?
To begin, it is important to note that this supplement does not include a unique blend. That is, we know the precise dosages of each and every active ingredient listed on the label. In general, this is a good thing because it means you'll know exactly how much of each active component is in each capsule.
Features
Benefits
Increase strength and endurance, enhance recovery.
Ingredients
Varies for each product
Type
Supplements (male virility, workout)
General Specifications
| | |
| --- | --- |
| Primary Ingredient | None |
| Product Count | 88 |
| Body Parts | General |
| Form | Supplement |
The Most Popular Force Factor Products
Among the many Force Factor products, the following stand out:
Total Force Factor Beets Soft Chews

For 650mg of daily cardiovascular support, this superfood formula contains both beetroot extract and beetroot powder, as well as grapeseed extract filled with anti-oxidants and L-citrulline.

Total Beets Soft Chews are a safe source of heart-healthy energy, containing no stimulants or artificial sugars, providing you with enough energy to tackle whatever life throws your way!

Somnapure Melatonin Sleep Aid

Somnapure's clinically researched ingredients, including an ideal 3Mg of Melatonin, help you sleep longer by regulating your brain waves and restoring your natural circadian rhythm.

Valerian root extract and L-Theanine, two key natural ingredients in Somnapure, induce a relaxing calm that will help you fall asleep faster.

Total Beets Drink Mix Superfood Powder with Nitrates for Circulation Support

This product works to increase your body's natural production of nitric oxide, which dilates your blood vessels and improves circulation. This, like any good superfood, aids in the improvement of blood flow and nutrient delivery to your muscles.

Beetroot powder gives you a natural boost of heart-healthy energy without the use of stimulants.

Score! XXL

Score! XXL provides you an advantage in terms of physical activity, and it begins working as soon as you take it. SCORE! XXL contains a fully substantiated dose of L-citrulline to aid in performance, increase nitric oxide production, and improve stamina and endurance. S7, a potent 7-ingredient blend, has been shown to increase nitric oxide levels by 2.3x.

BioPerine, a premium black pepper extract, combined with men's vitality ingredients that have been used for centuries in cultures all over the world, aids in the bioavailability and absorption of certain ingredients.
---
Pros and Cons of Force Factor Products
Pros
Increase physical endurance and stamina
Improve athletic performance.
Maintain intense workouts.
Improve and maintain general body wellness.
Cons
Many of the Force Factor ingredients have been linked to a variety of negative side effects. A list is provided below.
An amino acid called arginine is one of the primary constituents in Force Factor. This amino acid is said to enhance blood flow, which may lead to better performance because it allows for better nutrient delivery to your muscles. Arginine, on the other hand, is known to cause adverse effects such as stomach cramps and nausea.
Magnesium stearate, a type of saturated fatty acid, is one of the primary constituents in Force Factor. According to the International Program on Chemical Safety, magnesium stearate can be highly dangerous, as it can cause vomiting – a possible side effect also related with another Force Factor ingredient, calcium phosphate.
Other cons are
Subpar customer service.
Problems with subscription cancellation.
---
How Does Force Factor Rate?
Feature
Rating
Comments
Performance
9
Increase intensity of workouts, increases stamina and endurance in bed.
Safety
7
Some people have reported intense side effects such as vomiting, nausea, and even decreased testosterone.
Preservatives
9.5
No sugar, artificial sweeteners or preservatives.
How Does Force Factor Compare with Other Brands?
Brand
Cost Range
Features
Force Factor
$14 – $160

Improves athletic performance.
Contains ingredients such as bioperine, grapeseed extract, L-citrulline, and yohimbine.
Suitable for all.

Vita Balance
$11.95 – $28.95

Boost Immune System, Enhance Digestion
Lower Blood Pressure, Lose Weight, Improve Brain Health, Vision Support

Gundry MD
$60 – $80 bottle

Digestive Health, Energy
Athletic Performance, Weight Loss

Unify Health Labs
$39.95 – $74.95

Brain Health, Digestion, Mood, Weight Loss
Prostate, Energy, Metabolism, Heart Health
What Do Customers Think About Force Factor?
Force Factor products have largely positive reviews than negative reviews. While there is a demand for the general health supplements, the market for sexual performance enhancements is also increasing in recent years.
Nearly 100 people have reviewed the products, with more than half of them recommending it. It has 4.3 out of 5 stars, with comments like;
"Love that these have papaya which helps digestion, probiotics, and B vitamins. Digestion feels better and it feels like I have more energy as well as it helping my metabolism. Tastes good as well."
One person who didn't like the product said this:
"I didn't notice any significant change in my energy level with this. For a product that says it will help maintain weight and blood sugar, it contains a lot of sugar. The taste is not terrific; definitely a strong vinegar taste but not terrific. I don't think I would purchase this or use it again."
Frequently Asked Questions
Q: How can Force Factor shipment be canceled?
A: To cancel future shipments in the United States and Canada, you must phone +1 (877) 204-3263 at least 1 day prior to the date that your next monthly supply ships.
Q: Is Force Factor FDA approved?
A: All Force Factor products are made in FDA-audited, GMP-certified production facilities in the United States, in addition to a robust formulation process, and all product formulae undergo extensive quality testing.
Q: Who are the manufacturers of the Force Factor products?
A: NutraClick manufacture Force Factor products. The producers supply Force Factor with a consistent supply of items, and they have a solid working relationship with one another.
Q: Does Force Factor increase testosterone?
A: Force Factor's scientists painstakingly crafted Test X180 to deliver the boost that every man requires. Test X180 boosts workout performance by naturally increasing your overall testosterone levels, allowing you to sculpt the muscles you want and perform better.
Q: Is Force Factor a steroid?
A: No, Test X180 Ignite is not an anabolic steroid.
Conclusion
It is impossible to see past the negative evaluations, which are few and far between. It is, without a doubt, a product for the books, but with bad customer service and a slew of negative side effects mentioned, it should only be considered with care. You may want to check out other brands and supplements like Body Fortress Whey Protein in the market with the better ingredients and for the effective results.
11 sources
Health Insiders relies on peer-reviewed studies, academic research institutions, and medical associations. We avoid using tertiary references. You can learn more about how we ensure our content is accurate and current by reading our editorial policy.
[1] Shinjyo N, Waddell G, Green J. Valerian Root in Treating Sleep Problems and Associated Disorders-A Systematic Review and Meta-Analysis. J Evid Based Integr Med. 2020 Jan-Dec;25:2515690X20967323. doi: 10.1177/2515690X20967323. PMID: 33086877; PMCID: PMC7585905.
[2] Baba Y, Inagaki S, Nakagawa S, Kaneko T, Kobayashi M, Takihara T. Effects of l-Theanine on Cognitive Function in Middle-Aged and Older Subjects: A Randomized Placebo-Controlled Study. J Med Food. 2021 Apr;24(4):333-341. doi: 10.1089/jmf.2020.4803. Epub 2021 Mar 22. PMID: 33751906; PMCID: PMC8080935.
[3] Ostojic SM. Yohimbine: the effects on body composition and exercise performance in soccer players. Res Sports Med. 2006 Oct-Dec;14(4):289-99. doi: 10.1080/15438620600987106. PMID: 17214405.
[4] The Impact of Artificial Sweeteners on Body Weight Control and Glucose Homeostasis https://www.frontiersin.org/articles/10.3389/fnut.2020.598340/full
[5] What to Expect During an FDA Audit https://www.geisinger.org/-/media/onegeisinger/pdfs/ghs/research/research-at-geisinger/hrpp/presentations/what-to-expect-during-an-fda-audit
[6] Facts About the Current Good Manufacturing Practices (CGMPs) https://www.fda.gov/drugs/pharmaceutical-quality-resources/facts-about-current-good-manufacturing-practices-cgmps
[7] Clifford T, Howatson G, West DJ, Stevenson EJ. The potential benefits of red beetroot supplementation in health and disease. Nutrients. 2015 Apr 14;7(4):2801-22. doi: 10.3390/nu7042801. PMID: 25875121; PMCID: PMC4425174.
[8] Kesarwani K, Gupta R, Mukerjee A. Bioavailability enhancers of herbal origin: an overview. Asian Pac J Trop Biomed. 2013 Apr;3(4):253-66. doi: 10.1016/S2221-1691(13)60060-X. PMID: 23620848; PMCID: PMC3634921.
[9] World Anti-Doping Agency (WADA) https://www.wada-ama.org/
[10] Gupta M, Dey S, Marbaniang D, Pal P, Ray S, Mazumder B. Grape seed extract: having a potential health benefits. J Food Sci Technol. 2020 Apr;57(4):1205-1215. doi: 10.1007/s13197-019-04113-w. Epub 2019 Sep 30. PMID: 32180617; PMCID: PMC7054588.
[11] Gonzalez AM, Trexler ET. Effects of Citrulline Supplementation on Exercise Performance in Humans: A Review of the Current Literature. J Strength Cond Res. 2020 May;34(5):1480-1495. doi: 10.1519/JSC.0000000000003426. PMID: 31977835.