About Force Factor SCORE
Force Factor SCORE Premium Libido Enhancer is a male sexual enhancement supplement which focuses on making your libido more powerful. It can increase testosterone, which also helps to build muscles. It may also elevate circulation, which leads to stronger erections. Many men find this product also increases their stamina and general sexual functioning.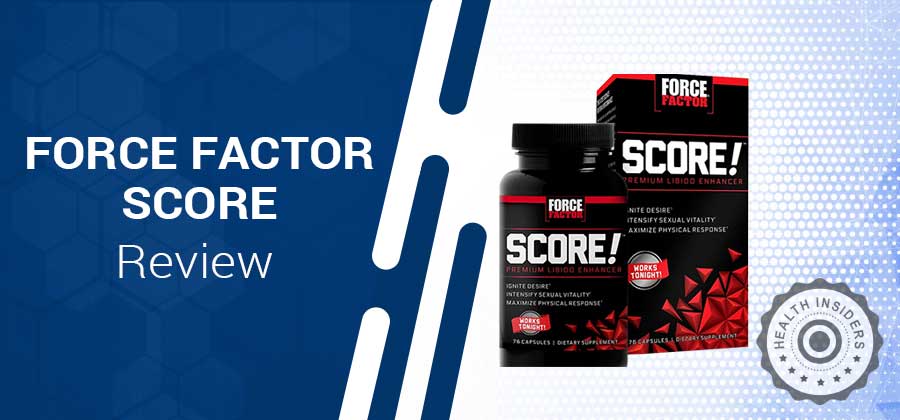 Force Factor SCORE Ingredients – What to Look For?
Here are some of the primary active Force Factor SCORE ingredients.
Tribulus Terrestris – This is an herbal plant which can increase libido in both men and women, although it doesn't raise testosterone. A study in the Journal of Pharmacy and Pharmacotherapeutics on male albino rats found that Tibullus Terrestris increased libido and helped with sexual dysfunction.
L-Citrulline – This is a non-essential amino acid in your body. It has the ability to convert into the amino acid L-Arginine, which increases the production of nitric oxide in the body. This can lead to harder erections. It's healthy for the heart, and it could support overall immunity. An article in Urology found that L-citrulline strengthens erections in men with mild erectile dysfunction.
L-Theanine – This is an amino acid which can promote relaxation and calming emotions; however, it doesn't make you drowsy. It's a very effective treatment for anxiety. A study in the Journal of Clinical Psychiatry on people with schizophrenia found that it not only lessened anxiety but also improved symptoms.
How Does It Work? | The Science Behind Force Factor SCORE
A number of the ingredients in this supplement can increase levels of testosterone in the body. As a result, sexual libido increases and you build muscle mass and strength. A study in the Journal of Clinical Endocrinology looked at the relationship between libido and testosterone levels in aging men. They found a strong connection.
In addition, other substances increase the amount of nitric oxide in your body, which improves circulation. It also elevates blood flow to the penis, making erections harder and stronger. A literature review in the Journal of Clinical Hypertension looked at the role of nitric oxide in erectile dysfunction.
Force Factor SCORE Pros & Cons
Pros
Force Factor SCORE could raise your libido.
It may increase your levels of testosterone.
The product may improve your circulation and strengthen erections.
Force Factor SCORE Premium Libido Enhancer could increase stamina.
It may promote overall sexual function.
Cons
You have to take 4 large capsules per day.
It can lead to side effects like nausea and stomach upset.
There's some artificial color included.
People Also Ask - Questions and Answers
Force Factor SCORE Alternatives – Compare with Similar Items
Brand
Price
Ingredients
Force Factor SCORE
$29.99
Black Maca, Tribulus Terrestris, Horny Goat Weed, Gingko, Ashwagandha,
Bioperine, Coenzyme Q10, L-Theanine
Nugenix
$45.45
Fenugreek, Vitamin B6 and 12, Zinc, Tribulus Terrestris, Citrulline
GNC Men's Arginmax
$15.60
L-Arginine, Asian Ginseng, Zinc, Selenium, Gingko Biloba, Vitamin E,
Folic Acid, Biotin
Mr. Veta
$14.10
Zinc, Selenium, Iron, Calcium, Lycopene, Lutein, Folate, Magnesium,
Manganese, Vitamins A, B1, B2, B3, B6, B12, C, D3, K1, E
Force Factor SCORE is reasonable enough for the market, basically average. In terms of ingredients, it compares well to other brands, although other products are also strong.
Is Force Factor SCORE Safe? – Warnings & Complaints
There are some health risks for Force Factor SCORE, which we have provided. Other than these, this is a safe product. It may lead to mild side effects.
Force Factor SCORE Customer Reviews & Results – What Users Are Saying
The Force Factor SCORE reviews were not overly positive. A little less than half of the users loved this product and were happy with the results. Others said it didn't help them much.
Force Factor SCORE: Packages, Deals, Prices & Where to Buy It
You can buy it on the manufacturer's official website, on Amazon, and on numerous other both online and offline locations including Force Factor SCORE Walmart. On the official site, the price is $29.99. On Amazon, it's $18.80.
The Bottom Line on Force Factor SCORE
Force Factor SCORE is an herbal supplement for men who want to enhance their libidos and improve stamina, the strength of erections, and sexual performance. This is a testosterone booster that can also build your muscles. It's a healthy supplement that is rich in antioxidants, helping to raise immunity.
The reviews were honestly not all that good. About 45 of users really did like this product and found it helpful at enhancing their sexual lives. However, more than $50 of people said this supplement was not effective for them at all.
It is possible to have some side effects as a result of taking it, and there are some health warnings. If you experience unpleasant symptoms, stop taking the supplement right away. See a doctor before using, it to get medical approval.
Is There Anything Else You Should Know About Force Factor SCORE?
We hope that it is the ideal male sexual enhancement product for you, and that it has helped you elevate your libido, get stronger erections, and improve stamina and sexual performance. There are some lifestyle methods you can try which can elevate your libido. Here are some suggestions:
Eat a nutritious diet, which will enhance your immunity and overall health. Include some foods which are aphrodisiacs, like chocolate, figs, oysters, strawberries, watermelon, asparagus, and artichokes.
Exercise several times a week. This can elevate your libido, leading to an improved sex life.
If there's one thing that can ruin your sex life and lower your libido, it's stress. Try some methods like yoga, meditation, and mindfulness.
Make sure you get an adequate amount of sleep every night. Poor sleep leads to fatigue, which can lower your libido and weaken erections.