A Brief Introduction to Estroven
If you are a woman in your 40's or 50's you may have heard the word "Estroven" or seen it in passing. You may even have other women in your life who have mentioned to you. There is a reason for that. As you probably already know, Estroven is the brand name of a line of pre-menopause, menopause, and post-menopause products designed to help women through these phases.
According to their official website, Estroven has been doing their thing for over twenty years. Estroven is indeed one of the most popular menopause relief supplements on the market today. Part of the reason is that they tailor their products to the specific needs of different women. For example, they have supplements that are developed to help with menopause symptoms but with a special emphasis on things like mood and sleep. In this review, we are going to take a look at a cross-section of the Estroven products to give you a better sense of what they are all about.
---
Pros & Cons
Pros
Estroven products are generally safe
There are products that target specific symptoms
They are free of drugs and hormones
Cons
Some of the capsules contain gelatin and may not be suitable for vegans
Some of the ingredients are unproven or simply lack sufficient clinical studies to provide strong enough conclusions on efficacy
Not all the products can be bought straight from the manufacturer
---
The Science Behind Estroven
There is some science to back up some of the particular claims that Estroven makes about their products. For instance, Rhubarb has indeed been studied to help with menopause symptoms. Not only that, the recommended daily dosage of it to combat these symptoms is 4mg – the exact amount in Estroven Complete Relief.
On the other hand, we see that certain ingredients such as Black Cohosh have not been observed in high-quality tests.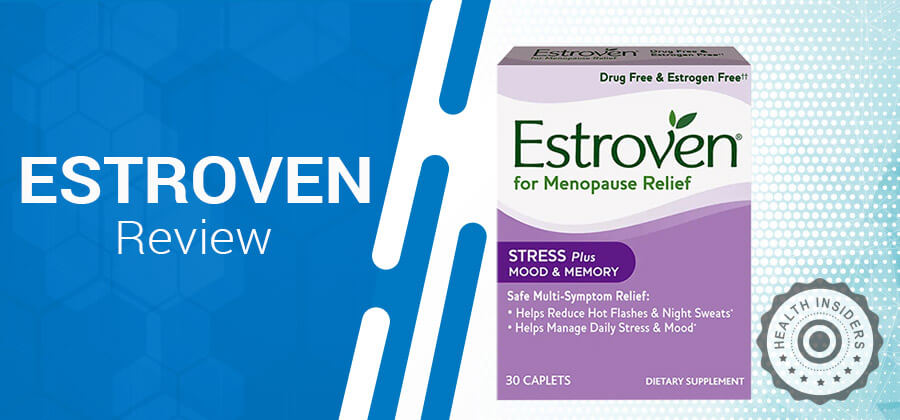 Estroven Menopause Relief + Mood
We alluded to this specific Estroven product in the previous section. This one helps with common menopause side effects but focuses on mood. The ingredients for this specific product include:
Black Cohosh – The National Center for Complementary and Integrative Health tells us that Black cohosh is a type of buttercup and it is used to help regulate hot flashes.
Ginkgo Biloba – Ginkgo biloba is a traditional herb used to help memory. The peculiar things about Estroven Relief + Mood is that it also emphasizes memory support.
NOTE: See https://www.aafp.org/afp/2003/0901/p923.pdf. Many studies don't find a significant difference in memory or cognitive symptoms as a dose of 120mg (as included in the Estroven). It should be noted that Ginko SHOULD NOT be taken with mediations that change clotting patterns as it can lead to an increase in bleeding. This would be important simply because of the age category who would be taking it. Most may be on aspirin or warfarin.
Pricing
It should be noted that you can't buy some Estroven products directly from their official website. They direct you to online and physical stores where their products are sold. The general price that we found at online retailers for a single pack of Estroven Menopause Relief + Mood is $9.96.
Keep in mind that this is the price for a single pack. You can also save a little money if you intend to use this product for a while by subscribing to the auto-ship program they have available on multiple online shops. The price gets dropped to $9.46 for each pack if you sign up to get a package shipped to you automatically every month.
Directions
The directions for + Mood are to take one capsule per day. You can take it any time of the day with or without food. The customer is advised to take it for at least 60 days though.
---
Estroven Menopause Relief + Weight
Another popular Estroven product is called Menopause Relief + Weight. As the name suggests, this supplement helps women to manage their weight better when hormonal changes are making that task difficult. The ingredients for this one include:
Soy Isoflavones – So Isoflavones have been used to treat menopause symptoms like hot flashes and bone density loss.
Cissus Quadrangularis – The powder extract from this herb has been used for wound healing, bone strength, and weight management. (Also, it has properties to help with weight loss goal, but alone would not cause weight to be lost without other changes).
Pricing
Unlike the previous Estroven product, you can actually buy + Weight direct from their website. A single pack of + Weight costs $16.98. You can save some money to buy subscribing to their auto-ship program in which the price gets dropped by 20% (about a $3 discount).
Directions
The directions for + Weight are also to take one pill a day at any time of the day.
---
Estroven Menopause Relief + Stress
This supplement takes aim at stress levels and energy. We are told that + Stress is estrogen and drug-free. Let's have a look at a couple of the key ingredients:
Magnolia Bark – Magnolia bark is native to China and is usually used to ease constipation and bloating.
Green Tea & Yerba Mate – Green tea and traditional Peruvian Yerba Mate contain a strong dose of caffeine.
Pricing
+ Stress is also available for purchase direct from the Estroven website. It is $16.98 for 28 caplets and there is also an auto-ship offer where you will save 20% on each package.
Directions
You are supposed to take one capsule of + Stress once a day. They also suggest taking the capsule early on in the day as it will provide an energy boost.
---
Estroven Complete Menopause Relief
We end our cross-section of Estroven products with the company's answer to complete menopause relief: Estroven Complete Menopause Relief. It is said that this supplement tackles the problems of :
Joint pain
Night sweats
Hot flashes
Stress
Physical fatigue
Mental fatigue
The key ingredients you should know about in Complete Relief include:
Rhapontic Rhubarb Extract – A University of Michigan paper states that this ingredient can help with hot flashes, depression and anxiety.
Pricing
You can buy Complete Relief from the Estroven website for a one-time purchase price of $21.97. Again, you can subscribe and save 20%.
Directions
You should take one capsule a day for at least 28 days.
---
Customer Response to Estroven
The reviews for Estroven products, in general, are positive. We scoured reviews from the Estroven website and third-party retail sites and they are still mostly positive across the board.
Some of the key positive statements mention that:
Estroven helped with irritability
It took effect for hot flash relief in 6 weeks
Some of the negative statements included:
It started the user's period again
That it did not work
Potential Side Effects
Side effects are generally mild for the Estroven products. Black Cohosh, for example, may cause rashes and upset stomach (Note: you should check with the doctor for interactions with other medications). There have also been no reported interactions with medications.
Does Estroven Work?
Estroven is also a multi-symptom menopause relief supplement. It is claimed to be clinically proven and is said to work fast. It targets menopausal symptoms such as hot flashes, night sweats, sleeplessness, mood swings, low energy, and more.
Return & Refund Policy
Oddly, there is no mention of a return policy on the official Estroven site. When you buy from third-party retailers, be sure to find out their specific return/refund policy before buying.

Estroven Alternatives
Amberen is one popular alternative. It costs $52.24 (generally) and it contains ingredients like Ammonium succinate, Zinc difumarat, and calcium disuccinate.
EstrAval from Melaleuca is another option. The cost is unknown and it contains Black Cohosh, Soy, and Dong Quai as the key ingredients.
Finally, we have Menopause Complete Herbal Care from Nested Naturals which costs $20.85 for 60 vegan capsules and contains dong quai and black cohosh.

What you Should know and Final Thoughts on Estroven
Overall Estroven products seem to be pretty solid. They have been well-received by customers, their ingredients, for the most part, have been proven and may really help you if you are suffering from one or multiple menopause symptoms.
We don't like the fact that some Estroven products (such as Estroven Complete) don't have many customer reviews and that some of the capsules are not vegan-friendly. Furthermore, you can't buy some of them from the official Estroven website and there is no return info given. Still, Estroven is one of the most trusted menopause relief products on the market for a reason.
What you should keep in mind is that Estroven will not work for every woman. Every woman's hormone profile and needs are different. So we suggest making sure you buy with a solid return policy just in case Estroven doesn't work for you.

Where To Find It
You can BUY it directly from the manufacturer's Official Website
READ NEXT
–
Estroven Complete Reviews
and
ProEstro Reviews
SOURCES
Health Insiders relies on peer-reviewed studies, academic research institutions, and medical associations. We avoid using tertiary references. You can learn more about how we ensure our content is accurate and current by reading our editorial policy.
[1] Menopause. US Department of Health & Human Services Office on Women's Health website. https://www.womenshealth.gov/menopause
[2] Menopausal symptoms and complementary health practices. National Institutes of Health National Center for Complementary and Alternative Medicine website. https://www.nccih.nih.gov/health/menopausal-symptoms-in-depth
[3] One A Day Menopause Formula [package insert]. Whippany, NJ: Bayer Healthcare LLC; 2013.
[4] McQueen C, Orr K. Natural products. In: Krinsky D, Berardi R, Ferreri S, et al, eds. Handbook of Nonprescription Drugs. 17th ed. Washington, DC: American Pharmacists Association; 2012.
[5] Leach MJ, Moore V. Black cohosh (Cimicifuga spp) for menopausal symptoms. Cochrane Database Syst Rev. 2012;9.
[6] Black Cohosh. National Center for Complementary and Integrative Health. Published November 29, 2016.
[7] Black Cohosh. Cancer Research UK.
[8] Menopause: Common Questions. U.S. Food and Drug Administration Home Page.