In simple terms, menopause refers to the period when the ovaries stop releasing fertile eggs. It signifies the end of the menstrual cycle, being accompanied by a number of physiological changes.
Women who have entered menopause might experience hot flashes, vaginal dryness, night sweats, weight gain, and chills. Other changes include insomnia, mood swings and dry skin from hormonal imbalance.
In order for menopause to be confirmed, a whole year must go by without a menstrual period being present. In the majority of the cases, women around the age of 50 will enter menopause, but it can also occur earlier in some cases.
Each woman will experience menopause in a different way, irregular periods being characteristic for perimenopause. During that phase, it is still possible for women to get pregnant.
Upon entering menopause, the doctor may recommend hormonal supplements to correct the associated imbalance and reduce the severity, as well as frequency, of the symptoms experienced. Health screening tests might be recommended, in order to diagnose conditions co-existent with menopause, such as osteoporosis.

Menopause Statistics
According to recent statistics, 1.3 million women enter menopause each year in the United States. The change takes place around the age of 50.
However, in 5% of the cases, early menopause occurs between the ages of 40 and 45. Premature menopause is the term used for menopausal women under the age of 40, which accounts for 1% of the population (ovarian failure being the main cause).
Worldwide, there are 37.5 million women who have entered or are about to enter menopause. As the average life expectancy has increased, for example at 84 years in the United States, there are a lot of women who spend half their life in the post-menopausal state. Also, it takes approximately four years for women to transition into menopause.

What are the Common Ingredients in Menopause Supplements?
Menopause supplements can be taken by women who have entered menopause or are about to go through this change. These contain ingredients with beneficial properties, improving the symptoms caused by the hormonal imbalance and allowing one to feel better overall.
Below, you will find some of the most common ingredients used for such supplements.
Black Cohosh
Black cohosh is a perennial herb, which has been used for a long time to ease the symptoms of menopause and correct the associated hormonal imbalance.
More studies are needed to fully understand its efficacy[1], but preliminary research has shown that it could help[2] with night sweats and hot flashes in particular, as well as with insomnia, vaginal dryness, and mood swings.
It might also stimulate the sex drive, reduce the risk of heart palpitations and eliminate the pain associated with the intercourse.
Flaxseed
Flaxseed is rich in nutrients and, as research points out, it might help with the symptoms of menopause. Women who consume ground flaxseed on a daily basis present less severe and less frequent hot flashes. In return, this contributed to an improved quality of life.
The natural remedy can reduce the severity and frequency of joint pain as well.
Calcium
When menopause occurs, estrogen production decreases and the body is no longer able to absorb the right amount of calcium from the daily diet. Thus, calcium supplementation becomes a must for menopausal and post-menopausal women, in order to keep the risk of osteoporosis down to a minimum.
The regular intake of calcium has been associated with less bone loss and a reduced risk of fractures. It might also help with associated medical issues, such as cancer, obesity, and hypertension.
However, in order to be absorbed properly, one also needs vitamin D (as a supplement, from food, or through exposure to the sun).
Red Clover
Red clover is a flowering plant and a legume, which is rich in isoflavones. These are actually phytoestrogens, which have a similar structure to the estrogen hormone.
Given this similarity, it should come as no surprise that red clover is a beneficial ingredient commonly added to menopause supplements.
More studies[3] are needed, but there is some evidence that red clover could help women deal with the manifestations of menopause.
As mentioned above, vitamin D facilitates the absorption[4] of calcium within the body and, thus, contributes to a reduced risk of osteoporosis.
If you want to keep your bones strong and reduce the risk of fractures, you should consider a supplement that contains both vitamin D and calcium.
Dong Quai
Dong Quai is often presented as the female ginseng, being one of the most recommended[5] natural remedies for menopausal women. It has been suggested that the remedy can help with one of the common manifestations of menopause, hot flashes, but studies are conflicting. Dong Quai may not work any better than a placebo and may not be appropriate for long term use.
Ginseng
Ginseng is indeed a natural remedy that can be used to manage the symptoms of menopause. Research[6] supports that ginseng can stimulate sexual desire, improving libido in women who are going through menopause.
It might also help with hot flashes but more research is necessary to confirm this benefit entirely. Consult with your doctor because ginseng may not be appropriate for long term use.
St. John's Wort
St. John's wort is a popular natural remedy and one can do wonders for the manifestations of menopause, both physical and psychological. The herb is recommended for both pre- and post-menopausal women, being especially beneficial whereas sexual desire is concerned.
According to the latest research, St. John's wort can reduce the risk of hot flashes[7] in menopausal women. These beneficial properties have been connected to the rich content of phytoestrogens (similar to the estrogen hormone women need).
St. John's Wort interacts with a number of medications, so be sure to consult with your doctor before starting this supplement.
DHEA
DHEA is a substance which is normally produced by the adrenal glands. More evidence is needed to understand whether it could help with the symptoms of menopause[8], but DHEA may improve sexual desire.

Our Picks from the Best Menopause Supplements on the Market
We have performed thorough research and reviewed some of the best menopause supplements you will find on the market. These are popular choices for menopausal women, along with a list of their beneficial properties, according to the producers.
Always consult with a physician or registered dietitian before purchasing a new supplement.
Note: The Pros mentioned below are according to the product manufacturer.
Price:

$71.23 for 120 capsules

Pros:

Multi-symptom menopause relief – hot flashes, weight gain, low energy levels, mood swings, night sweats, etc.
Restores hormonal balance
Contains only safe and clinically-tested ingredients (vitamin E, amino acids, minerals)
Can be used in any stage of menopause (from perimenopause to post-menopause)

Cons:

Might require a longer period of time before the results are noticeable
The quantity of each ingredient included in the formula is not known
Possible side effects (rash, headaches, insomnia).
Ingredients: Ammonium Succinate, Calcium Disuccinate, Monosodium L-Glutamate, Glycine, Magnesium Disuccinate Hydrate, Zinc Difumarate Hydrate, Tocopherol Acetate
---
Price:

A pack of 28 capsules of Estroven Complete retails at $21.97.

Pros:

Might help to restore hormonal balance in the body
Can improve numerous symptoms of menopause
Works for different stages of menopause
Said to work fast in relieving the stubborn symptoms of pre-menopause

Cons:

Some people have to wait longer before Estroven Complete begins to work for them
To keep the benefits, users have to continue taking it as recommended
Its promise of supporting weight loss is dependent on a person's level of physical activity
Ingredients: Rhapontic Rhubarb Root Extract
---
3. Estrovera
Price:

$34.95 for 30 tablets

Pros:

Key ingredient – Err731 – safe and effective, backed by clinical studies
Relief from menopausal symptoms – loss of libido, irritability, mood swings, anxiety, insomnia, hot flashes
Money back guarantee
Non-GMO, gluten-free; suited for vegetarians

Cons:

Not suited for women who are pregnant or nursing
Not for women with suspected or known estrogen-dependent cancer
Might take up to six weeks for the first results to become noticeable.
Ingredients: Microcrystalline cellulose, Stearic acid (vegetable), Croscarmellose Sodium, Silica, and Enteric coating (ethyl cellulose, Hydroxypropylmethylcellulose, Medium-chain triglycerides, Ammonium hydroxide
---
4. One a Day Women's Menopause Formula
Price:

$14.66 for 50 tablets

Pros:

Relief from common menopause symptoms, such as hot flashes and mood swings
Multivitamin supplement, based on soy isoflavones (phytoestrogens); also contains vitamin A, C, D, E, B1, B2, B6
Supports bone and heart health, as well as the health of the hair, skin, and nails
Increases energy levels
No harmful ingredients (artificial sweeteners, flavors, preservatives)

Cons:

Possible side effects include upset stomach, diarrhea (temporary).
Ingredients: Calcium Carbonate, Powdered Soybean Isoflavones Extract, Microcrystalline Cellulose, Magnesium Oxide, Ascorbic Acid, Maltodextrin, Dicalcium Phosphate
---
5. Dr. Tobias Enlightened Women Hormonal Balance
Price:

$17.98 for 60 capsules

Pros:

Supports a healthy blood pressure
Natural formula, based on a combination of herbs and soy isoflavones
Restores healthy hormone balance & libido; promotes heart health
Active ingredients – black cohosh, red clover, sage, licorice – provide relief from menopause symptoms, such as hot flashes

Cons:

Not for everyone, in some cases, it can make the symptoms of menopause more intense (talk to the doctor before taking it).
Ingredients: Microcrystalline cellulose, gelatin (bovine), vegetable magnesium stearate and silicon dioxide
---
6. Remifemin Menopause Relief
Price:

$15.52 for 120 capsules

Pros:

Unique and natural formula, with active ingredients that address both physical and psychological symptoms associated with menopause (mood swings, night sweats, and hot flashes)
Safe and effective
Key ingredient – black cohosh
No harmful ingredients, free of gluten, artificial colors or preservatives

Cons:

Not for pregnant or nursing women
May cause gastric discomfort (temporary).
Ingredients: Black Cohosh Extract (Root and Rhizome) Equivalent to 20 mg
---
7. Estrogen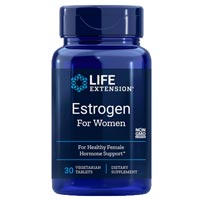 Price:

$20.85 for 28 capsules

Pros:

Natural relief for menopause symptoms – low energy, mood swings, weight gain, insomnia, night sweats, hot flashes, irritability
Derived from plants, contains only safe and effective ingredients (no hormones – estrogen)
Free of MSG and GMO, no gluten, suited for vegetarians
Key ingredients – black cohosh, soy isoflavones (phytoestrogens)

Cons:

Not recommended to those who suffer from liver damage
Possible side effects include dizziness, stomach ache, skin rash, headaches.
Ingredients: Vitamin A (as beta-carotene, acetate), Vitamin C (as ascorbic acid, calcium and niacinamide ascorbates), Vitamin D3 (as cholecalciferol) (2,000 IU),Vitamin E (as D-alpha tocopheryl succinate, D-alpha tocopherol), Thiamine (vitamin B1) (as thiamine HCI)
---
8. Rainbow Light Menopause One
Price:

$35 for 90 tablets

Pros:

Multivitamin supplement for menopausal women
Contains a healthy combination of vitamins, minerals, and antioxidants, providing relief from menopause symptoms
Ingredients include vitamin B, vitamin D3, vitamin C and A, organic spirulina, gingko biloba, soy extract
Increases energy levels, helps with stress management and supports heart & bone health

Cons:

Not for vegetarians
Does not include all of the necessary vitamins for healthy nutrition.
Ingredients: Microcrystalline Cellulose, Modified Cellulose, Stearic Acid, Silica. Coating: Vegetable Food Glaze (Dextrin, Dextrose, Soy Lecithin, Carboxy Methyl Cellulose, Sodium Citrate)
---
9. Her Harmony
Price:

$21.63 for 60 tablets

Pros:

Key ingredient – black cohosh
Provides relief from the symptoms of menopause, including night sweats, hot flashes, irritability, mood swings, and weight gain
Also contains soy isoflavones (phytoestrogens) and Dong Quai, a beneficial natural remedy for menopausal women

Cons:

Potential side effects caused by black cohosh, such as gastric discomfort and diarrhea.
Ingredients: Soy Isoflavones, Black Cohosh Extract, Dong Quai, Licorice Extract, Sage Extract
---
10. Promensil Menopause
Price:

$24.48 for 30 tablets

Pros:

Natural dietary supplement, based on isoflavones (phytoestrogens) and red clover
Relief from common menopause symptoms, especially hot flashes and night sweats (intensity and frequency)

Cons:

Not recommended for those who take hormonal treatments containing estrogen or progesterone
Cannot be taken by pregnant or nursing women.
Ingredients: Bulking agents (Dicalcium Phosphate, Microcrystalline Cellulose), Red Clover Extract (Trifolium Pratense)
---
11. Puritan's Pride Black Cohosh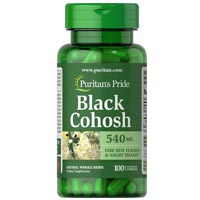 Price:

$8.75 for 100 capsules

Pros:

Supplement based on traditional herbs supports general health during menopause and provides relief from experienced symptoms (hot flashes, mood swings, night sweats)
Contains only beneficial ingredients
No artificial preservatives, colors, flavors; no gluten

Cons:

Possible side effects caused by black cohosh, such as the stomach upset and accelerated intestinal transit.
Ingredients: Black Cohosh 540 mg ** (Cimicifuga racemosa) (root)
---
What are the Symptoms of Menopause?
As you might have gathered from what was written above, there are a number of symptoms[9] which are specific for menopause. It is important to be aware of their existence, as they can be useful in identifying the transition from one stage of life to the other.
Women who are going through menopause often experience hot flashes, night sweats, and chills. They complain of vaginal dryness, loss of libido and pain during sexual intercourse.
Mood swings are frequent, with anxiety and depression being quite common. One might also feel more irritable or nervous than normal.
Vaginal atrophy is another change associated with menopause. It is possible to suffer from a reduced energy level, joint and muscle pain, and breast pain.
Heart palpitations are common, as well as dizziness and headaches. The skin can become dry and itchy, and weight gain can take place. Additionally, one might begin to experience urinary incontinence and insomnia.
Menopausal and post-menopausal women might present a poor memory and concentration difficulties.
On the long term, it is important to pay attention to general health, as menopause increases the risk of co-morbid conditions, such as atherosclerosis, heart attack, and osteoporosis. Early diagnosis through target screening tests offers the best prognosis.

How does Menopause occur? (The Causes)
Menopause[10] typically occurs when women reach around 50 years of age, signifying that the menstrual cycle has ended and the women can no longer get pregnant. This is a natural occurrence and may take several years before the transition is complete.
Certain treatments and therapies can lead to menopause as well. For example, women who receive radiotherapy might reach menopause faster than normal. The same goes for those who have suffered complications as a result of surgical interventions (hysterectomy, for instance).
Stages of menopause
Menopause does not occur all of a sudden. As the fertility cycle comes to an end, the woman goes through several phases[11], each with its own changes. The transition can last, as mentioned, for several years. During the first phases, the woman might still get pregnant, as fertile eggs are still released from the ovaries.
These are the different stages of menopause:
Pre-menopause

Timeframe up to the last period (no irregular cycles present yet)
Reproductive hormone levels begin to decrease
First symptoms might be experienced

Perimenopause

Transition years – before the actual menopause period
Can last for several years, with estrogen fluctuations
Symptoms experienced (hot flashes, night sweats, insomnia, vaginal dryness, mood swings)
Fertility is reduced but still present

Post-menopause

No menstruation for at least 12 months
High FSH levels & specific symptoms present
Ovaries become inactive – infertility as a consequence
Reproductive hormone levels low.
What are the Treatment options for Menopause?
The symptoms of menopause can greatly improve under the right treatment[12]. Moreover, one might also require additional treatment for co-existent conditions and to improve the overall quality of life.
These are some of the most often recommended treatment options for menopause:
Hormone replacement therapy

Administration of estrogen and progesterone
Can provide relief from common symptoms, such as night sweats and hot flashes
Recommended only for short-term use (risk of complications, such as blood clots)
Prevention of osteoporosis & bone fractures (bone density loss)

Medication

Selective estrogen receptor modulators
Antidepressants

Cognitive-behavioral therapy

Coping strategies for dealing with the emotional symptoms of menopause

Other – physical exercise, alternative medicine
Natural remedies (supplements)–

Contain ingredients with clinically-supported properties (menopause relief)
Is it Safe to Use Supplements for Menopause?
Check with your physician first, but some supplements may be appropriate for improving the symptoms of menopause.
Black cohosh is another natural remedy that might help with the symptoms of menopause. Many supplements also contain beneficial minerals and vitamins, helping not only with menopause but also with additional health risks (heart disease, osteoporosis).
If you have any concerns about taking a particular supplement, you should pay a visit to your doctor and discuss such natural remedies. Only a trained specialist can determine, based on your medical history, whether a certain supplement is suitable for you or not.
Keep in mind that menopause is a transitional period, in which you might experience a multitude of changes. Some supplements might be more beneficial in the beginning, while others will help you complete the transition. You might want to give several supplements a try, in order to convince yourself which one works the best.

The Bottom Line
Even though menopause is not a process that can be stopped, you should not despair. First and foremost, it is important to accept that this is a natural transition, one that every woman goes through.
Especially if you have suffered from premature or surgical menopause, you might consider counseling to develop the necessary coping skills for the situation.
In this article, we have presented natural supplements, which contain ingredients that have been used since the oldest of times: red clover, black cohosh or St. John's wort.
More studies are needed, but the thing to remember is that these supplements could provide relief from the discomforting symptoms of menopause, such as hot flashes, nervousness or night sweats, helping you feel better and improve your overall quality of life.
Sources
Health Insiders relies on peer-reviewed studies, academic research institutions, and medical associations. We avoid using tertiary references. You can learn more about how we ensure our content is accurate and current by reading our editorial policy.
[1] Black cohosh (Cimicifuga spp.) for menopausal symptoms
[2] A comparative study on the effect of "black cohosh" and "evening primrose oil" on menopausal hot flashes
[3] Effects of red clover on hot flash and circulating hormone concentrations in menopausal women: a systematic review and meta-analysis
[4] The role of vitamin D in maintaining bone health in older people
[5] Hirata JD, Swiersz LM, Zell B, Small R, Ettinger B. Does dong quai have estrogenic effects in postmenopausal women? A double-blind, placebo-controlled trial. Fertil Steril. 1997 Dec;68(6):981-6. doi: 10.1016/s0015-0282(97)00397-x. PMID: 9418683.
[6] Ginseng for managing menopausal woman's health
[7] Abdali K, Khajehei M, Tabatabaee HR. Effect of St John's wort on severity, frequency, and duration of hot flashes in premenopausal, perimenopausal and postmenopausal women: a randomized, double-blind, placebo-controlled study. Menopause. 2010 Mar;17(2):326-31. doi: 10.1097/gme.0b013e3181b8e02d. PMID: 20216274.
[8] Scheffers CS, Armstrong S, Cantineau AE, Farquhar C, Jordan V. Dehydroepiandrosterone for women in the peri- or postmenopausal phase. Cochrane Database Syst Rev. 2015 Jan 22;1:CD011066. doi: 10.1002/14651858.CD011066.pub2. PMID: 25879093.
[9] Menopausal Symptoms and Their Management
[10] Menopause: Overview
[11] Diagnosis of perimenopause and menopause
[12] Management of Menopausal Symptoms.