About BioTech Pro
BioTech Pro is a male sexual enhancement supplement that promises to restore and enhance sexual functioning. The manufacturer promises that this supplement will build and strengthen your muscles, increase your libido, and make your orgasms more intense.
In addition, it can effectively treat erectile dysfunction, giving you harder erections. They also promise that the product can combat premature ejaculation and poor fertility in men.
---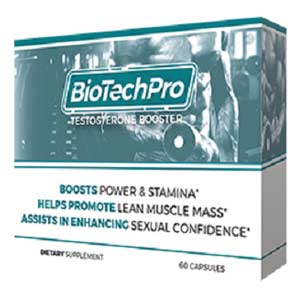 Quick Facts & Specs
BioTech Pro
BioTech Pro is a male sexual enhancement supplement that claims to restore and increase men's sexual performance.
Form:

Pills

Type:

Supplements

Benefit:

Increases sexual libido.

Brand:

BioTech Pro

Uses:

Treats premature ejaculation.

Active Ingredients:

Vitamin D, Tribulus Terrestris, selenium, ginseng

Price:

$89.97
BioTech Pro Pros & Cons
Pros
This supplement may increase your sexual libido.
BioTech Pro may treat premature ejaculation.
It may give you harder, stronger erections.
The product may give you more intense orgasms.
Cons
Many of the claims made by the company are too lofty to be true.
There is little clinical evidence for the use of the supplement.
They don't provide a list of the allergens in the product.
The capsules are large and may be hard to swallow.
---
How Does It Work | The Science Behind BioTech Pro
There's a dual process going on with this supplement. Some ingredients increase the amount of testosterone in the body. This increases sexual libido, and it also builds up the muscles.
The second process involves nitric oxide. Some of the substances in this supplement initiate the production of additional nitric oxide, which improves circulation all over the body.
The increased blood flow to the penis may treat erectile dysfunction.[1]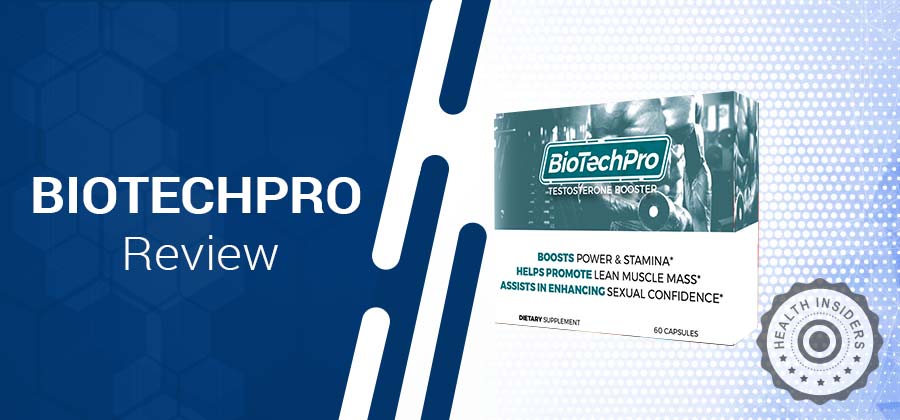 Advertisement
*All individuals are unique. Your results can and will vary.
BioTech Pro Ingredients – What to Look For?
The list of active ingredients for this product isn't complete.
Here are a few of the substances mentioned:
Tribulus Terrestris – The root and fruits of this plant are used in Ayurvedic medicine to enhance male virility. Examine.com has stated that the roots increase sex drive and treat erectile dysfunction. The fruits can increase testosterone but the evidence is mixed with very little high quality data to support its use.
Vitamin D – There is mixed evidence that men with erectile dysfunction have Vitamin D deficiency. Research[2] shows that this vitamin may play a role in maintaining erections in men.
Ginseng Extract – This is a plant extract which may improve the flow of blood all over the body. The improved circulation[3] to the penis can effectively treat erectile dysfunction. Research[4] has found that ginseng may be a treatment for impotence.
BioTech Pro – Questions and Answers
Q: How to Use BioTech Pro?
A: The recommended dosage is 2 capsules per day, with a full glass of water. Take them in the morning along with your breakfast so you reap the benefits throughout the day.
Q: Does BioTech Pro Have Any Side Effects?
A: There are no side effects listed on the product website. However, we don't receive a full list of the product ingredients so it's impossible to say for sure.
Note: If you do experience any uncomfortable side effects, discontinue the use of the product.
Q: Can I Take BioTech Pro If I Have A Health Condition?
A: This is impossible to determine, since we don't know all of the ingredients. If you do have a serious health condition, it's probably best to avoid this product.
Otherwise, you should show it to your doctor before you begin taking it. But without a full ingredient list, the doctor won't really be able to approve it.
Q: Does BioTech Pro Work?
A: There are no customer reviews online, and we don't have a full ingredient list, so it's not possible to say for sure whether this product works well. Based on the partial ingredient list, it should have some effect.
Q: What Is BioTech Pro Moneyback Guarantee, Return & Refund Policy?
A: There is no return policy listed on the official product website. The supplement isn't for sale on any third-party website, so it doesn't look like you can return this product.
Advertisement
*All individuals are unique. Your results can and will vary.
BioTech Pro Alternatives – Compare with Similar Items
| Brand | Price | Active Ingredients |
| --- | --- | --- |
| BioTech Pro | $89.97 | Vitamin D, Tribulus Terrestris, selenium, ginseng |
| Extenze | $49.95 | yohimbe, Zinc, GABA, muira puama, maca, boron |
| Barbarian XL | $49 | Tongkat Ali, Korean Red Ginseng, Boswellia Resin Extract, Ashwagandha, Shilajit |
| Ageless Male | $44.95 | Zinc, Magnesium, Fenugreek |
| Delta Prime | $99 + $6.95 shipping | Vitamin D, zinc, horny goat weed, saw palmetto, stinging nettle |
| Testogen | $59.99 | Bioperine, Vitamin B6, Red Ginseng Extract |
| Cellucor P6 Extreme | $119.99 | Black cohosh, stinging nettle, Tribulus alatus, bayberry extract, wild yam |
| Male Onyx Testosterone Booster | Unknown | Nettle Root, Ginseng, Muira Puama, Tongkat Ali, Maca |
| Dr. Sebi Testo | $50 | Irish Sea Moss, Yohimbe, locust Bark, Sarsaparilla, Locust Bark |
It's clear from this comparison that the ingredients in the other male enhancement supplements are far superior – at least in terms of what we're told about BioTech Pro.
It's also quite obvious that this product is far more expensive than the other brands. BioTech Pro doesn't seem to be very good value.
Is BioTech Pro Safe? – Warnings & Complaints
The manufacturer doesn't provide the complete ingredient list nor any warnings, so this is not possible to determine.
In addition, there are no customer reviews online which would provide more insight.
BioTech Pro Customer Reviews & Results
There are no reviews of this product online, which isn't a very good sign. It could be that it's a fairly new product, but still, there should be some reviews.
BioTech Pro: Packages, Deals, Prices & Where to Buy It
The product is listed as $89.97 for a month. However, you must buy this product by signing up for a 14-day trial offer first, paying postage, and receiving a free bottle. If you don't cancel within 14 days, you'll be signed up for the auto-shipping program and get a bottle each month at the regular price.
Advertisement
*All individuals are unique. Your results can and will vary.
The Bottom Line
As mentioned, there are no reviews of this product online. The company claims that it will increase libido and solve sexual health issues like erectile dysfunction, premature ejaculation, and poor fertility in men.
For the short partial list of ingredients provided, these seem like lofty claims. There's no evidence to back them up.
If you do experience a side effect, stop taking the product immediately. You should make an appointment with your physician before you begin taking this supplement.
However, without a full list of substances, the doctor can't make an informed decision about the product.
Is There Anything Else You Should Know About BioTech Pro?
Using male sexual enhancement supplements like Provarin, Noxitril, and Viril X is one way to improve your libido and sexual performance. However, you should never rely on a supplement alone.
There are some natural ways to increase your libido that you may want to try.
Spend quality personal time with your partner, working on your communication.
Eat known aphrodisiac like chocolate, oysters, figs, watermelon, strawberries
Keep yourself in good physical condition by working out at least 3 times a week for 30 minutes each time.
Spend time doing things that build your self-confidence. This should carry over into the bedroom.
Up NEXT – TestRX Testosterone Booster and Tevida Testosterone Booster
Sources
Health Insiders relies on peer-reviewed studies, academic research institutions, and medical associations. We avoid using tertiary references. You can learn more about how we ensure our content is accurate and current by reading our editorial policy.
[1] Zvara P, Sioufi R, Schipper HM, Begin LR, Brock GB. Nitric oxide mediated erectile activity is a testosterone dependent event: a rat erection model. International Journal of Impotence Research. 1995 Dec;7(4):209-219. PMID: 8770664.
[2] Talib RA, Khalafalla K, Cangüven Ö. The role of vitamin D supplementation on erectile function. Turk J Urol. 2017;43(2):105-111. doi:10.5152/tud.2017.76032
[3] Kang J, Lee N, Ahn Y, Lee H. Study on improving blood flow with Korean red ginseng substances using digital infrared thermal imaging and Doppler sonography: randomized, double blind, placebo-controlled clinical trial with parallel design. J Tradit Chin Med. 2013 Feb;33(1):39-45. doi: 10.1016/s0254-6272(13)60098-9. PMID: 23596810.
[4] Lee HW, Lee MS, Kim TH, et al. Ginseng for erectile dysfunction. Cochrane Database Syst Rev. 2017;2017(5):CD012654. Published 2017 May 9. doi:10.1002/14651858.CD012654