About VitalSleep
VitalSleep is an anti-snoring mouthpiece that is designed to help end your snoring days. This device is made of latex and claims to be BPA free.
It allows self-molding and can be adjusted with the help of screws to enable it to fit perfectly.
While using this mouthpiece, you can sleep in any position and the manufacturer promises it will work just fine.
According to The Pharmaceutical Journal[1], snoring usually occurs when air is restricted from flowing smoothly from passages in the nose and throat.
Now, this mouthpiece aims to open the airway and improve breathing. With improved air circulation, snoring reduces.
Once it adjusts your snoring, you will be able to enjoy quiet and restful sleep allowing you to wake up fresh and rejuvenated.
Your partner will also benefit from this anti-snoring mouthpiece as you'll become quieter and less distracting while asleep.
---
Buy on Official Website
Quick Facts & Specs
VitalSleep
VitalSleep is an anti-snoring device known as a mandibular advancement device (MAD).
Form:

Anti-Snoring Device

Type:

Device

Benefit:

Helps in stopping snoring of the user.

Address & Phone:

The Snore Reliever Company 8042 118th Avenue Largo, FL 33773. 866-753-3780

Brand:

VitalSleep

Uses:

Improves breathing by allowing better airflow.

Price:

$84.95
VitalSleep Pros & Cons
Pros
It is made of latex and is BPA free, meaning it is safe
May help stop snoring of the user
It claims to improve breathing by allowing better airflow
The self-mold feature allows a personalized and secure fit
This product works to solve the root cause of snoring
Cons
Temporary jaw soreness may experience
May cause drooling for a while
The hex key used for adjusting may be cumbersome
---
How Does It Work? | The Science Behind VitalSleep
VitalSleep is an anti-snoring mouthpiece that is designed to hold the lower jaw forward in an attempt to open the airways which when blocked causes snoring. When the airflow is improved, snoring will ultimately cease.
Vital Sleep is made of latex which assures durability and body adaptability. It is also moldable which allows the mouthpiece to take the shape of your teeth to allow the right fit for its users.
Apart from that, the device uses an Accu-Adjust System that enables adjusting to best-fit users' comfort. This adjusting also allows you to enhance airflow depending on your snoring intensity.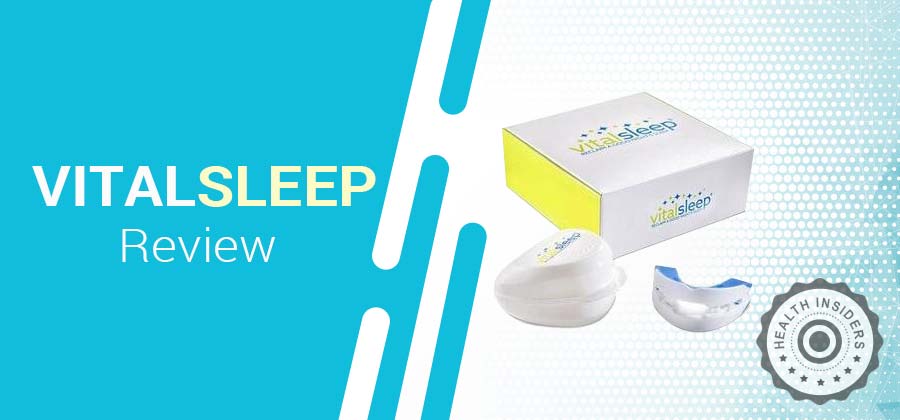 VitalSleep's Line of Products
VitalSleep is actually a brand that makes this anti-snoring device, but they also have other related products. Their line of products include;
VitalSleep – Men's Size – This product has a universal design that accommodates the size and jaw shape of most men. You can as well have the company make you a customized product if the available men size doesn't fit well. An article in the Journal of the Royal Society of Medicine[2] lists anti-snoring devices as a possible alternative solution in helping patients with sleep apnea and snoring problem.
VitalSeep – Women's Size – This is particularly fashioned for women, and is 10% small in size. It fits better with women. The brand advises that ladies see better results if they use the Women's size mouthpiece compared to the Men's Size.
UltraSonic Dental Cleaner and Mouth Guard – It is an ultrasonic sound wave producing device that is designed to help remove particles as well as clean your mouthguards. In the Journal of Actuators[3], the ultrasonic wave is mentioned to have cleaning properties on dental equipment.
OAP Mouthpiece Cleaner – This Foaming Cleaner is said to kill 99% of viruses, bacteria, and fungus and that it is best you use for your anti-snoring mouthpiece.
VitalSleep Anti-Snoring Device – The Breakdown
This anti-snoring solution is a device thus has no ingredients that aid in its function. Instead, its design and ergonomics are the factors that contribute to its effectiveness. This is discussed broadly below.
VitalSleep – Questions and Answers
Q: How to Use VitalSleep?
A: A: First and foremost, you have to order the right size that is either male or female.
Once it arrives, you should mold the device to your teeth for it to take the shape of your teeth.
Heat the device in hot water for 60 seconds to have the shape stay in place.
The teeth impressions will then enable a comfortable and secure fit.
Q: Does VitalSleep Have Any Side Effects?
A: There are no side effects mentioned by the company. Customers who used this product commented that they felt temporary jaw soreness and drooling. However, after adapting to the daily use of the mouthpiece, these effects gradually stopped.
Q: Can I Take VitalSleep If I Have A Health Condition?
A: There are no restrictions in regards to using VitalSleep so in this case, you can use this product even with health conditions. Nevertheless, it is still important to check with your doctor before using this mouthpiece.
Q: Does VitalSleep Work?
A: This product works owing to the fact that it addresses the root cause of snoring which is restricted airflow.
Q: What Is VitalSleep Money-back Guarantee, Return & Refund Policy?
A: This product offers a 60-night money-back guarantee. It also comes with a 1-year warranty which is very beneficial.
Is VitalSleep Safe? – Warnings & Complaints
Compared to other anti-snoring solutions such as sprays and surgery, Vital Sleep is considered safe. There are no warnings given for this product and as for complaints, there are not many. The only complaints were on jaw soreness and drooling.
VitalSleep: Packages, Deals, Prices & Where to Buy It
Vital Sleep mouthpiece costs $69.95 for both the men and women sizes.
You can also buy two of them at a discounted price of $118.95 for the two. If you buy two devices, you get a free cleaning product.
There is also a VitalSleep 5 piece snoring kit that costs $84.95.
VitalSleep Customer Reviews & Results
This product has many customer reviews with most customers claiming it stopped their snoring and they were able to sleep better.
Other customers also claimed that their partners were happy with the results because they could enjoy a quieter night. The only negative reviews given for this product include drooling and jaw soreness which are only experienced in the first days only.
Those who experienced this explained that after getting used to the device, these effects stopped.
SEE ALSO – Avinol PM Review and ZzzQuil Review
The Bottom Line
VitalSleep is an anti-snoring device[4] that claims to work on the root cause of snoring. During sleep, soft tissue structures relax which in turn narrows the air passage causing airflow restriction which causes snoring.
Vital Sleep works to open the air passage for better airflow which in turn stops snoring. It allows self-molding and adjustment which keeps the device secure and fit while a person is sleeping.
The only side effects that may be experienced include jaw soreness and drooling which have been reported to reduce gradually.
Is There Anything Else You Should Know About VitalSleep?
This device can be used with dentures which is usually not the case with other similar sleep aid products such as Dream Water and Relaxium Sleep. Additionally, this product is easy to clean and keep it in good shape.
While the company behind VitalSleep provides specialized cleaning products for the device, some customers explained that it can be cleaned using toothpaste which is a cheaper way to clean your mouthpiece.
For storage, the package comes with a storage case that is efficient in keeping Vital Sleep free from contamination after it has been cleaned.

Where To Find It
You can BUY it directly from the manufacturer's Official Website
Sources
Health Insiders relies on peer-reviewed studies, academic research institutions, and medical associations. We avoid using tertiary references. You can learn more about how we ensure our content is accurate and current by reading our editorial policy.
[1] Sleep disorders: diagnosis
[2] Kotecha B, Shneerson JM. Treatment options for snoring and sleep apnoea. J R Soc Med. 2003;96(7):343-344. doi:10.1258/jrsm.96.7.343
[3] Optimization of Ultrasonic Acoustic Standing Wave Systems
[4] Basyuni S, Barabas M, Quinnell T. An update on mandibular advancement devices for the treatment of obstructive sleep apnoea hypopnoea syndrome. J Thorac Dis 2018;10(Suppl 1):S48-S56. doi: 10.21037/jtd.2017.12.18